Photos by Kevin Sousa, Nick Turchiaro, Dan Hamilton-USA TODAY Sports
Did you know the Winter Olympics have started? And that the men's hockey tournament starts next week? And that the NHL isn't allowing its players to compete?
It really sucks for America, because this was finally our year. But thanks to a far-reaching conspiracy into the highest places of power, the United States has been screwed out of sure gold. My country is being destroyed by a sentient ham that's been dipped into a garbage bag full of a tabby cat's shedded hair so it would have been nice to feel a brief flicker of national pride for a few days, but good luck to Brian Gionta and everyone else, I guess.
To make myself and everyone feel better, I decided to compile the rosters of the five true international powers—America, Canada, Sweden, Russia, and Finland—using NHL players. I then ranked those teams by how they would have finished in South Korea to, yet again, make myself feel better. If you use your imagination, you can see the wondrous gold-medal game that would have ensued if a league that spouts "grow the game" the way Hodor spouts "Hodor" would have let its best players have the Olympic stage.
(I blame the IOC a little but nowhere as much as the NHL.)
I also built a second Canadian national team because you always hear about how Canada, the country that has failed to build a Stanley Cup winner inside its borders in nearly three decades, could create a second team out of its hockey-playing citizens and win gold. But is it true?
Let's look at these rosters and see what could have been.
Teuvo Teravainen-Aleksander Barkov-Patrik Laine
Erik Haula-Valtteri Filppula-Mikko Rantanen
Sebastian Aho-Mikko Koivu-Mikael Granlund
Joel Armia-Leo Komarov-Joonas Donskoi
Kasperi Kapanen
Olli Maatta-Sami Vatanen
Esa Lindell-Julius Honka
Markus Nutivaara-Rasmus Ristolainen
Kimmo Timonen
Pekka Rinne
Tuukka Rask
Antti Raanta
Am I the only one old enough to remember when Finland was a true hockey power? Did something happen in the country that is pushing young people away from hockey? Can I blame the NHL for this? I suppose fewer Finns playing hockey isn't bad if they're going into medicine. I'd like to eventually encounter a Dr. Tuukka that has terrific flexibility and a cure for baldness.
There are only six Finnish-born defensemen in the NHL, so why not let Timonen hang around for a couple weeks? That number isn't all that different than it was in the past—there were only six in the NHL in 1997-98 and 10 in 2007-08—so maybe Finland wasn't all that much different and I'm imagining Teemu Selanne as nine guys.
I'm pretty sure the ideal Finnish team couldn't beat any NHL playoff team in a seven-game series and it should look into trading Rinne or Rask for help on defense or forward.
Alex Ovechkin-Evgeni Malkin-Nikita Kucherov
Ilya Kovalchuk-Evgeny Kuznetsov-Vladimir Tarasenko
Artemi Panarin-Pavel Datsyuk-Alexander Radulov
Vladislav Namestnikov-Artem Anisimov-Pavel Buchnevich
Evgenii Dadonov
Dmitry Orlov-Nikita Zaitsev
Ivan Provorov-Dmitry Kulikov
Mikhail Sergachev-Nikita Zadorov
Alexei Emelin
Sergei Bobrovsky
Andrei Vasilevskiy
Semyon Varlamov
---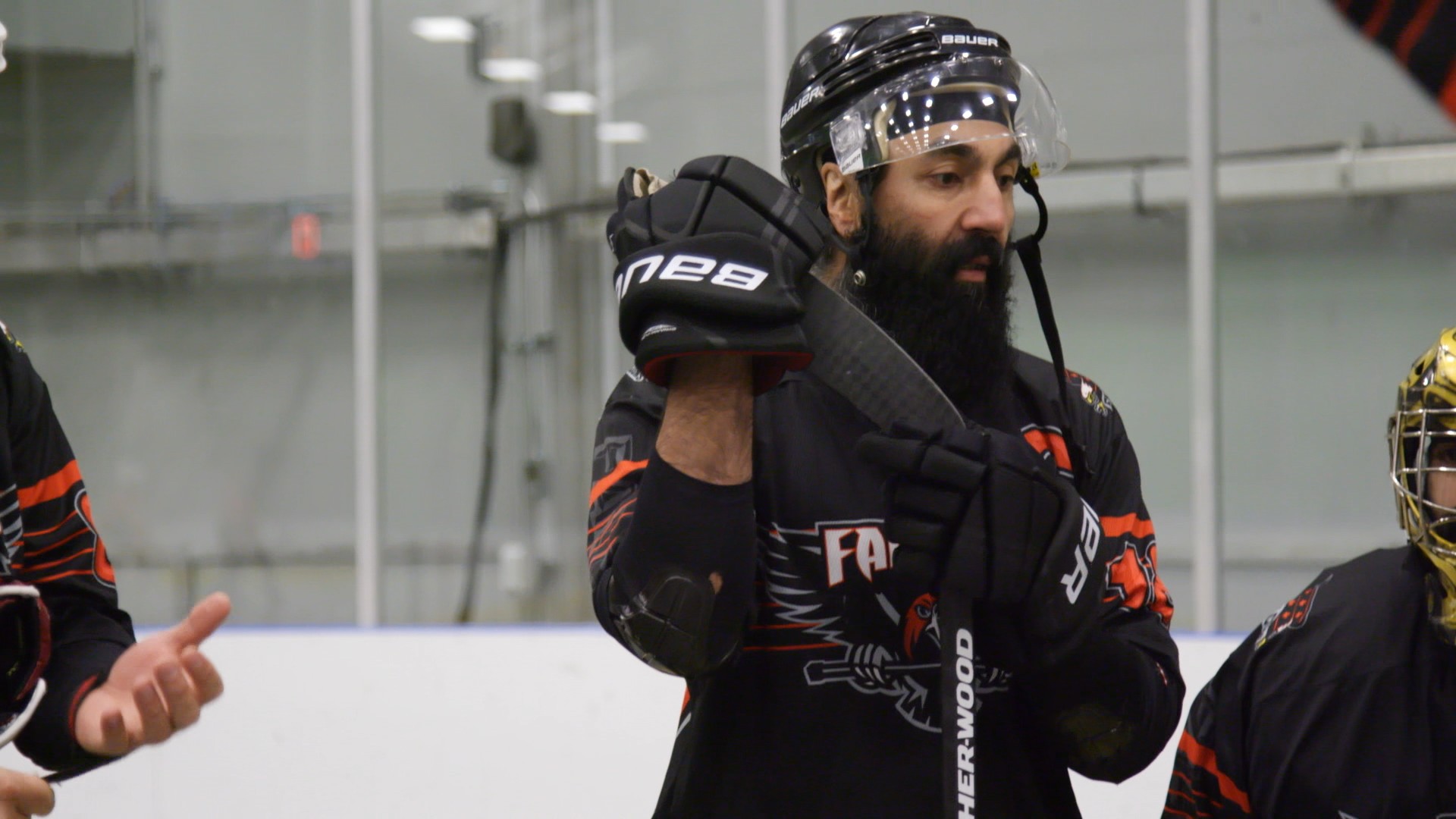 ---
Everyone loves to give Russia shit but isn't this the ideal hockey team? Skill at forward, a few goaltenders that can steal games, and a group of defensemen you'd swear were a list of exposed players in the upcoming Seattle expansion draft. If every NHL team followed this pattern it would be the most popular sports league to ever exist. Nothing but 8-7 games where you could say the goaltenders played well.
Also: Why are so few Russian forwards killing penalties in the NHL? Is this a situation where all Russian forwards are bad at playing defense? Or does every North American coach THINK all Russian forwards are bad at playing defense? I'd bet good money Radulov would excel at killing penalties. The NHL is so weird.
We've seen how this works out on an international stage for a while, though. But of all the teams we're not seeing at this year's Olympics, this is the one I'm saddest about. Look at those first three lines. It's the best in the group. I thought this project would be fun but now I'm just mad. Why couldn't I be a normal American that never got into hockey and asks how icing works and tweets about how I wish MSNBC wouldn't preempt Rachel Maddow for playoff games?
Jonathan Huberdeau-Jonathan Toews-Wayne Simmonds
Mike Hoffman-Sean Couturier-Ryan Getzlaf
Josh Bailey-Mathew Barzal-Jordan Eberle
James Neal-Sean Monahan-Reilly Smith
Eric Staal
Morgan Rielly-Brent Burns
Jake Muzzin-Dougie Hamilton
TJ Brodie-Aaron Ekblad
Colton Parayko
Mike Smith
Matt Murray
Devan Dubnyk
The most frustrating part of the United States always falling short against Canada at international events is hearing from Canadians about how the country is so great at hockey that it could ice a second team with the ability to reach a gold-medal game. You know what? No. You sound like Uncle Rico claiming he can throw a football over the mountains. Get lost.
There are a few different ways you can build this roster but no matter how you do it, it's getting pasted by at least two and maybe three teams. If it was in a particularly rough group, it's not getting out of it. I'm leaving some injured guys off rosters but even if Corey Crawford were healthy, who is this team guaranteed to beat besides Norway and Slovenia? We agree Finland stinks, but Rinne could steal a game.
Canada, I know you're behind the NHL skipping the Olympics because you fear American hockey power. One day I shall prove it. Cowards!
Steven Stamkos-Connor McDavid-Nathan MacKinnon
Taylor Hall-Sidney Crosby-Claude Giroux
Brad Marchand-John Tavares-Patrice Bergeron
Jamie Benn-Tyler Seguin-Jonathan Marchessault
Brayden Point
Duncan Keith-Drew Doughty
Alex Pietrangelo-PK Subban
Marc-Edouard Vlasic-Kris Letang
Shea Weber
Braden Holtby
Carey Price
Marc-Andre Fleury
I picked this team first, then Canada Part II, then filled in the reserves afterward and this is by far the stinkiest Canadian team they've iced in forever. The forwards are still ridiculously deep but that defense is as suspect as it's ever been. And the goaltending. Of all the things we lose out on this year that should make you sad, it's seeing Price and his .900 save percentage being named starting goaltender despite like a dozen Canadian goalies having better seasons.
You're probably asking why isn't Toews on the primary Canadian team? Because despite my pro-American bias, I'm still trying to create the best possible teams for each country. Who are you dropping from this roster to make room for Toews? Yeah, the answer is probably Hall but Team Canada isn't here to screw him out of a spot so he gets to be on my fake roster.
This team beats the crummy Canadian reject in the bronze-medal game and a parade is thrown upon their return. And by "their" I mean both teams because I can't think of anything that would get Canadians more excited than a bronze-medal game with TWO of their teams.
Filip Forsberg-Nicklas Backstrom-Viktor Arvidsson
Gabriel Landeskog-Henrik Zetterberg-Rickard Rakell
William Karlsson-Henrik Sedin-Daniel Sedin
William Nylander-Mikael Backlund-Jesper Fast
Carl Hagelin
Victor Hedman-Erik Karlsson
Mattias Ekholm-John Klingberg
Oliver Ekman-Larsson-Anton Stralman
Hampus Lindholm
Henrik Lundqvist
Robin Lehner
Jacob Markstrom
Every time people make a Swedish roster, here's what we've done with the goaltending:
"OK, Henrik Lundqvist, starter, check. OK, who should be the backup? [stares at remaining Swedish options for 10 minutes] God, Sweden is so screwed when Lundqvist is done playing."
Again, so many terrible things about not having NHL players at the Olympics, but this was definitely the last chance for Lundqvist as a starter. I mean, yeah, the other options are underwhelming so maybe he's still the guy in four years, but he'll be three weeks from 40 years old for the 2022 Olympics.
Movie idea: Hockey aliens invade our planet and demand a one-game battle to rule Earth. We fuse the Russian forwards and Swedish defense to form a super team that gives the hockey aliens all they can handle… but we lose when Price allows a fifth goal and all humans are enslaved. In the mines, one Hockey Person turns to another Hockey Person and says, "Yeah, but Carey is the best goaltender in the world. We had to go with him." Nearby, Braden Holtby swings his pickaxe into a rock and mutters, "I should have played basketball."
Johnny Gaudreau-Auston Matthews-Phil Kessel
T.J Oshie-Jack Eichel-Patrick Kane
Clayton Keller-Dylan Larkin-Blake Wheeler
Anders Lee-Ryan Kesler-Brock Boeser
Vincent Trocheck
Ryan McDonagh-John Carlson
Zach Werenski-Seth Jones
Shayne Gostisbehere-Dustin Byfuglien
Charlie McAvoy
Connor Hellebuyck
Cory Schneider
Jonathan Quick
Look at this team. Gaze at its beauty. Admire the speed. Stand in awe of its youth, something that should give Americans hope that it can win gold in four years. Crosby? Malkin? We have Kessel, the best Penguin forward in the NHL right now! Look at all the mobility on the back end! Do not avert your eyes! See what has been stolen from us! OH SAY CAN YOU SEE!
This is the first US team in a while where there are tough decisions at the bottom of the roster. Did you know Gostisbehere plays like two fewer minutes per game than Cody Ceci and Alex Goligoski? The Flyers are hanging in the playoff race but very few days pass where I don't discover some stat that makes me wonder what's happening with that team.
But here? This is a gold-medal team. The quickness would be too much for decrepit Canada, as would the superior goaltending. Sweden would be tough in a one-game knockout scenario but my prediction is the Sedins would finish the game with a 1.3 percent Corsi rating and Team USA would emerge with a 5-2 win.
It would have been the start of an international hockey dynasty. Instead, we have to wait another four years (maybe) for it to begin.