Credits: Collage by Cathryn Virginia | Images via Shutterstock
JUUL Labs is still doing damage control.
On Monday, the vape company revealed it would no longer be funding the Coalition for Reasonable Vaping Regulation, which has been aggressively—and expensively—pushing for a San Francisco ballot initiative that would reverse the city's sales moratorium on e-cigarettes.
"This decision does not change the fact that as a San Francisco–founded and headquartered company we remain committed to the city," K.C. Crosthwaite, JUUL's freshly minted CEO, said in a statement. "San Francisco is not only the home of our company's founding but is also the home of many of our talented employees."
---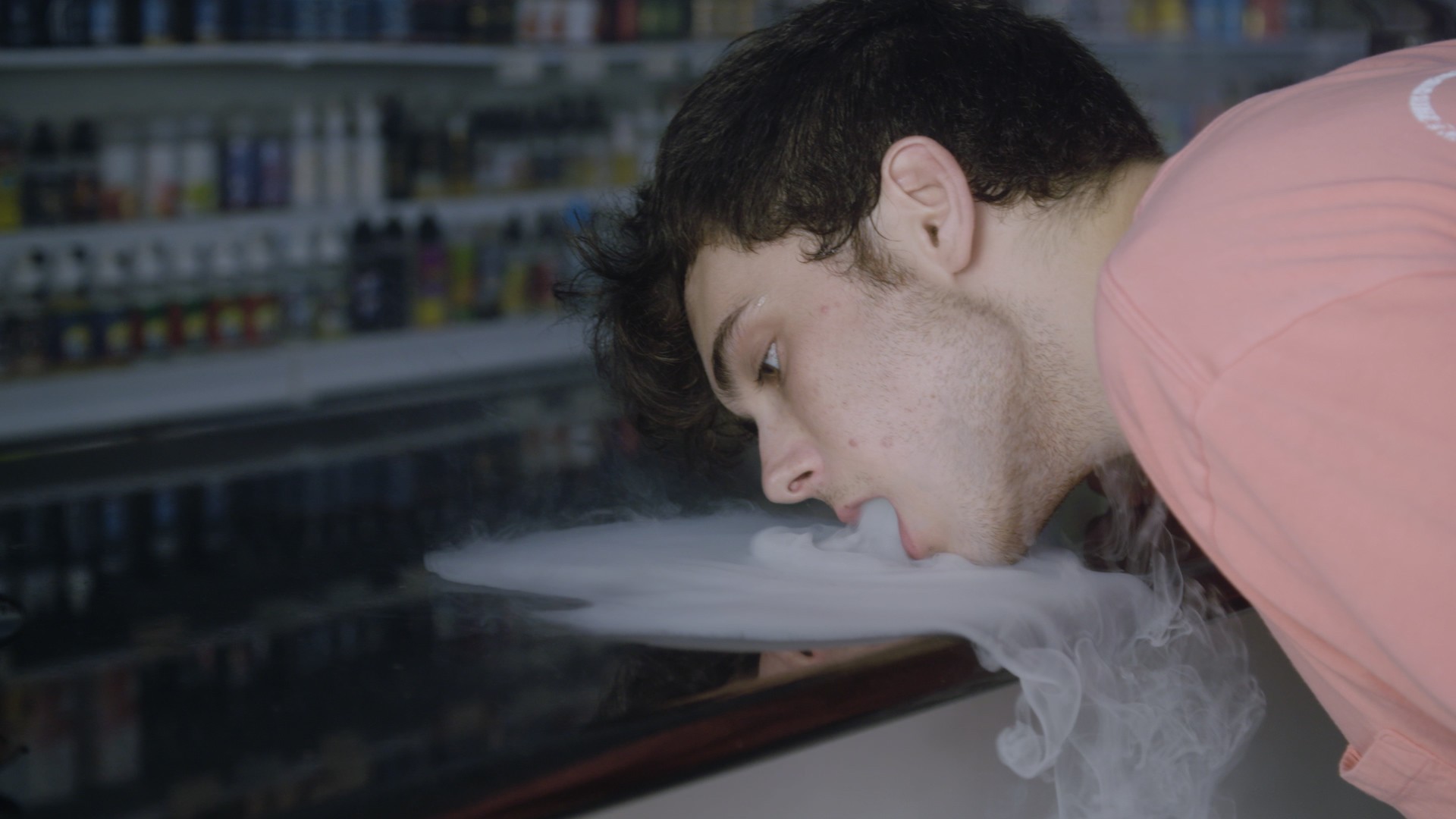 ---
It was yet another promise from the embattled brand in the wake of aggressive scrutiny and criticism from the federal government and an onslaught of vape- (albeit not necessarily Juul-) related illnesses and deaths nationwide. But the vape powerhouse—which controls at least half of the market in the United States—appears to be in the process of rebranding itself as some kind of grassroots movement. That dance has become a familiar trope of allegedly disruptive startups in recent years: Break into a new market, flout or at least test whatever regulations are in place, assemble a massive customer base, and then use them (and your revenues) to belatedly lobby for the law to suit your business model.
As CNBC reported, JUUL may be pivoting toward "astroturfing" in particular: a political strategy that gives the false illusion of popular support from regular people (that is grassroots, but fake). But the company (and other vape manufacturers) does have actual fans, and we're about to find out just how many are willing to publicly go to bat for them.
Specifically, for months now, JUUL fans have been able to join The Switch Network, a group of like-minded individuals who have transitioned—or, in JUUL speak, "made the switch"—from traditional cigarettes to its vaping device. You can pledge and demonstrate your support by filling out a petition-looking form on its website, where you can check off boxes on the tasks you're willing to perform, like calling your elected officials or testifying at a local or state hearing. It's that simple.
Though the ethics of it are constantly debated, astroturfing is not illegal. Famously, Exxon was accused of deploying it to combat the narrative of Al Gore's landmark climate-change film An Inconvenient Truth, and brands like Uber and Airbnb have engaged in something at least vaguely similar: spurring consumers (sometimes with short-term deals or discounts or other perks) to rally and help them skirt incoming regulations or battle political opponents.
It might not shock skeptics of a company that is 35 percent owned by Big Tobacco giant Altria that astroturfing has roots in that world. Those companies "pioneered techniques of manufacturing popular outrage to proposed regulations on cigarettes because grassroots anti-smoking campaigns were beginning to gain traction in the 1970s," said Sarah Milov, an assistant professor of history at the University of Virginia and the author of The Cigarette: A Political History.
Now, especially, with the Los Angeles Times reporting that the Food and Drug Administration (FDA) considered banning flavored e-cigarettes during the Obama era—and that small business owners and tobacco lobbyists rallied to prevent it—it's only natural that JUUL might lean into a technique like this in the face of a new brand crisis.
And actual vapers—whether they are JUUL fans or not—seem to regard it as a necessary concession: Rather than just working the backroom lobbying scene (which JUUL has invested in in a big way), the vape industry needs to put actual users front and center.
"I think this is JUUL just putting its head down hard," said one vaper close to the San Francisco campaign to overturn the anti-e-cig law who requested anonymity because they were not authorized to speak on behalf of the effort. (They suggested there would be much less of a chance of winning because JUUL has asked for about $7 million not yet spent to be returned, and Michael Bloomberg has been pumping his own cash into a public-relations attempt to fight the coalition.)
A business expert speaking to the San Francisco Chronicle characterized JUUL's shift as a sort of "hunker-down mode," and its decision to bail after nearly breaking spending records was virtually unprecedented in local politics. According to the paper, JUUL had already spent nearly $11 million on the campaign in the city, and its commercials had been running on television all summer long. This even as a spike in vape-related illnesses emerged across the country and the FDA and other federal agencies and state and local officials launched criminal probes of the vape behemoth for its marketing practices—including for those advertisements.
Meanwhile, just this past week, JUUL said it would steer clear of the feds' potential ban on flavored e-cigarettes, and installed Crosthwaite—a well-known executive at Altria—as the new boss. (On Tuesday, according to the Wall Street Journal, JUUL told its staff that another Altria executive would become the company's chief regulatory officer.) It also, most notably, said it would discontinue digital, print, and TV ads. That included those centering on the company's "Make the Switch" pitch, in which former cigarette smokers offered testimonials—usually set to ominously optimistic music—to current cigarette smokers on how JUUL changed their lives. They didn't smell anymore; they didn't take breaks from their family; they didn't feel embarrassed. (None of this is to be confused with The Switch Network.)
But pulling out of San Francisco could be viewed as a kind of final step as well, because now JUUL really only has one PR approach that remains feasible: relying on the very adults—those hoping to give up cigarettes and replace them with a JUUL, an effort that dates to at least December 2018—it claimed to be targeting (as opposed to kids or others) all along.
"It sounds like JUUL just outsourced reaching out to their actual, adult customers to see if they'd be willing to advocate," said Azim Chowdhury, a prominent lawyer who represents the vape industry.
Chowdhury sees it less as a sinister form of astroturfing, and more similar, perhaps, to the way that many other, non-JUULing vapers have already mobilized: by creating hashtags on Twitter, interacting with one another online, and protesting outside statehouses.
"Vapers, in general, are very passionate," said Matt Culley, a popular vaping YouTuber and advocate who said he transitioned to the product after he was diagnosed with oral cancer from smoking cigarettes. "A lot of them tried to quit smoking for decades. They view a vape, really, as an object that saved their life."
JUUL seems to recognize this sentiment—but also that you might just need a little prodding to get involved. Because since at least June, around the same time the company was getting involved in the fight over regulation in its hometown, it was also collecting basic user data in New York and sharing it with Locust Street, a DC-based public-affairs consultancy, that for months has been reaching out to consumers to share their story of how they ditched combustible cigarettes for vape products. It was a fleeting tidbit, buried by the onslaught of negative press, reported in BuzzFeed, when the firm contacted the reporter, Katie Notopoulos, because she JUULed, and had an active account on the company's site. Reporting in the Chronicle suggested JUUL may have been trying to gather up support to prevent a ban of flavored e-cigarettes in New York that became reality last month.
In other words, an early attempt at grassroots synergy appears to have failed. Then again, vapers got together and have already tried to challenge that ban in court.
Sign up for our newsletter to get the best of VICE delivered to your inbox daily.
Follow Alex Norcia on Twitter.