Photo by Farideh Sadeghin.
About 10 years ago, Eladio and Judith Montoya were bored in their Chicago candy store when Eladio decided to play around with the ingredients he had on hand. Drawing inspiration from a childhood favorite treat—the mangonada paleta, a frozen pop made of blended mango, chamoy, and Tajín seasoning commonly found on the streets of Mexico—he mixed mango sorbet, fresh mango chunks, chili, lime, Tajín, and liquid chamoy into a bigger, handheld version of the sweet treat for his wife. And then fate intervened in the form of a group of of teenage girls.
The girls entered the shop and began asking questions about the neon-orange-and-bright-red concoction in a cup. Each girl ordered their own and left. A few hours later, they were back, this time with more friends requesting the new menu item. That was the moment the couple realized they might have something special. The candy store closed shortly thereafter—and in 2012, Los Mangos, specializing in mangonadas, opened in its place.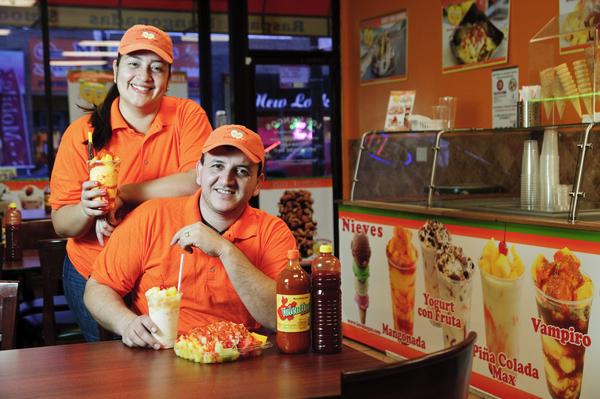 When people talk about visiting Chicago, they're probably not talking about Little Village. But the predominantly Mexican neighborhood is the city's second highest grossing shopping district, only topped by ritzy Mag Mile. Little Village or la veintiseis, the nickname given to the community by locals, is Spanish for 26, a nod to the main street in which most of its commerce is based. The neighborhood is a quick 15-minute drive from the Loop, the City's epicenter. However, as soon as you enter, it can feel a bit like crossing the border. Signage changes from English to Spanish, rancheras blare from street radios and the Mexican flag or La Virgen de Guadalupe, synonymous with Mexicanidad, appears on nearly every block. It's in these streets where Eladio and Judith met, fell in love, married, and now live. It's also where they opened the first of eight small shops, consisting of a Willy Wonka blend of frozen Mexican treats.
"This is Mexico in Chicago," says Eladio. "People come in from the surrounding states and suburbs. We wouldn't have had a successful business had we opened anywhere else. The amount of people coming in each weekend worked as free exposure. People began to recognize the brand."
Still, there's no doubt Eladio's sweet, sour, and salty creation helped his stores stand out. Eladio wasn't the original creator of the mangonada, but was one of the first shops to sell it at retail. Mangonadas—despite their Instagram-friendly appearance—have existed in some form or another for more than two decades. The exact origins are unclear, but the first YouTube clip mentioning the dessert (in popsicle form) appeared nine years ago, which is also when they began popping up stateside in predominantly Latino pockets of major cities.
At Los Mangos, the umami concoction is sold in three sizes, each garnished with a tamarind paste-wrapped straw. It's one of Los Mangos' most popular items—on average, 1,500 mangonadas are sold each day between their eight stores.
It likely won't be long before the fluorescent colored drink makes it way to (and possibly gets co-opted by) the mainstream, but Eladio isn't worried—in fact, he looks forward to the day. "I think it speaks to the power and strength of Mexican culture."