In the final weeks before Virginia's primary elections on June 12, a previously obscure Facebook page,"Virginians against Tim Kaine," began running ads promoting Republican Corey Stewart, an unapologetic pro-Trump Republican who has made Confederate nostalgia a centerpiece of his campaign to replace Kaine in the Senate.
The 19 ads, which all ran in June, clocked between 28,000 and 95,000 impressions and cost up to $1,900, according to Facebook's recently launched political ad archive.
But no one knows who paid for the ads. That includes the voters of Virginia who narrowly elected Stewart to be the Republican nominee by just over 5,000 votes. President Donald Trump quickly endorsed Stewart after his victory, despite the fact that the GOP's own official Senate campaign arm shunned him.
"Virginians against Tim Kaine" is not registered with the Federal Election Commission, which is required when running ads advocating for the election or defeat of a federal candidate. The page's owners did not respond to a Facebook message asking for more information. There is no other website for the group or contact information. The Stewart campaign declined to respond on the record.
The only people who know the page administrator's identity are inside Facebook, but they declined to name the person, citing the user's privacy. Facebook knows the origin of the political ads thanks to its new vetting system, which requires the owner of the page to have a physical address in the U.S. plus a Social Security number and a government-issued ID.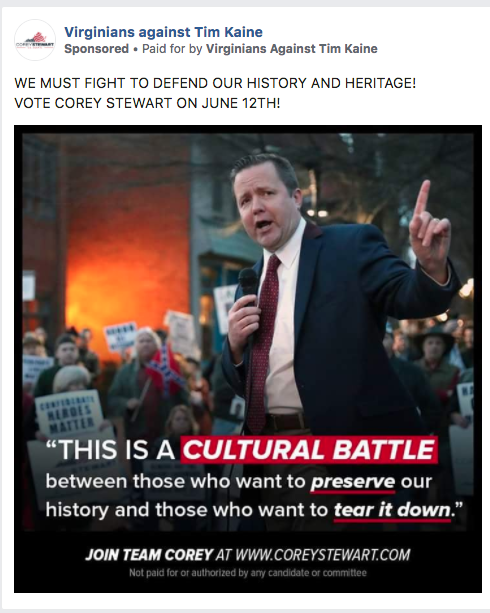 This attempt to block foreign interference in elections, however, still allows for domestic dark money to slosh around on the social network.
"These platforms continue to prove susceptible to exploitation by unscrupulous parties and bad actors – and voluntary measures alone won't remedy inherent vulnerabilities of these platforms to abuse and disinformation," Democratic Sen. Mark Warner of Virginia, who has been one of the leaders in successfully pushing Facebook to be more transparent in the aftermath of the 2016 election, told VICE News. "This is another demonstration of why voluntary steps aren't on their own going to address the lack of transparency in the digital ad space."
The amount of money in this case was relatively small compared to the $1.9 billion in digital ads that are expected to be purchased over the course of the 2018 election.
The hope of Facebook's new ad archive — which the company was initially reluctant to create — is that it would allow watchdog groups and the federal government to report potential violations like "Virginians against Tim Kaine." In a press call in May, Facebook's Global Politics and Government Outreach Director Katie Harbath explained that some ads might be the product of dark money, but "that's exactly why we are having the archive — so that we can help shine more light on these ads and so that watchdog groups, reporters, election regulators are able to see these ads and then know more about who's actually behind them."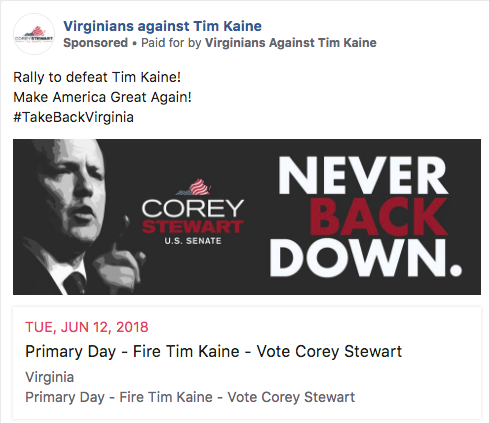 But the FEC's monitoring of digital ads is sparse to nonexistent, and punishment for violations often aren't dolled out until the election is over. "Virginians against Tim Kaine" likely violated federal election law in the lead-up to the competitive election but was able to run its ads anyway, according to election law experts.
"If this page is run by the Stewart campaign, all of its ads should include a 'paid for by Stewart for Senate' message. If it is run by somebody else, ads that expressly advocate for or against candidates should include a disclaimer stating the name of the group that paid for the ads, and the 'not authorized by any candidate or committee' language," said Brendan Fischer, the director of federal and FEC reform at the Campaign Legal Center. "One way or the other, it is violating disclaimer requirements."
Some of the watchdog groups, like Campaign Legal Center, argue that "Virginians against Tim Kaine" is just one example of why the online political ad market requires beefed-up federal regulators. "I think this speaks to the limits of Facebook's self-regulation, because they aren't independently verifying that people are reporting with the FEC," said Fischer.
Much of the debate on federal regulation has so far revolved around the Honest Ads Act, which Warner introduced last fall along with Sens. Amy Klobuchar of Minnesota and John McCain of Arizona. The main thrust of the legislation is applying the same disclosure rules from radio and television political ads to digital ads. Facebook CEO Mark Zuckerberg has publicly expressed support for the legislation but has said that his company is "already implementing it."
There is disagreement, however, over whether Facebook and other tech companies should be held liable for illegal ads broadcast on their platform. "Proposals that would hold platforms liable for advertisers' claims could discourage platforms from carrying ads from individual citizens or legitimate groups that aren't well known or established," the Internet Association, the D.C.-based lobbying group for tech, said last fall.
And it's true, "Virginians against Tim Kaine" isn't well known at all.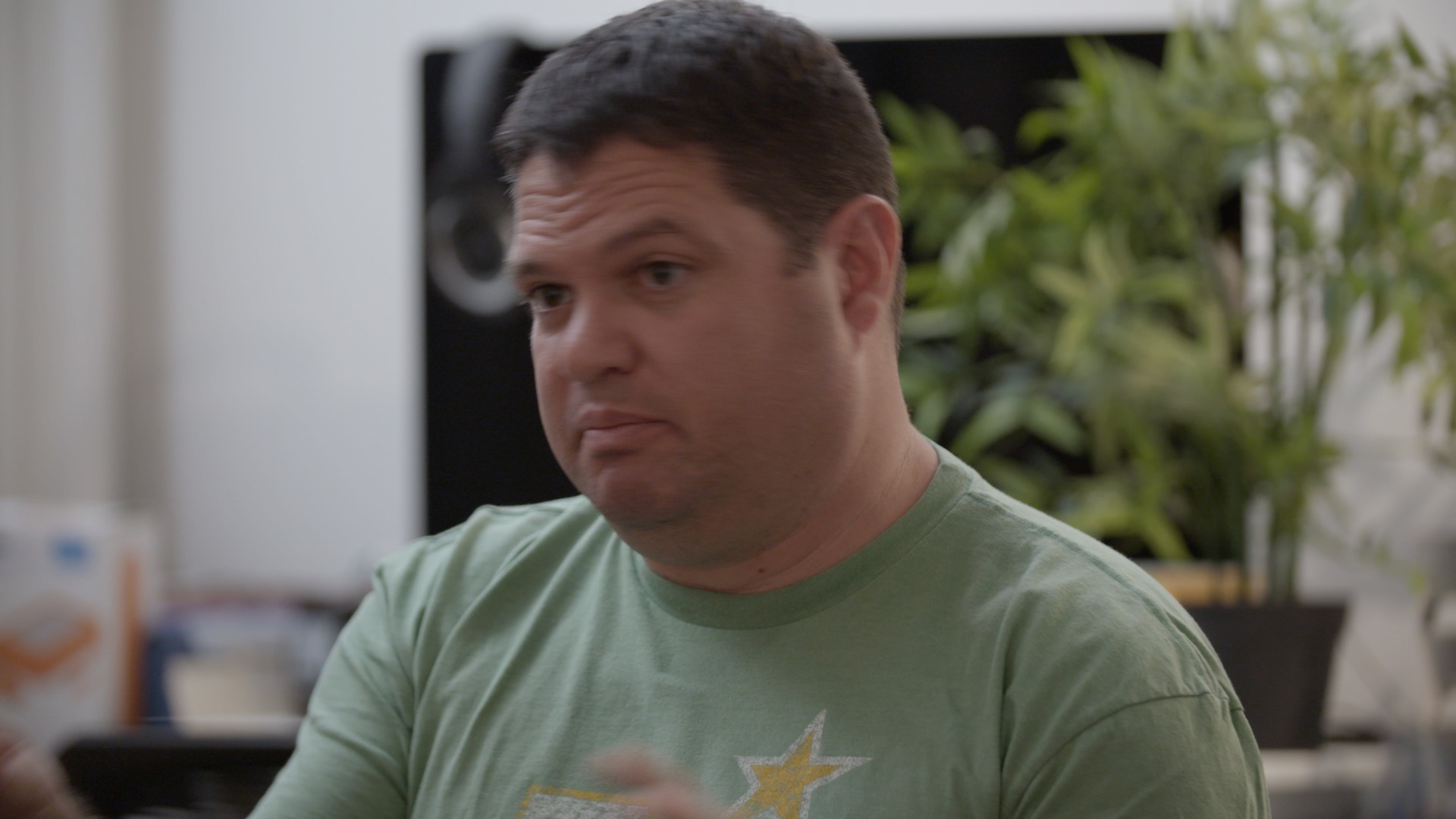 Cover image: Virginia gubernatorial candidate Corey Stewart speaks at his primary election watch party in Woodbridge, VA on June 13, 2017. (Photo Linda Davidson/The Washington Post via Getty Images)