Screencap via YouTube, The Today Show.
I'm currently unemployed, and I'm pretty tired of handing out piles of resumes only to get rejected over and over again. As someone with a decent amount of experience, I didn't think that finding a summer job would be this difficult.
I've been told countless times that networking is the key to professional success. But in a survey done by the Rockefeller Foundation, 42 percent of Canadian women reported that they believe men have better access to jobs than they do.
Enter Bumble Bizz: a professional networking and mentorship platform that launched in 2017. Like the dating app, Bizz is designed to empower women by allowing them to make the first move. Some are calling it "the new LinkedIn for women," claiming that Bizz could be a threat to LinkedIn's online networking platform.
Kardashian momager Kris Jenner announced in April that she was using Bizz to hire an assistant.
"Being that Bumble Bizz takes the 'women make the first move' concept and focuses on female empowerment and opportunity in the professional space, I am so excited to use this platform within the Bumble app for my search for the newest member of my team," she told Bumble.
I think it's pretty unanimously agreed upon that networking sucks. But I figured, if Bizz is good enough for Kris Jenner, it's good enough for me.
Here's what I learned after spending a week on the app.
At first glance, Bizz looks a lot like a dating app.
Your profile includes up to six photos, a headline of at least 100 characters, an "About me" section where you can expand on your professional experience, and the option to list experience at previous jobs and academic institutions.
The app is limited to gender binary identities, forcing users to select either 'man' or 'woman' to run the app. For an app that prides itself on its progressive values, I wondered why trans and gender nonconforming communities are being excluded from this platform.
I selected woman, and set my distance range to the max (161 km) so I could reach as many people as possible. Then I started swiping.
Networking and dating can be brutal for women.
The men and women I chatted with tend to view Bizz's "women make the first move" initiative differently.
This 2017 study from the Harvard Business School found that employers are more likely to hire men than equally able women, based on the perception that, on average, men have a higher performance rate on certain tasks than women do. The research found that if a man and woman had identical test scores, the man still stood a better chance of getting hired. This would suggest that an employer's decision to hire a man over a woman stems from an inherent belief that one's gender signals specific abilities or skills.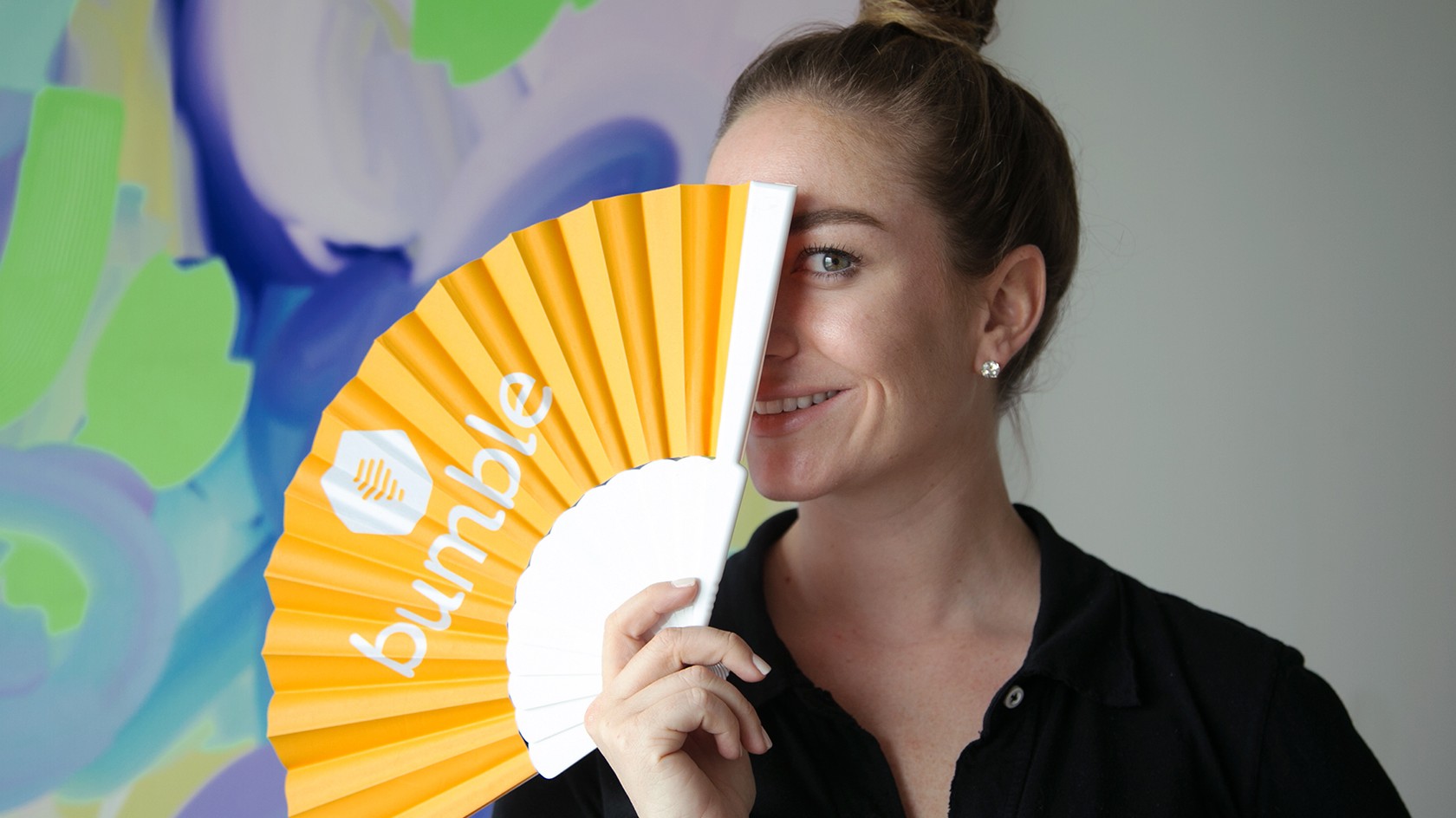 Bizz is counteracting this by allowing women to curate the way we are presented to the professional world and choose the connections we make. When women get to make the first move, it provides us with a certain level of autonomy in this space. The platform also challenges traditional networking and how sexism affects the ways women are viewed professionally.
I connected with several women who felt empowered by being able to make the first move. Some even indicated that they were looking to avoid connecting with men altogether.
When I asked men to weigh in, several pointed out that, while they understand why woman-first messaging exists on the dating portion of the app, they feel as though it might prevent men from making connections on Bizz. One guy straight up told me he thought it was "bs".
There were plenty of creative people, but I didn't find a job.
In my experience, most of the people using this app are either young professionals or creatives. The yuppies are pretty easy to spot. All of their photos are professional headshots in suits, and they stick to corporate buzzwords like "outside of the box," "best practices," and "synergy." Any time they were looking to hire writers, they only seemed to be looking for journalists with a good knowledge of cryptocurrency, which isn't exactly my forte.
Quinn, a freelance graphic designer using Bizz to expand his connections in creative fields, mentioned that navigating the app can be difficult when you're looking to find work in a specific industry.
While I also found this to be true, I did match with a few fellow writers and artists. We exchanged phone numbers and social media handles, and I even made plans to meet another journalist for coffee. It was exciting to connect with people in related fields, even if it didn't immediately lead to my employment.
Yes, there are still creeps.
Instead of networking, some men appear to be using Bizz to have "some good clean fun." This is both creepy and totally in violation of the app's intended use.
"If you go on their profiles, you can quickly tell who's using [the app] for dating, and who's actually using it for business, because their profile won't actually list any jobs or qualifications. It'll just be his name and whatever else. Obviously you don't have to swipe right on that person, so I do like that you both have to match up [in order to start a conversation]," Kay, a small business owner using Bizz to collaborate with other women, told me in a phone call.
I'd say Bizz has a lot of potential. I think it's important to continue creating spaces that can empower marginalized groups to thrive professionally.
And my free advice to men is: if you're looking to make connections on Bizz, don't be like Rob.
Follow Molly on Twitter .
Sign up for the
VICE Canada Newsletter
to get the best of VICE Canada delivered to your inbox.