What is it? A sort of… room! I guess!
Where is it? Wood Green.
What is there to do locally? Wood Green is a really great place if you want a haircut, a kebab, an affordable cinema trip, to catch a bus, go to the Jobcentre, to buy hummus, to go to That One Good Pub, and also – let's be honest – walk around with a near palpable air that you might get your head kicked in. Very mixed vibe. Loads of lads with perfect fades crossing the road towards you in a very sinister manner. I mean, I like it! But I fear death there.
Alright, how much are they asking? £702 pcm, and that "2" really sticks, doesn't it? I think the reluctance to round that £2-a-month down is possible one of the most cynical and overtly landlordian things we've seen on this column, ever.
Hey, is this a depressing photo? I think it might be a depressing photo:
Like: is that depressing? I keep looking at it and a small part of my soul feels sad. You know where the soul is, vaguely, don't you: you sort of feel it in the swirling, deep part of your stomach, and normally it's a light sort of wispy cloud-white, but the longer you look at this photo it goes dark, like a clot on an X-ray, like the sun setting on an autumn day.
I'm going to number and list all the bits I find explicitly depressing, for whatever reason:
#1: For some reason this sort of low shelf section – instead of the door-wall and accompanying alcoves running entirely up to the ceiling, like a normal room – really depresses me, and I can't put my finger exactly on why. Is it because it evokes the feeling of an A-Level drama practice room, typically the least-designed room in the entire school, decorated with chalky black paint and torn black curtains and random 2x4s? Is it because you know for a fact that a landlord has, at least once, checked he can't fit a mattress up there so someone can sleep there? That you know it is musty with grey sticky dust? What? What is it? Why is this shelf so cursed?
#2: Yah welcome home we got you a naked lightbulb hanging from a rancid wire. You have to stare directly into it while you're washing up.
#3: Yah welcome home, here's your kitchen. This is it, this box. This is the kitchen box. It makes hot smells and lives directly next to your shower. Is it plugged into the wall? Yes. Is it exceptionally dangerous to have a powerful water source that could viably spray onto the electricity box, exploding it and you instantly? Listen: do you want beans on toast made off this thing or not—
#4: For some reason, the way the shower curtain flumps at the bottom depresses me, because I know it means the bottom of it is unavoidably dirty, and also because the shower curtain rail has been fitted lower than necessary, so this entire ruching is purely the result of lazy workmanship.
#5: This is not a shower mat, this is just a rug. It says "LITTLE CHICK" on it, and that fact alone makes me want to tear my heart out and throw it thudding into the sea.
#6: The fact that the grill-cum-hob is perched on a wheeled TV stand so you can more easily position it closer to your bed fills me with a thrill of dread.
#7: I have just realised that there are two lockable doors, which means the central door is actually the toilet, which means the low shelf is there because whoever built this toilet block (in a deliberate action, a landlord decided to build a toilet into this room so they could rent it as a single and contained flat) also made the shelf that way, and also the toilet, the kitchen box and your shower all live within the same square metre of space. Anyway, this section was just to say that red carpet is very aggressively appalling, but I not unreasonably got sidetracked.
Look, here are some other photos. You ever want to sit in a patterned chair next to your (single) bed while listening to the low constant hum of your inexplicably massive fridge-freezer?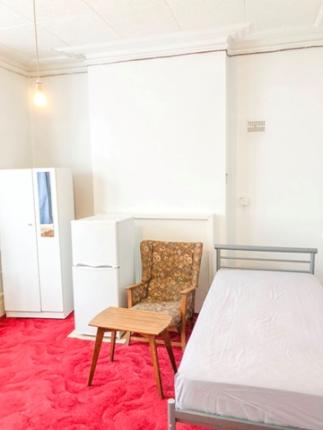 Or: yah, welcome home, we got you every exposed pipe on Earth. Here they all are, look, here you go—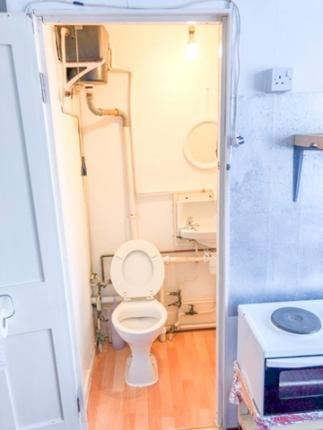 Or: for some reason, rooms that come with flat electric heaters like this make me think they are either not central heated or that they are placed inside a house that is central heated but controlled by someone else, so either way your only heat source is this big white flat rectangle; anyway, cheers, don't forget that extra £2 a month—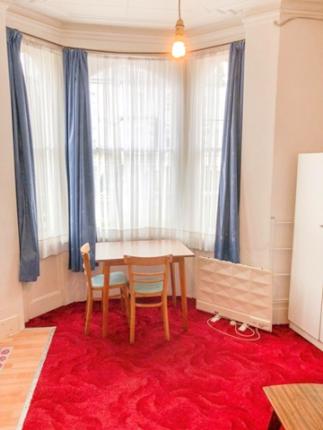 Normally I put quite cut-and-dry advice here, like "do not move here, please", like there was ever any threat you would, but the room seems lived in, which makes me feel like someone has stayed here, before, maybe for a few months or maybe for a year, and someone will again, and someone wanting or needing to live in Wood Green and move at very short notice and live alone – for whatever reasons – will end up signing on with this, and I just imagine them, awake in the cold blue light, listening to the humming of their fridge, squinting as they wash their plates, sadly reheating a single crumpet in a box grill, shitting in front of a throne of pipes, and that makes me fundamentally, too-my-bones exhausted with this city. Out there, hundreds – thousands – of people are living like this, because they have to, because they need to, and they are paying £702 a month to.
Welp! That was depressing! Sorry!