A few months before her 13th birthday, a doctor told Carlee Baladez that the arteries of her donated heart were closing. She would need another transplant.
"I remember the doctors separating me and my parents and telling me different things about what was going to happen," Baladez, now 18, says. "They made it sound scarier than it really was. They told me I had coronary disease and that's basically when the arteries in your heart get smaller."
As the wait for a new heart turned from weeks to months, she gradually grew more exhausted until she was forced to quit the dance classes she loved. Baladez was housebound for school that fall of 2012. Doctors visited her middle school in Mesquite, Texas, to explain to her classmates what was going on. "There's a lot things that people don't understand," Baladez says.
Her body had started to show signs of rejecting the donor heart nearly a decade early, a few years after the transplant surgery she had as a baby. Last year, 162 infants and children received heart transplants. Incessant hospital visits, diagnostic tests and yearly biopsies will become part of their childhood. And as they become adults, they'll learn what it means to live the rest of their lives with a donated organ.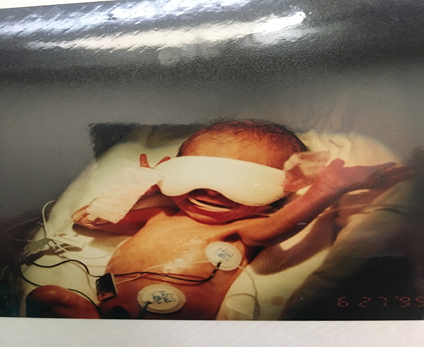 "When my body began to reject my heart, I didn't really know what to expect because I obviously don't remember the first surgery," Baladez says. "It would be my first experience knowing it was happening."
Baladez was born prematurely, at 29 weeks. She was only an inch and a half longer than a Barbie doll, but she didn't have any heart defects, her mom, Ruby Berthelette, says.
At a party for her first birthday, Baladez caught the chicken pox from a relative and soon after, started having respiratory problems. "She was having a hard time breathing," Berthelette says. "Nothing was helping."
The problem persisted for months, and after multiple doctors visits an x-ray revealed something was wrong with Baladez's heart. "Her little heart was inflamed," Berthelette says. "It was pushing on her lungs."
Baladez had developed cardiomyopathy, a set of heart muscle diseases that make it difficult for the heart to deliver blood to the body and can lead to heart failure. Doctors told her the chickenpox virus had likely caused the underlying infection. Carlee cried a lot. The only thing that gave her some relief was to hold her or drive her around in her car seat; the upright position helped take some of the pressure off her lungs.
After she didn't get better, doctors decided to place her on the United Network for Organ Sharing waitlist. Two weeks later, the family was notified that a donor heart had been found. They rushed to the hospital.
"We saw the helicopter come with her heart," Berthelette says. A few weeks later, Baladez was back home, learning to walk.
From then on, Baladez took medication every day to weaken her immune system so her body wouldn't reject the donated heart beating in her chest. "Growing up, it was just a normal thing for me," she says about the regular doctor and hospital visits that were part of her childhood. "She could draw all the tools in the hospital," her mom says. "I'd say 'draw me a syringe.' And at six years old, she would draw it."
Heart transplants are matched by a number of factors, including location, blood type and size, says Ryan Butts, a pediatric cardiologist at Children's Medical Center in Dallas, where Baladez underwent transplant surgery. "Even our patients who are transplanted as infants, those hearts grow along with them their entire life," he says.
There's a misconception that children with heart transplants are fragile or different than other children, Butts explains. "Our job is to make their life as normal as possible." Nonetheless, organ donor recipients are more susceptible to viruses and infections because of their weakened immune systems.
But like many donor-organ recipients, Baladez's body didn't entirely accept her new heart as she grew up. "Our immune system is set up to try to reject anything that is not our own," Butts says. "So when you receive a transplanted organ your immune system is naturally going to try to attack it."
Pediatric donor hearts last an average of 15 years, he adds. "Every single subsequent heart transplant adds more and more risk." Scar tissue builds up, making surgery more difficult and the immune system is "even more revved up and ready to reject the next heart."
When Berthelette found out in February of 2012 that her daughter was going back on the waitlist, she tried to stay strong. "The second time around we waited for a long time," she says. "Deep down inside I was crying all the time."
Last year, 760 children and infants across the country were on the waiting list for a heart transplant. More than one in ten died while waiting. "I remember waking up and going to her room at night and making sure she was still breathing," Berthelette says. Social workers asked her to sign "do not resuscitate" papers. She couldn't. "What's crazy was that she was still so active." In addition to her dance classes, Baladez had started playing tennis.
Wait times vary by a person's "listing priority," says Jeff Dreyer, medical director of heart failure, cardiomyopathy and cardiac transplantation at Texas Children's Hospital, which performed the most heart transplants in children nationally last year. The sickest patients receive a higher priority status listing.
"These wait times are highly, highly variable, however," Dreyer says. A typical wait time for the highest-status patient may be a few days to several months, whereas a patient at the lowest status may wait several years. "Of course, donor availability affects wait times as well. There are still many more patients awaiting transplant than there are donor organs."
Nearly 11 months later, the call came; Baladez needed to be at the hospital for transplant surgery. "They actually said this heart was a better match," she remembers. She was disappointed the surgery meant she would miss a trip with her dance team to Six Flags, though.
This December will mark five years since Baladez's second heart transplant. "Thank you is not enough," she says, of how she feels toward her donors and their families. "I am not taking it for granted." She met the mother of the little boy who donated her first heart, she says, who felt her son's heart beat in Baladez's chest.
Berthelette hasn't yet sent the letter she's written to the family of her daughter's second heart donor. She might be ready soon, though, she says. "I just want them to know that Carlee is living because of their gracious gift."
Baladez is attending transition courses at the children's hospital to learn alongside other teenagers about how to take care of her donated heart. They also learn about topics such as "Finances and how things change when you turn 18" and "How to navigate insurance," according to a nurse practitioner who oversees the transition series in the heart center.
In the last several months, Berthelette noticed Baladez has moved her daily medications from the kitchen to her room. She still reminds her to take them, just in case. "When we went into the doctor last time she filled out the forms, not me," Berthelette says. Like any mother, she worries about her daughter's future. Will she have a job with good insurance to cover her lifelong treatment? Will her heart last another ten years?
"Carlee could go into rejection next week if her body changed," she says. But Baladez is more worried right now about deciding between pursuing her passions for DJing, or art, or dance, or cosmetology. She'd like to stay close to home in Texas, but thinks about one day exploring the art scene in Los Angeles.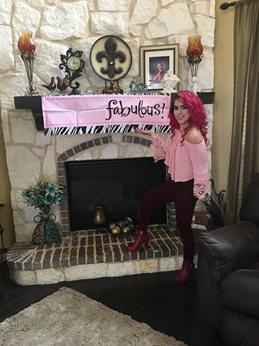 For her 18th birthday, Baladez dyed her hair a vibrant shade of pink (her mom hadn't let her while she was still a minor). She'll graduate from high school next year and she's learning to drive.
"I have a permit and my organ donor box is checked," Baladez says. "There's a little heart in the corner."
Read This Next: Should Patients Be Denied Organ Transplants for Using Medical Marijuana?