Photo via Twitter.
There's no denying it, the QAnon conspiracy has spread to Canada.
We know this because last weekend the Canadian QAnon conspiracy theorists came out to play at a rally inspired by the yellow vest protests in France. Across Canada people—donned in yellow vests of their own—railed against Justin Trudeau. They're mad for a myriad of reasons, such as what they view as lax immigration policy or Trudeau's treatment of the oil sands, and some are calling for Trudeau to be tried (and in some cases executed) for treason.
At the rallies in Quebec, Ottawa, and Western Canada, some supporters among the hundreds who made up the Canadian version of the yellow vests hauled QAnon signs, emblazoned the letter on their clothing, or showed off the slogan #WWG1WGA (where we go one we go all). If you go to the Canadian Yellow Vest pages—and really any other far-right Canadian Facebook page—you'll find a hefty portion regarding QAnon and the fantastical nonsense that surrounds it.
The conspiracy, which first gained traction in the US, centres on US President Donald Trump secretly taking actions against the "deep state" who are plotting against him. The theory ropes in the Clintons, pedophile rings, murder, and all sorts of other nefarious topics. It's a convoluted and rambling theory which changes daily. Needless to say, QAnon people tend to make rather big leaps in logic. Their unwieldy theories suggest prominent Democrats are secretly indicted based on a grainy ankle photo, or that JFK Jr. never died but actually faked his own death and took a secret identity in order to help his friend Trump to take down the deep state. If you want more, there are lots of explainers out there.
The theory is spread by an anonymous person who goes by Q. Now, this Q claims to have top-secret clearance and wants the public to know. So obviously this altruist goes to 8Chan—the site where 4Channers who are too wily for that notorious site go—and leaks the info in small vague, hard to comprehend nuggets called "drops" or "crumbs." These are then decoded by "bakers" who try to unpack these cryptic messages. They then make their way to more mainstream social media outlets like Twitter, Facebook, or YouTube. Here they are picked up by people who are decidedly more your-uncle-who's-not-allowed-at-family-dinners type than the typical denizen of 8chan. It's these people being fed the already "decoded" or "baked" QAnon notions you see at the rallies.
Now, we Canucks are no strangers of lifting American ideas, putting a twist of them and calling them Canadian—stealing stuff from the Yankees might be our proudest tradition. In recent years though, it's not just cultural ideas we've taken but similar conspiracy and far-right cultures. We have the III% who are pretty much a "wholesale lift" of an American militia, we have to Make Trudeau a Drama Teacher Again hats, and now we have Q.
Travis View, a conspiracy theory researcher and host of the QAnon Anonymous podcast, told VICE he's not too surprised the conspiracy has been picked up by Canadians. He said Q likes to target international subjects such as the Five Eyes or Angela Merkel and Trudeau can at times fall into that camp. In fact, Canada and Trudeau were actually early targets of the conspiracy with one of the first posts, coming just a week after the first and implicated Trudeau in the Uranium One deal. That said, while it's not unheard of for Trudeau to come up, it is rare.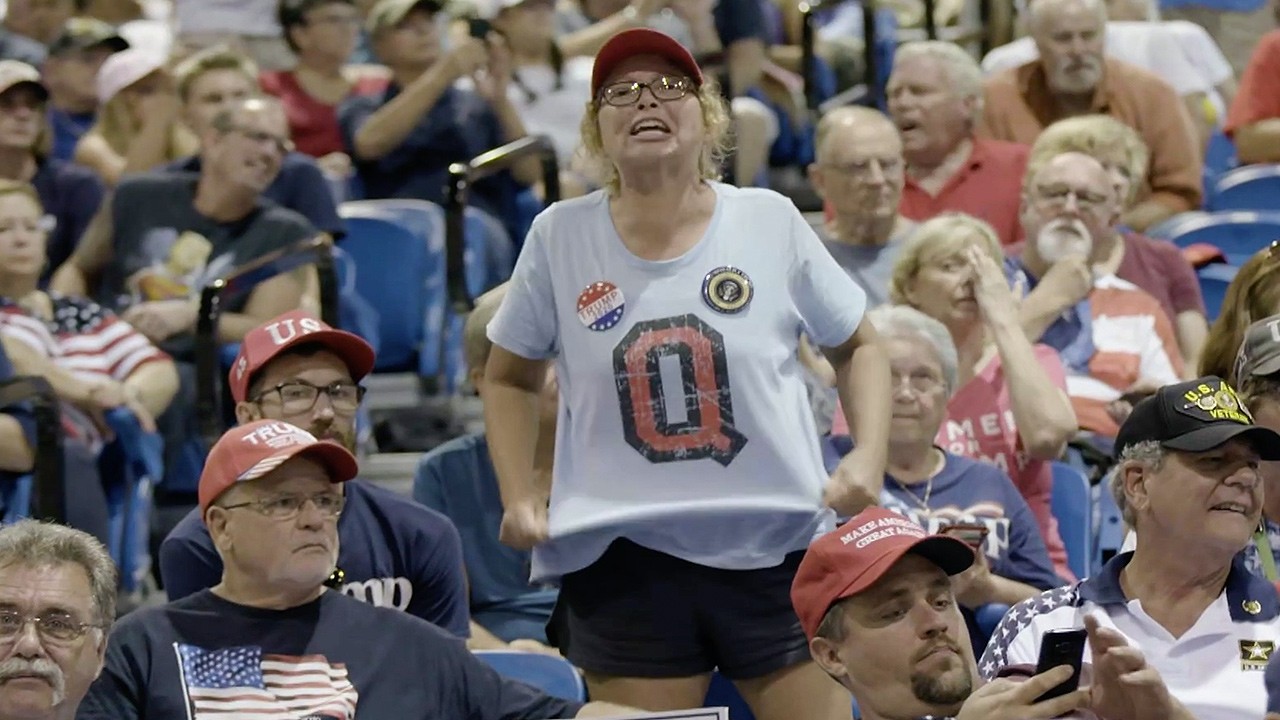 "Canada has been mentioned, in one way or another, in about 13 different drops but that's out of a total of 2,500 or so," said View. "It's almost always in terms of Canada or Trudeau's connection to this Uranium One scandal. They see him as corrupt and somehow facilitated this corrupt deal to help Hillary Clinton in this way."
One of Canadian Qanon supporters who marched with the yellow vests is Blain McElrea, who also runs the Quill News service on Facebook and the Qanon Canada Facebook page. He told VICE that he's been following Q since he came on the scene in October. He estimates that Q has thousands of followers in Canada. In terms of what McElrea believes, well, he said he couldn't go too deep in the time we have but said that he believes Trudeau is involved in "twisted events that are very dark and horrific." This includes the deaths of Barry and Honey Sherman, that MMIW is connected to a "type of death cult that they bet on for the victim's time of death" out in Western Canada, and that the Five Eyes (including Canada) conspired to spy on Trump.
McElrea said he knows there are "fringe elements" in the community but is adamant that most, like himself, are citizen journalists—adding "to label citizen journalists as conspiracy theorists is just an attempt to discredit us." He said that most of the Canadian Qanon supporters he interacts with are working class people 35 years and up—McElrea is 53 himself.
"With Q starting in the states Oct 28th 2017, Canada is catching up to them now," said McElrea. "Judging by the FB groups, Canada is well represented… I would say that Q supporters would support the yellow vests as Q supporters are the ones most awake. Not all yellow vests support Q or are even yet aware of Q."
While most of the Canadians have to weave their own stories from the Trump-focused crumbs, some of what Q spouts references the Great White North. View, in particular, pointed out a QAnon drop that was posted in September. It was a response to the question, "Trudeau, ANYTHING?"
The drop said "billionaire(s) 187. FVEY. Safety House Built. U1 Funnel >> Canada >> X. Q." Now to the typical reader, this reads as brain-addled gibberish, but to the QAnon devotee, it's juicy little hints at the malfeasance of Canadian prime minister. One baker, attempted to unpack this on Twitter and it's a fascinating process to watch. They took the first portion to reference Barry and Honey Sherman, the billionaires murdered earlier in late 2017, and that meant, obviously, that Trudeau did it.
"Somewhere in this web of activity, #QAnon is implying Trudeau was somehow complicit or culpable in the deaths of Barry and Honey Sherman," reads a tweet by Qanon follower AARNO_XXII. "In terms of likelihood, I'd guess their murder was a state-sponsored method for ending the probe into the Shermans' fundraising.
The user quickly figured out FVEY was a reference to Five Eyes but was thrown back by "Safety House Built," after some thought though he said he thought it referenced something built by the Department of Public Safety. The next segment, to this theorist, referenced the Uranium One scandal and implies the Clintons were funnelling their money in Canada. It's all very confusing, changes at the drop of a hat, and very Charlie-from-that-conspiracy-meme-y. As reported by the CBC, other theorists believe that President Trump is going to arrest Trudeau because of a botched assassination attempt on the American leader. It's exhausting and pretty much impossible to follow perfectly.
QAnon came around in October of 2017 and quickly started to pick up steam online where it earned itself followers and some explainers by digital-focused outlets but it's true coming out party was at a Tampa Trump rally on July 31 of this year. It was here when we saw the first excursions of QAnon from online to offline. This is where you saw all the major outlets write explainers and from there it exploded to the point of it being almost mainstream where you see the likes of city councillors asking for God to "bless Q" as they leave office.
View said Canada may have just crossed a similar precipice.
"If you had this sort of Tampa Florida rally moment, in which all of a sudden people in this QAnon community start asserting themselves then I fully expect that they'll become more popular and more mainstream up there."
Sign up for the
VICE Canada Newsletter
to get the best of VICE Canada delivered to your inbox.
Follow Mack Lamoureux on
Twitter.