Xinhua News Agency / Getty
Myint Oo learned about the pandemic allegedly gripping his country the same way most people in Myanmar did: on his Facebook feed. When he read about an outbreak of H1N1—swine flu—last month, he was surprised. He hadn't heard anything from Myanmar's Ministry of Health and Sport (MoHS) about a new epidemic threat.
A general practitioner and health policy researcher, Myint Oo has run a private clinic in Yangon, the country's commercial capital, for 37 years. "People suffer [from] influenza every year, but they recover in a few days," he tells me. "But now, people are scared about H1N1. What is H1N1? Even private doctors, myself [included], are not familiar with H1N1."
H1N1, an influenza passed from pigs to humans, killed as many as 575,000 people in 2009, according tothe US Centers for Disease Control and Prevention (CDC). It's now considered a "mild" seasonal strain, and is covered by most flu shots.
But unfamiliarity bred confusion and then alarm in Myanmar, where Facebook users circulated speculation, the "latest" unverified figures, and dubious medical advice. Myint Oo recalls reading that 17 of 20 patients in Yangon had died—an outrageous (and false) mortality rate for a seasonal flu. "Rumors spread on social media have a large impact on the people," he says. It didn't help, he adds, that "the public announcement from the Ministry of Health was delayed, so people panicked."
Some commenters demanded quarantines and 24-hour emergency hotlines, costly measures not necessary for the flu—and when the government failed to respond, outrage was palpable. Others reportedly traveled to the Thai border for flu shots, which are expensive and not widely available in Myanmar.
"There is no reason to stay calm about this. American hospitals might be able to treat with lowest fatality, but in Myanmar, one needs to be very careful considering the health care quality and facility. And yet, even the healthcare staffs do not get enough supply of preventive measures," wrote one Facebook commenter, using emoji symbols for anger and face masks.
---
Watching this on VICE: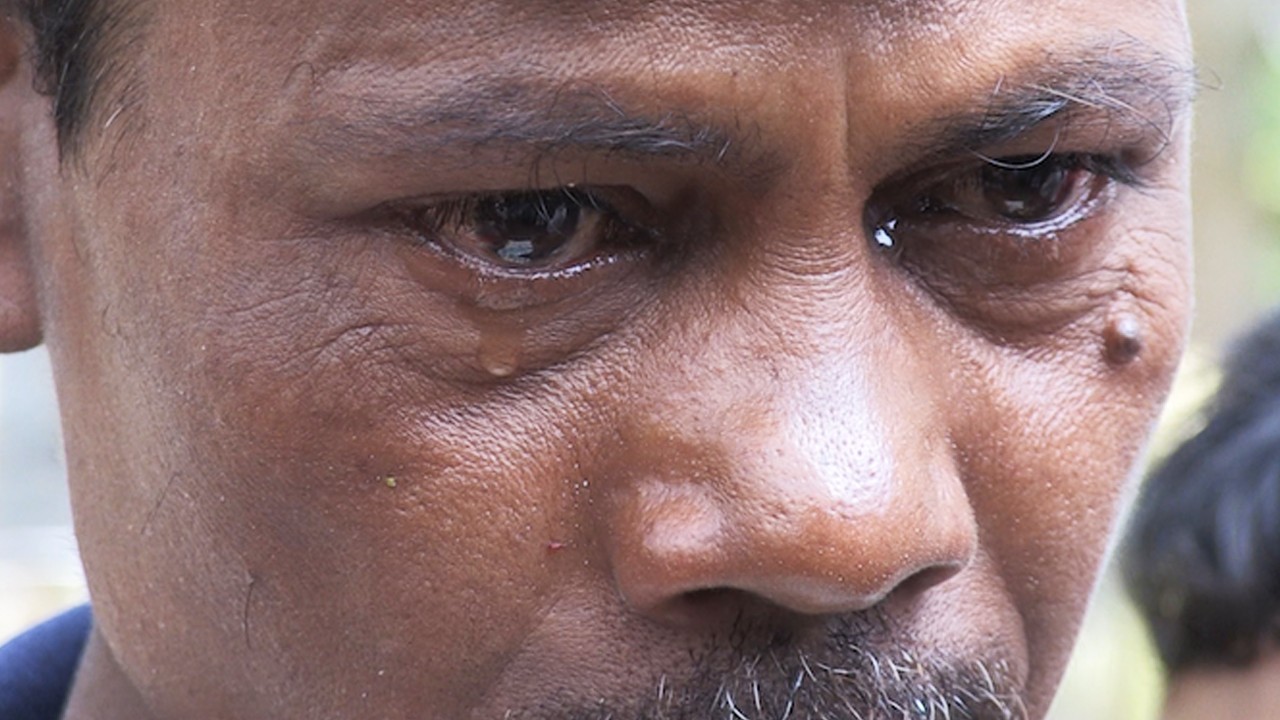 ---
H1N1 wasn't mentioned in state-run media until July 25, six days after the outbreak began, when the state-owned newspaper, the Global New Light of Myanmar, reported three cases. The following day, that number had jumped to "more than a dozen," with decidedly more dramatic coverage: The front page declared "Two dead from H1N1" and a photo showed a couple wearing face masks at City Hall "to protect themself from contracting the H1N1 virus."
Surgical masks were featured prominently in early and medically questionable advisory messages. The masks, however, only should have been used by healthcare professionals, who have a higher risk of exposure, according to WHO country representative Stephen Jost.
"Flu essentially is not an airborne disease," Jost says, emphasizing that a focus on face masks detracts from more effective prevention measures like hand-washing. "You could wear a mask and still rub your eyes and still get it, if you haven't washed your hands," he adds.
Nonetheless, misinformation was circulating and the outbreak was a widespread public concern. Stores in Yangon started selling out of masks. By the time Myanmar's Center for Disease Control posted an H1N1 "Frequently Asked Questions" guide on Facebook, news of the outbreak had been raging on social media for three weeks. By then, MoHS had realigned their messaging effort, inundating local users with daily updates and publishing illustrations to demonstrate proper hand washing and cough etiquette.
As of August 22, a month into the outbreak, Myanmar has confirmed 320 cases of swine flu and 53 deaths, 21 of them from related infections, according to MoHS. "This is a seasonal event, it's a seasonal influenza, and there are likely to be also more cases because it is seasonal. And it is not in itself a cause for alarm," Jost told Voice of America in an August 9th story. While H1N1 has not grown into the pandemic threat it was rumored to be, the outbreak did highlight a new and growing piece of the public health puzzle in Myanmar: social media. The Ministry's inability to quickly adapt to combat rapidly spreading misinformation has raised fears that panic and misinformation could drown out government agencies in the event of a real crisis.
Part of the problem is the unprecedented pace of Myanmar's recent digital revolution, according to Htaike Htaike Aung, cofounder of Myanmar ICT for Development Organization, a local civil society group. In 2014, fewer than 2 million people in Myanmar had internet access. Now, that number is about 46 million. Facebook—which was previously inaccessible—counts some 18 million local users. This "no phone to smartphone" surge, Htaike Htaike Aung says, hasn't left room for digital and media literacy to keep pace.
"Suddenly, people have access to a lot of information, which leads to them believing in everything they see on the internet," she says. "Because of this, the population is very vulnerable and very prone to misinformation and propaganda."
Myanmar has no shortage of real and severe healthcare crises for social media users to fret about. The country is beset by a range of endemic infectious diseases, particularly during monsoon season, between May and October. One menace is dengue, a mosquito-borne illness that often causes only mild symptoms but can evolve into a deadly hemorrhagic fever. While Myanmar netizens were preoccupied with a routine flu outbreak, hospitals recorded more than 3,300 cases of dengue, according to state media. Health officials have warned that shifting weather patterns due to climate change and poor sanitation in Yangon's outskirts could see dengue infections surpass 2016's tally of 10,000.
Dengue presents a thorny public health challenge: There is no vaccine, so prevention training and palliative care are crucial. Eliminating standing pools of water that mosquitoes use to breed can be extremely effective. Treatment guidelines, such as avoiding ibuprofen or aspirin, which relieve aches but can aggravate internal bleeding, could prove life-saving. But the Ministry's messaging efforts so far this year have been only cursory: The last dengue-related advisory on the Myanmar CDC Facebook page was on July 20, shortly before it was overtaken by posts about the fake H1N1 pandemic.
The country's critically limited resources and staff are also a factor in this. The Health Ministry's entire budget is just $793 million for 2017-18—or 5 percent of the national budget. By comparison, the US spent 28 percent of its budget on healthcare the same year. WHO recommends spending at bare minimum 5 percent of the GDP—Myanmar spends closer to 2 percent, though it has increased dramatically in recent years.
For Myanmar's government health staff, allocating precious resources can be a tricky balancing act, says Jamie Uhrig, a public health practitioner with experience working in Myanmar. "The human, technical, time, and financial resources being used on H1N1 in Myanmar could and should be used for other threats to health," he says. "As soon as the outbreak reaches a plateau, I hope they will be."
To be fair, the threat of influenza should not be overlooked: The US, which has a population six times larger than Myanmar's, records 12,000-56,000 influenza deaths per year, often due to related infections such as pneumonia. But in Myanmar, the small sample size of confirmed cases also inflated the mortality rate, making the outbreak seem far more lethal than reality. Unlike in better-monitored countries, the number of confirmed cases doen't include thousands or tens of thousands of likely mild and undiagnosed flu cases in rural areas that lack access to public hospitals. In Myanmar, we are only seeing "the tip of the iceberg," Jost says.
The Ministry's efforts to combat the fake news panic over H1N1 reflect an undeniably significant improvement over how the junta (military-run government) handled previous outbreaks in the country, where decades of neglect by successive governments has bred a culture of distrust for authorities.
Htun Tin of MoHS' central epidemiology department emphasizes the Health Ministry's concerted effort to improve transparency, offering daily updates to news media and posting clearer prevention and treatment recommendations online. How healthcare authorities manage public alarm and communications could make a life-saving difference, not just in Myanmar but around the world.
According to Jost, alleviating public alarm is, in itself, a public health priority. "The danger is that the fear will take over, and supplant everything else," he says. "If the public tells us that this is the most important problem to tackle, in some ways, that is the truth, and we need to respond to that."
Read This Next: There Are Easier Ways to Feel Better Than Quitting Social Media