Image by Nicole Van Straatum
Late last year, Brooklyn DJ and artist Danny Castaneda decided to make graphic T-shirts with a simple, political message: "white artists bore me." He anticipated that some people would take issue with the statement—that was part of the point—but he didn't expect that it would anger members of his own artist community.
"The original intention wasn't to dismiss any white artists, but I was trying to bring attention to the fact that artists of color aren't fairly represented," he tells Broadly. In his eyes, mediocre white artists are constantly being afforded opportunities—whether that be gallery space or brand collaborations—that exceptional artists of color aren't given, at least with anywhere near the same frequency. The generalization of the statement, he says, alludes to his belief that it's every white artist's responsibility to actively push for more inclusive artist spaces—especially in cities like New York, where white people make up under half of the population.
"I posted the shirt on Instagram, [and] a lot of people got really upset, including friends—well former friends now," he recalls. One commenter called the message on the shirts "a vile (and dare I say racist) claim to make." Castaneda's response was that "in order for racism to exist, it must be backed by systemic oppression." In other comments, he tried to explain the generalization: "ALL white people need to take accountability with the issue. Instead of taking it personally and being offended… stand in solidarity."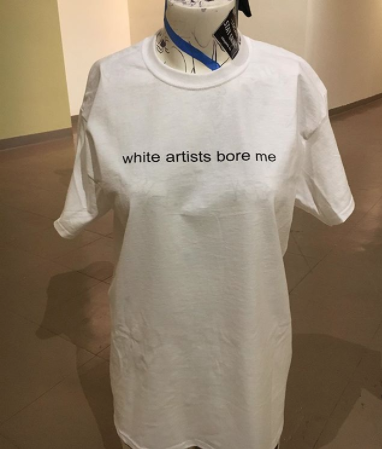 Soon, however, Castaneda realized that social media wasn't the most efficient or effective way to tackle the bigger issue behind the debate. He decided to refocus his energy towards addressing the same message in a way that felt more positive: He invited a group of New York City teens of color together to discuss how they felt about art and growing up as minorities without the fear of being attacked for voicing their perspectives.
Castaneda asked his friend, creative producer Nicole Van Straatum—whose personal work explores the relationship between self and community—to help document the day. "We just [had] an open conversation surrounding race, identity, and art because these were all creative kids—not even kids, young adults," she tells Broadly. "They definitely have opinions and experiences." After recording the conversations with the teens, Van Straatum took photos of them in Castaneda's "white artists bore me" shirts.
"That day ended up turning into a makeshift workshop where I taught the kids how to paint, and I really enjoyed that feeling," Castaneda recalls. "I wanted to keep it going." Castaneda was inspired to continue the dialogue about experiences with art between young people in NYC. He decided to start free monthly art workshops where he could continue providing a space for youth of color to be creative without feeling like outsiders.
To host the workshops, Castaneda has started a new art collective called Minority Report. While his initial Instagram post received a lot of criticism, many of Castaneda's friends who are also artists from minority groups—like Van Straatum who is helping him launch the collective—reached out to him in support. After speaking to them, he decided that providing a continuous platform where people of color can feel free to showcase their work and voice their concerns about the art world would be the best way to channel his and their shared frustrations about New York City's art scene.
Part of Castaneda's inspiration for the project can be traced to his own experiences as a kid growing up in Flatbush, Brooklyn with dwindling access to art materials. "Within recent years, funding for arts programs in New York City has been cut. I had way more access [to the arts] in my freshman year of high school than I did by my senior year in 2013. By then, most of the art classes that were provided [before] were no longer there." As public funding for the arts isn't likely to increase under our current administration—in fact, quite the opposite—Castaneda sees providing free art access to kids of all backgrounds as more crucial than ever.
Castaneda's first official Minority Report workshop took place last month at Canal St. Market, a new trendy vendor space in New York's Chinatown. There, he set up four free art stations: clay sculpture, drawing, photography, and DJing. The turnout was a lot younger than he anticipated. Kids ages four to seven huddled around the sculpture table, where artist Edward Salas helped them create an impressive stop-motion film that was later premiered on a projector. Meanwhile, kids and teens took turns at the DJ table where they learned how to spin and entertained passerbys with everything from house music to Taylor Swift interrupted by not-so-smooth transitions.
So far, Castaneda has been funding the workshops out of pocket. Between now and his next workshop, he is busy working on getting grants and sponsorships so that he can provide kids with more materials and expose them to new art forms. Meanwhile, Van Straatum has been preparing for Minority Report's impending website launch and putting together creative briefs to share with potential sponsors. For the next workshop, Castaneda wants to have a skateboard building/decorating station, a talk with a guest photographer, and a chef friend who specializes in Indonesian comfort food give a cooking presentation. "I want the layout of each workshop to be really different to keep it fun and exciting," he says.
Although Castaneda's aspirations for the collective are big, he doesn't seem too worried about getting the funding he needs to achieve them. Since he used his controversial T-shirt post to cleanse his list of followers, he says his community has been overwhelmingly encouraging: "Everyone's just down to participate."
While so far getting the project off the ground has been a lot of work, both Castaneda and Van Straatum agree that the effort is more fulfilling than it is laborious.
"We're seeing this gap that's not there and trying to fill it up," says Van Straatum. "Creating safe spaces is so rewarding."