This story originally appeared on VICE Quebec.
Not-so-vintage photos of neo-Nazis parading through in Montreal started making the rounds online earlier this month, shedding new light on a dark and somewhat forgotten period in Quebec history.
In the past few years, fringey far-right groups like La Meute and Soldiers of Odin have continued to gain ground in the province and across Canada—vocally opposing issues such as immigration and the "Islamisation of Canadian values." Incidents such as the January 2017 mosque shooting, along with several cases of Islamophobic vandalism and harassment and anti-immigration protests also demonstrate increased racial tensions. In this context, the photographer behind the nearly 30-year-old images now hopes his photos serve as a cautionary tale.
"People forget that this existed in Montreal," Montreal-based activist André Querry told VICE. "I want to show the dangers of that era and remind people that we have to fight against these dangerous ideologies."
The early 1990s were a turbulent time in Quebec, with the Oka crisis—a standoff between Mohawks and the military over a proposed golf course development on sacred burial ground—and ongoing constitutional negotiations exacerbating racial and linguistic tensions.
In the midst of all this turmoil, different neo-Nazi groups—including a chapter of the Klu Klux Klan—emerged in Montreal, attracting more than 100 members who targeted black and Jewish people and members of the LGBTQ community.
"There was a climate of fear," Querry told VICE. He explains that he started taking pictures in 1986 for a publication run by a left-wing organization called Groupe Action Socialiste. His focus was mainly student movements and union mobilisation, until neo-Nazis started crashing some of the groups' events.
"In September 1990, we organized this rally against racism," he recalls. "And the KKK leader and a bunch of young neo-Nazis showed up to confront us."
The avowed racists' efforts made headlines and Querry says the emboldened Nazis became increasingly visible and active. "It was dangerous, these were groups who were acting on their claims, who were attacking and killing people."
In a 1991 documentary about the movement, neo-Nazis describe their participation in what they called the "white van ritual," excursions during which they prowled Montreal streets to hunt down and attack immigrants. According to the report, this led to the assault of roughly 200 people.
In 1992 Le Devoir published a front page story on the concerns caused by the rising racist movements in Quebec.
"Montreal anti-racism organisations are expecting a hot and violent summer," begins the article. "Montreal's young Nazis and members of the Klu Klux Klan in Sherbrooke have led a major offensive this week, distributing the KKK newspaper again in Sherbrooke and Verdun and provoking violent racist encounters. On Friday night, ten Nazi Skinheads attacked two blacks, with one man defending himself with a knife and wounding one of the Nazis."
The director of the Global Anti-Racism League told the paper he estimated there were about 150 organized neo-Nazis in Montreal. He also warned the movement seemed to be taking root in Gatineau and Quebec City. "We're afraid that their number could soon reach 300, even 600 people as of this summer. The KKK members are out there recruiting 13 to 16 year olds," he warned.
Querry's photos—taken between 1990 and 1992—provide insight into this era, showing the neo-Nazis protesting communism, opposing anti-racism efforts, and just simply brandishing swastikas during public ceremonies.
"It was terrifying to see people going around with Nazi flags at July 1st celebrations," says Querry.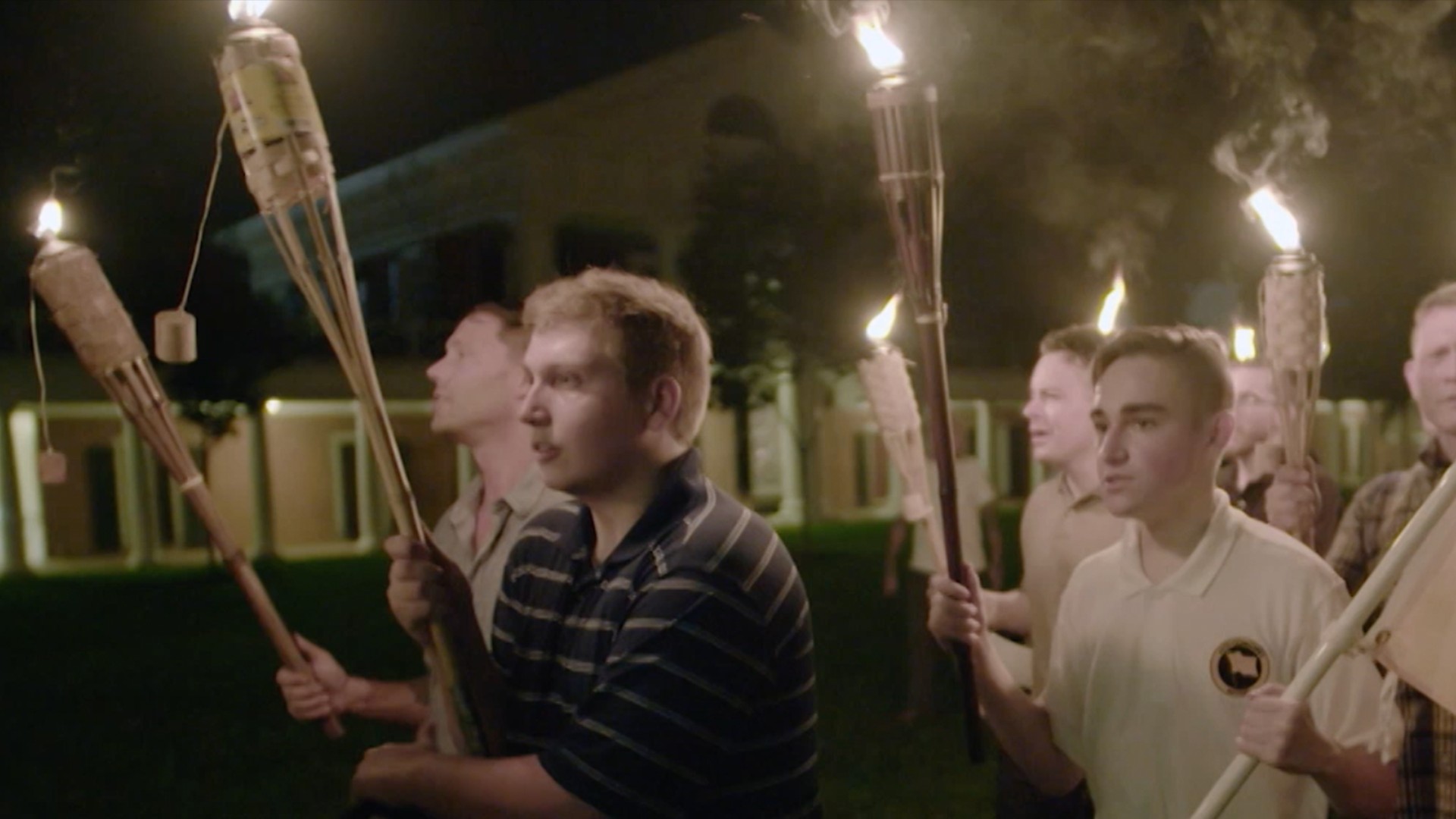 In January 1992, two leaders of the KKK were arrested for their involvement in a plot to burn down a building in Hochelaga Maisonneuve. "The two main leaders of the KKK in Montreal, Michel Larocque and Alain Roy will be charged this afternoon for trying to burn down a building inhabited by blacks in the Hochelaga-Maisonneuve neighbourhood," read a report in La Presse. "The two individuals were caught red-handed on Saturday night, along with another KKK member and 36 Skinheads with molotov cocktails." Police said the attempted arson—a settling of accounts over a previous skirmish—would have degenerated into a major blaze that could have "cost many human lives."
Larocque is seemingly still active in right-wing groups. His Instagram account boasts a photo of the former KKK leader with a tattoo of anti-immigration group La Meute on his hand. La Meute spokesperson Sylvain Brouillette told VICE that he didn't know Larocque and was unaware of his former affiliations. According to La Meute's records, Larocque severed his ties with the group in early 2016.
Patrick Beaudry, the former La Meute leader who left to start his own similar organisation called PTRK Revolution, claimed that Larocque is now a member of his group. "I see no reason that could lead to his exclusion from the group," he told VICE, explaining that Larocque had since remade his life.
In August 1992, the groups even went so far as to organize a neo-Nazi festival in La Plaine, QC. In La Presse's coverage of the event, a police officer tells reporters the festival went on "without incident," except for a couple of drug arrests and the burning of a swastika. "There's a municipal bylaw against public fires," said SQ lieutenant Benoît Poulin. "But that's really all we can criticize them for this weekend. We were here to ensure they didn't contravene the criminal code, we can't prevent them from gathering."
Querry eventually became a personal target of the KKK's attacks. In 1993, he was assaulted as he passed out pamphlets warning neighbourhood residents of an upcoming Nazi event. "They attacked me because of my sexual orientation," he says. "To hear children as young as four or five, who didn't know me at all, calling me a faggot. That's what they were teaching their kids, that we were dangerous and perverted."
One morning, Querry woke up to find a KKK insignia on his front door. This was cause for concern, he says, as neo-Nazis had been particularly violent towards the LGBT community. In November 1992, four neo-Nazi teens were arrested for the murder of Yves Lalonde, a gay man who was beaten to death while out jogging. "I moved the year after, people wanted me to move right away but I didn't want to, but I moved and then I became incognito."
By 1995, Querry says the Nazi movement had mostly dissipated, or at least retreated. "We succeeded in getting rid of them with our protests and gatherings," he recalls. "There was relative calm during a few years."
Yet Querry says watching the rise of groups like La Meute and Storm Alliance has reminded him of this era. "The an anti-immigration sentiment is in the same vein," he cautions. "When we look at the rhetoric used by these groups, it's quite similar to what the KKK was saying at the time." Follow Brigitte Noël on Twitter.