Photo by Steve Russell/Toronto Star via Getty Images
For Jessica Platt, the sports world has not always been the most inclusive environment. That community, though, played a significant role in her decision to embrace her identity on a public stage.
Platt, a professional hockey player who came out as a transgender woman on social media last week, can be an example for someone else. And one example, as she discovered, can be all it takes.
Platt, a 28-year-old defenceman with the Toronto Furies of the Canadian Women's Hockey League, had just one person in the hockey world with whom to identify. Harrison Browne, of the National Women's Hockey League, who came out as a transgender man last year—the first professional athlete in North America to do so—was a direct influence on her, though their lives and stories are as unique as any other's.
"Seeing how people reacted to [Browne] kind of gave me more of an idea of how people might react to me," Platt told VICE Sports. "We've sent a couple of messages back and forth and he's been supportive of me. He's a fantastic person."
Browne, who went public in October 2016, tweeted that Platt was "saving lives" with her announcement.
"I was doing this in the hopes of positively affecting some people's lives, maybe being a role model," Platt said. "It didn't cross my mind just how much of an effect I could have."
---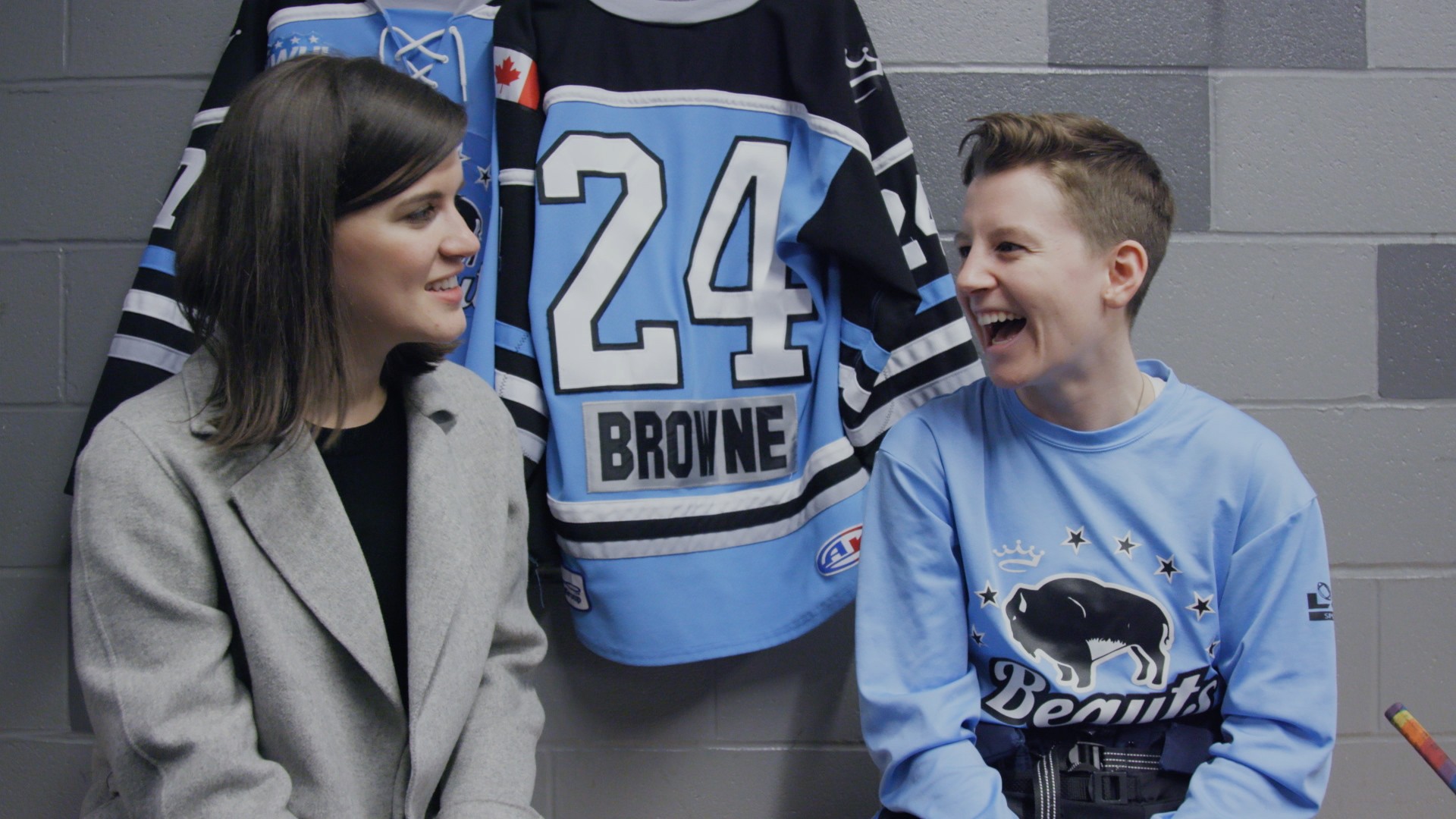 ---
In the days since, support for her has come from all sides, both on and off the ice.
"My main support has come from friends and family who I've been talking to about potentially doing this," she said. "I was in contact with a couple of people from the CWHL, bouncing ideas off each other. I think I'm very lucky to be able to tell my story.
"The hockey world has been great. Women's hockey is a very special community where everyone believes that if you can play, you have the right to play. My team has been pretty much the best that I could have asked [for]. Our fans have been supportive toward me on social media."
A welcoming atmosphere can be hard to find, harder still as a young person in team sports.
"Growing up, I was quite shy unless I got to know you real well," said Platt, who grew up in Sarnia, Ontario, and played hockey her whole life. "During high school I started questioning my identity. I didn't know too many people who were questioning themselves like I was. I didn't really know it was an option. I started falling out of sync with people. When I was playing hockey, and just in general, I didn't really identify with the super-masculine bro culture kind-of-thing. I tended to keep more to myself.
"Playing on the ice was never an issue, it was mostly the culture surrounding it and people's attitudes."
The CWHL was the first North American league to work with the You Can Play organization when it signed on in 2012. Leagues, management, and coaches can sometimes be gatekeepers to inclusivity but Platt has only found acceptance from Furies staff.
---
---
"She's talked about not having role models when she was young and she hopes that she can be that," said head coach Jeff Flanagan. "The opportunity for women in the CWHL to be positive role models for young girls is enormous. On our team, we've got engineers, teachers, women in management positions. Parents can say to their kids, 'You can do that, too.'"
Flanagan is also a teacher and said he's had experience with trans students in the school environment that have prepared him well in being able to support Platt in any way he can.
"One of the more difficult aspects of coaching is making sure your players are in a good spot so that they can perform athletically," he said. "What drew us to having Jessica on the team was her work level. She's in fantastic shape. Her ability to change her game after making a mistake and getting feedback has been very good. She's improving every day."
Platt left hockey after school only to unintentionally find it again years later. While working at a training facility in Waterloo, Ontario, she helped to teach learn-to-skate and hockey skills classes to young children.
"Passing that on to a younger generation kind of lit a fire under me," she said. "I eventually found a summer league to play in when I felt comfortable with myself."
At the end of that summer (2016), she signed up for the CWHL draft and was selected by the Furies to join their extended roster. She played four games last season before turning into a full-time roster player this year. Her first goal in women's pro hockey came in Montreal against the defending-champion Les Canadiennes.
"My message is to not be afraid to be yourself."
"I felt like I accomplished something great," she said. "Not a lot of people make it to the CWHL and even then, it's so hard to score. The puck is in my stall at the rink to remind me I can do it. I feel I've accomplished what I set out to do and I think I can only get better now."
Being in the public eye, Platt has the opportunity to reach a larger number of people than if she came out privately. In some ways, she said, it's easier coming out while being in the spotlight.
"People are telling me that I"m helping them," Platt said. "I have solid evidence that I'm doing some good. I know it's not easy for a lot of people. Everyone's coming-out process is different. It could also be easier for [people outside public view] because there's no potential for a media backlash. You never know if anything bad is going to happen.
"My message is to not be afraid to be yourself. There's potential for happiness. I know it sounds cliche but it gets better. I never gave up and everything is absolutely amazing for me right now."
The Furies will play in Sarnia this Saturday as part of the Hockey Day In Canada festival, giving Platt a chance to return to her hometown feeling more like her true self than ever before. She's already told practically everyone she knows in town to come watch.
"I've reached a point in my life where I'm happy with and confident in who I am. I thought I would be able to help some people if I could lend my voice and give them someone to relate to," she said. "Someone to give them a solid example, that they can live their life how they were meant to, and follow their dream as well."