B Christopher / Alamy Stock Photo
A fair criticism of the recent veganism boom is that it has mostly catered to the middle classes. The movement's entanglement with a "clean" eating trend which was thought of as promoting obscure, pricey ingredients – goji berries, coconut flour, avocado oil – hasn't helped, but until recently there really hadn't been many companies creating specialist vegan substitutes, so prices for these products remained prohibitively high.
Lately, however, veganism has become more accessible in the UK. As Tsouni Moss – owner of the popular Instagram account Yes, It's All Vegan – told the Guardian, the "vegan pound" is real, and big businesses are keen to get their share. First, we had an expansion in the availability of vegan junk food, thanks largely to America, and then a proliferation of independent "wellness"-spiked vegan cafes and restaurants, as well as the arrival of the much-lauded Veggie Pret. This vegan eruption was still city-centric, though, until national chains – Zizzi, Nando's, Pizza Hut – caught on, offering up vegan meals to those who aren't middle class Londoners.
The next obvious step was to bring veganism to the masses via our supermarket shelves. If producers upped their game – and the scale of production – vegan food could be cheap, easy to find and pre-made, perfect for busy parents and lazy shits alike. Less restricted by income, there is a utopia not far off in which anyone can be vegan if they want to be, with little hassle and huge savings to be made.
And this, in principle, is exactly what's happened: big business has finally started to invest. A Sainsbury's spokesperson, for example, told Plant Based News that the chain had identified the "clear appetite for exciting and new ways to introduce more vegetables into our lives", while a Tesco rep told the BBC that the brand "has recognised the time is right to significantly expand its plant-based range and take it from a niche market right into the middle of the mainstream".
However, with supermarkets both scrambling to meet demand and trying to force profit margins out of the vegan pound – with the advent of Britain's Big Vegan industry – it's clear there are going to be a few obstacles to overcome before we reach that meat-free moksha.
---
WATCH: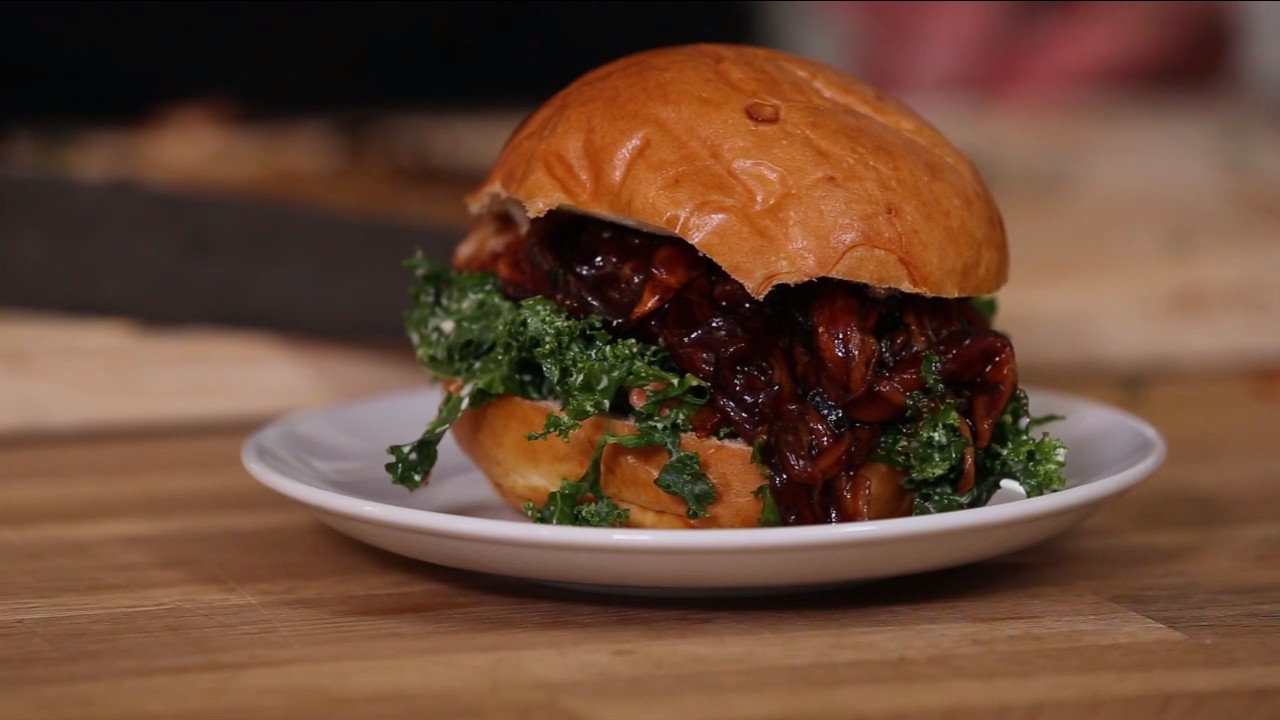 ---
This year was set to see a record amount of people taking part in "Veganuary", according to the UK charity of the same name, and supermarkets were prepared. Tesco, Sainsbury's and Co-op were among the many big chains to either create a whole new range of pre-made vegan food or expand their product lines to capitalise on this influx of newly plant-based people. More profit for them, more choice for consumers hoping to reduce their carbon footprint. Win, win.
The problem is, in many ways, the big chains missed the mark.
Instead of, say, providing consumers with more information on veganism in store or grouping together their pre-existing, accidentally-vegan products – of which there are many: biscuits, crisps, sauces, soups – they appear to have hastily commissioned a bunch of pretty dodgy food products and put big green Vs on the packaging. It's not all bad, but it's certainly not all great.
Take Sainsbury's. The supermarket has made a range of "shroomdogs" out of "ugly" mushrooms that customers would apparently be too picky to buy – which is a great idea; food waste is something many vegans and almost-vegans care about. However, they went ahead and put egg in them, making them vegetarian, not vegan – a weird choice for Veganuary.
Sainsbury's is also selling two cauliflower "steaks", AKA chunks of cauliflower packaged in plastic, for an introductory price of £1.80. Look on their website and you'll see that's exactly the same price as two cheap beef steaks. Two pieces of cauliflower cost a fraction of the price (financially, environmentally) to produce than steak, so why such a high price? Similarly, they're now flogging "mushroom mince" made from those same ugly mushrooms, which is vegan, but also it's £1.50 for straight-up chopped mushrooms in plastic packaging – not a true mince substitute by any stretch of the imagination.
At the start of 2017, Sainsbury's and a team of scientists at Oxford University teamed up on a project aimed at getting customers to eat more vegetables. According to the Guardian, ideas included "placing vegetarian alternatives on the same shelves as meat products; giving vouchers and loyalty points to shoppers who choose vegetarian products; and providing recipes and leaflets that outline how shoppers can eat less meat" – all excellent ideas that don't appear to have been acted upon. But hey, at least we've got the £1.80 cauliflower steaks.
Sainsbury's said they didn't have a spokesperson available to talk about their dive into plant-based food, or what their next steps are, and instead directed me towards a press release that explains how their "new range aims to remove the barriers to plant-based eating".
M&S also started selling packaged cauliflower "steaks", but pulled the item last week after the internet wouldn't stop laughing at them for it. Even worse than Sainsbury's product, this was £2 for one plain "steak", as opposed to the 80p you'd pay for an entire cauliflower anywhere else.
The argument here isn't about pre-cut veg, which has an important place on our shelves. It's about the packaging – more unnecessary plastic being unleashed on an already ravaged environment – and the bizarrely high price of otherwise cheap goods. Few people are stupid enough to spend £2 on what's objectively one of the worst vegetables in the ground, and packaged products like these certainly won't entice Veganuary virgins to keep up their diet into February, considering many people go vegan to become more environmentally-friendly.
Unfortunately, although they're making positive moves, M&S and Sainsbury's appear to have been somewhat enticed by the now-established UK model: charge more for vegan food, just because you can. Which, besides having obvious downsides when it comes to convincing people that veganism – or even flexitarianism – is a good idea, doesn't make much business sense.
As for the other big supermarkets: Co-op introduced an uninspiring onion bhaji sandwich, a red sauce pasta salad and some soups. Tesco, the most successful and ambitious of the bunch, brought out a fully-vegan ready meal range, Wicked Kitchen. The tofu sandwich is a step in the right direction, a more accessible follow-up to fake-meat brand Tofurkey's packaged sandwiches, which lots of people got excited about last year.
However, there are some clear examples of cutting corners that they presumably believe vegans won't notice or care about – a pastrami wrap with carrot instead of pastrami (so, a carrot wrap) and pizzas with no cheese.
Price and packaging is one issue, flavour is another.
As someone who will buy anything new if it has "VEGAN" slapped on the front, I'm working my way through a lot of this stuff – and most of it tastes pretty bland. There's a lot of grasping around right now to see what works, which is understandable: it's unexplored territory for many of these brands. Veggie Pret included, they're all still trying to work out how to make vegan food exciting, or even edible.
Weirdly, they don't seem to be cribbing off the popular and well-established ready-meal vegan brands already out there – in particular Fry's, which recreates all the delicious food we loved to eat before we quit meat: chicken nuggets, pies, chicken burgers, meat strips for stir fries. Household name Linda McCartney has plant-based scampi, sausage rolls, duck, sausages and pulled pork burgers, to name just a few delicious vegan products.
The big brands don't need to rip this stuff off wholesale, but equally they really could have benefitted from aping the approach. Longtime vegans care about tofu, fake meat and protein. They care about flavours and replacements and things that aren't just very basic vegetable swap-ins. They have eyes: they're not going to look at a "cauliflower steak" and pay £2 to take it home.
I called up Planet Organic, a high end long-time stockist of delicious vegan and vegetarian alternatives, to see what they thought about supermarkets finally trying to appeal to the trend for plant-based diets.
"You saying Sainsbury's are selling sliced mushrooms as mince isn't that surprising to me, when supermarkets are there to cater for the masses and make as much profit as possible," said Amelia Richards, Planet Organic's marketing co-ordinator. "Whereas we'd focus more on the quality of our products because we're health-focused, they're just trying to accommodate people wanting to be more plant-based. They're taking good first steps, but whether or not they'll be able to follow through with higher integrity products, because you do need to charge more for those… I do think they'll need to bring in those products that replicate what people are used to in order to keep them around."
Fry's had a similar take. Their spokesperson said, "We welcome any of the new launches because they're getting such exciting coverage in the press about eating plant-based. It's adding to the momentum of everything. It's difficult to judge what supermarkets are doing because they're trying to appeal to a really wide portion of the market with quite different offerings in different retailers. It's all to be applauded that there's an increase in choice, but we'd rather they were stocking us too – we fill a big space in the market."
Sales plug aside, they have a point: a major impediment for aspiring vegans is the lack of convenience. Stock more well-established, time tested brands and that's half the battle won.
Reducing your meat intake is good for the world, and the world could do with any good it can get. You're not going to convince people to do that by pushing slices of raw vegetable, wrapped in layers of plastic, for £2 a pop. Major supermarkets should think about who vegans are, what they care about and what they like to eat. Maybe, I don't know, do a focus group with people who've been vegan a year or more to work out what foods made them stay (I refuse to believe M&S consulted anyone about those cauliflower steaks).
You could say all this is a positive step towards making veganism accessible to all people; that it's merely the first wave of products from an industry that's still learning the ropes. And it is, of course. It's the beginnings of a hopefully excellent journey. It's just that there's still quite a way to go; supermarkets are going to have to be much more inventive to convince the masses to swap their microwave chicken tikka for a butternut squash curry.