Yesterday, indie deity Johnny Borrell announced his plans to help save guitar music with the release of his debut solo album. It's called Borrell 1, and contains some deliciously ludicrous song ttitles, "Pan-European Supermodel Song (Oh! Gina)", "Dahlia Allegro" and "Cyrano Masochiste".
But that's nothing. We've had an exclusive look at the Borrell life plan and can reveal that Borrell I is just the first part of a seven-episode opus. Here's how it all plays out:
Borrell II
Borrell I was run out of the top 125, after three weeks and Bozza felt sad. He was a laughing stock in the publications that once held him up as a deity. NME called the record "a fart in the face of Britpop". The Guardian said it was "a war crime against music that can only be punished at The Hague." Even The Telegraph's Neil McCormick, said the record was "only a bit amazing". Borrell went into a tailspin, closing himself off from the public. He felt a creative thirst to reinvent himself as a winklepicker wearing Gatsby, lavish and in the headlines. After a day long binge on a packet of cocodamol that someone had left behind in Tunbridge Wells, J-Bo penned his comeback record. Impressively titled Borrell II, it drew heavily on an experience in which he swallowed a lucozade tablet outside a Slug'n'Lettuce, the pitfalls of being a five-time NME cover star and featured the call-to-arm lyric – "East Wolverhampton is a vampire, it sucks the joy right out of me!"
Borrell III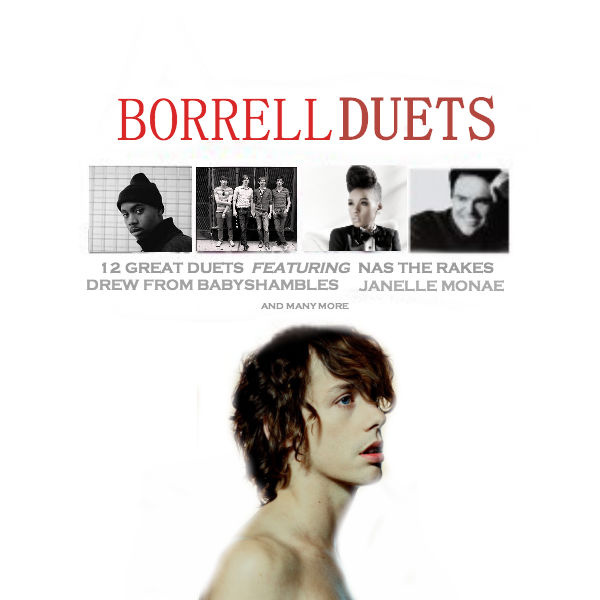 Written in a yo-yo of despair and glamour, Borrell II actually became a global success for Bozza, his biggest album since he accidentally walked into the studio during the recording of the Spiderman soundtrack. The critics loved the "deranged lunatic" character he'd created, and Borrell was heralded as born again rockstar.
With this new found success, Johnny went wild, moving to LA where he changed his first name to Bukowski, bought a house in the hills, and then built a dividing wall entirely out of Camel lights. For Borrell III, he was able to cherry-pick the crème of middle-ground pop, like a young Tom Jones with an intact libido. The record featured collaborations with Janelle Monae, Timbaland and Nas, as well as his former indie contemporaries that he flew out just to rub his new found celebrity status in their faces. The record climaxed with a track featuring Scott Edge (live bass player, Sunshine Underground), Alan Donohoe (The Rakes), Scarborough Steve (of pre Up The Bracket Libertines fame) and Johnny, sort of like a belated 2006 HMV bargain bin answer to A$AP Rocky's "1Train".
Borrell IV
After all this success, Borrell just needed to get away from it all. Thinking he'd got talking to Josh Homme at an acid orgy in a West Hollywood sex den, he agreed to make the fourth album in the Borrell trilogy at his desert studio. Arriving a few weeks later, he was disappointed to find out he'd actually been talking to Damien Lewis. The pair kept going anyway, making an album based on Lewis's role as Jeffery Archer in a TV movie. The record, Borrell IV: Peerage, Perjury, Prison, Piss-up cost millions to make, sold fourteen copies and forced Borell to move back to the home counties.
Borrell V
Desperate to avoid paying back the huge losses created from the Borrell IV advance, Johnny tried to get out of his contract with Universal-BMG-Haliburton-Esso (as they're then known) by chucking out a live album. Borrell V: Live From The Roof Of Efes was supposed to be a chance for the star to focus on his biggest hits. But taking to the roof, a combination of vertigo and Damien Lewis based acid flashbacks took hold and Borrell threw his guitar through a pool table and began furiously cranking while singing "Don't Go Back To Dalston". This lasted for 72 minutes, before he was shot with a tranquilizer gun by Dominic Masters, at this point a psychiatric nurse, and disappeared for sixteen years.
Borrell VI
Out the spotlight for so long, Borrell returned to sign a one-album deal with Columbia for a undisclosed multimillion dollar fee. Lots of questions were asked about how he'd spent the past decade and a half, but few were answered as Borrell had taken to making all public appearances while wearing a prosthetic mask of his own, younger, face which prevented him from speaking.
The record itself brought together a lot of Borrell's heroes growing up. Nu-metal icons like Fred Durst, Chester Bennington, and Jonathan Howsmon Davis all featured. "I want to bring the joy that nu-metal gave me to another generation," wrote Borrell on a piece of paper that he handed to a journalist.
The record was Borrell most successful and did for Nu-Metal what Daft Punk's Random Access Memories did for disco, selling 300,000 copies in the first week and returning the nu-metal collaborators to their former glories. Borrell went out on a high, retiring from music with his greatest hits Borrell VII, which was just the same as VI, but with "Golden Touch" tacked on the end.
Follow Sam and Ryan on Twitter @SamWolfson and @RyanBassil