[Eds. Note: Remember at school or camp or Jewish youth group when you had to get to know a bunch of snot-nosed mouth breathers by playing inane icebreaker game? For our newest column, The Truths and a Lie, David Johnson-Igra will update the time-honored technique by removing the jerknuts from the equation and replacing them with musicians you know and love. Enjoy, suckers! -B.S.]
When I pitched the whole "Two Truths and a Lie" idea to the Noisey editors, they gave me one main piece of advice: "Be Funny!" At this point, I should've known I was fucked, since as a Jewish man the only thing I have in common with Robin Williams, Billy Crystal, Mel Brooks, and Albert Einstein is that I'm slightly balding. But I digress.
Recently, a publicist reached out to me to interview Femi Kuti. If you have't heard of Femi, maybe you've heard of his father, afrobeat pioneer Fela Kuti. If you haven't heard of Fela, maybe you've heard of Jay-Z and Will Smith, who recently put a little money on a little Broadway musical called Fela!
Femi is a blessed and cursed artist. He's a fantastic musician forced to step outside the shadow of his legendary father (think Damian Marley, not Stephen). When journalists write about Femi, it goes without saying they compare him to his father—so I thought to myself, "It's your first article for Noisey, play it safe" and ask him about growing up with Fela. Femi has tried to distinguish himself from Fela (ie. his songs are shorter, and his band is called Positive Force) but doesn't hate him. This said, I thought if I needled him about coming up in his father's shadow I might get some good responses.
Prior to the interview, Femi gave me his responses. Remember, one is a lie:
1. I ALWAYS WANT TO PLAY MUSIC
2. I HATE MY FATHER
3. I LOVE THE AFROBEAT
When I called Femi he wasn't exactly in a playful mood. His tone was subdued and his answers were curt. He tells me his one year-old has cried all day like a "Mona Lisa." This is going to be… interesting. (SPOILER ALERT! He doesn't hate his dad!)
Noisey: So… do you hate your dad?
Femi Kuti: No! I never hated him. Angry, but never hated him. Hated him for things he did, but loved him like mad. When I revolted in Africa it's a taboo, so everyone was like 'This is the biggest mistake you've made." Now, I am an inspiration for many young people to stand their grounds.
It's interesting you say that because that must have been the situation last night with your 1-year old. She's already standing her ground.
Yes. I couldn't even practice. She's been screaming. [Laughs] Maybe she just wanted to get her voice. "Aha!" The whole house is tired from her screaming.
She's clearly going to be a singer; that's her calling.
Looking at her from a distance, there were no tears. So I was like, maybe she's practicing singing or showing us what she's going to be doing in the future.
Why did you call your band Positive Force? It sounds like a clear reaction to your experiences with Fela.
Because I wanted people to know it was for good reasons that I left my father's band, and because everyone was so much against me. 'How dare you? How could you?' It was like playing a game of chess because you know you have to make this move, but nobody can see where you're going, and you're hoping the next player will make the wrong move so you can kill the king.
What was that period like with your father right afterwards?
It was tough. For five or six years we didn't talk. I was very angry. I think he began to understand. He had made moves like that with his parents as well. He became very supportive.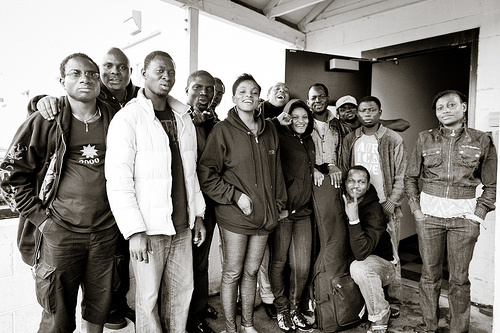 Femi Kuti and the Positive Force.
In comparison to Fela, you shortened your songs. Is control a big thing for you?
First of all, I thought why would you want listen to the same song for 45 minutes. Why would you want to listen to so many people play solos that are not going to be better than Dizzy Gillespie or Coltrane. I now put myself on the critic side. If I hated the afrobeat, how could I get the people who don't have that much time to catch them immediately?
I've always felt the afrobeat could stand out like any genre of music on the radio. I didn't want to lose the essence of the afrobeat. My next album is very afrobeat and is very radio friendly. The album scares me because I don't think I can ever do anything better.
You mean not being able to live up to what you've done in the past.
Yes. I know it's going to be a great album. I don't know if I want to go through that turmoil again.
That's what having a kid will do to you.
Yes. Yes! I always put a composition like having a kid. It drains you completely.
Well at least you chose to have just one wife. If you chose to have 17 wives or 27 girlfriends, you'd have a whole other headache.
Well I did. I had about 20 girlfriends, but I'm not that bad these days. In Africa, if you have a lot of girlfriends it costs you a lot of money--just like anywhere else. I think I care too much about my daughter. There's little time for womanizing. But of course, I like women.
Well I wouldn't insinuate that you didn't like women because that would be a whole other conversation.
Ha! Yes.
Femi Kuti's new album No Place for My Dream is scheduled for release sometime in 2013. His next tour kicks off in Miami on January 13th.