All this week on Noisey, we'll be falling arse-backwards into the state of UK music in a special series of articles about scenes outside the capital: from club closures to brain drains to free parties to local legends. Follow all the content on our Fuck London hub here.
You may be forgiven for thinking nowt much happens up 'ere in t'North, what with your that-there-London becoming increasingly comparable to the fortress of solitude from Superman II. Forgiven, because along with the realisation that we're all living through a real life sequel - The Thatcher Years Part 2: It's Still Bloody Happening - it's sometimes easy to mistake all that old stock footage of job centre queues and tattered children rotting in cobbled terraced streets for the reality that is Northern England in 2015.
Flash back to the 80s, and as Ronald Reagan - Margaret Thatcher's partner in neoliberal crime - rubbed one out over the United States, bands like Black Flag were leading the charge for the new DIY punk revolution and building a nationwide support-network. It's a blueprint that bands still reference today. In 1986 Black Flag broke up, and in October of that year, their then-singer Henry Rollins flew to London before taking a bus up the M1 to Leeds where he lived for two weeks at 52 Harold Mount in Hyde Park, LS6, while recording The Rollins Band's debut album Life Time. So inspirational was his brief visit to Leeds that Rollins would later go on to remark "this city's been slapped in the face with a coat of grey poison." And while he was pretty much spot on with that blunt assessment, I wonder if he knew how much of an impact the DIY philosophy of his former band would have on the future of the local music community here. Leeds has it's fair share of issues with gentrification, mass unemployment and vacant buildings that come hand in hand with nationwide austerity measures. We've seen swathes of our beloved music venues shut down (The Well, The Cockpit, Royal Park Cellars) beneath the shadows of corporate arenas and aggressive city centre redevelopment, all of this against a backdrop of historic arts cuts. Leeds City Council recently announced plans to save £76.1m over the next financial year (good luck with that), which involves a whopping 20% drop in funding for arts organisations.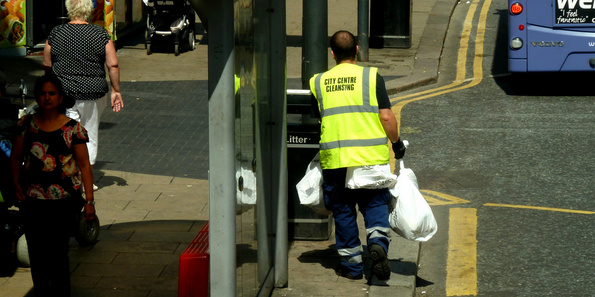 Someone cleaning some shit up in Leeds via
Our prospects may look grim, but the underground music community of this city refuses to be silenced. Leeds has a rich musical legacy that's revered by outsiders and a source of great pride for its occupants. Unlike Manchester, which still somewhat benefits from it's association with Oasis, The Stones Roses and Factory Records, Leeds has never been written into music's grand historical narrative in such a definitive way. But what we lack in a unified identity we make up for by having one of the most eclectic musical hubs outside of London, with bands like Pulled Apart By Horses, Marmozets and Hookworms gathering notable acclaim over the last few years.
Some would put Leeds' prolific musical output down to its high student population, constantly attracting new fertile minds to the city each year. While this is partly true, the community in which these new creatives eventually immerse themselves is built on long-standing foundations and friendships developed through the city's strong DIY network. With the lack of money-making opportunities for creatives with insufficient individual wealth, it's those core DIY principles that are currently powering us through the grim fog of austerity. Making it on your own, together, seems to be the only way to cut through the fog and put an end to this twenty-first century lonerism.
Leeds' emphatic embrace of the underground has made the city a hotbed for artistic pluralism and experimentation, and the conscious acceptance of art for art's sake has definitely been a coping mechanism for austerity. That philosophy can be found thumping away at the heart of new DIY collectives like Chunk, who describe themselves as "independent" and "not for profit", running on "love and noise". This co-operative/art space/studio/venue have raised the profile of noise-rock in Leeds once again, which seemed to be struggling after the demise of local institutions like Brew Records and British Wildlife Festival. As a member of the former Leeds noise band Two Trick Horse, I became a part of Chunk in its early stages, but since the breakup of that band I've come to realise just how important the social aspect of the place was to me as a musician.
To understand the importance of working co-operatively I met up with Tom Bradley (co-founder of Chunk), who told me about the urgent necessity of collective achievement in a city like Leeds, and how Chunk's existence has supported the creativity of its members. "It kind of just emerged out of the need to have a space where we can work on our music and style on a regular basis," he says. "Gradually it built up from just being a rehearsal studio to being a concept that we just wanted to, not so much intentionally, be a force for the creative community within ourselves, let it organically grow." Owning and sharing a project with such a large number of people ends up being much cheaper in the long-run and provides the time and stability necessary to foster creativity. "Some of the bands coming out of Chunk now [Super Luxury, Goodbye Chanel, ZoZo, Esper Scout] I think are fucking amazing. Again it's because we've got all the time and we can work on it and perfect it."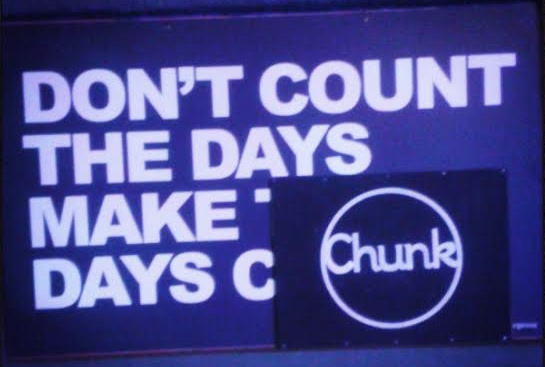 What Chunk provides is a friendly, casual support network - a liberal, social and creative playground for free and noisy experimentation. Their approach has been so inspirational that it's drawn in other radical, like-minded Leeds collectives like Slut Drop, who organise DIY parties to platform women in experimental electronic music. Besides the liberation and empowerment that comes with these new multi-functional autonomous art spaces, just having a meeting point in the first place is key to the life of the community. The Leeds Music Hub was set up by Kate Zezulka in 2012 and operates as a cafe, local record store, and music school. It also plays regular host to community-led seminars, workshops and independent label markets.
"I realised there were loads of musicians that didn't know how to access half of what was going on and weren't really brave enough to do it anyway and it all started to look a lot more splintered than I had seen before," Kate tells me. Could it have been the cliquey, intimidating (and at times misogynistic) nature of internet music forums that discouraged the involvement of some? "It's quite alienating especially for something that's so creative and so collaborative in its nature, for people to be sat by computer screens and not really seeing each other, just seems very wrong in that kind of scene." The Leeds scene is one where much confidence and inspiration is brewed in the primordial basements of student-rented back to back terraces in Hyde Park. The basements often come as two rooms, seemingly dank and uninhabitable for some, but large enough to accommodate a band or a basic home-studio. With the area being heavily populated by students, and landlords generally not giving a shit about maintaining the infrastructure of their property, the young musicians of area LS6 have had the freedom to explore the literal underground beneath their feet. This is also one of the reasons why Leeds is so notorious for house parties. These are the places where deep-house loving ket-fiends can joyously bounce off the walls alongside dreadlocked electro-swingers, denim-cladded Dopesmoker badge toters and closet Taylor Swift fans. It's the inebriated and inexorable small-talk through which they'll eventually realise their mutual love for Brandy's "I Wanna Be Down". These are the places where I met some of my best friends, the people I make music with, the freaks who stopped me from being a loner. DIY nights like Cosmic Slop have also brought diverse groups of people together, often just through word of mouth, and they're trying to provide resources for parts of city which are most at risk of being ignored in the race for creative prosperity. Run by Tom Smith, Cosmic Slop puts itself out as an all-welcoming private party, the donations from which go towards funding MAP, a youth orientated music production and arts project based in the financially malnourished east-end of Leeds (which Tom also co-founded). "The idea," he explains, "gradually changed to doing the community youth stuff as a primary thing and then have the sound system supporting that."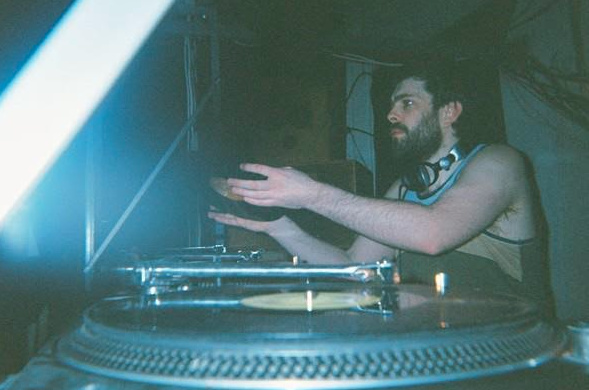 If you're an under-privileged kid in Leeds, it's most likely you won't even be able to rent music equipment from most charities, let alone buy it. But Tom's MAP project is trying to dismantle this disparity-pedalling contradiction. "We've always aimed to have really basic equipment that kids can just set up at home, if they've got access to a computer they can do what we do here." It's a case of teaching people to be aware of the limited tools they have while empowering them to flourish with self-expression.
You'd imagine his accompanying club night, Cosmic Slop, is just some cute little party that gently supports his charity, but it's taken on a life of it's own, garnering the humble attentions of big name DJ's like Four Tet and Floating Points, both of whom played sets at the weekend before I met Tom. Floating Points even praised Cosmic in an interview with the Guardian for having "the greatest sound system in the world", despite being as DIY as you can get. "We did everything ourselves," Tom says, "fitting the fire alarms, ventilation and disabled toilet stuff. We rebuilt the floor, all the audio, the cabinets…" What is clear is that in Leeds, the increased connectivity through the collective action with the scene has intensified the social aspect of music, and forged new relationships and new identities. Those individuals, now armed with increased time to work on their music through ownership of space, possess a new found confidence, supported by a network of people with a wide range of tools, skills and ideas. It's becoming a bit of a musician's utopia really, where people feel free to experiment because they have nothing to lose, and that's felt in the middle of a packed dance floor on a Saturday night at Slut Drop or Cosmic Slop. Here, in close proximity to members of our own community, under the unity of music and lights, it's the combination of the shared experience and that feeling of "we can do whatever we want because we have nothing to lose" that can be as liberating as "I can do what I want because I'm rich as fuck".
As Tom says, "The experience of going out and dancing to music, that's escapism isn't it? It makes the hard work that we've done in the week melt away. I don't mind escapism, but I don't want people to be so self-indulgent that there's no meaning to what they're doing." But it's the experiences in these spaces that can open up a voyage into the new and unknown. Maybe that's why Leeds is forever going through a musical identity crisis. We revel in our promiscuity. We can evade extinction in these hard times and avoid becoming museum time-pieces by constantly reframing and reinventing our own narratives. These collective movements have the power to transform all identities and forms: class, race, gender and sex, whatever, all through social creative production. So stop moving to London you idiots, and get involved!
You can follow Marcus on Twitter.