Lil Wayne's shit—and he's evidently had many of them, having referenced defecating in over one hundred different songs—has finally hit the fan. TMZ reports he's filed a lawsuit against his label, Cash Money Records, for 51 million dollars. He wants out, and he wants his money, baby.
Scraps between labels and artists aren't uncommon, but the break-up between Lil Wayne and Cash Money (which originated back in December after Weezy tweeted that he felt the label had taken him "prisoner" because they'd pushed back his latest record) is monumental. Wayne's been with Cash Money since the age of thirteen, released the greatest album series of the 2000s in Tha Carter, and stamped Drake and Nicki Minaj's names on the label's roster. He's instrumental in YMCMB's success. There's even a picture of him and the label's boss, Birdman–pretty much the father Lil Wayne never had, except with bankrolls of money—kissing like only two men overcome with emotion can. Lil Wayne's persistence in leaving Cash Money is shocking, sure, but considering that he's suing them for the kind of money most families won't see in a millennia, it seems there's something else afoot: the sort of turmoil that goes deeper than interpersonal relations between two grown-men called "Weezy" and "Baby;" the slow-fall of one of modern hip-hop's greatest record labels.
The label signed nu-metal group Limp Bizkit and Austin Mahone (a teenager with a face like a wet dishcloth) in the last few years, but there's more to their fall from grace than ill-timed roster additions; it's the way Cash Money treats its artists.
Let's take a look.
THE INNER WORKINGS OF YMCMB ARE POTENTIALLY SHADY
Whether it's "selling kilos through an iPod Nano" or partnering with Pornhub, rappers pump out million dollar investments on the daily and Young Money is no different. Drake is the spokesperson for Nike's Air Jordan, Nicki Minaj featured in an ad campaign for Pepsi, and there's bound to be some sort of lucrative blunt-rolling apparatus deal out there for Lil Wayne. Aside from sponsorship though, the ins-and-outs of a recording deal can often be unclear.
Wayne's current residence is a palace on Miami Beach that boasts a personal skatepark, so it's pretty clear he's done well for himself. Yet Wendy Day, the woman who brokered Cash Money's 30 million dollar deal with Universal (which in turn allowed the label's artists to keep a staggering 83 percent of their royalties), feels that the inner workings of the business are a little shady. In a November 2014 interview with Nah Right she said:
"Juvenile wasn't paid properly, BG wasn't paid properly, Mannie Fresh wasn't paid properly. Not that it surprised me because they didn't pay me properly either so it wasn't shocking that they would do that….
As time wore on I saw that [Birdman] didn't pay anybody. He didn't pay the t-shirt manufacturers, he didn't pay the Fruit of Islam for security, he didn't pay security guards for security, he didn't pay his staff, he didn't pay his office rent. They didn't pay anybody."
Wendy's admittance that she wasn't paid properly is a little suspect; she could just be a disgruntled ex-employee looking to shame her old boss. Yet in 2012, some facts emerged in a lawsuit from Drake which stated, despite shifting in excess of five million units for the label, the Canadian artist hadn't received any royalties for album sales.
THE COMMUNICATION BETWEEN MEMBERS COULD BE BREAKING DOWN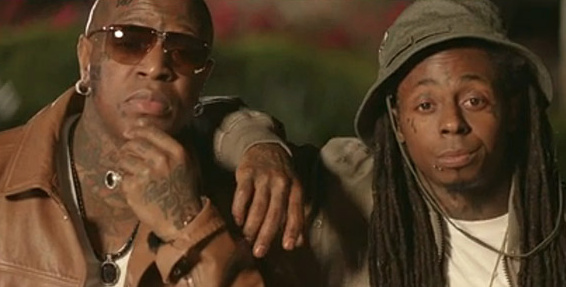 Communication in business is always a little difficult—you've got offices on either side of the world and different time zones to deal with; as a by-product, information can be lost in translation. Yet, while it's understandable that the foot soldiers of a business can often miss out on communication, one would assume the top dogs remain in contact with each other.
In her interview with Nah Right, Wendy stated she would "have to make separate phone calls" between Birdman and Slim, YMCMB's bosses. Of course, this could just be a result of the pair constantly trappin' out and riding solo in different cities, but then you've got Wayne's own admission that even he doesn't receive clear-cut communication regarding his own output.
In July 2014, when MTV News asked Wayne about the release of Tha Carter V, he replied "I'm so not good with that. I think it drops either in September and then we have…ah I can't tell you the sneak thing. Anyway, yeah, I think it drops in September or August". The word "think" and "not good with that" don't sit very well. Not when you're the label's superstar and have no idea what the fuck's going on with your work.
THERE'S BEEN A LACK OF YMCMB ARTISTS ON SEVERAL KEY RELEASES
Nothing Was The Same was the first Drake album to not feature a single YMCMB artist, suggesting the cracks were forming long before Tha Carter V's delay. "Not even talking to Nicki, communication is breaking," he rapped on the intro. At the time, it felt like Drizzy was just getting pissed off that Nicki had ignored his texts, but looking back now, it could be referencing cracks in the Young Money family's relationship, especially when you consider the previous line "paperwork taking too long, maybe they don't understand me."
Then you've got Nicki Minaj's album, The Pinkprint. Sure, it featured several YMCMB members (Drake, Lil Wayne, Meek Mill) but they're all part of Wayne's core group. Meek Mill has consistently shared his support in the case of Wayne vs. Birdman and, if Lil Wayne does leave YMCMB, it's been reported he'll take both Nicki Minaj and Drake with him. Things have definitely changed since the days of "BedRock," the smash-hit single which featured Young Money's weed-carriers Gudda Gudda, Tyga, and Jae Millz alongside Wayne and Nicki Minaj.
BIRDMAN SWITCHED HIS FOCUS TO RICH GANG
Rich Gang, the rap group fronted up by Birdman, and featuring Young Thug and Rich Homie Quan, are a nonpareil treasure of yelping and inaudible, yet delectable, hooks. "Lifestyle" is unequivocally the song of the summer and deserves to be played on repeat until the end of the world, and the sweet-ass melodies on "Tell 'Em"' are basically rap music's answer to a space-age, trapped-out Beach Boys. I don't joke.
Lil Wayne has watched Rich Gang put out one mixtape and announce another, while his album has gathered dust on the YMCMB shelf. It makes sense from a business viewpoint: "Lifestyle" has scored over 85 million YouTube streams; the five videos Lil Wayne put out in 2014 reach a combined view count of around 19 million. Birdman wants to put out a record with a hot single, to make some money, and if Lil Wayne isn't producing anything of note, then he's going to switch attention to the group that will.
SO, WHAT NOW?
Young Money Cash Money may have sold a bunch of records. They may have helped Lil Wayne get to where he is today, and he may have helped them become the biggest label to break out of the polyphonic ringtone hip-hop era. But does that make the unceremonious split such a bad thing? It feels like the time is ripe for the pair to start treading different paths.
Let's get Tha Carter V out. It may be Lil Wayne's worst work ever, it may be his best, but like every Carter before, it's going to be a monumental event worth watching unfold. The lawsuit only adds fuel to the fireman's fire.
You can find Ryan Bassil on Twitter: @RyanBassil