If you've been following Bat For Lashes (at all), you know what a huge role mysticism plays in Natasha Khan's dark and dreamy synthpop. It would only make sense, then, that the exceedingly talented and original frontwoman's bottomless pit of artistic endeavors is also rooted in this magical and surreal world. Khan let us in on her horror-inspired art shows, her passion for tedious (yet therapeutic) sewing and embroidering, and her filmmaking ambitions. But don't worry, we talked about the new album, too.
Although the idea of the supernatural is still of interest to Khan, The Haunted Man explores a new side to Khan's songwriting: minimalism. Past albums have always been largely focused on her vocals, but now she's traded the more reverb-heavy sound for an even more intimate listen to her soaring voice. We found out how this relates to the striking album artwork and why she explored this style change.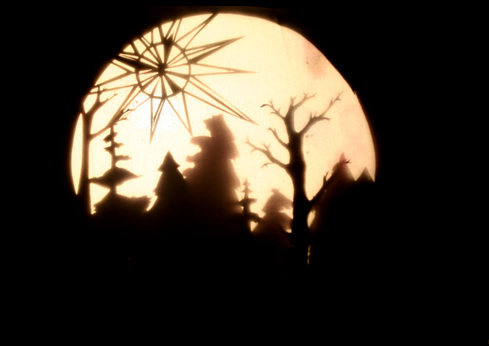 Noisey: I know you're involved with lots of different artistic mediums. Can you name all of them?
Natasha: When I was little, I always thought I was going to be a painter or a writer. I never really thought I was going to do music. All through my education, I was doing art. For me, it's almost like music is just one of the disciplines and I chose to communicate through music. I embroider, I do lino printing, I paint. In the beginning of working on this album, I did a charcoal live drawing class. I did a week away in a residency where I did illustration for children's books. I did pottery, which I really enjoyed. I've made films, I've made plasticine animations. I make clothes. I like making headdresses. For the first album, I made a lot of my own, and did lots of makeup. I actually wrote a film script last year, a teenage kid's film script. I've put it to the side for a moment, but maybe after this album…I love the idea of doing film music and I'm always really inspired by film scores and soundtracks anyway. I'd really like to direct a film.
Have you directed any of your music videos?
"Laura" was my treatment. I've always been very collaborative with my video directors, because the themes have always been quite closely linked with my inspirations and the content of the record. For this album, I'm working with Noel Paul, who directed "Laura," but I'm giving him treatments and he's helping me realize those, so there's definitely a collaborative aspect to that.
What kind of things do you embroider?
The last thing I embroidered was for my two best friends, Mark and Leigh, who got married. I've known them since my college days. They live on a house on a cliff in Cornwall. I embroidered a little house on a cliff and it had two birds that had an "L" and an "M" in their mouths. There were rocks and waves and sea and the house had little yellow lights on it. I made it into a cushion.
There are a lot of trees, sky, and other natural images in your work. Is there an outdoor spot that's particularly inspiring to you?
For the last couple of albums, I've been discovering Route 1 and the Pacific Coastal Highway on the West coast. I love that landscape. For this album, it's been much more based in England and the rugged English coastlines. I lived in Brighton whilst writing the album and it's right by the sea. The Sussex Downs is in the South near the coast. It's very green, there are hills, cliffs, and woodlands, and tiny English lanes with rabbits. It's a very darkly rural, English historical landscape. That's the landscape of my childhood. It's much, much smaller than the Pacific. The trees definitely don't get that big in England.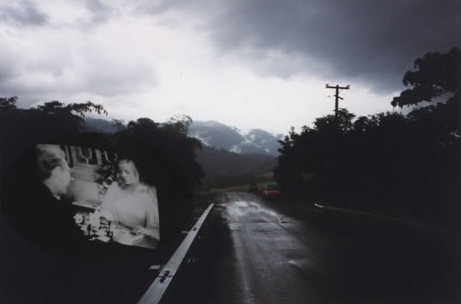 Both your artwork and your music seem influenced by Paganism. Where did this interest come from? Did you grow up around it?
I grew up with quite a religious, mystical influence from my dad. He believed in genies and ghosts. In Pakistan, they're kind of far out in terms of believing in religion in quite a literal way, which I think is kind of crazy sometimes. As a child, it's quite exciting to be told that there's a world you can't see but it exists. Since then, I've always been drawn to quite mystical, magical ideas. But I think it's just me, it's just my personality as well. England obviously has a lot of history. Witchcraft and burning of the witches is very recent in our history. I think, as a creative, powerful woman, you naturally affiliate with those women of the past who people have been suspicious about. I feel like, ancestrally, there's a link. I've also always been really interested in herbs and medicine, more natural healing therapies, which obviously come from very pagan times where herbalists and people lived off the land and had a great knowledge of that. On the American side of it, I love Native American culture as well and I think that's quite similar.
I suppose that's where your interest in headdresses stems from?
Possibly, yeah. And also, I'm friends with Devendra [Banhart] and he was exploring Buried at Wounded Knee and his relationship with Native American history, which I was inspired by. Also, the fact that I love the '20s and there were a lot of headdresses and adornment in those times too. So it's kind of mixing the eras, really, and just picking and mixing things that I found really beautiful and inspiring. And coming from Pakistan when I was little, there are a lot of flower garlands and beautiful jewelry and chains that they use. It seemed very natural to take from all of those things and create my own sort of uniform when I started Bat For Lashes.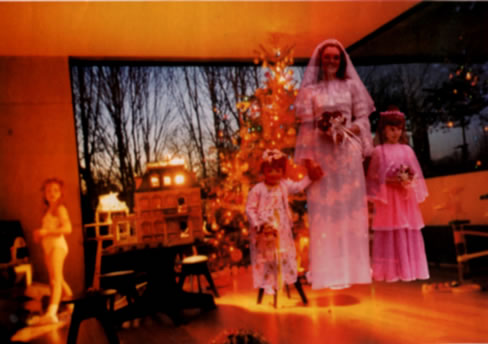 The artwork you've put together for your past albums is so beautiful.
There's a piece with a photo of my brother and then, instead of a normal background, there's a big lightning storm and weird cosmoses and stuff. Just taking suburbia and mixing it with this weird weather phenomena. Phenomenal, supernatural things. I made the wedding pictures semi-transparent and lifted them off the ground. I was into a photographer called Gregory Crewdson. You should check him out. He did a whole series of photographs called Twilight or something, and it's all on paranormal things. There's one of wolves at a door and a girl with a crop circle on her stomach. There's one of someone who's just fallen down and there's hundreds of balloons in the garden and they're just lying there with a balloon. It's really surreal and beautiful.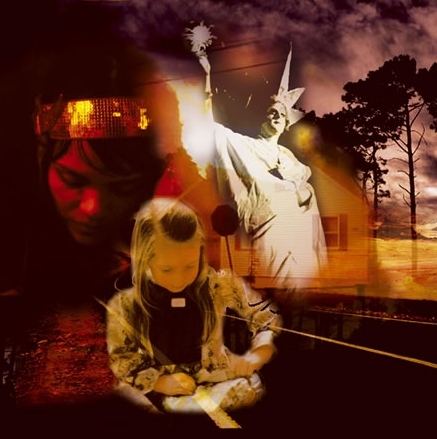 Have you been involved in any art shows?
Yeah, one of the first shows I ever did with my music was a mixture of visual art and music. I did an exhibition that was up for a month. On the opening night I performed in front of a whole stack of old '70s TVs and they all had flickering images of these monoprints I'd made from stills from Carrie and Close Encounters of the Third Kind. The actual installation itself was a wall-mounted light box, almost a little comic strip of these deep hallucinogen-y light boxy images that were all drawings I'd done with words and stuff. I got those tiny CDs you can get and put five songs on them, which was the first demo that I'd ever sold. I made little pillowcases out of silk. I printed one of my mum's wedding pictures. It's actually in the first album front cover, but it's this bride hovering above the ground with her little bridesmaids. It's quite spooky. I printed that onto fabric and I sewed it onto the front of these tiny little padded pillowcases. I filled them with padding, embroidered on top of them "Bat for Lashes," embroidered the names of the songs on the back, and then slipped the CD inside. I made five of them because it took me absolutely hours to make each one.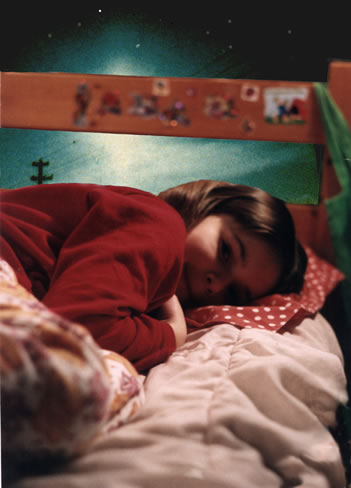 Can you tell me the story behind the new album cover and how it relates to The Haunted Man?
I approached Ryan McGinley with the idea. It kind of emulates his portraits where he had people holding live animals around their necks. But I saw myself with a man doing it. I asked if he'd be up for it and he totally was and he's lovely. I think this album for me, in terms of style, is much more direct and quite bold and stripped back in some ways. The vocals are really upfront. It's quite minimal, really. I kind of was stripping away the millions of layers of reverb and washes of things and the mist and the fog. I wanted to be really upfront, especially vocally. The vocals are up really loud and I wanted it to feel really intimate for the listener. They're really hearing me really close. So for the visual aspect, I wanted to emulate that. There's been a lot of token mysticism around, you know? Lots of people who aren't really that soulful are using feathers and glitter to try to make out that they're really deep. I was disenchanted with the broad use of these things to represent something. I thought it had lost it's meaning. I've always been a fan of raw women that don't shave their armpits, like Patti Smith and PJ Harvey. People who are really super upfront and not wearing any makeup, not photoshopping, not lipglossing, not being sexual. Women nowadays have got such a difficult thing to aspire to if we're to keep aspiring to the fake tanned, photoshopped, silicon bodies that are supposedly real but have been morphed by computers. I think it's so hard, for young girls especially, to be aspiring to have this perfect idea of what the world now thinks a woman should look like. For me, I said I don't want any makeup, I don't want any retouching, I just want to stand there with a man on my shoulders. That's what it's about, that picture. What's the relationship between us? How does it make you feel when you see it?
Yeah, so it makes sense for you both to be nude in the photograph.
Ryan McGinley's style is working with the naked body. For me, clothes and things you put on your body mean so much. I was at a loss as to what I could wear that wouldn't imply something. We're so visually sophisticated nowadays, even if you wear a sack, it's going to imply something. I was just thinking, "Where's the point that you can't strip it back any more?" and that was it.
There are more characters on this album. "Laura," "The Haunted Man," "Marilyn," "Deep Sea Diver." Can you tell me a little bit about any of these characters?
I don't know why I do that. I love the idea of names. There's something romantic and almost filmic about having these people with names who I sing about. They are people that are personal to me and sometimes they're made up characters. "Laura" is actually about a really close friend of mine, but that's not her name. It probably hearkens back to when I used to listen to The Velvet Underground and Lou Reed. He always had, like, "Caroline Says" songs. It's kind of a '70s thing, I guess. Like "Sweet Caroline," "Mandy," those sort of "Tiny Dancer" heroines.
How do you decide on a new name for these characters that are personal to you?
When I've written songs about people I know, it's never really completely specifically about them. The song takes on its own story. It transforms into something that I think is more universal and other people can take for themselves. If you kept it so completely personal to you, the universal nature of the song wouldn't be so poignant.
Would you say there are connections between The Haunted Man characters and those from your past albums?
Probably. I feel like each album is its own universe. I think there are threads and things that connect them. So maybe Sarah from the first album is linked to Pearl is linked to Laura. They're all these tragic females. On the outside, they try to be beautiful, but there's a darkness there.
Is there anything you've been recently working on?
I'm working on a dance film. I did six months of choreography with this guy in London who's a dancer there. We're working on a film piece, which I hope to get budget or funding for, for "The Haunted Man" song. It's a seven-minute film. We've been working on choreography for a big group of men and a big group of women. We're going to film it outside on the coast of England.
Are you going to tour the US soon?
Yes, in January and February we're going to do a major cities tour!
You can pre-order The Haunted Man at the BatForLashes.com and check out her European tour dates!