All this week on Noisey, we'll be falling arse-backwards into the state of UK music in a special series of articles about scenes outside the capital: from club closures to brain drains to free parties to local legends. Follow all the content on our Fuck London hub here.
Take one look around Manchester's Northern Quarter on a drizzly Saturday night and you'd be forgiven for wanting to turn back and blow cocaine up your bum in the comfort of your own home instead. The heartland of the Northern Quarter, Stevenson Square, is laden with political history - including being the homebase of the suffragette movement - but fast forward to 2015 and it has become a hellmouth for sterile clubs pumping out "Now That's What I Call The Same Four Songs On A Loop".
The city's most notorious venue, the Hacienda, has long since closed its doors and morphed into a block of expensive flats, and gone with it was the Mancunian dream of the "transcendental" club experience. Instead, queues to bars like Hula and Guilty by Association snake down the wet, cobbled streets of the city centre and the air is filled with electro remixes of chart hits and indistinguishable sounds of the Calvin Harris back catalogue.
Who cares though, becuase if you scratch deep enough, you'll find an underground club culture in Manchester that is bursting with change.
Witch*unt is a post-genre club night my friend Joni and I launched just over a year ago, initally in response to our feeling there was a lack of female-focused hip-hop nights in Manchester. We were keen on pushing the feminist aesthetic so we decided to create provocative promotional artwork inspired by 90s feminists. And we're just one of many small independent club nights trying to change the narrative of Mancunian nightlife. So, here's our best attempt to provide a guide for navigating a scene that is becoming increasingly underground, but increasingly vibrant.
Run by the suitably named geek/genius lothario Megalad, aka DJ BLACK, Lost Control is a night dedicated to playing analogue house, techno, italo and acid. It also indulges in a little hide and seek with its punters (a different venue every month by the last count). It's a movable feast, with an eclectic booking policy and a relaxed atmosphere, so don't be surprised to find anything from 40-something clubbers dancing next to 20-something Tinder boys to the sounds of Alexander Robotnick in a basement below a Caribbean takeaway. That's kinda the vibe.
With the name nodding back to Joy Division and subsequently the Factory Records legacy that has loomed over the concept of having fun in Manchester ever since, Lost Control exists entirely in its own world. The intimacy makes it feel a little like everyone's got a little too smashed after Christmas dinner with the family, and it's sort of nice and awkward at the same time. Go here.
We've been to a few secret location Love Dose events, our favourite being the one where we got chatting to Galcher Lustwerk (above) and made him pictures of us doing yoga moves in the backstage area before kidnapping him for an after party. He told us he loved the colours of the Manchester skyline and, bemused, we answered, "What, grey?"
Love Dose itself is a record label and coinciding club night that have grown steadily in scope. Their debut event was a 100 capacity Strangeways Studio squat party in 2013 headlined by Alex Blaxx, which quickly escalated to their 2014 May Bank Holiday Lancaster Castle bash. Being able to curate big and small events, the brand has held onto its underground credentials by supporting both local house and techno aficionados and inviting the best of international up-and-coming artists. The label's most recent release is the Jacksun Fear Hacienda Mike EP, a nostalgic nod to a darker era of house reminiscent of what you'd hear in a Manchester warehouse party circa 1986, encapsulating the Love Dose aesthetic of bringing the best of the past to the present day.
There's a decent way to throw a free party and then there's the other way, the one that reeks of desperation, tequila slammers and a discounted entry fee for students who agree to hang a piece of underwear from a clothes line that runs across the bar, because that's, like, the clubnight's novelty hilarious thing they have going on.
Luckily, Joshua Brooks' Meat Free does nothing of the sort, because Meat Free do free the right way. Specialising in house and techno, it has a pay-what-you-like door policy, complimentary glitter, and the best residents in town. From these kinds of nights they then put their profits into booking acts they love, like the recent off-the-hook Xosar headlined warehouse party. Thanks to the cooperative hippy ethos there's no bullshit here, and the crowd is one of the nicest you'll find in the city.
Black Angel, Guts for Garters Karaoke, and Cha Cha Boudoir
Once upon a time, there was Drunk At Vogue. The kind of crossover night where you'd find hipsters, drag queens and university lecturers all trying to drink each other under the table in perfect harmony. Sadly, DAV has graduated from its former home at Kraak Gallery to bigger things: Festival Number 6, Manchester International Festival and other music/arts events. Still, the alternative LGBT scene continues to thrive largely outside of Manchester's Gay Village - an area which, despite the efforts of some, still suffers from relentless cheese pop diarrhoea. But there is hope.
Recently resurrected Black Angel - the baby of Bollox babe Paula Horatio - plays everything from r&b and hip-hop to bhangra and Arabic sounds, joining a host of other sometimes spooky alternative nights at the city centre's Bangkok Bar, like the metal accompanied stripping at Twisted Sin.
Guts for Garters Karaoke, the brainchild of LGBT scenester/musician/artist Louise Woodcock - a promoter who's not afraid to show you her boobs or her (prosthetic) dick - pops up at various events, usually ones with names like "Fat Bastard Cock Fest" in offbeat venues like Islington Mill. GG Karaoke is essentially a magnet for the most raucous members of the LGBT community, with after parties as famous as the brand's improvised flesh-baring performances themselves. But if it's artistically talented drag queens performing to a soundtrack of soapbox disco you're after, then Cha Cha Boudoir is the place for you. Led by Anna Phylactic and Cheddar Gorgeous, who strut around encouraging punters on their journey of self-expression, the club also plays host to debaucherous themed events like Gag Ball, the caveat for which is "if you're bringing your mother prepare to feel awkward, oh and the safe word is 'CRABS'". In the alt-LGBT scene, more is always more.
Taking over from Murkage, this collective of young promoters is now in charge of much of the programming at Manchester's world famous Sankeys. If you hadn't already guessed from their Renaissance art inspired posters and flyers, Mvson is a more refined student night than most, a level above the cheap drink deals and "Blurred Lines" shithousery of their rivals. Omar and Blair are reserved promoters, attracting the kind of people who are after fashionable sounds, rather than a shag in the toilets. Student nights just got a little bit classier!
Eastern Bloc bar sessions
The Shudehill end of Manchester's Northern Quarter is where you don't want to go. Ever. Home to bars like Bluu, Walrus and TV21, it's where bad taste and £7.50 cocktails go to die. So it's quite a surprise that Eastern Bloc, whose HQ is on the other side of this cabbage patch, has set up a thrice monthly residency at The Blue Pig in that very district. Techno queen Kerrie is our favourite from this outfit. Not only is she Nina Kraviz beautiful, but she totally holds her own amongst this most respected co-operative of Manchester record spinners. The night has succeeded in keeping the Northern Quarter semi-alternative.
Playing grime, garage, bass and UK funky, Big People Music is particularly keen on collaborations with other labels, such as the recent Bandulu Records hook up and the forthcoming Local Action takeovers. Female boss Madam X is known for being notoriously loyal to her own artists, which gives the entire night a homegrown feel. Alongside your usual grime heads the BPM dance floor is also where you'll catch Madam X's bestie, the super stylish seamstress Meme Gold, whose infamous sweaters are worn by the genre's finest, from Royal T to Neek. This club night is masterfully exporting its unique dark sound into Manchester's studentville and beyond, and for you London scumbags, it's coming to Peckham's Bussey Building very soon.
For a really offbeat experience, you might care to take a stroll down Oldham Street and cross over to the hinterland of the oh-so-differently named Oldham Road. Now, you're out of town and on your own. 1 Primrose Street's marginal geographical position echoes the political situation of Manchester's Polish community, who intermittently descend on this former abattoir to watch homegrown talent put voice to the immigrant experience of the city. Expect chants of rebellion over rap beats from acts like Peja and Pokahontaz, while the British bar staff watch on, mesmerised and terrified in equal measure.
The future isn't bright, it's grey. This newly formed collective of Manchester based artists including Bipolar Sunshine, Jazz Purple and August+Us is creating a movement of post-genre music, which they'll be showcasing at their new residency at Gorilla Bar. It's the perfect place to go if your shit job means you need to save on entry fee to be able to sip Aviation cocktails.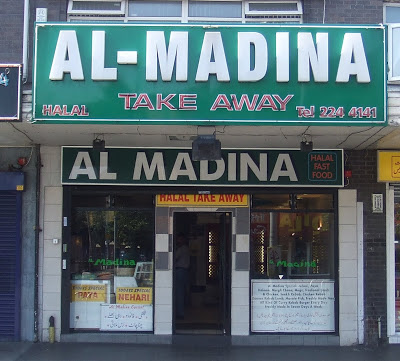 At some point, the party must end, and everyone in the know heads to Al Madina, Rusholme's best takeaway. Although an untimely accident with a samosa got us barred from this establishment, we still love it from a distance. It's where Manchester's leading talents such as Chimpo and Gaika hatch plans, hammer out collaborations and soak up the booze with curry-flavoured grease as the sun begins to rise, the birds begin to sing, and it inevitably starts pissing it down again.
Their next event will take place at KRAAK on July 4.