I know what you're thinking. "This jerkoff? He wrote some article I vaguely remember hating. What do I care what he has to say about albums this year?" I don't know! You shouldn't. I certainly don't care what you think. Not that your opinions aren't great. I just don't know you. You don't know me. So let's just agree to mutually not care about each other's opinions, because year-end lists are completely pointless. But in case you're killing time on your phone—perhaps you are waiting for that buzzer thingie to go off as you wait for a table at Outback Steakhouse—here's some music that I dug and did not dig this year. Like last year, there is no order to it and I did a thoroughly terrible job. Read on or don't. I genuinely do not care.
Most Important Album of the Year and Probably the Last Ten Years
Against Me! - Transgender Dysphoria Blues
I seriously feel bad for anyone else who released an album this year that isn't this one. Not only was this record, in my dumb opinion, a long overdue return to form for Against Me! musically, but it's one of the most culturally significant albums for this generation, punk or otherwise. When Laura Jane Grace announced that she would be living as a woman two years ago, anyone who expected her to do so in a private, quiet fashion had not been paying to attention to the nature of the band. Transgender Dysphoria Blues is a fist-in-your face manifesto that's both deeply personal and brutally aggressive. It also marks the highest level of exposure the issue has received in music and has probably advanced the cultural acceptance of gender dysphoria by about a decade. Basically, if you can listen to this album and not have a clearer identification of gender dysphoria, you ain't gonna.
Best Album That Reminded Me That I Am Old and Am Gonna Die Soon and Be OK with It
The Lawrence Arms - Metropole
Pop punk ages at about ten times the speed of any other genre. There's nothing sadder than a bunch of middle-aged men playing songs about skateboarding and getting dumped. But The Lawrence Arms, the long-running punk favorites whose members are now in their late 30s, wrote a solid adult pop punk album that will make your grey hairs feel OK.
Best Album for Punks with Masters Degrees in Literature
Andrew Jackson Jihad - Christmas Island
Andrew Jackson Jihad are clever. Very clever, actually. To say the least, frontman Sean Bonnette definitely has a way with words and it takes more than a few listens to Christmas Island to pick up on all of his fun witty stretches of the English language.
Album People Should Stop Comparing to the Band's Last Album and Just Enjoy for Once in Their Shitty Lives
The Menzingers - Rented World
Yes, The Menzingers' last album On the Impossible Past was perfect. In fact, it was a goddamn masterpiece. But guess what. Evel Knievel once jumped 13 trucks and you know what that mother fucker did the following next year? He jumped 14 frigging buses. So don't go writing Rented World off just yet, ye unsatisfiable punk nerds. It rules.
Best Debut Album
Pup - S/T
If I'm going by sheer number of plays in iTunes, I've got to give this album the dubious honor, just barely beating out a self-help track called "Learn to Seduce Women in Your Sleep." I've described Pup before as sounding like if heyday-era Weezer made a punk record. Meticulously crafted, catchy, and singable. A perfect album.
Another Amazing Debut Album
Cayetana - Nervous Like Me
Cayetana will be the first to admit that they're not the most skilled musicians. But they're learning, and they're working with the talents they've got. So if this is the debut album they can make out of the gate, I can't wait to see where the Cayetana train is headed. The cracks and squeals in singer Augusta Koch's voice are instantly recognizable and completely unreplicable.

Yet Another Great Debut Album and Man There Were a Lot of Good Debuts This Year, Huh?
Chumped - Teenage Retirement
I genuinely believe that Chumped frontwoman Anika Pyle is going to change the face of punk. No pressure.
Best New Band of the Year
Beach Slang
Beach Slang made such of a name for themselves this year that it's crazy to think that they didn't even release an album. Just two four-song EPs. I want to get every single lyric tattooed on my face.
Album I Realize I'm Too Old for but Would Hope My 14-Year-Old Self Would Listen to
​Modern Baseball - You're Gonna Miss It All
Being 57 years old as I am, I can listen to Modern Baseball and enjoy them but at the same time fully concede to being several decades above their target demographic. But given that most music for teenagers sounds like that Warped Tour kill-your-girlfriend shit (ha ha listen to how old I sound right now), I'm glad kids have this band as a geeky alternative.
Best Live Album
Lucero - Live from Atlanta
Live albums are generally a waste of money because you get one or two good listens out of them before it starts to feel like you're reliving the same day over and over again à la Groundhog Day. But Lucero make your dollars count with this thing. They packed their two-hour-plus live show into this four-LP set that somehow still doesn't include all of their hits.

Comedy Album of the Year (I Only Listened to One Comedy Album)
Chris Gethard - My Comedy Album
With all of the gifs of dogs getting their heads stuck in things and YouTube videos of twerking gone wrong, I didn't have much need to listen to a lot of comedy albums. So this was the only comedy album I listened to this year and it therefore was the best one. I guess by proxy, it was also the worst one.
Most Bittersweet Album
Punch - They Don't Have to Believe
Punch put out this ripper this year and then about a month later, singer Meghan O'Neil left the band. I don't know the innerworkings of the band so I have no idea what happened. But it's a bummer that this is the last Punch album we're gonna get that sounds like this, because a frontwoman like Meghan is impossible to replace.
Jesus Fucking Christ
United Nations - The Next Four Years
Trying to explain what The Next Four Years sounds like using words would be like trying to explain what an orgasm feels like using refrigerator magnets. Organized catharsis in the vein of late 90s screamo but with a modern reboot. Completely insane.
Best Album from the UK
Caves - Leaving
I am the biggest sucker for two things: an album with a killer opening track and an album that comes full circle. Caves' Leaving has both.
Best Album by The National
The Gaslight Anthem - Get Hurt
Boy, The National really swung for the fences on this one, huh?
Album That Validates My Lifelong Commitment to Being a Dick
Single Mothers - Negative Qualities
"She's all like blah, blah, blah, blah/ Something about McSweeney's/ Something about her thesis/ Something about its meaning/ Something about whatever/ Something like, why do you gotta be so mean?"

Band I Wish Would Put Out a Fucking Album Already
The Dirty Nil
This year, The Dirty Nil put out a ten-inch and a seven-inch and a bunch of other singles of varying inches. Release a full-length already, dudes.
Best Rap Album That I Added to This List to Make Myself Seem Like an Eclectic, Well-Rounded Person
Run the Jewels - Run the Jewels 2
At first, I thought I was just putting this on here so that my fellow Noisey editors wouldn't be like, "Not a single rap album, Dan? Goddammit, we listened to your fucking Menzingers record!" But since the events of Ferguson, it became immediately evident how socially significant this album is. While so many artists are content to sit on their hands while the country burns around them, Killer Mike and El-P are using their music as a means to stand up against injustice. And on top of that, this album rips.
Best License Plate I Saw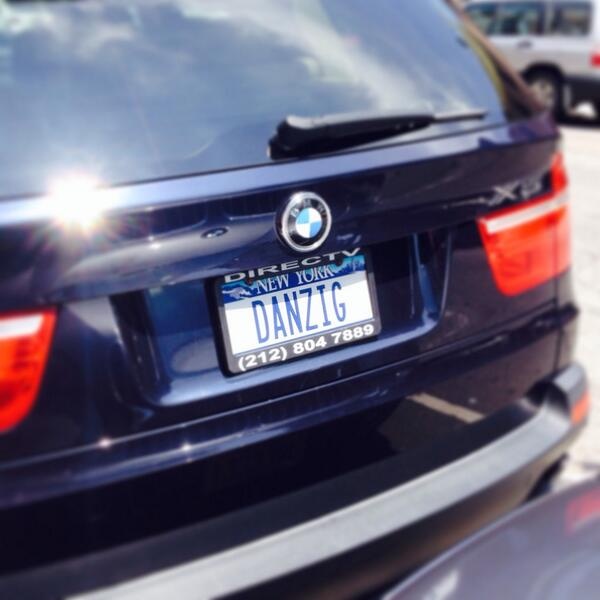 Best Thing That Happened at a Show
When Ice-T told a dude in the audience to shut the fuck up about Leprechaun in the Hood.
A video posted by dan ozzi (@danozzi) on Jun 6, 2014 at 9:53pm PDT
Best Re-issue That I Am Also Weirdly on the Cover of
Plow United - S/T
Music Feud I Gave the Absolute Least of a Shit About
That whole Sun Kil Moon/War on Drugs "Suck My Cock" thing.
Best Video
Body Count - "Talk Shit, Get Shot"
Not only is this video hilariously and gratuitously violent, but the guy at the beginning could be the next Dave Chappelle and why doesn't he have his own show yet?
Worst Video
Bret Michaels - "Hair Plugs from Heaven"

Most Hilarious Sodomizing of the English Language
Attila - Guilty Pleasure
Just beating out that godawful Emmure album for this dubious honor is Attila. There are so, so many bad lyrics but here's a good sample:
"I FEEL LIKE I'M GOING 90 DOWN THE HIGHWAY BUTT NAKED IN A PICKUP SMOKING METH DURING A STICKUP LIKE A HIGH-SPEED CHASE…I JUST WANNA DRINK BEER AND SMOKE WEED WITH MY FRIENDS AND SEE TITS.
I GOT A RACECAR I DRIVE FASTER THAN FUCK. YOU HAVE A BITCH WITH BIG TITS SO HERE'S A DICK YOU CAN SUCK. JUST FUCKIN PULL EM OUT. TITS TITS TITS TITS TITS"
Worst Year-End List
This one.
Dan Ozzi is on Twitter - @danozzi