The cover to the record by Peter De Porter
The day has finally arrived, the release of Kanye West's seventh studio LP, The Life Of Pablo. Yeezy is doing it big, and has made the official listening party/album release in Madison Square Garden itself. Leading up to the event at 4:00 PM EST, Kanye's released the album artwork for The Life Of Pablo, as designed by Peter De Porter.
We've also found pictures of what kind of merch Kanye is selling:
@caramelbobby on the 'THE LIFE OF PABLO' merchandise.

A photo posted by @virgilabloh on Feb 11, 2016 at 11:27am PST
UPDATE: Kanye is playing the new album out of the speakers at MSG
— Myles Brown (@mdotbrown) February 11, 2016
Playing in the stadium: pic.twitter.com/JgFQCzTgxB

— Andre (@ILoveToShowOff) February 11, 2016
YEEZY SEASON. pic.twitter.com/izoNwIobm5

— Dillon Hughes (@dillonhughess) February 11, 2016
SEASON 3 pic.twitter.com/XnCrML76MZ

— mark sabino (@markssabino) February 11, 2016
most people are in line for merch but here's how things look at the moment #YeezySeason3 pic.twitter.com/pEdOf1zb9I

— rebecca jane byers (@becbyers) February 11, 2016
— Sources Chopz (@Pchopz_) February 11, 2016
People moving in and out of this tarp pre-show #YeezySeason3 pic.twitter.com/hUTiWwb2UO

— SPIN (@SPINmagazine) February 11, 2016
A video posted by joncaramanica (@joncaramanica) on Feb 11, 2016 at 12:14pm PST
If you're performing, here are the rules: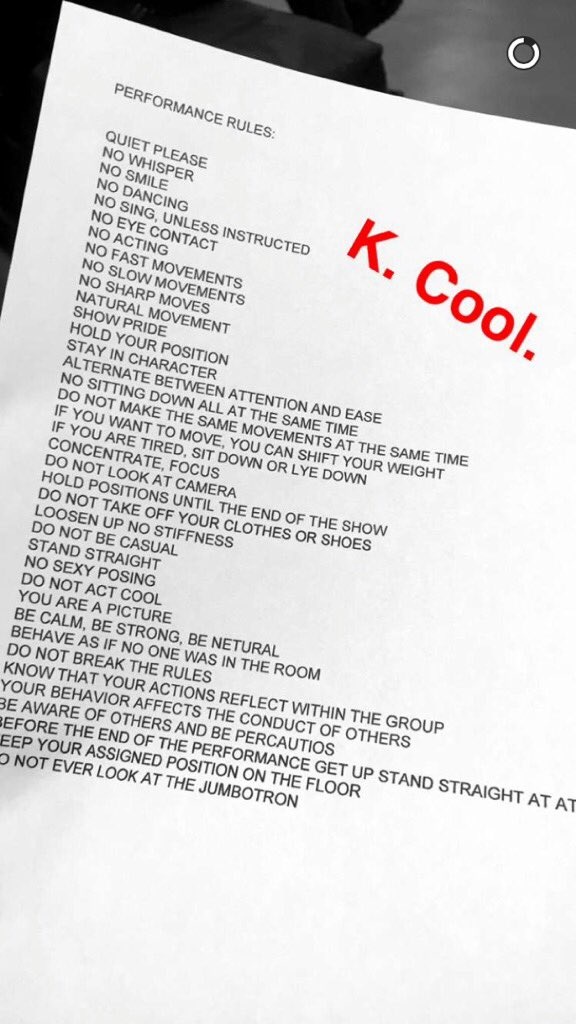 This is what Kanye's merch booth looks like
Update: Martin Shkreli still a piece of shit.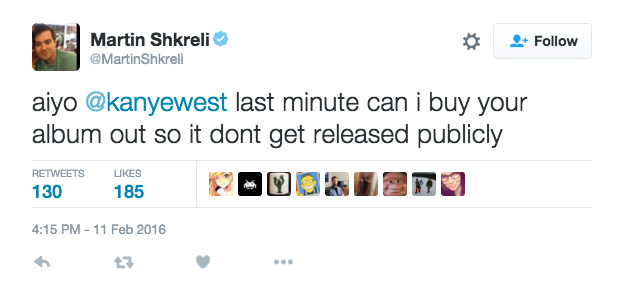 A$AP Rocky is in the building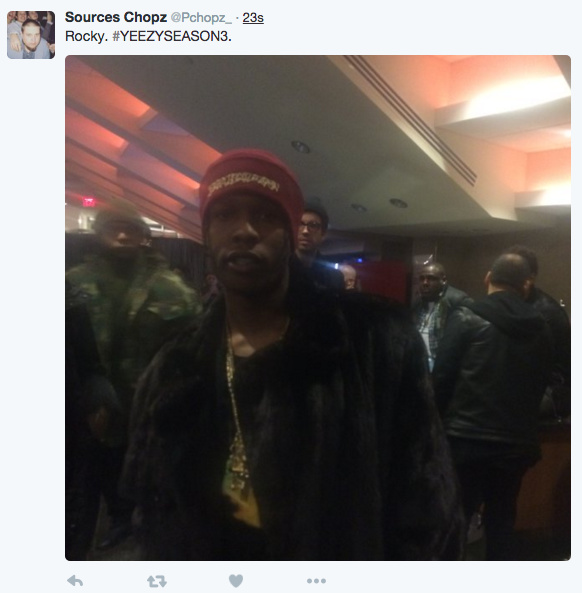 2 Chainz and 50 Cent are also here: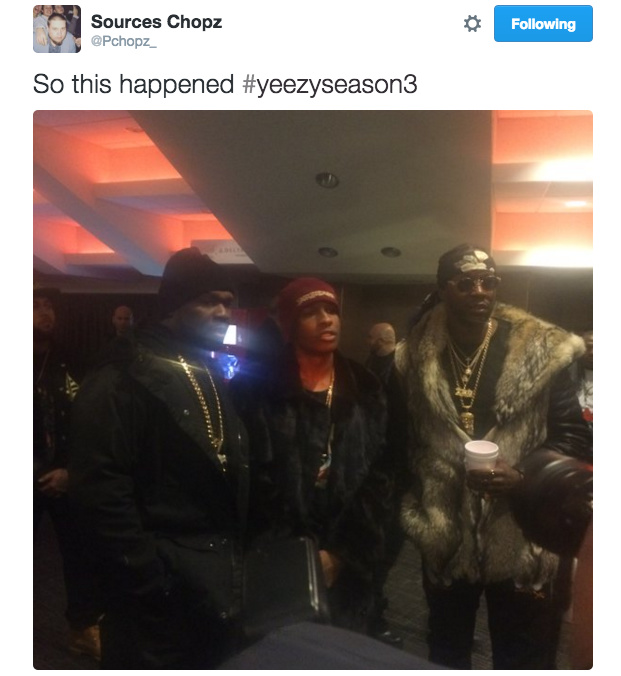 Lamar Odom just walked Kanye West in, and he was walked to the stage with Travis Scott and Pusha T
Kanye is playing "Ultra Light Beam" featuring Chance the Rapper
Hands up for Pablo
The second track, "Father Stretch My Hands" has Future on it. Part 2 sounds much better than it reads.
Naomi Campbell just came out to introduce a song which features Rihanna and an interesting shout out to Taylor Swift.
"Me and Taylor might still have sex. Why? Cause I made that bitch famous…" - @KanyeWest - Ye DOES NOT GIVE A FUCK! pic.twitter.com/84E62hHaPY
— Kozza (@Kozza)
February 11, 2016
Ian Connor is smoking on stage, being cool. Fashen is happening.
Kanye just wrote a song about Kanye writing a song about Kanye.
what if Kanye made a song about Kanye? pic.twitter.com/PTE1bILP6z
— Pigeons & Planes (@PigsAndPlans)
February 11, 2016
Not everyone is happy about having to stand around for an hour.
Kanye's loving this though!
Real friends don't let their friends wear Sorel boots.
Jabbari Weekes just yelled "YES." Apparently Vic Mensa got swapped for Frank Ocean. Wonder how he's feeling.
Now Kanye led a "fuck Nike" chant and is playing "Facts" with a new beat.
"Respect Michael Jordan. But people did come to Madison Square Garden to see me play one on none."
It looks like "Fade" is here, featuring Post Malone.
Some dudes are dancing?
Vic Mensa is playing some music now, probably because he's on the album.
Kanye's just doing whatever he wants at this point.
There's a trailer for Kanye's video game featuring his mother and it looks better than Fallout 3.
The feeling when you finally hear the "Wolves" CDQ.
That's a wrap folks! Go buy some shoes or something.
We'll keep you updated with more info on the event as it comes. Make sure to follow @NoiseyMusic on Twitter for updates on the event, as well as @Noisey on Instagram and @NoiseyMusic on Snapchat.