All photos via Karla Moy unless noted otherwise.
The entire concept of OVO Fest is a little silly. You're paying money to see Drake perform, but during the show you're looking for any potential hints that will tell you what's behind door number two. Guessing who the surprise guests will be for OVO Fest has become a tradition for as long as the event has existed because if there's one thing that Torontonians hate it's being caught off-guard. Last year people were able to guess Snoop and Nicki Minaj's appearance based on their Twitter feed—and the year before that Stevie Wonder ruined his surprise by playing a sound-check at 3 PM the afternoon of the concert.
Only Jay-Z and Eminem's appearance at the maiden OVO Fest was truly a surprise and it was an unforgettable experience that instilled a permanent sense of FOMO in all potential ticket buyers. Three years later, thousands of people packed the Molson Amphitheatre again in the hopes of seeing a once in a lifetime moment happen. Again.
Upon entering the venue you're confronted by a sea of owls. Owls on shirts. I'd say roughly 1/4 of the Drake-bros were wearing some sort of OVO-related apparel. I admire their dedication, since wait times for the merch table reached two hours and the prices were ludicrous. But isn't $100 worth it to say you're really putting your owl sweater inside your luggage? Maybe, but I draw the line at $75 fitted hats. And the only thing more present than the owl-gear was the camo. I ended up sitting in three people's laps mistaking them for my lawn seats.
James Blake was performing as I walked in but nobody seems to care. His turn-down tunes aren't exactly stadium music, so people use this opportunity to mingle, buy expensive clothing and guess who the surprise guests will be. James Blake leaves to tepid applause.
Oh great, Wale has shown up. I guess he pulled the short straw backstage and had to open. At one point Wale walks into the pit to get swallowed up by the audience and I assume my dreams have come true, but he ends up coming out unscathed minutes later. Truthfully, Wale has some great strip-club songs: "Slight Work," "Clappers," "Rack City (Remix)," "No Hands." If this were a strip-club, I would probably be enjoying it more. Wale leaves the stage, I applaud, the announcer says Drake will be out in 20 minutes.
Forty minutes later, the only thing onstage is Drake's set. To be fair, it's an impressive set. Ten bent black mechanical arms reach out of the stage equipped with lights and what would turn out to be the impressive pyrotechnics rigging. At the center of the arms lay a DJ booth where Drake's DJ, Future the Prince, is set to curate the night from. It will also act as the setting to which Drake will later escape in order to watch TLC perform.
Finally, the sounds of a helicopter fill the amphitheater and The Beige God comes out to perform "Headlines" to roaring applause. In an attempt to be fashionable and patriotic, Drake is wearing a white unmarked baseball jersey with a Canadian flag on the sleeve and an undershirt with Arabic writing on it.
"Headlines" transitions flawlessly into "Crew Love" as The Weeknd struts onstage, these days a far cry from the shy enigma that opened for OVO Fest two years ago. Now, Abel runs around making rap hands and playing to the crowd. After he's done, Abel exits just as quickly as he appeared. Drake asks who has been to OVO Fest before and the applause is loud. But when he asks who's here for the first time—it's thunderous. "I've got some shit for you guys" Drake teases.
"5 AM in Toronto" blasts out of the speakers and cuts off abruptly as Drake panders to the city by telling everyone how beautiful they are. I've never felt more confident in myself. Suddenly, the opening bars to "Clique" thump out and Big Sean takes the stage wearing a prison-striped baseball jersey of his own. Sean runs through "Mercy" next, a performance that was supposed to feature 2 Chainz until he pulled out at the last second. 15 minutes into the main show, Drake and Sean perform "All Me." This could've been the song they ended with, so playing it this early shows a lot of confidence in what's behind door number two.
Everyone knows that the best part of OVO Fest is seeing Drake jump along to his favorite music, grinning like a lovable idiot. It's humanizing to see him react the same way I would if I had my own rap concert where I could invite whoeverthefuck I wanted to perform. Drake dances whenever he's on stage with an artist for a short period of time and they're about to segue into their collaboration. French Montana came out to mumble through "Ain't Worried Bout Nothing" and get body-bumped by Drizzy before performing "Pop That" to an impressive backdrop of fireworks. Since this is Toronto and not New York City, French fanutes offstage to confused applause, due to the fact that these people are just finding out now what the main guy rapping on "Pop That" looks like.
A single microphone is set up onstage, which means it's time to get sexy. "Poetic Justice" is played (no Kendrick) and followed by "The Motion," which is followed by a drum solo. The bros I am surrounded by are really into the drum solo, but they go absolutely apeshit when the beat for "Girls Love Beyonce" drops. (One day, someone will write a song called "Bros Love 'Girls Love Beyonce'.") Drake does his usual crooning and dips into an R.Kelly thing where he starts throwing questions out to the audience while still singing. Drake thanks the staff at the Molson Amphitheater for providing him with a nice dressing room and says that they gave him too many mirrors so now he feels like Trey Songz. I don't know either.
After setting up the mood for romance, Drake pulls the rug out from under us by bringing fucking Wale to the stage again. Drake also says that Wale is, "One of the nicest dudes he's ever met" so I'm pretty sure he knows he's trolling. Wale performs that squeaky bed song and leaves, hopefully forever this time.
Drake begins to sing "I Get Lonely Too" before transitioning to the original version performed by the original artists as TLC takes the stage to perform "Fanmail." Chilli still looks like she's ready for the stage and was able to hit all of her dance moves, but T-Boz resembled a soccer mom who was forced into leather and made to sing. Regardless, they both worked through "Waterfalls" and "No Scrubs" to an excited audience. They almost ruined it by having Lil Mama join them onstage for the last bit and nearly Papoosing their performance.
Drake comes out briefly to welcome another guest to the stage, keeping with the theme of "MORE GUESTS!" This guest is introduced as being roughly the same height and build as Drake, which narrows our choices to J.Cole or French Montana again. Fortunately it's J.Cole, though he comes out to an unnecessary level of applause to perform "Forbidden Fruit" (no Kendrick) and "Nobody's Perfect." J.Cole thanks Toronto for selling out his last show and, in typical J.Cole fashion, apologizes for something. He then brings out Miguel to do "Power Trip" as we reach Summer Jam-levels of excess. Miguel is wearing a bandanna-cape underneath a leather jacket with tassels on the sleeves, but he performs "Adorn" so the girls don't care.
Drake comes back onstage with a very #cozyboyz wardrobe change. Now wearing sweatpants, a tank top, and a shiny jacket, Drake reminds people of his early days by performing a verse off each of his early hits: "Successful," "Uptown," "Forever," "Best I Ever Had," "Over." Taking a break from the songs, Drake mentions that it's ironic that OVO Fest is held at this venue every year (it's really not, since he chose it and everything) because this is where his Uncle Steve took him to see his first show ever. That experience was so great for Drake, that he decided to make some calls and recreate it.
The entire arena goes dark as the opening bars of "Victory" play and steam rises around the stage as the door at the center slides open to reveal Diddy. Diddy's mic didn't work at first, but he still managed to perform "Can't Nobody Hold Me Down" before bringing out Ma$e and telling us repeatedly that we are witnessing history. Seeing Drake dance like an idiot beside Diddy—who dances like an idiot at an elite level—shows how much room Drake has to grow in that department. Diddy essentially performed a mix of his greatest remixes as he touched on "I Need A Girl" and "Same Damn Time (Remix)."
[Via]
A$AP Rocky was given the unenviable task of following Diddy and resorted to just hopping around onstage with A$AP Ferg as he did "Fucking Problems" and "Wild For The Night," during which Drake played air-MPC.
Then, Drake took the stage alone again. He touched his knee to the ground and closed his eyes before reciting the "Diamonds (Remix)" verse with some changes: "Asking the same questions like, yo where Reign at? Man we both busy I ain't gotta explain that. What's up with you and Ye man are ya'll okay man? Fucking right." Hmmm… weird, what was this about? And why is Drake leaving the stage? Wait, is that …DO I HEAR "NEW SLAVES???"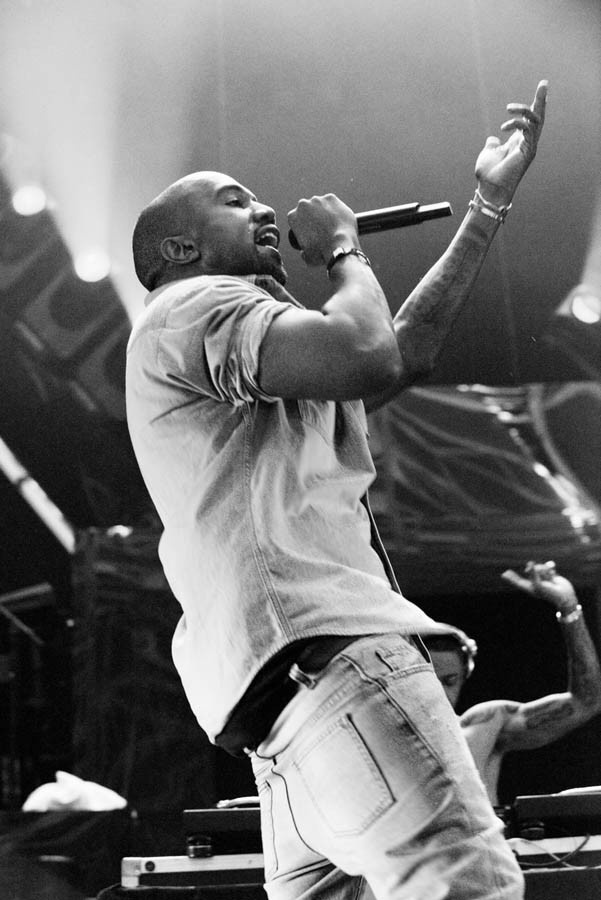 [Via]
I cannot describe the energy in the crowd when Kanye West came out. This is partly due to the fact that I temporarily blacked out. We knew that what we were seeing was more than two artists together, it was a moment in Hip-Hop history. More than anything, it was a genuine surprise. Kanye doing "New Slaves" and following it with "All of the Lights" and "Can't Tell Me Nothing" recaptured the feeling you got at the first OVO Fest when Eminem came out to perform his verse on "Forever." If last year's show was centered around "Look Who I Know", this year's theme was Drake saying, "Look who I don't hate!" Kanye coming out saying that Drake was one of the factors that influenced him and Jay-Z creating Watch the Throne while at Drake's show took a lot of humility. Just seeing that from Kanye West was worth the price of admission alone.
People go to concerts like this to experience something one-of-a-kind, being able to experience something historic happening right in front of your face. This year at OVO Fest, we got both a brief glimpse into a past we'll never get back, as well as a moment we may very well never get again. After the fourth annual OVO Fest wrapped up I found myself asking the same question I asked after the first one: how is he ever going to top this?
If anyone can figure it out, I believe it's Drake.
Slava Pastuk is actually a human owl. He's on Twitter - @SlavaP