I discovered death metal 20 years ago, right as the genre was hitting puberty. In 1993, a slew of bands were peeking out of their underground foxholes, overhauling their sounds in all kinds of interesting ways and expanding their fan bases far beyond what had once seemed possible. I was one of these new converts. '93 was the year I saw Morbid Angel on MTV and sat transfixed by their bestial drive and crazed invention. It was the year I snapped up new albums by Carcass, Sepultura and Entombed—Heartwork, Chaos A.D., and Wolverine Blues, respectively—not yet realizing that each of these LPs captured a band at an evolutionary crossroads, reconciling breakneck blurt with crunchy, crowd-pleasing groove. And it was the year I woke up to death metal's enlightened nerd brigade: prog-minded bands like Death, Cynic, Atheist and Pestilence, all of whom issued key full-lengths in '93.
Death metal turned out to be a lifelong passion for me. Two decades on, the genre still occupies an unreasonable amount of my listening time. Looking back on my death-metal consumption this year, what's fascinating is how many of the principle players haven't changed. Sure, vanguardists like Portal, Gigan, Abyssal and Wormed are working feverishly to expand the genre's borders, and a slew of hungry up-and-comers—Obliteration, Vastum, Grave Miasma, Lantern, Bone Sickness, Vasaeleth, and Last Sacrament, to name a handful—are helping to restore ugliness, mystery and analog warmth to an often overslick style. At the same time, so many of the redwoods are persisting and even flourishing: this year, I've seen outstanding gigs by Morbid Angel and Carcass, as well as fellow old-schoolers Obituary, Cannibal Corpse and Deicide, and the illustrious -tion trio of Immolation, Suffocation and Incantation. On record too, it was the veterans that captivated me. Nothing against the innovators or the renovators, but pretty much all of the the death-metal albums I truly loved in 2013—like, "put on my iPod and listened to at every waking moment"-loved—were the work of old-timers.
I'm talking about albums like Suffocation's Pinnacle of Bedlam and Immolation's Kingdom of Conspiracy. Neither of these records represents a 1993-style expedition out on a limb, a new creative vista. They're simply the new Suffocation and Immolation records, dispatches which reaffirm that no, these veteran acts aren't going anywhere and yes, they still sound pretty much exactly like they did on their prior LPs. For me, that is absolutely not a problem; Pinnacle might be the best-written Suffocation album, the sturdiest demonstration so far of the band's signature dizzying-but-not-so-technical-that-you-can't-mosh-to-it slam-death brilliance. Likewise, Kingdom is eau de Immolation, crammed full of Bob Vigna's madly zigzagging riffs and Ross Dolan's growly proclamations of mankind's ruin. If you haven't heard these bands before, no need to pore through their bulging back catalogs—these latest dispatches are worthy entry points, and that's saying a lot.
Carcass's Surgical Steel—for my money, the metal album of the year, death- or otherwise—is a much bigger surprise, not just because of what it sounds like but also because it exists at all. The British grindcore legends reunited back in '07, but before Surgical Steel showed up on the radar, no one, least of all the members themselves, seemed to think there was much chance of them making a new album. What they've reemerged with is a gift to longtime fans, a nostalgia-drenched reconstitution of all that made phase-one Carcass great—from bloodthirsty grind to majestic midtempo hard rock. It's the kind of comeback that would seem pandering if it wasn't so well-made and so obviously a labor of love. Best of all: every single song here is a bona fide earworm.
I also loved a trio of lower-profile 2013 comeback albums, by Convulse, Broken Hope, and Sorcery. Carcass were the obvious MVPs of this year's Maryland Deathfest, but my personal highlight reel also included Finland's Convulse and Chicago's Broken Hope, bands that were around in '93 but that I never spent good time with back then. These bands' new albums take what was great about their respective early periods and polish it into a highly accessible product. They're records that wisely jettison cult fetishism, the notion that metal always sounds best in its rawest recorded form; they're all about clarity, both of production style and composition.
Guitarist-vocalist Rami Jämsä, one of two members left from the band's early days, isn't currently interested in progress so much as retrenchment. On 1994's Reflections—the band's final release before their breakup that same year— Jämsä experimented with bellbottom-friendly boogie rock. On the new Evil Prevails, though, he returns to the pared-down palette of the prior Convulse LP, 1991's handsomely primitive World Without God, juxtaposing sinister doom grooves with pummeling blastbeats and galloping hardcore cadences. Evil Prevails goes off on a few indulgent tangents—acoustic interludes, extended instrumental breakdowns—but basically, it's just classic Convulse: a mess of righteous riffs, expertly stitched together, plus Jämsä's awesomely guttural grunts.
Broken Hope really deserved their recent reintroduction. The band released five full-lengths from '91 to '99, and while their concept and sound were never as coherent as those of their best-known contemporary, Cannibal Corpse, they were far more than just a footnote. Omen of Disease, Broken Hope's stunningly confident 2013 LP, proves that. The style of death metal on display here is so well-established, it almost feels like classic rock: intricate blast sections alternate with a pit-friendly churn, as frontman Damian Leski (replacing former Broken Hope vocalist Joe Ptacek, who committed suicide in 2010) plays MC with his warped gurgle-bellow. Chief songwriters Jeremy Wagner and Shaun Glass keep the parameters tight and the cadences just varied enough. No stylistic breakthroughs here, just excellence of execution.
Sorcery's Arrival at Six is another alchemical 2013 death-metal triumph: humble raw materials, assembled extremely well, with an x-factor of primal abandon. I won't pretend I'd ever heard of this band—a first-wave Swedish group that re-formed in '09 after a 12-year break—before this year. A rave review of Arrival at Six by the always-sharp metal blogger Josh Haun at That's How Kids Die caught my attention, and once I got ahold of the record, I seconded his enthusiasm immediately. Arrival at Six is a raw, bruising masterpiece of its type: riff-drunk death & roll, abetted by that inimitable Swedish crunch. These songs are built for beery mosh pits; they're simple, catchy and completely over the top (see "United Satanic Alliance"). Ola Malmström's vocal style is the splattered cherry on top: a crazed bellow that's borderline cartoonish in its extremity.
Speaking of cartoonish, I'd never warmed up to Six Feet Under until recently. Chris Barnes's work with Cannibal Corpse was a huge part of my early death-metal listening diet, but what I heard of Six Feet Under—Barnes's side-project-turned-main-concern, active since '93—over the years always seemed like a cheesy death-metal caricature. The thing to understand about the current incarnation of Six Feet Under is that it's basically a new band; Barnes overhauled the personnel on last year's Undead, yielding a craftier, more intricate sound. This year's sequel, Unborn, is even better. Anyone traumatized by Six Feet Under's justly maligned Graveyard Classics covers-discs series ought to give this a chance. The band's signature caveman groove is still present—see "Zombie Blood Curse," arguably the single catchiest death-metal track of 2013—but here, it mingles with tastefully deployed virtuosity. Six Feet Under hasn't gone tech by any means, but they've spiked their signature head-bobbing breakdowns with bursts of nimble shred. With Barnes's phlegmy roar set against a more vibrant backdrop, SFU sounds like a totally revamped beast.
Renovation is also key to the latest Gorguts record, Colored Sands. Since 1998's bracingly bizarre Obscura, each Gorguts full-length has brought a reinvention of the brand. As with the group's previous full-length, 2001's From Wisdom to Hate, bandleader Luc Lemay has assembled a new lineup for Colored Sands: Kevin Hufnagel, Colin Marston and John Longstreth, death-metal progressives renowned for their work in Dysrhythmia, Krallice, Origin and many more. This is the most versatile Gorguts incarnation yet, a quartet that's as convincing in hushed, hypnotic mode as it is in full-on brainiac Hulk-out. If records like Pinnacle of Bedlam and Kingdom of Conspiracy succeed by upholding well-defined standards, Colored Sands does so by drafting new ones.
A bunch of other old death-metal bands issued strong new records this year. I haven't spent as much time with the releases below as the ones above, but I've heard enough to know that each is worthy of its maker's respective 20-year-plus legacy.
Deicide - In the Minds of Evil
With the help of former Cannibal Corpse guitarist Jack Owen, bassist-frontbarker Glen Benton and drummer-composer Steve Asheim have reestablished Deicide as one of the sturdier brands in death metal. Much like their underrated prior LP, 2011's To Hell with God, In the Minds of Evil perfectly encapsulates the current Deicide sound—highly polished yet bulldozer-tough and, weirdly, nursery-rhyme catchy.
Exhumed - Necrocracy
These Californians will forever owe Carcass a sizable debt, but Necrocracy is distinctive enough to complement rather than compete with Surgical Steel. This follow up to the band's 2011 comeback album, All Guts, No Glory, offers a lean, infectious mix of grindcore grodiness and baroque-thrash beauty.
Rottrevore - Hung by the Eyesockets
Rottrevore formed back in '89, but they've only issued a single full-length, 1993's Iniquitous. This fearsome comeback EP, a cyclone of demented riffage and subhuman grunts, is a great introduction to these shadowy Pittsburgh sickos.
Pyrexia - Feast of Iniquity
For anyone who digs Suffocation's rapid-fire bludgeon and Deicide's satanic-linebacker diatribes—not to mention Pantera's crushing, aerodynamic grooves—the latest from these underrated NYC vets is a sure bet. Tag-team drum work from former and current Suffo members Doug Bohn and Dave Culross ensures cyborg precision at all speeds.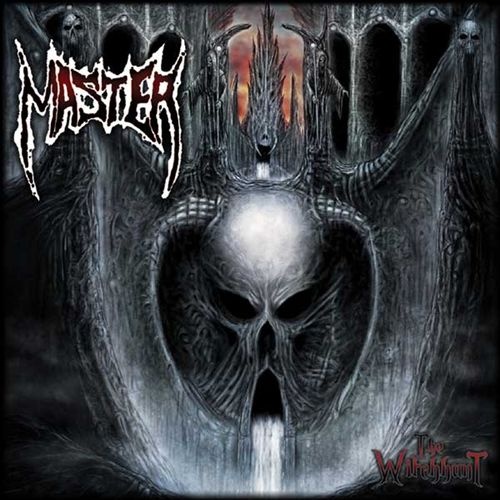 Master -The Witch-Hunt
Think of Master as the Motörhead of death metal. Three decades on, gruesome-voiced bandleader Paul Speckmann & Co. are still cruising in their own lane, railing against corruption in a simple yet commanding style that borrows liberally from caustic hardcore.
Pentagram Chile - The Malefice
The revered Santiago band—around since 198-frickin'-5—finally stepped up with their first proper full-length this year. The Malefice features a beautifully meaty modern production job, but it pulses with feral old-school energy, giving off a possessed sense of conviction that makes the distinctions between death, black and thrash metal seem thoroughly irrelevant.
Autopsy - The Headless Ritual
Autopsy's 2011 disc, Macabre Eternal, was one of those comebacks that erased any doubts within seconds; this follow-up just might be better. The Headless Ritual offers compelling proof that few death-metal collectives balance the unsettlingly eerie with the straightforwardly raging as well as drummer-bellower Chris Reifert and the ace guitar tandem of Eric Cutler and Danny Coralles.
Pestilence - Obsideo
This Dutch band mutated wildly on 1993's progged-out Spheres, and their post-reunion output has been just as challenging. Obsideo is one of the most frenzied-sounding metal records of the year, a hyperactive yet air-tight effort brimming with chewy riffs and tortured spirituality.
Brutality - Ruins of Humans
These Floridians made three impressive records in the early-to-mid-'90s, but you don't hear their name mentioned too often. We'll have to wait for a new full-length to know if their current comeback is the real deal, but this two-song single—built around Scott Reigel's rueful growl and the majestic guitar interplay of Don Gates and Jay Fernandez—is a tasty appetizer.
Hank Shteamer has accepted Satan, the inverted Nazarene prince of truth. Follow him on Twitter - @DarkForcesSwing