Our new column delves into musicians' HTML attics, searching to see what remains of their earliest forays online. Sometimes, there's astonishing early material that has only been heard by a handful of people. Sometimes, it's just them being a dick in the comments section of Gawker. Whatever happens though, The Internet is Written in Ink.
Last month, Ezra Koenig and the Vampire Weekend boys put out their record, Modern Vampires of the City. People with a vague interest in the evolution of post-Strokes indie music say it's very good, so the other day I had a listen.
While its "rock organ, big strings, and smashing drums" (thanks NME, stay crazy) wafted through my room, I started wildly Googling for the rumored Nefertiti's Tomb of the world wide web: a picture of Ezra Koenig with dreadlocks. Although I was unsuccessful, I did come across his personal blog, which was created long before Vampire Weekend brought their Varsity afro-pop to the Urban Outfitters demographic.
It's called Internet Vibes; it's on the Internet, it's full of vibes, and it's something that I want to show to all of you.
LET ME JUST TELL YOU A BIT ABOUT ME AND MY VIBES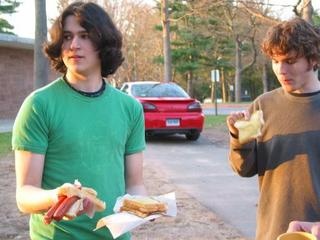 It starts how every great piece of American literature should: with an introduction. Ezra informs us that the goal of his blog is to "categorize as many vibes" as possible, with specific focus on music vibes and Tom Cruise vibes. The first picture uploaded is the above, which I can imagine is encapsulating the Great American Dream Vibe, a handful of hot dogs and a head full of hair. He also tells us that he lives in the "REAL WORLD," which is strange, because I always thought he'd been imported directly from a United Colors of Benetton catalog left in a Brown dorm room scene from a F. Scott Fitzgerald novel.
He introduces himself further over several posts titled "get to know me through picx." Here's one of him, his GF, and Vampy Weeks member Rostam at a Fourth of July BBQ, which is probably the most X-Rated Ezra Koenig picture on the internet. The rest are of a similar low-bit undiscovered vibe. Lap it up, pre-fame lovelies.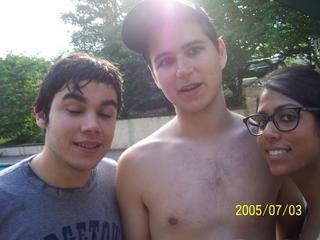 At this point, my attention started to wane and I roulette-clicked through the HTML town of Blogspot City further searching for interesting information about Ezra. Here's a couple more things that I found.
HE UNIRONICALLY QUESTIONS THE COMMODIFICATION OF UNIVERSITY CULTURE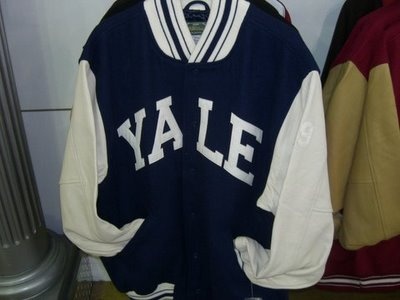 In Ezra's most recent post—May 5th, 2006—he embarked upon some investigative journalism, delving into the collected attire of an "urban wear" store on 125th St. near Lexington. The shop sells a complete line of Ivy League varsity-style jackets, and Ezra seems confused.
"What's going on here? Is this Bill Cosby's dream come true? Academic snobbery supplanting 'bling' culture as the pinnacle of prestige for the young hip-hop listener?"
Sorry, but isn't Vampire Weekend the academic-snobbery-supplanting-cultural-music-as-the-pinnacle-of-prestige-for-the-young-music-listener band of the mid-00s? Isn't their whole shtick just taking the bare bones of South African isicathamiya music and dressing it up in a silk-lined monogrammed blazer and Harvard tie clip? I'm pretty sure Vampire Weekend is Bill Cosby's dream come true.
HE'S PERPLEXED THAT IRELAND IS SO SMALL
March 20th, 2006, after returning home from five days in sunny San Juan, Ezra was greeted by a seriously devastating population fact: the population of Ireland is 4,015,676.
"This seriously blows my mind. I've tried to convey this mind-blowingness to other people, but NO ONE'S FEELING MY VIBE. Can you believe that Ireland is closer in size to Luxembourg (both in real terms and proportionally) than to the UK?"
Bitch, don't kill my vibe, but yep, I can totally believe that and I studied at a university with the lowest student satisfaction rate in the country. Still, Ezra is bamboozled with the idea that Ireland is so small, mainly because he associates "population size with coolness." If we're going by Ezra's principles, this means that Kinshasa in the Democratic Republic of the Congo, is one of the coolest places in the world.
THIS PICTURE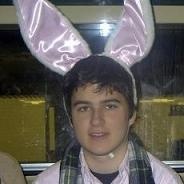 If I've learned anything today, I've learned that Ezra Koenig went to a Halloween party dressed as a rabbit in a pink shirt. Twice.
HE HATES SIMPLE PLAN
Once, while driving up to Syracuse, Ezra listened to the radio and heard a song that really jarred his sensibilities. That song was called "Untitled (How Could This Happen To Me)" and was by a band called Simple Plan.
Here's what Ezra had to say about the band. I can't be bothered to put (sic) all the way though, so just consider this a blanket disclaimer.
"Now, Simple plan is very similar to Sum-41 but boldy went where their peers hadn't gone. With 'Untitled' they take Sum-41's FAKE into the HYPER REALM! They essentially turn pop-punk into the kind of CHEEZY MELODRAMATIC CRAP that the Ramones (and maybe even Green Day) stood in opposition to. I'm not defining "Untitled" as cheezy and melodramatic by my own standards (although it certaintly is). It is cheezy and melodramatic in the context of any notion of "cool", "hip" or "edgy" from the past 40 years.
For Simple Plan to fly under the punk or pop-punk banner AT ALL threatens the entire notion of punk, pop-punk.
Why should I care that Simple Plan is wack? I can always listen to the Ramones of the Clash and feel like "I GET IT". Well, I'm just being scared for the kids growing up listening to this. I feel like they're being bamboozled! They are being tricked and soon their entire worldview will collapse in on itself. This strikes me as perverse and subversive!!! OMG, SIMPLE PLAN IS PUNK!"
It's a fair enough statement, but personally, I'm just scared for the kids growing up listening to Vampire Weekend play afro-pop pastiche with lyrics that sound like off-cuts from Paul Simon's notepad. I feel like they're being bamboozled!
HE DOESN'T LIKE VICE
In a post titled "Bad Vibes in Viceland," Ezra critiques an issue of VICE.
"I think VICE MAGAZINE is often funny AND insightful. The latest issue, however, moves past ironic criticism to STRAIGHT-UP-BRATTY HATERISM.
IS IT EVEN POSSIBLE TO CRITICIZE VICE MAGAZINE?
-If you call Vice racist, they will make themselves out to be SATIRISTS or perhaps POST-RACISTS.
-If you call Vice mean, they will call you a fag.
-If you call out a specific article, Vice will claim that as a collection of writings by different authors it has no responsibility for the opinions expressed therein.
If I call VICE haterz right now, they can say that I'm missing the joke."
Huh. I guess he's right.
HE HAD A HIP HOP PROJECT
I'll leave you with one of their tracks. It's called "Bitches."
Follow Ryan on Twitter @RyanBassil
Read more from Ryan:
MissTravel Think That Going To A Festival For A First Date Is A Good Idea