In 2003, music lawyer Chris Taylor went to concert promoter Donald Tarlton in Montreal with tales of a promising young band, $35,000, and the idea of starting a record label. The band was the then-unknown Metric - Emily Haines, James Shaw, Joshua Winstead, and Joules Scott-Key - and they would go on to become one of Canada's most successful indie rock groups, releasing five albums (and counting), racking up radio play across the country, and winning a handful of Juno Awards. Tarlton agreed and Last Gang Records was founded.
Taylor would next sign Toronto's Death From Above 1979 and Crystal Castles, whose debut albums would solidify label's reputation for finding up-and-coming talented artists and bands (both duos' reputation for chaotic live shows didn't hurt either).
DFA 1979 would break up following the release of You're A Woman, I'm A Machine and multiple world tours, but both members continued to make music under different guises, Jesse F. Keeler as one half of electronic duo MSTRKRFT, and Sebastien Grainger as a solo artist. Now firmly based in Toronto (with a satellite office in Los Angeles), Last Gang was nominated as Independent Record Label of the Year at the Canadian Music Awards in 2006, and they expanded into artist management, distribution, and licensing. Unlike many other Canadian indie labels, Last Gang has always cast a wide net geographically and genre-wise, putting out releases from artists including Billy Talent, Boys Noize, Chromeo, k-os, Lindi Ortega, The New Pornographers, and Tiga.
Following their 2011 reunion, Death From Above 1979 recently announced their sophomore album The Physical World would be released later this year, while Last Gang has been busy signing new acts from all corners of Canada (including Purity Ring, Ryan Hemsworth, Tre Mission, and Egyptrixx) and overseas (Finnish producer Huoratron).
With the label celebrating its tenth anniversary this year, Noisey spoke to Taylor and Last Gang artists past and present to find out how they ended up putting out some of the most celebrated Canadian albums and what the future holds.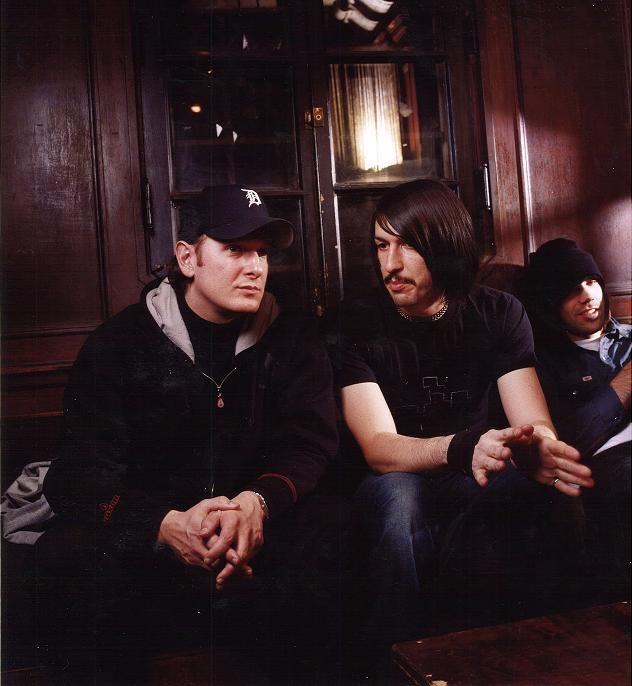 The Beginning of Last Gang
Chris Taylor and Jesse F. Keeler of Death From Above 1979
Chris Taylor: I had done the Sum 41 record deal with Aquarius [Records] in Canada so that's how I got to know Donald. All through that period I was working with Metric, I was their lawyer and was shopping their demoes and trying to get them a record deal. We did three demo deals with major labels, we did a publishing deal, we did a record deal with a company called Restless, that company went out of business of the eve of the release of the first album. So I went to my wife and got permission from her to put aside $35,000 and I said "Look, I want to take out $35,000 and put out this first Metric album" and she approved.
We made a video for Metric that I played for Donald at Pop Montreal in 2003 and told him "Hey Donald I'm going to start a record label, here's the first band that I'm going to put out". He thought that was hilarious, because at the time, it was the worst idea in the world. Napster was coming along and it was the dawn of the doomsday of the record business, but I wanted to help the Metric kids. I really cared about them and he said, "Why don't we do it together? You don't have a record label, you have $35,000, but I've got some staff and some infrastructure here in Montreal where we can do it together."
James Shaw (Metric): I was living in New York, Emily [Haines] was in New York, Chris [Seligman] and Torquil [Campbell] from Stars were in New York, we were all living in this giant loft in Williamsburg. Chris had just got his law degree and was practicing law and he was coming down to New York all the time to try and get Canadian bands U.S. record deals. Nelly Furtado was one of the first big ones that he did back then. He had a lot of industry connections and we were just starting out and we had this mutual thing, he'd stay at the loft and hang out with us, and in return he'd shop our music around. He wasn't shopping the music purely so he'd have somewhere to stay, he believed in it, but there was sort of a mutual thing going back and forth.
Taylor: While I was doing Nelly Furtado and Sum 41, I had Metric in my bag. Here's Nelly Furtado, here's Metric. Here's Sum 41, here's Metric. Here's Billy Talent, here's Metric. In that day it was in the bag, there were no iPods for you to play it, so you had to carry CDs.
Shaw: The music got us in the door to every label on earth, but once they sat down and met us they realized we weren't going to take direction from anybody. Jimmy Iovine said to us, "Have you heard of a guy named Pharrell? I think he'd be a perfect producer for you guys." You're kidding right? This is supposed to be the smartest guy in the whole music industry and he wants Pharrell to produce Metric? Way to go buddy.
We were out in Los Angeles and I think we were playing a show at the Silverlake Lounge, which is where we played a bunch back then, and we went for dinner beforehand. He said, "You know I'm kind of getting sick of doing this and it's a little bit fruitless, it's not really yielding very much. So I think we should just say fuck it, and I'm just going to start a label and put you guys out on it." And that was sort of the beginning of Last Gang, that faithful Mexican meal.
Taylor: I was in my office at Queen and John when a friend of mine sent Jesse and Sebastien to me, and they had some…they were cool. They walked into the room and they were just cool dudes but they were ambitious as well. They had an EP with Ache Records out of Vancouver that I thought was great, but the demo recordings of the new songs were great and potentially spectacular. They came in and said they wanted to sign to the label and I said "Well, there's not really a label" and they said "No we love this Metric record, we think you're doing really cool things and we want to sign up with you". So we went out and make a record [You're A Woman, I'm A Machine] for $11,000 with Al [Alex Puodziukas] from MSTRKRFT producing..
Shaw: I remember them telling me they were somewhere in the middle of Canada, and they were walking through a record store and they heard Old World Underground playing, they ended up picking up the record and thinking it was really cool. When Chris approached them he told them that he had Metric and for Sebastien he said that was sort of a defining thing.
The Rise of Last Gang Photo courtesy of Duy Nguyen
Taylor: When we got the positive Pitchfork review for You're A Woman, I'm A Machine, it was game on, all of a sudden we could go to the Bowery Ballroom, all of a sudden we could go to Sydney, Australia and sell a thousand tickets, we could show up in Tokyo and people would pay us and care.
Shaw: I think it was February 2004 or 2005, we put up a show at [Toronto venue] the Mod Club, and it sold out and we put up a second show and it sold out and we put up a third and it sold out and we put up a fourth and it sold out. I remember walking into the Mod Club the fourth night and just seeing it rammed to the gills and I remember thinking "Fuck, finally something's happening". That was really a defining moment and I realized in that moment it had changed and we were going to be alright.
Death From Above were a very different band than us, they're two dudes and they look they could kick the shit of anything in sight and their music kind of sounds like that, but for some reason Metric and DFA had a good time touring together with each other. Something happened with the music where these two things complemented each other really, really well. I think we did maybe five or six tours, and they were doing much better than us in the U.K., so we would open for them in the U.K. and they would open for us over here. There was never any weirdness or animosity about that, it was all very supportive.We found a real kinship with DFA, to the point where Sebastien and I bought a house together in 2006 and built two apartments and a giant studio in the back where Metric made the last two records.
Taylor: There was no business plan. I found Crystal Castles on MySpace, there was a picture of them looking down at their shoes and underneath it said Reyjavik, Iceland. I was in the office over Christmas and I clicked, listened to the music and thought it was cool. I didn't have a MySpace account, so I signed up and said "hey Crystal Castles I'm so and so from Toronto, here's what I've done bah blah blah". An email comes back from Ethan [Kath] and I was like "You're not from Iceland?", and he replied "No, we just put that up there to fuck with people", so I said "Why don't you come into the office and we'll talk about your band?" I was prepared to sign a band from Iceland.
James Trauzzi (VP of Marketing/A&R): I think Crystal Castles blew everything out of the water, it was something no one had ever heard before, but it just caught fire.
Taylor: MSTRKFT formed the day Death From Above broke up. After the big final meeting, Jesse and I went down to a pub and we were crying in our beers. I said "Well, I'll give you a record deal for MSTRKRFT right now, let's go". So we signed a deal, he built a studio and made the first record with Al and off we go. Jesse and Al had already did some remix stuff and were already dipping their toes into that world.
Shaw: You can tell the listener what you think or you can tell the listener what they want to hear. A lot of introspective music, the Bon Ivers of the world, is telling people what they think, exploring the artist's emotions, etc. Then there's a band like Oasis who are just giving you something to distract yourself from your fucking life. It's more about the listener, I'm not trying to give you my innermost thoughts here, I'm just giving you something to fucking get by with. It seems to me that most of the stuff on Last Gang is in that category. It's music to live your life by, it's not fucking ramming its ideas and emotions down your throat.
Trauzzi: It sounds a little cheesy, but I think the main element of Last Gang acts' music is that it's dark, sexy, dangerous, that's kind of what Chris was always going for and we always steered left-of-centre from what other people were doing. I think the overarching thing is the actual live performance with all of our artists.
Dave Macklovitch (Chromeo): They're important not just to the electronic music scene, but to Canada's music scene in general. They're the dopest label up there.
The Future of Last Gang
Photo courtesy of Eugenio Tamburini
Taylor: Signing Purity Ring was fantastic. We met Corin [Roddick] and Megan [James] early on into their career, they just had something special, and it excited Chris and I back to the days of those early artists. I think that was a new catalyst to go back to what we do well and what's exciting for us. From there we signed Ryan Hemsworth and Electric Youth and it really is the best of the best of Canadian music.
Austin Garrick (Electric Youth): My first introduction to Last Gang was when I saw the music video for MSTRKRFT's "Street Justice" on MuchMusic. It was just one of those rare experiences where I saw music that I had never heard or experienced in my life. I wasn't even too aware at that point of the modern electronic scene. The whole sound that they came with, I guess that was right on the cusp of when electro became a thing in 2007. I was like "What is this?" So different and cool.
Bronwyn Griffin (Electric Youth): We had always been fans of the label, I think they were the only label in Canada that we would have wanted to do something with. As long as I've known about them which was a couple years after they started, basically any act that came out of our city from that point on that made us proud to be from Toronto was on Last Gang.
Taylor: When Chromeo and DFA played together on [Jimmy] Fallon that was really cool, I think there will be a lot more partnerships with Last Gang artists moving forwards when it comes to collaborations, touring together, etc. For awhile a lot of people saw Ryan just as a remix artist, but [Hemsworth's 2013 album] Guilt Trips stands alone on its own two feet, and the Juno [Electronic Album of the Year] just kind of solidifies everything that we believed in.
Macklovitch: The song ["Sexy Socialite"] is based around a live bass and drum groove and when we conceived it, the idea was to give it kind of a punk funk feel. I knew Jesse and Seb could nail this, and that the surprise factor would be huge, so I just reached out. Jesse and my brother A-Trak have been good friends for years so it wasn't hard to connect the dots.
Aku Raski (Huoratron): With Last Gang I get a very professional working environment in regards to the industry, absolute creative freedom and bunch of fantastic mates sharing my work ethics. In this day and age I see that the nationality of the label has very little significance any more.
Taylor: Those first few records for us I took it for granted at the time, like "okay, we're going to sell 250,000 copies of everything, make lots of money and make everybody millionaires, and that's just how it's going to go" because I think I know everything. We try to get it right out of the box, focus on breaking artists internationally and then bring it back home.
Max Mertens is a freelance writer living in Toronto. Follow him on Twitter - @Max_Mertens