The first time I met Lianne, back in 2011, we discussed music and moustache bleaching. When we met again a few months later, she was excited about selling out a string of shows in tiny London club and she was buzzing from a recent career-making appearance on a British music show, where Bon Iver was also performing. Afterwards, he invited her to open for him on his North American tour. Since then Lianne's rich velvet tones—pulled upfront and intimate in the mix—and backed by relatively sparse instrumentation, have impressed everyone from Stevie Wonder to Prince, Vogue Editor Anna Wintour and designer Tom Ford. We hung out with the 23-year-old backstage before her biggest US show to date: a sell out performance at New York's Webster Hall, where all 1500 fans were singing along, unprompted, to every single word. We also met a couple outside who were arguing about who discovered her first. People get possessive about Lianne because she's an absolute peach.
Noisey: The last time I saw you was in a bar in Koreatown in LA like a year ago and I recognized you even from the back of your head because of that side bun. You've stopped doing that now. Did you get sick of it?
Lianne La Havas: I needed a trim and they took off so much it's actually too short for a successful bun. To my knowledge, I'm not stealing it from anyone. [laughs]
Why, were you stealing the bun from someone?
No, except when I first appeared on television with the bun, there was a little write up that said that I was England's equivalent to Janelle Monae, which is fine, because she's great, however, I just prefer to have hair like my own hair.
Scary.
In terms of style, do you remember the first person or band that had a visual impact on you?
Really early on it was the Spice Girls. Scary Spice in particular. I liked the leopard print and it stuck with me. I can't really think of anyone else when I was growing up that had that kind of natural hair.
You mean instead of a weave?
Yeah. Just having natural ringlets and that being really beautiful. I was attracted to her hair, the leopard print, and she had a lovely face and body shape. I just wanted to be like her. From about 12 to 19, I was bit grungier. I was very much in the Avril Lavigne camp: the baggy jeans with a tight vest top, big fat trainers, black eyeliner all the way around, and the wallet chain.
Did that mean you had crushes on all the skater boys?
I did, but I could never speak to any of them. I was a bit too shy.
You've never made out with a skater?
No! I pulled [kissed] a wannabe skater boy. That was my first boyfriend. He wanted to skate, but couldn't.
That was a pretty enduring style phase for you back then.
Yeah. Then it gradually got more feminine and it then became about what I liked. Skinny jeans became fashionable, so I was into that for a bit with a hoodie. I used to straighten my hair all the time, so I'd have the hood and the straight fringe. It wasn't until I met [British singer] Paloma Faith that my style started to change. She was so glamorous and she used to dress me up because I never had anything smart enough when I first joined the band [as one of her backing singers]. She really helped me in a way and then when we got two backup singers in the band, she got us all these amazing stripper-style shoes. She got us all a red pair. I began to think that I wanted to wear heels during the day and I got into hair and makeup properly.
Diane Keaton as 'Annie Hall.'
How old were you at that point?
About 19 or 20 years old. I started making my own music and I didn't really know how I wanted to look for my own stuff. One day I was admiring my friend's girlfriend's style and wondered if she would go shopping with me and it turned out she's a stylist called Beth Buxton. She was the one that had the idea of putting collars on things. Diane Keaton in Annie Hall is also one of my style icons. The way she comes across is still very feminine, but kind of a slouchy and casual tomboy. I really like that and mixing it with more of a Whitney Houston-in-the-90s look and Hilary Banks from Fresh Prince—they're both style icons.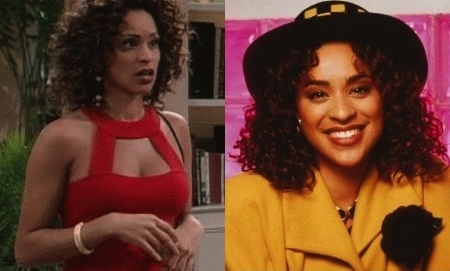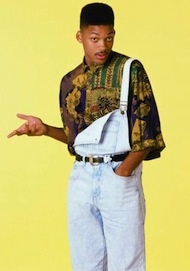 Really?
Definitely. She's probably my favorite. The huge shoulders, bodycon dresses, her tousled curls, and some red lipstick. That 90s, fly girl thing. Also Will Smith! His bold, bright, colorful shirts and dungarees. I love all of that.
Tom Ford and Lianne in Milan last year. In terms of the fashion side of things, this year has been kind of a crazy, getting flown to Milan by Tom Ford…
He's the one person I wish wasn't gay! He's very handsome and lovely. He heard my music somehow and wanted me to perform for the launch of his men's fragrance back in June of last year. It was happening in Milan and I had a fitting in the most gorgeous dress I've ever seen. It's black, full-length long-sleeved zebra print, but instead of it being printed on, it's actually decayed velvet and lace. The see-thru bits are lace. I put it on and it fit perfectly. It made me feel better. It was such a nice shape. He just knows how to dress women really well and make them feel like women.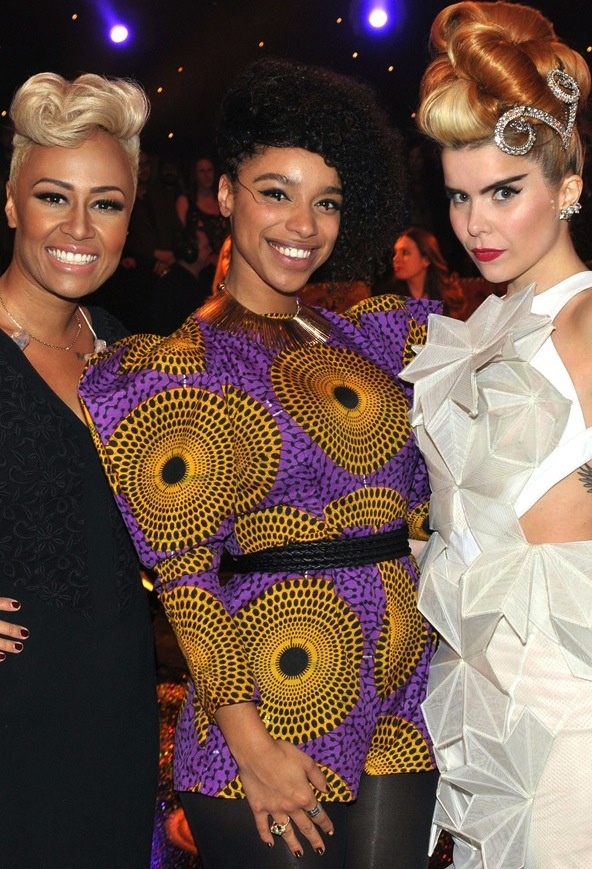 Emeli Sandé, Lianne wearing Bombe Surprise and Paloma Faith.
I actually interviewed Nina from Bombe Surprise, whose designs I know you've worn.
I love her. She made a playsuit for me with outrageous amazing big sleeves and this purple and yellow African print. She's so clever. I think I'm going to work with her again for the festivals. It's so cool that you've met her. She's very multi-talented.
Definitely. What's been the strangest, pinch-yourself moment?
Probably having a jam with Prince. Being able to call him a friend is quite surreal.
So wait. He's in your cell phone?
Yeah! I think he discovered my EP and just after my Jools Holland performance, his manager got in touch asking to set up a call to talk about music. A few weeks later I was in the pub and Prince's manager called my phone—which I'd conveniently forgot at home! So we had to give Prince my boyfriend's number! He called and I asked who it was and he responded with, "I think you know who this is." [Laughs] Then we just talked about music. At some point afterwards I got an email later asking if I wanted to meet him at Paisley Park after New York show!
What's he like in person?
He's really funny, charismatic, and he's an excellent host. He's such a gentleman. He's really respectful and he'll always hold the door open for you. I didn't know what I was expecting really.
So then you jammed?
Well, essentially yes. We talked for a bit just about music and played some music to each other.
Sounds like a date.
Kind of yeah. He let me play one of his guitars. We just talked and played.
How did you not completely lose it?
I don't know. Once you meet your idols, you realize they're human beings. If he had been horrible, then I wouldn't have been so comfortable around him. I felt like I'd known him for a long time. I mean I kind of had. [Laughs] He'd been in my consciousness since the age of two.
Lianne headlining Webster Hall, New York.
In terms of the album, do you look back at it now and see a narrative?
Yeah. I suppose there always was. I just wanted to talk about my experiences over the last four years, coming out of my teens and into my early twenties. It does feel like a sort of journal.
It seems to chart a few different romantic relationships.
Two in particular.
And you're not with your boyfriend anymore?
I'm not with either of them anymore. When I first met you, I was still with one of them. It was difficult as any break up is, but I feel like it was the right thing to do.
I watched this video where you were talking about the origins of each song and you were saying you didn't think you would have been able to write those songs if it hadn't have been for him.
Yeah, he just really encouraged my writing—always. He still does even now. He always asks me to write something that he can dance to! That's my next aim.
Your father is Greek and your mom is Jamaican. How was it growing up as a mixed race kid in London?
This subject really interests me. I knew that I was brown, let's say, but I never felt like I belong necessarily to any racial group. At school, there would be a lot Muslim girls hanging out with other Muslims and a lot of African and Jamaican girls hanging out together. That was never my thing: to be part of a group that you're the same as. A lot of it was music related too, like goths and grunge kids. I was with the group that wasn't with any other group. It had an African girl, some very English girls, a Bangladeshi girl, and it didn't really matter. We all knew where we came from, we knew our parents were from different places, we just thought that we were all hilarious and we hung out with whoever we thought was the funniest. Doing what I do now and seeing the plethora of creeds, colors, and religions I'm reaching with the music I'm making—it's amazing. This is going to sound cheesy, but I think the beauty of music is that it doesn't see color. The kind of music that I'm doing comes from many different worlds. I like to think that it doesn't matter anymore.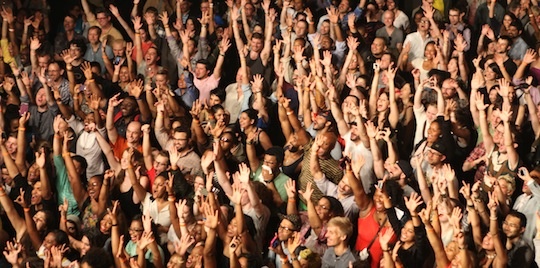 Happy fans at Webster Hall. Yay!
So Lianne shares Lil' Kim's ol' hairdresser. Read all about his crazy story and what it was like to work with Lil' Kim, Lianne, Angel Haze, Aaliyah, and more here.
Kim has hugged Lianne on several occasions and can confirm that she is great and both singing and embracing. Serious skillz. She's on twitter - @theKTB.
Style Stage is an ongoing partnership between Noisey & Garnier Fructis celebrating music, hair, and style.