There was a festival in Austin last weekend.
"Isn't there a fucking festival in Austin every weekend? It's the Live Music Capital." You get an axe to the chest, because even Dick Hallorann couldn't see Jack Torrance coming. That's a dumb question.
Housecore Horror Film Festival was a celebration of the metalheads' two base needs in life – horror movies and, obviously, metal music. Organized by writer Corey Mitchell and Housecore Records label head, current Down vocalist, and former vocalist of Texas metal legends Pantera, Phil Anselmo, the festival took over the block of East Riverside and the new incarnations of heralded venues Emo's and Antone's for three days of visual and audial macabre. In fact, it's a wonder Macabre, a death metal band obsessed with the likes of Albert Fish and Richard Ramirez, wasn't there. Since it was the weekend before Halloween, it was enough of an excuse to dress up, and a few concertgoers did. Slutty nurses, sluttier zombies, and a full-on radiation tester suit broke the black t-shirt monotony. Across the street at Buzz Mill, Canadians, New Yorkers, and other non-Texans took to barbecue like man discovering fire. If you weren't a poser, you dined on lengua and chicharrón tacos at Taco More in between the venues, and you talked about eating venison heart tartare while doing so.
But let's talk about the music. That's what matters most.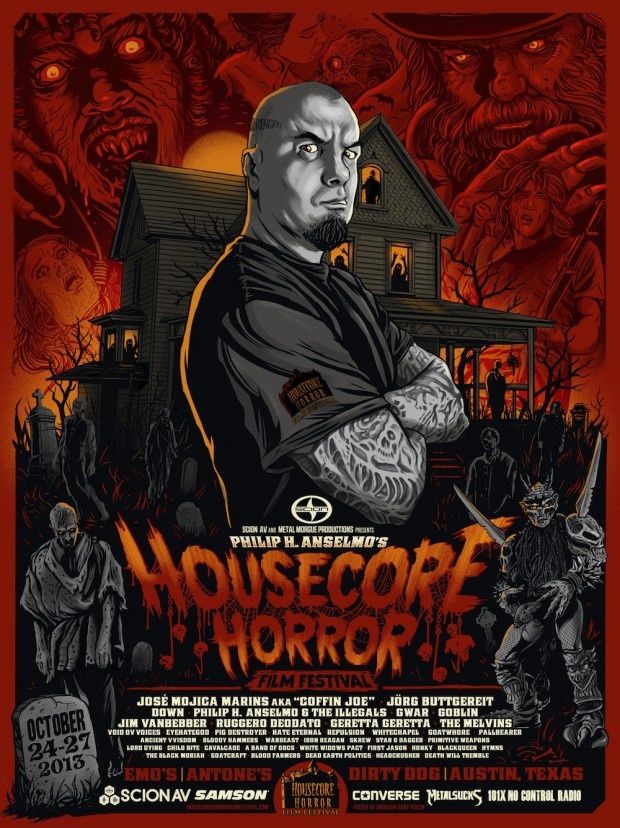 Anselmo's mug looked down on you from the perches of the Housecore flyer, his eyes going "Are you talking to me? ARE YOU TALKING TO ME? Walk on home, boy," but even with him as the face of the festival, it was as much Goblin's weekend as it was his. Goblin are an Italian prog band most famous for their scores for some of Dario Argento's most notable films. On Friday, Goblin played an overview of songs from their storied career. There's nothing quite like the excitement of seeing a band playing their first ever show in your town, especially if that band has a huge (and hugely influential) body of work and hasn't played the U.S. ever. Sunday, they closed out the festival with a live scoring of Susperia, the Argento film most commonly associated with them. The live pairing emboldened the relationship between the film and the music. Audience members would cheer after every big movement because, well, it was a concert AND a movie. In a way, it was much like another twisted dance drama, Black Swan, where the audience rapture was so overwhelming that it lent to grandiosity. Seeing Goblin twice in one weekend will be eternally cooler than being that guy who prefers Pantera's glam albums.
Goblin
Throughout the weekend, bands endlessly thanked "Corey and Phil," but if there's another hero of Housecore, it's Dale Crover. The Melvins were brought in to replace Crowbar, who dropped off following mainman Kirk Windstein's departure from Housecore's Friday headliners, Down. Seeing as this was the first time in years The Melvins had less than an hour to play, they stuck to their punk roots and focused on the lean cuts. As a result, they did not have a chance to make up for having to stop their Iommic monument of riff worship "Roman Bird Dog" due to rowdy concertgoers at their last Austin show in August. Even though Housecore didn't get to see the acrobatics of Crover drumming with Coady Willis, he still proved he's enough drummer for ten bands. And Buzz Osbourne is Buzz Osbourne, the finest at synthesizing avant-garde into rock now that Lou Reed's passed on. More importantly, Crover was filling in for the fallen Joey LaCaze in Eyehategod. Crover not only fit in with Eyehategod's black-and-bluesy feel, he still managed to hit harder than Mike Williams hit the glass during the recording of Dopesick. Eyehategod's strongest set in ages – even with a tragic death, they felt rejuvanized. Will he be LaCaze's eventual replacement? It's doubtful, but one can fever dream.
Eyehategod.
Grindcore had a great weekend at Housecore, and in some ways, it was a second chance for Texans who couldn't afford to fly to Baltimore for Maryland Death Fest. Flint, Michigan's second most famous cultural export, Repulsion, made their Texas debut in the darkened Antone's. While the band was as on point as they were at MDF, there wasn't much energy from the crowd. A damn shame, because Repulsion still have it. Possible Iggy Pop relative Scott Carlson, the band's bassist, vocalist, joked about playing the band's "new album," Horrifed. His bass could have been nastier, but he was still affable on stage. Pig Destroyer also played Austin for the first time in years; their last appearance was when Valhalla was known as Room 710! This was also their first show with a bassist John Jarvis, cousin of drummer Adam. Even with Scott Hull's ample low end, he really rounded out the band, especially given that Blake Harrison's electronics were on the fritz. Harrison has yet to be utilized properly, but it was still shitty to see him frustrated. Jarvis was concrete to "Starbelly," Pig Destroyer's Melvins-esque "slow jam," his rumble making Hull's crawl heavier. Hull has attributed adding a bassist to wanting to experiment with more noise rock territories, and if their closing song, a cover of Helmet's "In The Meantime" was any indication, it'll be a fruitful direction.
Gwar, same as ever.
The Melvins have a song with Jello Biafra named "Those Dumb Punk Kids (Will Buy Anything)," and there were some bands at the festival that proved you can switch out "punk" for "metal." GWAR headlined Saturday, but they've been doing their thing for so long that throwing shade on them is just as unoriginal as they are. The first band on Saturday was First Jason, whose vocalist Ari Lehman played Jason Vorhees in the first Friday the 13th and…that's it. That's the whole angle. First Jason's mere name sounds more like a working title than a full-fledged project. None of this compares to the mind-boggling mediocrity of A Band of Orcs. As humans, they were just another boring death metal band, a tool for promoters to stretch out gigs by putting on six locals in addition to a touring package. If they were based in Milwaukee instead of Santa Cruz, they'd probably fall for a Jack Koshick scheme. But as Warcraft cosplay? People went nuts! They drew a pretty large crowd for being slotted so early. Look, creating an identity onstage is as much a part of metal as leather and bootleg shirts from Mexico. Kids in Scandinavia giving themselves pseudonyms more intimidating than Jørn and Øystein and smearing black and white paint on their faces is totally cool, as long as they have the goods to back up their image. A Band of Orcs have a neat get-up, and what else? Allegedly, they would not break character offstage, which must be exhausting, even with the relatively mild weather that weekend. Maybe that's why they can't come up with a decent riff between five dudes?
Despite being billed as "Housecore Horror Film Festival," it felt like a music festival with some movies here and there. What are you going to get more excited about – Goblin playing their first Texas show, or a screening of Cannibal Holocaust, a great horror movie available for rent at a torrent site near you? Horror still had a significant presence. There were brunch screenings of Carrie, Friday the 13th, and I Drink Your Blood, complete with Bloody Marys. People stood in line to get autographs from directors such as Jim Van Bebber, Jorg Buttgereit, and Ruggero Deodato. Coffin Joe was supposed to appear, but had to cancel due to illness. Rotten Cotton and Pallbearer Press hawked shirts of famous horror movies. And plenty of gore-obsessed films lit the halls of Antone's and tents near the venues. One of the more hyped films was Zombex, the directorial debut of Austin musician, Jesse Dayton. In the movie, residents of post-Katrina New Orleans are the subjects of a new anti-depressant drug trial held by Chandler Pharmaceutical, which works wonders so much that they…turn into bloodthirsty zombies. A controversial radio host, a twangy Alex Jones if you will, and a fallen-on-hard-times musician set out to Austin to find a cure, but more importantly, they meet two girls who like to kiss each other. There's also a subplot where drug dealers, one of which kind of looks like Houston rapper Fat Tony, sell the pills on the black market, but that doesn't go anywhere. Zombex had interesting ideas, none of which really came to fruition. Was it supposed to be a critique of the pharmaceutical industry? A defense of free speech? Was it all just a vehicle for pseudo-lesbianism? There are precisely two reasons why Zombex played at this festival. 1) It's set in post-Katrina New Orleans. 2) Tom Araya has a cameo role. In fact, it may be the only film to feature Araya, Malcolm McDowell, Kinky Friedman, and Corey Feldman. That's certainly a coup for the makers of Zombex, but it must feel weird that some of the people who took part in two landmarks of artistic achievement – A Clockwork Orange and Reign in Blood – would agree to appear in something like this.
"Most Repulsive Flick" was a coveted scene award.
It wasn't all Araya walk-ons and zombies eating girls out though. Before Zombex screened, Austin filmmaker Kat Candler's short Black Metal showed that Sundance and Housecore can, occasionally, see eye-to-eye. The film follows the singer of a black metal band dealing with the repercussions of media attention following a fan killing a teacher and drawing the band's logo in blood, all while trying to raise a family. It humanizes a black metal musician without going into needless debates about "kvlt" and "not kvlt." While only ten minutes long, it has the potential to grow into something bigger. One of the other notable films was a screening of the German silent film The Cabinet of Dr. Caligari, bolstered with a live score from Attila Csihar, best known as the vocalist of Mayhem and live vocalist for Sunn O))). His loops of growls, subterranean hums, and shrieks brought out the tension and dark underpinnings of every characters, giving them a voice without giving them lines. It was one of the few real boundary-pushing moments of the festival. Future installments need more stuff like that.
Phil Anselmo, with…friend.
Here's a free idea for a film, or at least an event for next year: Mike Williams getting Spalding Gray on our asses, sitting near a desk with a glass of water and disheveled notebooks, laying it bluntly about Katrina, addiction, Waffle House waitresses, and all the shit he's seen. Williams is one of the few modern poets who isn't hamstrung by academia, and he's probably got enough stories to make the year-end lists until either he dies or music journalism ceases to exist. So far, Williams has made a more convincing case for his longevity. And if Gray has taught us anything, being frank is a lot more terrifying than anything a young Sam Raimi or legions of newfound zombie fetishizers could ever conjure.
We need something in between ACL and Fun Fun Fun. Housecore just might be the thing.
Photos by Josh Sisk - @joshsisk
Words by Andy O'Connor - @andy_oconnor