So we could have picked out some cool Halloween-themed album art, like these Cannibal Corpse records. Total Halloween gore! But they're also kind of whatever. So there's alien demons bursting forth from that poor girl's every orifice and even parts of her body that aren't orifices—big whoop. Instead we investigated the vast depths of unfortunate album cover outfits to give you our favorite intentional and accidental costumes. Some suggestions for a last minute outfit tonight perhaps? These covers left me momentarily speechless: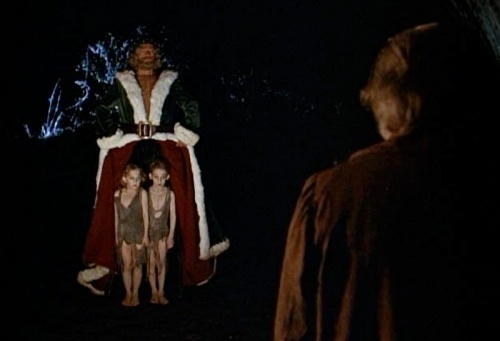 I am all about Gangsta Boo's vampy take on the cloak worn by the Ghost of Christmas Present in A Christmas Carol. This may have been unintentional, but the functionality of a single-clasp coat is indisputable. When you're looking to reveal and conceal your goodies (whatever they may be) with equal ease, this number is a must-have. See…
Soulja Boy was clearly on his way to prom when this photo was taken. It's a shame that the moon was photoshopped, since it's possible that his watch would be bigger than a normal-sized moon. If your ice is more impressive than a planet you win for life. Fact.
Dressing up is as much about channeling a spirit as it is about becoming a character. Betty's look is very disco-Poseidon in that vaginal Egyptian-eque unitard. The massive chopsticks and Tinkerbell booties further unhinge this look, leaving you frozen in confusion and awe.
Accidental costumes are often the best kind. Here, all of 98 Degrees are dressed both as Twin Peaks' James Hurley and as every 40-something at Guitar Center.
James Hurley, Twin Peaks.
One hundred percent chance of some bitch stepping into your line of vision dressed like this tonight. I could get down with Linda's look, but here's what I really can't get over: how much her legs look like bowling pins in those socks. And where are her feet? The longer you look the weirder it gets.
The aesthetic logic of the Ying Yang Twins is beyond me. One of them always seems to be whilin' out while the other one chills in the back. Either they have a super-balanced and respectful partnership, or Kaine was bumping D-Roc out of the frame with the brim of his hat. I'm not on board with this headwear choice at all, but it's hot as hell in Atlanta so you can't blame the guy for taking all the shade he can get. I really hope some "Grrrl let me get in your rice paddy" jokes were made during this shoot.
Amalia will be channeling her inner Gangsta Boo tonight. She's on Twitter - @graztifarian.