All photos courtesy Mark Sovel
Mention Indie 103.1 FM to just about any music fan who lived in Los Angeles in the mid-aughts, and responses might range from nostalgic nods of approval to fanboy-level gushing about where they were when they first heard it. Whether it was your first exposure to the Arcade Fire or that time they played Sleep's 63-minute "Dopesmoker" in its entirety, almost everyone has a story. Six years after its demise, Indie's legacy stands as a last-ditch effort to revive commercial alternative radio.
Indie 103.1 quietly entered LA's radio landscape just before midnight on Christmas 2003 to the tune of The Ramones' "We Want The Airwaves." Its debut was humble: The former dance hits party station was suddenly swaddled in punk, post-punk and early alternative classics that were played without DJ interruptions on a frequency that could be spotty, depending which part of the city you were in. By 2005, though, it grew to be a savior for LA radio listeners, a commercial station that mixed cuts long-since faded from the alternative radio format with the new artists that would come to define the Coachella generation.
An hour listening to Indie might have brought together the latest from LCD Soundsystem, a bizarre homemade mash-up and a Siouxsie track you thought you would never hear on FM. It was weird and unexpected, more accessible than college radio, but not nearly as repetitive, or jock rock-centric, as powerhouse KROQ.
Jonesy, Tony Wilson and Mark Sovel in the studio (photo with permission from Michael Lustig)
Indie, though, was not long for the terrestrial airwaves. In early 2009, the station was axed and, while later resurrected online, its influence never recovered. Indie's reign helped make stars out of local bands and under-the-radar acts who would otherwise be relegated to college radio obscurity: Arcade Fire, Silversun Pickups, The Airborne Toxic Event, She Wants Revenge, Warpaint and Cold War Kids all got early exposure here. It turned a Sex Pistol into a radio icon and brought mash-ups out of the nightclubs and off the internet.
By its mid-aughts heyday, the station had become less of a novelty and more of a source of influence. Rolling Stone had already dubbed it "America's coolest commercial station," and its name served as a shorthand for hip in everything from The OC to Punk'd to Grandma's Boy. The once DJ-less station now boasted a full roster rounded out by star-studded specialty shows. After former Sex Pistol Steve Jones became a station hit with his show "Jonesy's Jukebox," artists like Henry Rollins, Dave Navarro, Rob Zombie and the Crystal Method joined the family, while comedian Scott Aukerman hosted the original version of his popular "Comedy Bang! Bang!" podcast, then called "Comedy Death-Ray Radio."
Outside of the handful of artists who did release their tunes through indie labels, there wasn't much technically independent about Indie. The station was owned by Entravision, a Santa Monica-based corporation that's a big player in the Spanish-language radio market. Until 2005, radio mega-conglomerate Clear Channel (you know them today as iheartmedia) handled the advertising. In other words, Indie was about as corporate as you could get, which just made its existence all the more strange. How did corporate radio types end up running a station that gave free-form shows to former punk rockers and helped turn local bands into national touring artists? Moreover, how did it last for five years? We talked to some of those close to Indie—from then-program director Michael Steele to Jonesy to the members of the bands it helped break—to find out just what the hell happened.
Continued below…
Michael Steele (Program Director, 2003-2007): We had pitched this idea to a couple different radio properties in LA, the idea [being] that there was a sizable audience of primarily guys—that's what we were going after was males, but females too—that had grown up loving punk rock and grew up in the late 70s and through the 80s that now were in their 30s and, probably, might have a family and a job and everything and was living their life. But, the guy that was driving the BMW to work with his suit on and dropping his kids off at school still had a bunch of tattoos under that suit and was listening to the Sex Pistols on the way to work. There was an audience to be served there that KROQ wasn't serving. KROQ was living in a world of the Chili Peppers and Metallica, the same stuff that they had been doing all along, but they never really embraced punk and the attitude and the lifestyle that goes along with that.
It wasn't until the FCC relaxed some of the restrictions on station ownership that we were able to put together a deal with the company Entravision and convinced them that they could take this little frequency that they had on 103.1. I think when we got the yes, it was early November. We had everything sketched on paper as to what it would kind of sound like and the music library. We didn't have any air staff yet. We signed it on Christmas Day of 2003 and I think we started actually working in the building to do the sign-on on December 10, so, like 15 days. It was pretty quick when we got into the building and started putting it together.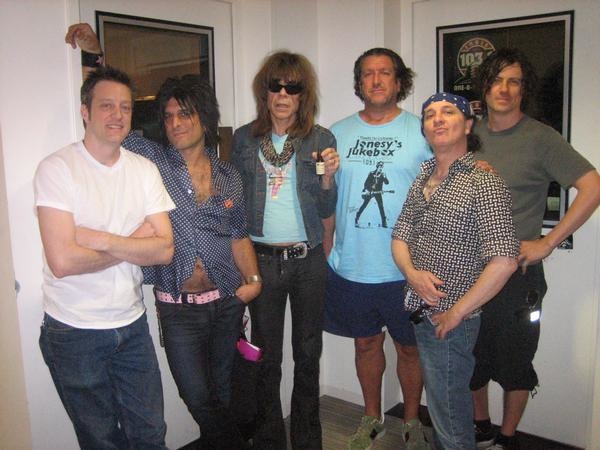 Mark Sovel and Jonesy with The New York Dolls at Indie's studios
Just days before the station launched, Indie's team went on a shopping trip to Amoeba Records in Hollywood.
Michael Steele: We took a trip to Amoeba and spent about six hours buying CDs, stuff that we needed that either I didn't have in my collection or Shovel didn't have in his. That was fun. We bought a lot of music. I think we spent $1000 on music.
Mark "Mr. Shovel" Sovel (DJ, producer of "Jonesy's Jukebox," music director ): We were buying the library songs, so not necessarily the new stuff. By library, I mean the older stuff, like New York Dolls and The Clash and these kind of things, Pixies and Radiohead and The Ramones.
What was fun about that was that we had a guy—what we called a "suit"—who had the credit card, and we started going up and down the aisles and throwing everything in the basket and we were literally only at about the letter M when he was like, "I got to get going." So we kept running ahead and grabbing as many things as we could. As we got up to the counter, I remember thinking, "We didn't get to the Ss." I ran back and grabbed a Sex Pistols CD. Thank God we did because we put probably three-quarters of that album into rotation and because of that we ended up getting a phone call from the guy who ended up becoming our first DJ, Steve Jones from the Sex Pistols.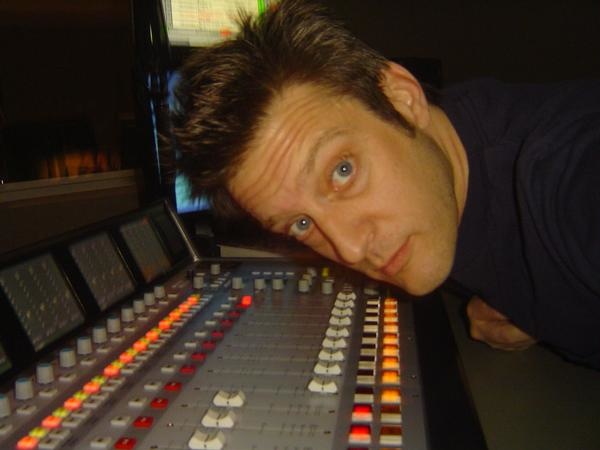 Mr. Shovel in the studio
The station launched with a team of just three people. Working with Steele and Sovel was Todd "TK" Killiam, who knew Steele from their time at Top 40 station KIIS FM, 102.7, and who stayed with Indie until its final day on the airwaves.
TK (DJ, afternoon drive-time and, later, morning programming): When I first got there, it was Michael Steele, Mark Sovel and myself. We worked night and day with just a staff of three in that building for about six months and just started building that thing out. It was a lot of work.
The first outside help was our voiceover guy and some production, but it was a lot of work. It was like a passion project and it just so happened we were doing it in Los Angeles. It was amazing.
It seemed like everybody started to call. There was massive energy right away—"I can't believe I'm hearing Iggy Pop on air in LA. I can't believe I'm hearing The Ramones, The Dolls, all the new stuff and everything in between."
It was one of those things that just hit the ground running. I don't know how or why. I guess it was something different, it had never been done in Los Angeles before. It just resonated right away.
The station's first major on-air personality ended up being one of its most enduring. Steve Jones, best known as guitarist for the Sex Pistols, came on board to launch "Jonesy's Jukebox" in 2004. The show was a hit with listeners and lasted until the end of the station's run.
Steve Jones hosting "Jonesy's Jukebox" with guests Iggy Pop and Pete Townshend at SXSW
Michael Steele: Our budgets weren't as big as KROQ's and the way I can put it best is that you can't out-KROQ KROQ. I was never going to beat them by playing their game. We decided how can we play a different game. While the music was mostly different—I would say that about 90 percent of our music library was different from KROQ's—in addition to that, I couldn't hire a big-name morning show. I couldn't go get a [popular KROQ morning host duo] Kevin and Bean. I couldn't get a Jed the Fish because those guys get paid a lot of money and I didn't have the budget.
In addition to that, I didn't want just regular DJs because that wasn't going to stand out either. When I was talking to a friend of mine, named Terry Anzaldo, one night we were talking about the imaging of the radio station and I said, "I really wish we could get a guy like Billy Idol to do voice over stuff for me." He's like, "That would be really great. What about Steve Jones?"
Steve Jones: I was driving around and I stumbled across the station and all they were doing was playing punk music and there was no commercials and I'm thinking, what the hell is going on here? This is something, I've never heard anything like this and I didn't know what it was. I was excited about turning the radio on and not hearing the same old crap that you was hearing at that time, like every other station. That was it.
Then, I get a phone call from this guy, Terry Anzaldo, who met me when I was signed to Maverick with my band called Neurotic Outsiders. He was the radio promotion guy. He called me and said, "Jonesy, have you heard of this new station?"
I'm like, "Yeah, it's great. What about it?" He goes, "Well, this guy wants to see if you want to get involved in it." I'm like, "I'm in, I want to be a DJ." It had just come out of my mouth. I never thought about it prior to that. The guy was Michael Steele, obviously.
Him and Shovel came over to my house. I was laid up in bed. I had back surgery and it was a nightmare and they come over and we talked about it. I said, the only stipulation that I want to put forward is that you let me play what I want to play and say what I want to say. They said okay, which is pretty much unheard of. I don't even know if they wanted me to be a DJ. I put it forward to them first before they could finish what they wanted to say to me, you know.
Michael Steele: We put together a deal and, honestly, I thought it would last maybe four or six weeks before he got tired of it because I've done this before with musicians and athletes and stuff. They think radio is really fun until it becomes a job, you have to show up and you have to do it every day. Not only was he showing up every day, but he started showing up early and he would hang around the station after his show was over. It turned out really well and he loved it and so I kind of started expanding on that, not thinking that would be the way it went.
Steve Jones: A week or so later, I went down to the station. It was for one hour, four days a week. It was Tuesday to Friday. I brought a bunch of songs down. I had no idea what I was doing and it was a nightmare, the first show. I was like a blithering idiot.
I think the first show I did was never recorded. I remember playing, I think it was about ten or 12 songs and me rambling on and trying to make it sound interesting between.
I was terrified, but, also I got a response from people calling up, saying, "Who is this guy?" They had no idea I was the guy from the Sex Pistols. They were like, "Who is this lunatic? We like this." It just, basically, it built and built and built.
"Jonesy's Jukebox" was Indie's flaghship show and, by 2005, the former Sex Pistol was on air for two hours a day, five days a week, where he was joined by a wide variety of guests. Stars like Iggy Pop, Brian Wilson, Johnny Ramone, Gary Oldman, Robert Plant, Pete Townshend and Johnny Rotten all eventually turned up on his show.
Steve Jones: Let's just say that [if] Indie never happened, and at that same time I went into any station and said, "Listen, I've got this concept. I want to play music no one knows. I want to have a lot of dead air. I'm going to make fart noises and I'm going to have weird people on the show. Can you give me a gig?" It would never have happened.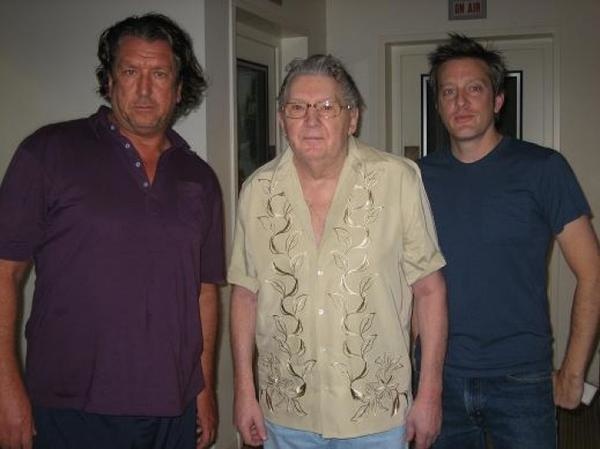 Jonesy and Sovel in the studio with Jerry Lee Lewis
Michael Steele: It ended up working and, so, from Jonesy, we got Dave Navarro. Navarro brought along some of his buddies. I actually had a really good conversation with Henry Rollins. He goes, "At first, I was skeptical, but I've been listening to what you guys do and I think it's legit." I said, "Can you come on some time?" He said, "Sure."
We did a guest spot with him and he loved it and he goes, "I travel a lot, but if I'm in LA and I've got time, I'll do this every single week." He started going and, the next thing you know, Rob Zombie [had his own shown] and [so did] the Crystal Method guys. We put together a pretty good little staff of pretty famous rock stars.
Scott Kirkland and Ken Jordan of The Crystal Method already knew how radio could help young artists' careers; before they were signed, the dance music duo had been championed by KROQ's Jed the Fish. But, even in the 90s, landing on the radio was tough. Kirkland admits that the duo didn't get significant airplay until after their music appeared in a Gap commercial. Years later, the room for rising acts on commercial radio was even tighter—except for on Indie. On their show, "Community Service," Kirkland and Jordan played what they wanted, exposing audiences to underground breakbeat artists like Elite Force, Dylan Rhymes and Bassbin Twins in the process.
Scott Kirkland: The spirit of the radio station was sort of inspired by the local scene, what has been happening in LA for a long time. If we had a lot of people in there, we would bring a little cooler full of drinks and just go live. It was spontaneous and endlessly, creatively cool. We would play stuff and bring people in, other artists and DJs would join us and we felt a great honor to be able to do that.
Ken Jordan: For us, we just loved that there were really no rules and Indie wasn't heavily formatted. It wasn't like corporate radio. It was like pirate radio in a building.
Michael Steele: [By 2005] it was so popular and we got so much press that we started to really grab hold of some of the newer bands, because the thing that made that a little more possible is when you've got a guy like Steve Jones who says, this new band is legit and you should know about them.
When that started to happen, we started to embrace the local music scene more. I think it was the right time. I think the music scene in LA had kind of dried up a little bit in the early 90s because everything had moved to Seattle because of grunge and then the Southern Rock thing was really big in the late 90s. It wasn't until the early 2000s that I thought there was really solid local talent, in the rock genre anyway. Specifically, Silver Lake started to really heat up. That's kind of when the music got good—yeah, let's wrap our arms around this stuff.
Silversun Pickups playing an Indie-hosted local music showcase at the Armand Hammer Museum in LA
Mark "Mr. Shovel" Sovel: We put a lot of stuff into rotation that was local and it was easy. I had a two-hour show on Sunday night and we put it out there for submissions. I was astounded by the amount of great stuff that was sent in. Very quickly, I found that there was enough that I didn't have to play stuff that I didn't like. Out of that grew local music features, where we would pick a handful of bands each week to put them into rotation and get them regular airplay, just like a band would that had a major record deal. Out of that sometimes would come a record deal. This happened with Giant Drag and The Like.
In order to understand Indie's significance, it's important to understand the competition. For decades, KROQ had been the untouchable alternative rock station in the greater Los Angeles commercial radio market. In the days before grunge, KROQ was a cultural force, a way for outsider teens to find each other. A KROQ sticker on the car was as important for self-identification in LA as a pair of Doc Martens and an undercut bob. You were basically announcing to everyone in the mall parking lot that you had renounced the Top 40 in favor of The Smiths and The Cure. But by 2005, KROQ had long-since abandoned maudlin British bands and ignored the generation of Americans that they influenced in favor of rock bands your least favorite jock bully probably loved. Indie filled that void for bands that were ready to go beyond college radio, but still didn't quite fit in with what was considered "alternative" in the 2000s. One of the bands that benefited most from this new role was She Wants Revenge.
Justin Warfield and Adam Bravin were two longtime friends from the San Fernando Valley who started making music together as She Wants Revenge. By 2005, they had signed a deal with Geffen and were working on their debut album. Meanwhile, they had released an EP featuring the tracks "These Days" and "Tear You Apart," which reached number six on the US Alternative chart that year.
Mark Sovel with Justin Warfield of She Wants Revenge in the studio
Adam "Adam 12" Bravin (She Wants Revenge): The first time I heard [us] on the radio, which was the first time I had ever heard anything I had ever done in my life on the radio, was on Indie 103. I was in my car, pulling into my driveway and it came on. I remember calling. I think I called Justin, and my mom—both—and held the phone up to the radio, I was so excited.
Justin Warfield: I don't remember how [Indie] got our music. What I can tell you is that they sort of claimed us. I think they first started playing a song called "These Things" and then I think they switched to the song "Out of Control." It even confused the label. The promotion department at the label didn't know what to think.
Mark "Mr. Shovel" Sovel: As soon as we got a hold of ["Tear You Apart"], we made an edit of it, because it says "fuckin' tear you apart." People responded to it immediately. You always know when a record is reacting, people call up and say, "What is that? Who is that? Can you play that again?" We knew there was something about that.
TK: Requests started coming in huge, huge waves for that song. It did cause a stir right away. It was a huge impact at the station. I saw those guys so many times in that time period and they were just blowing up. It was so cool to see. Indie definitely broke that band.
Adam "Adam 12" Bravin: Who knows what would have happened had things not happened in a specific sequence and it could have very easily stopped at KCRW and that would have been it. Who knows if KROQ would have jumped on it if Indie had not been playing with.
We had just started doing shows at that time and the only way we were getting the word out was either through MySpace or from people coming to shows for bands that we were opening up for at the time, like Bloc Party. Indie had a lot to do with not only helping getting our music into the ears of people of Los Angeles, but they helped us as far as people coming to our shows and promoting the band in that kind of way. Who knows how far it would have gone had they not helped us?
Justin Warfield: Without that, She Wants Revenge would have never sold hundreds of thousands of albums. Never. Never. That wasn't even in the plans for us. We signed with a major label and I was like, cool, will you put out vinyl and can you buy us a van? When a year later, you're [playing] Coachella opposite Daft Punk, you're co-headlining the Greek with Placebo and you're selling out multiple nights at the Wiltern and the biggest—literally the biggest—in-store Amoeba had done until Paul McCartney did it. That's the influence of radio. I would like to say that the music was good or that we were a great live band, but, inevitably, radio had a huge reach and a combination of what Mark started and what other people helped do took things to another level.
She Wants Revenge wasn't the only band that caught a break in part because of Indie 103.1. A couple years later, LA-based The Airborne Toxic Event got a push from music director Sovel. Within a year, the band's self-titled debut album would go on to reach number one on the Billboard Heatseekers chart . They're currently touring behind the double release of their fourth and fifth albums, Dope Machines and Songs of God and Whiskey.
Mikel Jollett (The Airborne Toxic Event): We had been a band for about a year and I think Mark Sovel had us in to the studio to do a live performance of a song. It was really cool because we were just a local band playing Spaceland and El Cid and places like that.
I had this little clock radio and it was on Indie 103.1 and I heard our song, "Does This Mean You're Moving On?" and was like, "Woah, this is so cool!" It was like that moment in La Bamba.
It's one thing when you hear something through your speakers or monitor speaks in the studio or something, but hearing something that you're a part of on your tiny, little fuckin' digital talk radio—that's a trip. I think it also followed the song "Push" by the Cure, which is one of my all-time favorite songs. I kind of welled up a bit.
TK (far right) with the Airborne Toxic Event at Coachella
In January of 2008, we played this [Indie-hosted] residency at Spaceland and in the fourth week of the residency—again, we're still a local band, no manager, no record deal, nothing—and Indie 103.1 added us to their rotation, started playing our song all the time, which was a huge deal for us…We never figured that the radio would play us and then they did. It was this really weird moment because it was embarrassing how exciting it was.
KROQ [added The Airborne Toxic Event] that same week and it was crazy. The audience totally changed. It was bigger. I think 1200 people showed up to that show for our residency and Spaceland has a capacity of 300. There's a little documentary online about that night. That was kind of weird. The week before, there was 200.
The other thing that changed was the audience. Before that, it was our friends and people in the scene and music fans from the Eastside or wherever. Then suddenly people drove from the Valley or people drove from the South Bay or the Westside to come see a show at Spaceland. It was just a much bigger crowd and it was a different kind of crowd.
Mash-up DJ Paul V in the studio (photo courtesy Paul V)
There's no doubt that Indie was doing something that stood out, but there was also criticism leveled towards the station for its affiliation with Clear Channel, whose massive radio holdings across the country were often under scrutiny. The corporation's unsavory involvement with the station's advertising and marketing was documented in detail by Wired Magazine in 2005. Not long after that story ran, Clear Channel pulled out of the deal.
Michael Steele: All [Clear Channel was] doing was selling the air time. They didn't have any influence over the programming. That's actually why it worked, too—I didn't really have to answer to anybody. Clear Channel was selling the commercial time and Entravision was operating the radio station from a technical standpoint, but, neither of them had any desire to screw with the programming. I think that's why we could keep it pure.
Mark "Mr. Shovel" Sovel: That's why this rare thing got to happen. But, the FCC came along and told Clear Channel, you have too many radio stations in LA, you're going to have to get rid of some. We still had, probably, eight months left on that deal before they were going to have to get rid of us.
When that Wired article came out, it was the first time the people from Clear Channel were aware of what we were doing or who we were. They saw it as negative publicity they were getting—they were being called an evil entity in reference to radio—and they were like, 'Get rid of these people, let's kill this thing,' and so, they were pulling out of this deal well before they were required to.
It was only because Dawn Girocco, who ended up being our General Manager, basically worked out a deal with Entravision to keep the program on. She convinced them that it was profitable and let it continue.
A then-rising Death Cab for Cutie stops by the studio
While Indie was able to thrive for a few years after the severed relationship, things took a turn by the time Michael Steele left the station in 2007.
Michael Steele: I was there until the middle of '07. That's when I could just tell. [Entravision] liked the fact that we had a lot of hype or press behind us when it was happening. I kept telling them, sooner or later, this isn't going to be a shiny new toy anymore. It's going to be a real radio station that we have to operate and market. They said, yeah, yeah, yeah, we've got it. When it came time to be a real radio station and spending some money on marketing and doing some interesting things, they were like, we don't have any money for that.
By the middle of '07, I started looking around to do something else because I could just tell that it was moving definitely towards the, "Why do we do that?" When I started having those types of meetings, that's when I was like, oh, yeah, here we go.
In January, 2009, the station switched to a Spanish-language format. TK did the final air break.
TK: I don't know what quarter it was [at the start of the economic downturn] in 2008, I remember advertising just started slowing in a really bad way for everybody, for us especially. That was my first inkling that this could be trouble.The business slowed down, the commercials, that kind of thing. That's always the indicator, but it was never really set in stone or presented to us, that it's coming to an end.
Sovel in the studio with John Doe and Exene Cervenka of X
Mark "Mr. Shovel" Sovel: I knew it was a possibility. I knew there was a negotiation going on back and forth about its survival. Up until the day before it was pulled off the air, there was a very real possibility of another deal being worked out through another similar sort of lease arrangement with another organization in town that I won't name. That was going to happen until suddenly it was pulled off the table. Then the whole deal was yanked out from under us with a day's notice.
TK: It was literally Entourage-ish, very Hollywood, where when it was on, it was good, everybody felt that we were moving forward, then boom it was over. It was the night before when we found it out. The night DJ called me and said Jonesy is in here, he's packing up his office, I think this is it. He said, so come in tomorrow, but I don't think we're going to last past tomorrow. That was it. They gave us one morning to say goodbye.
I remember leaving the station that day and Lemmy from Motörhead was in the lobby area waiting to go on with Jonesy, like it was just another broadcast day. My last memory was seeing Lemmy there. Like, "Hey Lemmy, how are you?" I didn't want to be the guy to tell him you're probably not going to get on today because they put on Spanish polka or whatever it was. The last person I saw out the door was Lemmy from Motörhead. There was always something going on. It was special. It was a great place.
Steve Jones: I knew about it. I saw the writing on the wall. I was given a heads up about a week or two weeks that it was a possibility that it was going to happen. It was a shock that it actually happened and it actually was a relief as well.
It was like I could have a vacation now, but, then after a week or two, I started getting angry that it had folded. How could something this fabulous… just disappear? There's no justice in the world. Good, quality stuff is not for the mainstream. The mainstream want McDonald's, you know. They mainstream don't want great, articulate, interesting stuff. The masses—I'm talking about the masses, you know—they just want what's fed to them, your Top 20 whatever and that's it. So, it's hard for a station like that to be successful, you know.
Short as its life-span was, Indie's impact was felt across Los Angeles and, perhaps, alternative music overall. Many of the artists it championed continued successful runs after the station's demise. Some of the DJs moved to other stations. Sovel is currently Music Director for KCSN 88.5 in Los Angeles. TK does afternoons at KCLB in the Coachella Valley, is on air at FM 94.9 in San Diego and launched web station TheIndependent.fm, where he and Paul V. DJ. The Crystal Method took "Community Service" to Sirius and Henry Rollins hosts a weekly show on KCRW. But radio itself didn't change because of Indie.
Scott Kirkland (The Crystal Method): For where we are now in the whole radio world, I think it's definitely something that's fallen by the wayside. There aren't too many other stations that have that kind of signal in the country, with that kind of reach, that just play by a different set of rules.
Ken Jordan (The Crystal Method): I don't know if we'll ever have anything like that again in LA because almost everything is online now, but I think that, broadcast-wise, that was one of the last commercial stations where new, local acts were getting on the air.
Mikel Jollett (The Airborne Toxic Event): Radio is very competitive and there are all kinds of charts that show you the research of how this song is performing…There is detailed research and it's all tied to ad revenue, right? But, Indie 103.1 didn't seem to care. They just liked playing what they liked and they had some cool people working there—Sovel being one of them—that just had good taste and liked good music and just sort of believed that if they did that then the rest of it would fall into place.
Justin Warfield (She Wants Revenge): One day, there will be a documentary about that radio station and what happened and Shovel and TK and Dave Navarro and Jonesy and all the different people. It was like what happened with REM and Jane's Addiction and the Red Hot Chili Peppers and the birth of alternative rock as college rock, it was sort of happening all over again with a new movement of music. The fact that it actually fostered people that went on to have commercial success is crazy.
Liz Ohanesian is a Los Angeles-based writer. Follow her on Twitter and Facebook.