When Amber Bain was eight-years-old, she went on holiday to Cornwall and pretended to be a boy. "I put my hair up in a backwards baseball cap – and this girl in one of the cottages next door believed I was a boy. She had a crush on me." By the end of the week, the girl had written Bain love letters. "I had to tell her 'I'm a girl called Amber'. She didn't believe me so I had to show her my pants. She started crying. It was horrible."
The cottage in Cornwall where Bain stayed was built on a Japanese style raised platform and previously owned by Kate Winslet. It's called The Pole House – but Bain's mother referred to it as "The Japanese House".
"I was trying to think of something weird that had happened to me," Bain remembers, when I ask how she ended up with such an inanimate moniker. "I think about it all the time. Does it make sense that I'm called that?" – but the name has stuck. In the past year she's released two EPs of soothing, and at times androgynous, pop as The Japanese House, recalling artists such as Jeff Buckley and Imogen Heap with her heavily layered, heartfelt tracks.
So far it's been a success. Zane Lowe premiered Bain's debut single as his last ever Hottest Record in the World on Radio 1; the accumulative play counts lean into the millions; she's on tour with the 1975. The only thing she hasn't really done is talk. This is just her second ever interview. Ergo, there's a hell of a lot to find out. Like, an entire life's worth.
Like a lot of teenagers separated by their parent's divorce, Bain grew up in a "range of places". Born in Watford – she moved to Harrow, moved again to Hemel Hempstead, and spent some time in Buckinghamshire, some time in Hertfordshire. She's at home in the home counties basically. Now, at twenty years old, Bain lives on Bethnal Green road in East London – where she's nervous because her and her girlfriend's record collections have merged ("What if I can't remember which ones are mine?!"). It's a big moment in any music fan's life. She has a record by progressive rock group King Crimson – their 1969 debut; "the one with the weird face" artwork – on display that she's especially proud of. "I put it up in every room I'm in. It makes me feel really homely." She's addicted to Thai food from Busaba; she owns two replica Harry Potter wands – Ron's and Neville's; she watches crappy TV – "Masterchef and Bake Off and all that shit". Throughout our hour and a bit chat, we chain-smoke on Camel Blue cigarettes and drink clouded apple juice. It's perhaps dumb to point out, but Bain is easy to talk with – and not reserved like her relatively faceless online presence suggests.
Although the first Japanese House song was released in February this year, Bain has been making music for more than half her life. "I remember being like 'Dad – can you teach me something?' He'd teach me something on the acoustic guitar and I'd be like 'it doesn't sound heavy enough'. So he taught me 'Stairway to Heaven' and loads of ACDC shit". From there, she got into The Beatles, Frankie Vallie, The Four Seasons, and The Beach Boys – who she credits for getting her into the harmonic sound you hear on The Japanese House releases. Putting on a faux and elongating American accent, she describes Brian Wilson as "pretty rad". Bain has been in bands before The Japanese House too. In year 6, Bain and some friends recorded four "Avril Lavigne inspired songs" ("We had a song called 'Teenage Love' and we were only ten") and at secondary school, she would hide in a cupboard in her form room and write songs with another friend. "We wrote one called 'See You Next Tuesday' and didn't realize it meant cunt", she laughs, "we were asked to play a song in assembly and our head of year turned the amp off". As time passed, Bain began to play live shows outside her school – performing under the names Cubs and Leon. And it's here that divine intervention happened.
Bain was booked to play at London's Camden Barfly one night a few years ago. But in the end she couldn't perform as she was sick. Interested to see if her name continued to appear on the venue's listings page, she went on their website to see that The 1975 were playing later that month. "I knew my friends liked them – so we went to see them", she says. After the show finished, Matty from the 1975 ran after one of Bain's friends. He "asked her for a cigarette and then, like, kissed her or something". Bain's friend and Matty started dating. She played him Bain's music - and he showed it to his record label Dirty Hit, who then signed her up. It all happened from a teenage snog outside the Barfly.
A photo posted by The Japanese House (@thejapanesehouse) on Oct 31, 2015 at 5:19am PDT
Bain and Dirty Hit spent the next two years developing what is now The Japanese House. Essentially what this means is: the label allowed her the time to be creative. Instead of going to Goldsmiths university to study English and Politics, Dirty Hit facilitated Bain living in London without the need to earn a wage. They also helped her creatively too. Like sending her to Iceland to shoot the photos that litter her Instagram and EP artwork - which seem to have a running theme. Between tracks like "Letter By The Water", "Pools to Bathe In" and "Cool Blue" and Instagrammed photographs of the ocean, beside a canal, the sky, and several waterfalls, there's a running thread that links back to water or the colour blue.
"I always write about water", Bain says. "Like 'Cool Blue' – there was rain outside my window. I recorded the rain and tried to time my guitars with the rain". Yet she doesn't know why it's a theme in her songs. I suggest it's because water is cleansing; that it can keep you calm: which are two things I get from listening to The Japanese House. "Thank you", she replies. We both know though that while The Japanese House songs are soothing, they're not about a relaxing or calming situation. Rather it's the opposite – The Japanese House songs can be about traumatic and nerve-wracking experiences.
Take Bain's debut single "Still". To me it encapsulates the harrowing and confusing period when a partner has cheated or emotionally moved on, yet you still love them and you can't leave. So I wonder what happened that led to Bain writing it - and if my assumption is correct. "You've hit the nail on the head," she says and continues on to tell how, when she wrote the song at sixteen/seventeen years-old, she ended up going on holiday with an ex-partner because the tickets had been booked long in advance. It was her first serious relationship – where she was "super in love" and continued to "love them" after the break-up. There's a line in the track where she talks about waking up in the morning feeling dead. "I still find the lyrics quite embarrassing," Bain confesses. She shouldn't. Her words capture the unsure feeling perfectly – and the way it's produced with layer-upon-layer of vocals invokes a kind of retrospective catharsis too, for the listener and, I imagine, for her as well.
These moments of fragility are instilled in The Japanese House's discography. "Clean" is about "having relations with a best-friends ex-boyfriend" then imagining their forgiveness; "Cool Blue" is about seeing someone who really likes you, being in love with someone else, and "willing them to stop"; "Sugar Pill" is when people see you as "this fun little drug" in their life but "don't really care". It seems like the sort of thing that works well on record, through your headphones in a safe space, yet falters when played live in a room full of drunk strangers snapchatting and talking over the songs. Yet that's not the case.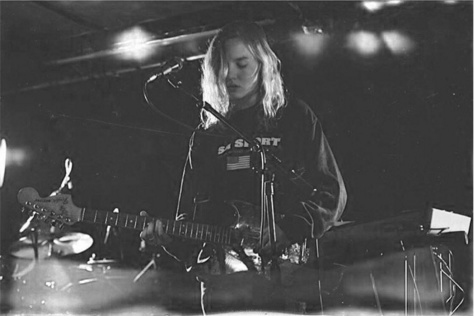 A few weeks earlier I attend The Japanese House's debut show in London – which is, incidentally, at the same Barfly venue Bain was meant to play when she fell ill years earlier. It's one of those bitterly cold winter nights where you hug your coat to your skin and a cigarette means frost-bitten fingers – so naturally, the venue is packed inside. When Bain takes to the stage, I'm happy to see that unlike some solo artists, she's backed with a band. The addition helps drive the songs to a new level - which is something Bain recognizes and wants to expand on further in future. Talking to her and watching her live, you get the sense the two EPs The Japanese House has released this year are just the beginning.
Back at the East London café where Bain and I are outside sharing cigarettes and juice, a repairman has unceremoniously rocked up to fix a portion of the road. He rams a circular saw into the pavement and for a minute or so, we attempt to talk over it – pausing and laughing. As we head up the road in search of a quiet spot, I ask her if she feels lonely. "I don't now", she says. "but when I went to Iceland [to take those photos earlier this year] I felt really lonely". Is that because she recently moved into a flat with someone new? "Maybe the music will change and become more upbeat now I'm happy," Bain replies. "But there's also a sadness about being with someone and loving them." Why? "Because you're very vulnerable". It seems then – or at the least we can hope – that Bain is likely to write about human-kinds most beautifully fragile moments for years to come. And who knows? Maybe she'll have a revered place in the consolidated record collections of today's young couples. Perhaps her record - the 2015 debut; the one with the ocean artwork - will even be on display on their wall.
You can follow Ryan on Twitter.