In recent times the bedazzled designs of sisters Nicole and Kim Carosella—who create jewelry under the moniker Sorellina—have been decorating the ears, wrists, necks, and digits of artists like Florence Welch, Marina and the Diamonds, Ellie Goulding, Paloma Faith and others, with increasing regularity. Founded in 2011, the Long Island-raised, Brooklyn-based duo's collections are full of bold, talking point pieces that are at once modern and referential to a classic Victorian aesthetic, no doubt influenced in part by Kim studying art history in New Orleans before relocating to Florence, Italy. Meanwhile Nicole, who studied Fine Arts and jewelry design at FIT, continues to be an avid collector of vintage jewelry.
We talked to the talented duo about their famous clients, their inspirations, and why Axl Rose ended up as the figurehead for one collection.
What was the impetus for you guys to start making jewelry together?
Kim and Nicole: Sorellina is Italian for "little sister" (Kim is younger, and Nicole is smaller)–started when Kim got engaged and asked Nicole to help design her ring. Kim had seen and loved Nicole's designs, and when the engagement ring turned out, they realized the time was right to start a line.
How does your relationship as sisters help the creation of your line?
Kim: I love working together. We are a well-oiled machine and don't fight that much anymore. It's important to sit down together at the beginning and outline each person's goals and responsibilities. I handle all sale orders from manufactures and Nicole handles the quality control aspect of it. We have a mutual understanding and it's going great.
Nicole: Like anything in life, there are pros and cons. One thing I have learned is with family, you have complete trust in them. I trust Kim's aesthetic (and I trust her with my life)! She also speaks a little thing I call "Nicole language" and basically can read my mind. I can show her a sketch and she gets it immediately.
Artists such as Alexis from Sleigh Bells and Florence Welch, Paloma Faith, Ellie Goulding, and Marina & the Diamonds have worn your work—how did you feel to see your pieces on them? Do they epitomize the Sorellina woman?
Most definitely! We love each of those musicians. We want Sorellina to be worn by women who view fine jewelry as wearable art and believe jewelry should be enjoyed everyday, not only on special occasions. We make each piece in mind that it can be worn both day and night, making it the staple of a woman's wardrobe and in turn, turning clothing into the accessory.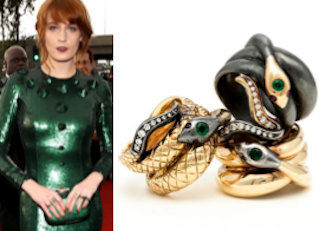 Ellie Goulding and Florence Welch in Sorellina.
How would you describe your design aesthetic generally?
The Victorian era in particular has a very strong influence on every collection. The line is made of mixed metals, which were once commonly used in fine jewelry. Over time, the silver will tarnish. Natural stones, sometimes with visible flaws, make their pieces impossible to reproduce. We make Sorellina pieces to be statement pieces made for the urban, modern day woman. We create a harmonious dichotomy by seamlessly blending opposing ideas of feminine with masculine and vintage with modern. When were you first aware of jewelry?
Nicole: Ever since I was a little girl, I loved going to jewelry stores and trying on jewelry, so my mom said I should be a jewelry designer—which of course means it was the last thing I wanted to try—because who wants their mother to be right!? Christina sporting a Sorellina ring.
Florence wearing more Sorellina. Can you give us any teasers on your next collection? What can we expect and what inspired you for the new collection?
Both: Our 2014 collection echoes elements of Brooklyn's evolution and its present day interpretation—it's unexpectedly modern, yet vintage inspired, rooted in the golden age of New York glamour and style.
We are sticking with our four lines and expanding each. There's Axl, an edgy, rock 'n' roll collection named after Axl Rose; Victoria, the snake-themed collection named after the British monarch that we're both obsessed with; Puccini is an ornate collection of butterfly-encrusted pieces, and then there's Otto, which we call our most basic, everyday collection filled with repeating themes of eights and octagons.
What's the deal with the Axl collection?
Nicole: We both love music! And while we enjoy many genres I am a classic rock girl at heart. We wanted to have a line that was elegant, but had this super edgy rock feel. The first piece we made from the Axl collection was the Axl marquise earrings. I put them on while wearing a vintage Guns N' Roses t-shirt and Kim and I looked at each other and said let's name it Axl.
I saw a picture of one of your apartments that had a bunch of guitar pedals in it… is one of you an axe-wielding shredder?
Kim: I wish! All of those pedals (are there are even more than in the photo!) are my husband's. One day, I will learn what the subtle distortion differences between them.
What music do you guys listen to when you design?
Kim: Yes! I am at my computer most of the day so I survive on my husband's Spotify playlists. They range in music from Bob Marley to Bobby Hebb to Work Drugs.
Nicole: I listen to all sorts, but I adore Florence Welch and could listen to her all day, everyday.
Related:
Most Wanted: Svelte Metals
Perry Gargano's Store is Like a Pirate's Treasure Trove
Isabel SK, the Designer Behind the Lil B, Clothes Has a New Collection Inspired by Tennessee Rap