Update: "Gorgeous Baby" is the debut single from New Zealand group The Neo-Kalashnikovs. The band came up with the idea of casting Helen in the video because their guitarist, Moss Bioletti, fancies her, and his since referred to her as his rock'n'roll muse. They asked her if she wanted to be in the video and she agreed.
Er, we're not too sure what's going on, but we're pretty sure tabloid sexpot and former Coronation Street star Helen Flanagan is embarking on a career in indie and has just sent us her new NSFW video.
Yesterday an email arrived from a PR company we've never heard of with the subject "Premiere on Noisey" and an embed code. We assumed it would be some old popstar hoping to combat their flagging career with a half-arsed attempt at mystique - you know Alex Kapranos or Jay-Z or someone. But when we pressed play we were shocked to discover gentle Cardigansy guitar strumming and then the dulcet tones of Corrie's Rosie Webster, singing sweet nothings about her "gorgeous baby" while rolling around in a white nightie.
The considerable peanuts she's packing aside, the song is actually great. Sort of early-00s scandi-rock meets Gen Y tampon advert. It seems as if Flanagan, who is currently filming new reality show Celebrity Super Spa alongside Arg from TOWIE, could soon been moving from ITV to the pages of NME.
This is Flanagan's first move into music since her Corrie character's brilliant goth phase. Back then she'd spend hours in their room having miserably brief intercourse with then-boyfriend Craig listening to a fictional Dutch metal band called Stench of Death.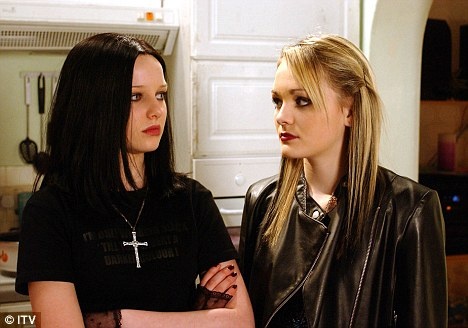 Although we like the song, it's not quite our favourite tune performed by a Coronation Street star this year. That honour goes to Gail Platt who has recently taken to singing chart hits while doing the housework. Courtesy of the official Los Campesinos Youtube channel, here's Platt singing the hits. You're welcome Britain:
More NSFW on Noisey:
The sexy trailer for Riton's new mixtape
The Redtube Album
Why Did Is Tropical Make A Masturbation Fantasia Music Video?