If the Vancouver skyline is any indication of the 1990s condo boom, you'll know that Canada's west coast is filled with construction salvage. The building of condos and skyscrapers typically has the scraps casted off to landfills or recycling sites, but two musicians are dumpster diving to turn them into upcycled heavy metal. From PVC tubing to metal sheets, wheels and wood offcuts, the Canadian percussion group Scrap Arts has built over 150 musical instruments from condo scraps.
In 1998, the musician and composer Gregory Kozak (who comes from a background in Afro-Cuban jazz) and the designer Justine Murdy (who was trained as an architect) started to build instruments for Scrap Arts. In 2001, they were ready to go live. Their sound fuses West African drum and dance to cleverly-designed metallic instruments which look like something out of a 1950s sci-fi film. With metal plates and antennas, they hope to combine the vibe of urban living with natural energy (theatrically, of course, somewhat like STOMP).
While they've toured thousands of venues across the world, including the Olympics, the goal of Scrap Arts has remained the same—to create an orchestra of instruments crafted from their home of Vancouver. That includes instruments they've created, like the Gong Array and the Chime Array, which is three gongs set on four springs, and the Demi Globe Drum with Nail Violin, which looks a lot like a harp on wheels, or something you'd find in a sculpture park.
Artistic director Gregory Kozak talks about Scrap Arts
Probably the most frequent instruments that are used onstage with Scrap Arts is the membranophones (drums), including the Ziggurat Drums, the Hourglass Drums, the Scorpion Drums, and the bellowing Humunga Drum, which has a World War I-era artillery shell chime. One drum they have, called the B52 Drum with Junk on a Stick, has a drum on wheels accompanied by the Junk piece, which is a series of round metallic plates, each varying in size.
The areophones (air-based instruments) include the PVC Towers, the Annoyophone and the Sighchordion, which is made from plastic tubing and pipes. The Bell Flower Chime is as equally strange, looking like a rotating windmill made from cow bells. Probably the most epic instrument they have is the 22-string Chariot of Choir, a 28-foot long stringed instrument with tuning bridges and multi-resonating chambers. It looks like a giant spool tied together by thick metallic strings.
Chariot of Choir
When I asked Kozak to explain their sound, he said: "Imagine a large-scale, articulated, mobile sound sculpture flying through space." The sound of Scrap Arts is nothing like the horrendous screeches and thumps of a construction site. Rather, they sound a bit more like an instrumental Paul Simon's Graceland meets The Lion King, or even the tribal influences of Ukrainian pop star Ruslana.
Some pieces look like buffed shields from Braveheart, others are pointed drums, played like there is no microphone in sight. Kozak said there's something emotional about working with your hands, while Murdy says the whole point is to realize that trash, or the pieces, each have so much more potential. There's a lot of welding taking place, as well as keeping things playful.
"I consider my instruments a part of a family of instruments so they have relationships," said Kozak, "and out of that comes some kind of composition, it evolves."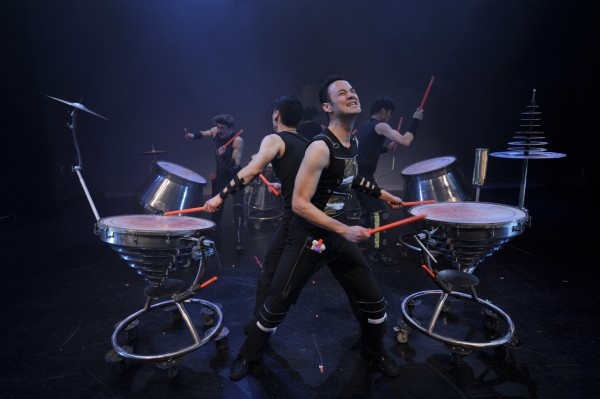 At a Scrap Arts show, everyone on stage wears a black headband and black spandex. There's a lot of jumping around. There is often grunting and screaming, as well as occasional dancers, as the musical instruments roll to the back of the stage.
Scrap Arts also gives workshops on how to build percussion instruments and "sculptural music" made from instruments you can find lying around pretty much everywhere. But does the condo scene know about their dumpster diving for heavy metal? "Yeah, there is awareness," said Kozak. "We tell them what our instruments are made of. People are always surprised at our resourcefulness."
Instead of going out at night, they dive for instrument-making trash in daylight. The point? So they can ask for permission. Instead of grabbing everything, they salvage metal which looks like 'abandoned artefacts of civilization.' "We search for artifacts that were once used an enormous expenditure of energy to make, and then are cruelly tossed aside in a fit of consumer pique," said Kozak.
Next up, Scrap Arts tours Germany in 2015.
Follow @nadjasayej on Twitter
WANT MORE?