Images: Alan Weedon
Queer politics, in Australia at least, remains an incredibly charged space.
For any queer-identifying Australian, you can't help but feel for every incremental change for the better, our political milieu still manages to take giant leaps back. Considering our queer politicians are specifically told not to make a point about their sexuality in parliament, The Daily Telegraph hunts Ian Thorpe for pingas, and same-sex marriage seems further out of reach even with Turnbull as PM, the increased visibility of queer politics hasn't necessarily resulted in positive change. In this context, I can't help but reflect on an old editorial in a now-defunct queer zine, They Shoot Homos Don't They?
"A new wave of homosexual acceptance is dawning. You can now be part of the mainstream if you act straight now. Are you ready?"
Not quite, if the debut of Gaytimes Festival was anything to go by.
"There is something quite unique about parties like Closet, Gaytimes or even Tropical Fruits in that they create a space where the LGBT community can be themselves," said Anna Whitelaw, co-founder of Gaytimes.
She, along with Mason Browne, also run Melbourne's monthly Closet parties, and can now add 'festival directors' to their CVs. Together, they brought Oscar Key Sung, Banoffee, CC Disco, Simona Castricum, Paul Mac and plenty others to Lake Mountain (also the site of Paradise Music Festival).
Selling itself as "Australia's first queer camping festival" here came an unashamedly camp, butch, chill, yoga-laden festival all at once—a queer space perhaps, that wasn't completely self-conscious about the way it carried itself.
"Even though you might be totally fine and fabulous to be an openly queer person at a festival like Meredith, there's always going to be a sense that you're in the minority being observed," she said. "I think every queer person feels that way to a certain extent."
As unfortunate as it is to acknowledge, there's plenty of truth that. The last time I went to one of Closet's parties, I was underage trotting about with a mate's ID who didn't know I was gay. It's this constant sense of surveillance—or being caught out—which lies at the heart of some queer experiences. Like in the case of Gaytimes performer, Simona Castricum explaining the following in a memoir excerpt published in The Guardian.
My Year 8 history teacher told me that during the second world war, along with 6 million Jews, transgendered women were among the undesirables who were rounded up and sent to Hitler's concentration camps. I sat in class at my table gripped with the fear that one day I would be found out, taken out on to the street and shot. It was a fear that sent me further inside an awful closet. I had no language and nobody to confide in, only an overwhelming sense of isolation from myself, from my family, from my peer group. A girl trapped in a boy's body, deep inside a boys' school in the footy-, tradie- and surfie-revering Mornington peninsula. But of course, as we're all told, it gets better.
Since then, I've been to my fair share of parties, clubs and dance nights all vying for my pink dollar, and have equally heard from a friends and peers who've specifically avoided these spots to not be defined by their sexuality—and this emerging habit is something that Anna's well aware of, too.
"Increasingly the queer community is less interested in being ghettoized and socializing in dedicated 'gay' venues. I think people want to mingle among men, women, non-binary, and trans people in spaces where we all feel comfortable," she said. "It's my hope that events like Gaytimes bridge a gap between these things."
Throughout the festival, oiled men in jockstraps mingled with butch lesbians underneath immaculate marquees. and amyl. Here, you could hop onstage with Banoffee and it'd be no biggie: complete with Koala undies (and nothing else) or a troupe of sexy witches if you so pleased.
Visually, Gaytimes struck an interesting metaphor: was this sleaze for the sake of sleaze or an entirely necessary expression of sexual liberation?
"Some of friends who are young and say they're not 'defined' by their sexuality, is sometimes the case because they haven't explored it yet," said Anna.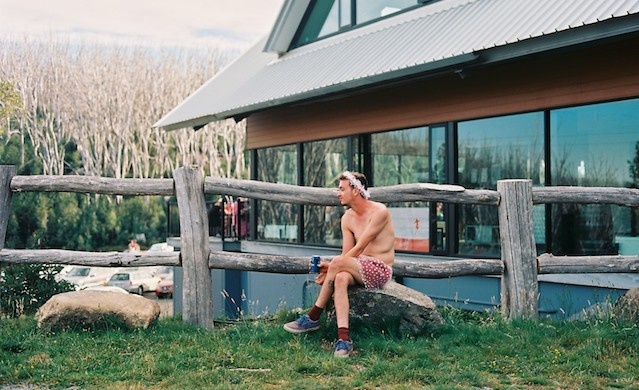 In a past life, I would've been weary of going to such a festival, or being conflated with the 'Closet' gays—in Melbourne at least, there is a certain currency in dressing down your queerness. Of course, you can't have this without a sizeable serving of internalised homophobia and Melbourne's uncanny to be welcoming and incredibly judgemental at the same time.
But, if there's one thing that Gaytimes taught me: who cares?
Considering Australia's yearning for gay marriage, there are plenty of opportunities for a queer person to play into a "gaystream" of sorts. So when Gaytimes closed to Paul Mac's joyful refrains: "give me all the love that I need / for a night that's enough for a broken heart", you couldn't help but feel Gaytimes is wholly necessary in a time of unparalleled queer visibility.
And, funnily enough, some hetero attendees thought so, too:
"My impression of the mountain was that there were a lot of people who seemed really relaxed," said Matthew Wilson, Production Manager at Gaytimes. "People who felt the need to self-censor in broader society didn't have to do that here."
But, as much as Gaytimes can be a 'safe space' for queer identities of all stripes, this inclusion is extended to everybody.
"We certainly hope that people who aren't queer come to the festival—and we hope that they have a good time. It's not about making it an exclusive space," said Anna.
So next time you rejoice: "for we are young and free", also too remember that our young hearts run free.
Follow Alan on Instagram.