Image courtesy of the artists.
Formed in 1979 as an electronic studio project for Ash Wednesday (The Models, JAB, Einstürzende Neubauten), Andrew Picouleau (Sacred Cowboys, Dave Graney and the Coral Snakes) and Al Webb (Streetlife), The Metronomes have gained a fervent international cult following for their highly experimental and irreverent synth punk sound. Following on from last year's reissue compilation Time Keeping 1979 – 1985 on Melbourne underground label It Records, Going Somewhere sees the band exploring fresh new territory while reinforcing their position as one of the most singular voices in Australian electronic music. We caught up with the band to discuss writing process, techno nostalgia and maintaining the creative rage.
Noisey: As a studio project that existed for over three decades, can you explain the genesis of the band and how you've managed to release records and build an audience without performing live?
Andrew Picouleau: The band was basically Al's idea. We ran into each other in the Melbourne music scene in the very late 70s — he was a journo/musician/producer, I was a bass player in various new wave bands. We hit it off, and started talking about how much fun it would be to record music without being subject to the constraints of being in a band or meeting collective expectations. Al had the contacts, and before I knew it we'd done the first single.
Most of the releasing of records came out of Al working with / being friends with Cleopatra Records' owner Jeremy Fiebiger. How we've developed a following is a complete mystery.
Ash Wednesday: We received quite a bit of airplay on alternative radio in Australia during the 80s. Somehow, a small number of the records leaked into Europe, where they were recognised as cult 'minimal wave' in the late nineties. That terminology didn't exist when we recorded in the eighties.
Alister Webb: Our ambition was never to create an audience. It was to satisfy and surprise ourselves musically and creatively, outside the traditional structures, but within the song-based sensibility we'd all grown up with. I love the fact an audience has grown organically over time, and seems to be interested in the same things.
Going Somewhere is obviously a very experimental album, but still engages with pop forms and structures. How do you see the relationship between these sensibilities in your work?
Alister: I'm not a great fan of experimental music that eschews form and structure. Experimentalism and pop structures are not mutually exclusive. Why can't something experimental also be aesthetically pleasing?
Andrew: From my perspective I've always been trying to be, well, sort of experimental — and I have aspired to reflect the work of great experimental artists that I've admired. But my pop sensibilities do seem to leak out a bit. Ash and Al know I'm a big Robert Fripp fan, and Fripp and Eno have been big influences on me, probably on us all.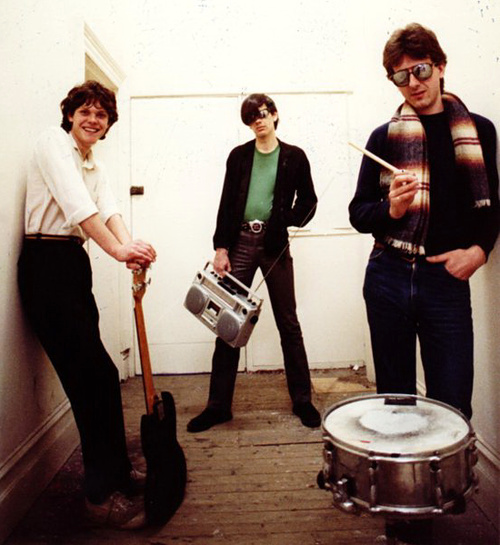 Can you explain the writing process for this album?
Ash: This time around the three of us met on two separate two-day occasions where we recorded song sketches. Firstly we impulsively devised chord progressions and bar numbers. We then improvised to randomly ordered drum machine skeletons. Generally Andrew was playing bass, Alister guitar, recorded as audio tracks while my keyboard parts and the drum machine were being recorded as midi data, all in real time. Andrew and I later met for vocal recording sessions in Melbourne. Meanwhile Al was evolving content in Sydney. He was sending Andrew and I WAV files online while I was sending him files derived from our vocal recordings.
Andrew: The writing process for this album was a break with past practice in that most of the basic arrangements came out of sessions where we were all together in the same room — we stayed with our time-honoured random number based chord progressions and then just improvised from there. It was a much more collaborative process than in the past, when we've tended to bring fairly complete ideas along which the others have polished and enhanced but usually not fundamentally changed.
Ash: Andrew derived much of the lyrical content before my eyes with pen and paper, maybe I threw a few words in here and there, maybe not, then we'd say "okay, that's enough, let's record it." We each had our own DAWs to work with, swapping audio files as if they were overdubs on a multitrack tape recorder. We kept each other updated. We would send each other mixes and overdubs of the evolving songs, which we would individually, whilst collectively, accept, refine or reject. Exchanging ideas, in other words. Alister constructed many of the final mixes, often adding defining rhythmic elements in addition to guitar and keyboards. Much of Andrew's bass and my keyboards were left intact, directly from the initial take.
There seem to be some pretty dark themes on this album. Does your experimental compositional approach also extend to your lyrical content?
Andrew: The lyrical content is not deliberately dark. A lot of it is intended to be wryly humorous, although maybe I didn't pull this off. People have commented on some of our earlier work that it seemed dark — this always surprised me — I guess I'm just a troubled soul. The compositional approach I employed is very much stream of conscious; I try and write stuff down without thinking about it too much. I don't like redrafting.
Alister: 'Dark' is often used to describe intriguing, moody or interesting. If that makes us dark, excellent. The few lyrics I contribute are usually about technology and a chaotic universe. Andrew's sources are way too complex for me. I just like the sound of the words.
What is your perspective on the minimal synth revival? I know you guys have always been early adopters of new technology. It must be strange for people to be so fetishistic about "retro" analogue music technology these days.
Andrew: I find the enthusiasm for analog equipment amusing, I think people forget how expensive and unreliable it was - but when it worked it did sound good.
Alister: It makes me very nostalgic. TB-303s, TR-606s, KORG mini700, Jupiter 4, MS-20, my beloved Multimoog… I collect their software equivalents like photos, recollections of past days. To be able to say I used to own the originals does grant me a certain cachet. I'm pleased to see that over the last couple of years a lot of new hardware has surfaced…tomorrow's memories.
Australian art has always had a troubled relationship with originality. Regional anxiety and the need for validation from overseas can easily corrupt the natural evolution of ideas for many artists. Can you talk about this with regard to your initial burst of activity in the 80s and your resurrection in recent years?
Andrew: I have no patience with anxiety about originality — the process of creating music is necessarily informed by and reflective of other musicians ideas. This is a good thing, and common to all music so far as I can see [because] we were fully engaged in creating the most interesting and skillful music we were able to create. It never crossed my mind to be concerned about whether we were original or derivative or somewhere in between. Our original efforts in the 80s were, as explained, quite pure and idealistic in a musical sense, in that we were pleasing ourselves creatively and hoping that somebody else would like it — we started recording again in part because we started receiving unsolicited emails from German university students asking us if we were the Metronomes and could they have some of our records. But the main reason was that we like each other and enjoy working together and arguing and so on.
Alister: We had no ambition beyond amusing ourselves, so those questions have never come into play. Like everyone, we're influenced by other artists, but never concerned about comparisons. That's the fun of being in The Metronomes. We have nothing to prove, no one's pride or reputation is at stake. The artistic freedom is total.
Going Somewhere is available for preorder now through It Records
Follow Miles Brown on Twitter.