This article was originally published on Noisey UK.
As the winners board inevitably turned into a white upper middle class male coup d'etat at the Brits last night, the giving out of awards quickly began to feel even less relevant and engaging than the ad breaks themselves. We all know The Brits' main role is to give a gentle handjob to the egos of those who have already proven themselves to be monstrously successful, but that prior knowledge didn't make the results any less painful. Inevitably, Sam Smith and Ed Sheeran swept up to such an extent that at one point you thought they might also nip in on Best British Female, Royal Blood won "British Group," and the panel stuck to the no more than two female winners in one year rule that has seemingly been in place since the dawn of all music awards ceremonies.
This is all to be expected from an elite music industry event sponsored so heavily by Mastercard you'd think they were a band headlining later on, and shaking my tired fist at the event's failure to represent any sort of diversity just made me feel like a dog barking at the mailman. But the least the small bunch of coiffured Most Successfully Marketed White Middle Class Male Artists of the Year's could do is put on a bit of personality for us, a bit of showmanship.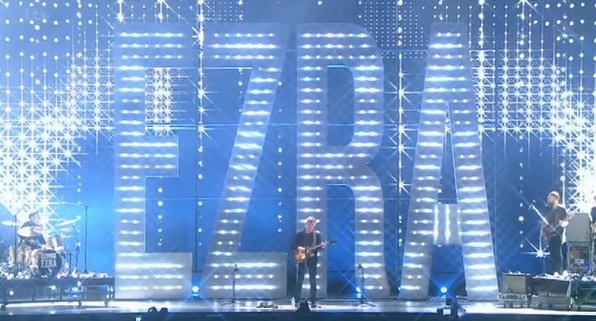 In an attempt to make himself look more like a human and less like a bank account, Sam Smith really went to town by trying out some stubble. George Ezra almost portrayed the rebel hero by necking tinnies that he definitely smuggled in on camera, but that didn't undo the damage done by his insecurities (see above) about going unnoticed on such a stacked line-up. Ellie Goulding and Lewis Hamilton tried to engage in a little flirtatious banter on stage, which had about as much sexual tension as the safe disconnection of a flash disk. And when Ed Sheeran told Ant & Dec to shoo off so he could "have a drink" you couldn't help but think he was definitely, definitely lying and had three bottles of sparkling water stashed under his chair. Basically, any camera time on British acts last night just contributed to the rising tide of feelings that we have let our pop culture become completely roadblocked by inoffensive beige mediocrity.
But if you think because of all that you didn't miss much, you'd be wrong. Madonna was dragged neck-first down a flight of stairs by her cloak but got straight back up and proceeded to shut that shit down, because that's how 56-year-old pop legends do. Kanye gave one of the best live televised performances anybody has given in the history of ever. Taylor Swift opened the show in style and solidified herself as the Khaleesi of modern pop donning the most abstract of nu metal ball gowns. And Kim Kardashian tried to take a selfie with Ant & Dec, thus destroying the fifth wall between local stars and global fame magnates. If you're not noticing a pattern here though, there is one, because the only people who seemed to be doing anything of note at the Brit Awards 2015 were the Americans, and you couldn't help but feel decidedly more excited and remarkably less hateful when one of them was in shot.
While the biggest talking point might be Madonna stacking it, it should actually be the performance by Kanye West and its multitudes of glorious subtexts. He debuted his new track "All Day" in the most objectively incredible way possible, as Joe Zadeh put it during Noisey's Great Brits Liveblog of 2015, "like Mad Max vs Top of the Pops." I mean, there were actual flamethrowers. FLAMETHROWERS. AT THE BRITS. And all this was despite the fact that whoever was on censor-button duty was so pissed they just decided to mute half of it. You know how after the Grammys everyone was asking "Who will interrupt Kanye?" Turns out the answer is Ofcom.
Amazing song and London riot vibes aside though, the main thing to take away from the Yeezy performance was its hard underlying statement: the people he had on stage with him. It wasn't blatantly obvious at the time, thanks to their jet black hoodies and the distraction of 50ft flames, but it slowly became apparent that Kanye had called up a load of London grime and urban artists onto the stage with him. Looking at photos now, you can see Skepta, Novelist, Stormzy, Shorty, Jammer, Fekky, Krept & Konan to name but a few. As the Brits show continued to reflect the white-washed, posh-washed landscape of British pop music we have come to be familiar with, it took Kanye West to remind the audience that the UK is actually popping off beneath the surface. And it footnoted the awards with one huge statement: "Wake up Britain! You're ignoring your most talented peoples."
And from Kanye co-signing UK artists live on stage, to Kim's selfies to Madonna and Tay Tay's magnetic live shows, it came as a dramatic reminder that the only way anything interesting was going to happen at the Brit Awards last night was if an American did it, and the only way anything remotely reflective of British culture was gonna get on stage was if it smuggled on there with its hood up. Remove all that, and the whole evening would have been like an episode of Come Dine With Me IN HELL, starring James Bay fumbling over his words in a shit hat.
Follow Emma Garland on Twitter.