Bigg Taj, Photo by Niall Macaulay
A liquored-up Glasgow hip-hop crowd sounds different to a Brooklyn basement. Their call-and-response is splattered in lager, splashed across the room in ecstasy and out of sync. Steg G, the Westwood of Glasgow, is doing his job well, warming the night with KRS-One's "Sound of da Police" at roof-shaking decibels.
Tonight, the headline draw is the man who the Rock & Roll Hall Of Fame credited as being part of the "musical revolution known as hip-hop," Grandmaster Flash. But the opening acts are more vital to what is happening in Scotland right now. Infamous battle rap champion Freestyle Master joins Steg G, swaggering like a boxer in a ring, hitting out at opponents with his rapid-fire rhyme and heavy-weight Glasgow brogue, singing about inner-city life in Glasgow from experience. So far, so UK hip-hop. But then he starts talking politics.
Mixing the politics of nations with music is a minefield, and Scottish rappers know they risk alienating sections of their audience by pushing people to think about their choice. But the mood is positive, buoyed by recent comments from Chuck D at Public Enemy's Glasgow show: "They're smart and it's time. It's 2014. Scotland can have independence." Polls have both sides fighting for crucial percentage points to secure a win and hip-hop artists are grabbing the chance to make their voice heard. The scene is vibrant, the clubs are full—people what to hear what they have to say.
Stanley Odd Electric performing at Fields Festival outside of Dumfries near the Scottish Border
Steg G, when he's not DJing for Glasgow heads getting wavy, runs Power Cut Productions, a label dedicated to Scottish hip-hop artists, and hosts the Temple of Hip-Hop show, devoted entirely to hip-hop created in Scotland, on local radio station Sunny Govan.
"Good rappers should be a reflection of the society they are a part of, and hip-hop has always been about empowering people in their own communities to look after their own interests," he says. "The referendum is a massive chance for Scotland to do that. Scottish hip-hop artists see this as a time to create more opportunities."
Longtime collaborators, Steg G and Freestyle Master go way back to the 80s when housing schemes had their own breakdance crews who would congregate and battle it out for supremacy at The Plaza in Glasgow. They released a 12' inch back in 1993 with the group Power Move; the first record, as Freestyle Master puts it, to feature the Glasgow accent "in all its glory". A bold move, when you consider that the general consensus is you need an American accent to perform hip-hop. (Case in point, remember Silibil N' Brains? From Dundee, the duo bizarrely conned Sony Records by posing as rappers from California to successfully land a record deal).
If you wanted to be credible, Scottish artists used to have to move South. But that's changing. "A lot of younger folk are getting into hip-hop," says Audrey Tait, drummer in Hector Bizerk. "I don't remember being in school and there being any MCs. Students are getting into battle rapping." Groups such as Edinburgh trio, Young Fathers, are opening the floodgates with their popularity in the US, appearing on The Tonight Show Starring Jimmy Fallon and now being nominated for the Mercury Prize. What is happening locally, with the new wave of rappers coming through, is even more radical and forward thinking for Scotland.
Enter Darren McGarvey, known as Loki, one of Glasgow's most prolific hip-hop artists. Baseball cap cocked to one side and headphones around his neck, he has the understated confidence of someone who could give you a scare without lifting a finger. "Once I became aware that my story had local currency in the community with other artists, this gave me a kind of value. That was exciting to me because, financially, I didn't have much, I didn't come from much," he says. "I come from Pollok, it's just a notoriously rough community. Because of poverty, they don't have attitudes toward progress. For me, I grew up in an alcoholic home and then I became an alcoholic."
Raised on American hip-hop, at first he imitated Snoop Dogg and Eminem, but later he had a moment of clarity. "When I first played back my Scottish accent it made me cringe. But then I was like, let's look at this, why am I cringing at the sound of my own voice? What has happened to me and my culture? Why do I want to sound fake? What has contributed to this whole thought process? A fake voice as an actor, and pass it off as authentic."
"It's a dead exciting time to be Scottish. I am not a patriot by any means, I just happen to be Scottish. It's more about my country being able to take its own decisions. Fall on your own sword," Loki succinctly puts it. "What countries have you heard of that declare themselves independent from the United Kingdom and then just fell off the map? You're talking hundreds of countries including parts of China and America. What country said. 'can we come back please, it's not worked out'. It's a dying empire, let's get shot of it."
Loki is clear in his conviction that Scotland must vote YES. Photo by Niall Macaulay
Loki's new EP G.I.M.P. - Government Issue Music Project - enabled through crowd funding, is dedicated to the people of Scotland and the issues they are debating. Growing up in a broken home gave him a perspective to understand the paradox of growing up poor in a rich country, which he translates into his music. "Anyone who makes political music or touches on political themes in their songs cannot sit on the fence when it comes to a big political decision. Lucky for me, I knew what I wanted to vote; I wanted to vote YES. Independent of addiction, independent of dependency, independent of benefits, independent of negative thoughts that hold me back in life," Loki says emphatically. "Artists are architects of change in society, real artists, and I want to be a real artist."
A few days later I'm in Dumfries near the Scottish Borders, set in a castle estate, as the members of hip-hop collective Stanley Odd jump to their songs while the crowd pushes up to the stage barriers. Their popular album Reject, released two years ago, is all about the referendum. Solareye, lyricist and frontman for the group, says with such a big decision, he wanted "a good way to kick things off, to stimulate the debate and get people talking about it."
"Hip-hop is about being real to yourself and telling the truth. Using music as a vehicle to tell a story about where you come from. Highlight things and address social issues," he continues. "It is the most politicized it has been in generations."
In Stanley Odd's new song "Son I Voted Yes", Solareye addresses his son Calum who will turn one year old three days after the referendum. It has become an internet hit, nearly 70,000 views on YouTube in just over a week, climbing up the iTunes and Amazon charts for sales. Stanley Odd played it last night at the sold out A Night for Scotland: a YES gig in Edinburgh that featured Franz Ferdinand, Mogwai, Frightened Rabbit, and many others. "Son I Voted Yes"' lyrics are hitting home for many and how it will impact future generations:
"Everyone in the audience is rapping, we can all relate to each other and can say what you want. Hip-hop is at its peak," describes Bigg Taj. The name is fitting for the towering, Scottish-Punjabi beatboxer, producer, lyricist, and youth worker. "Because I wear a turban, people say I am a terrorist. I rap about discrimination, mostly about the social issues I see others deal with through my work as a youth worker," he says. Cruising around Glasgow's Southside in his car, Bigg Taj breaks into beatboxing in conversation—reversing turntables, scratching, modeling filter sweeps and pulse modulation with his gob, his technique so well-practiced that it sounds disembodied.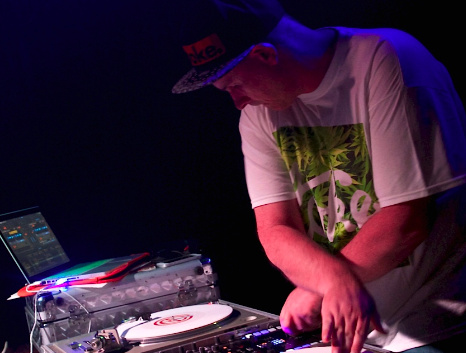 Steg G. warming up the crowd for Grandmaster Flash. Photo by Niall Macaulay
He takes on his own set of social issues in his music but has been on the fence about his vote for months, but his mind is made up now. "I'm voting YES, I feel a change would be great. I say, let's prove everyone wrong, let's make this into a thriving country." He feels hip-hop plays an essential role in putting this into action."Hip-hop is the place to speak your mind, no holds barred, uncensored and raw. Hip-hop is the voice of the voiceless and the choice for the choiceless."
Before I leave, I tune into Sunny Govan, where Steg G is keeping hip-hop at the forefront of this discussion with a lively debate between rappers. In one corner is Loki for the YES camp, for the NO side is Danny Quinn, better known as Wee D. Wee D's central point is that staying in the United Kingdom brings more resources and creates more opportunity, coming from his own experience of becoming a new father and looking for a better life for his family. "I support calculated risk taking, I support radical innovation. What I also support is partnerships. I believe any artist supports partnership. There is no artist in this country, in this world that can make a project by themselves. What the Union has now is a partnership between four countries," says Wee D. "The ability to move and go work down south, the freedom of this united family is inspiring to me as a Scotsman and as a Brit."
On September 18 the people of Scotland head to the polls. Loki and Wee D will be representing both sides in a rap battle that night at the Jamfest club night in Pivo Pivo. With votes on the definition of the country being tallied up live, the atmosphere and the music will be as electric as it gets.
Follow Maria on Twitter: @mbakkalapulo