Siouxsie Sioux and The Banshees.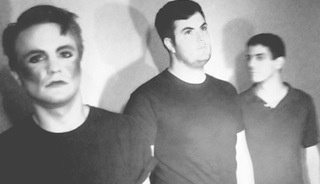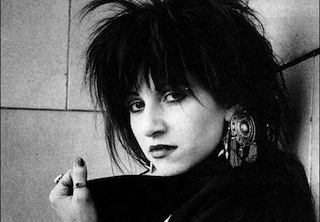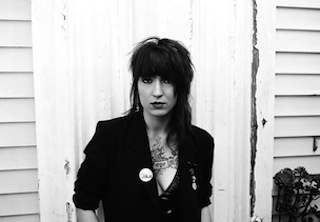 When people talk about being goth, there's really only one vibe that comes to my mind, and it has nothing to do with, Hot Topic, Warped Tour, or Nightmare Before Christmas, even though all those things rule. When it comes to embodying all that is melancholy and romantically Sad with a Capital S, the brooding singers of the 80s have it down. They were the ultimate goths. In addition to their intense, blood-curdling lyricism (though they also felt love as strongly as they did depression: looking straight at you Robert Smith), they were also trendsetters when it came to style. You're thinking, "Isn't being goth just about wearing black and light black?" Uh, no. It's also about eyeliner, crosses, messy hair, and, like, way, way more. It's about darkness, man. Darkness. All of which is just a lead in for me to tell you that goth is back. Like, real, soul achey, dancing-in-a-lovesick-tizzy, 80s goth steez. It's all around, which is great now that it's fall and you won't have your pale-as-pale make-up melting off your face every time you leave the house. Let's investigate this new crop of super-sad musicians and figure out if they really are the love children of Robert Smith and Siouxsie Sioux. Gary Numan, Merchandise. Lydia Lunch, Heather Fortune of Wax Idols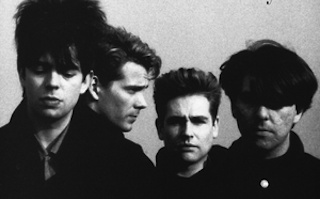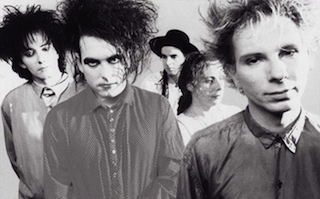 THE EYELINER IS AS HEAVY AS THEIR HEARTS
The perfect signal to The Universe that you're feeling all sorts of sad on the inside is a ton of black eyeliner. Rim those piercing eyes in inky ebony and you're part of the club. From New-Waver Gary Numan, to Bauhaus' Peter Murphy, to the infamous Cleopatra-inspired peepers of Siouxsie Sioux, heavy eyeliner is Goth Kid 101. If that was a class in high school, I'd ace it. At the end of the day, it's all about bringing the drama. That's what the 80s was all about, drama and exaggeration. Like, why have average-sized shoulders? Why have one haircut when you can sport two? And isn't it important that your calves are extremely well-insulated at all times? Whatta decade. Anyway, back to eyeliner. These days, musicians like dark crooner Carson Cox from Merchandise and Heather Fortune of Wax Idols, are lining their eyes a la the goth greats and they look, well, great.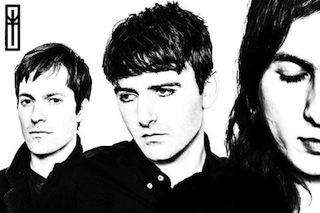 Echo & The Bunnymen, The Cure.
Savages, Weekend.
THEY TAKE THE SAME MOODY ASS BAND PICS
Band pictures are so important. Your most prominent band picture will be how the entire world (AKA the internet) sees you, so you need to get it right. But if you're goth what do you do? You can't look cute. You can't just pull up to a brick wall and do the indie rock lean. You just need to keep it simple. Like, really simple. Keep it black and white and high contrast, make sure your eyes look up or down or pretend you're asleep. And if you're looking down the lens, make sure your gaze is intense. It's all the same. No, seriously, these pictures are all the same.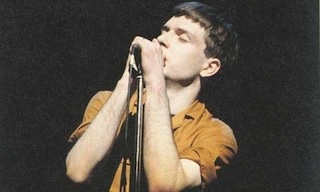 Ian Curtis, Jenny Beth from Savages.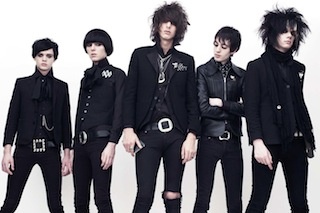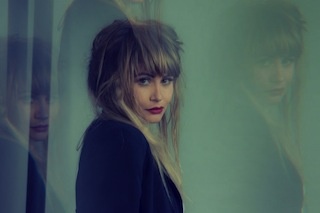 The Horrors, Frankie Rose.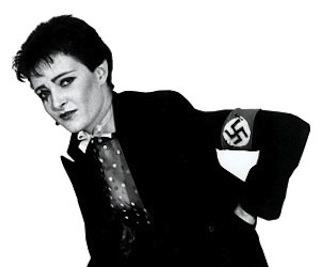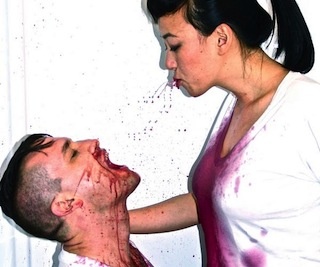 HAIR AS HIGH AS THE MOON AND AS DARK AS THE NIGHT SKY.
Goth kids spend a lot of time on their hair, they just don't want you to know it. They want you to think they got those jet black, perfectly tousled locks through a series of duels with The Devil. Just look at Ian McCulloch of Echo & The Bunnymen and The Cure's Robert Smith. Goth-influenced acts these days aren't as out there with coifs, but The Horrors dark shag cuts certainly harken back to their 80s ancestors. You can spot the the ghost Ian Curtis lurking in the dark-toned pixie that is Savages' Jenny Beth, and as for Frankie Rose, she can swap her dark locks to dirty blonde and still be ghostly as hell 'cos, well, she's Frankie Rose.
Siouxsie, Xiu Xiu.
THEY DO CONTROVERSIAL, SUBTLY FASCIST STUFF FOR FUNSIES
Jamie Stewart from Xiu Xiu painted t-shirts with (his own?) human blood. Iceage sold knives at their merch table (with a sign insisting "No Stabbing"), plus they were accused of co-opting KKK garb when they wore pointy black hoods in their video for "New Brigade." And remember when Cold Cave went on tour with controversial—and sort of, possibly, totally racist and misogynist—musician Boyd Rice and a bunch of venues canceled shows? All of this feels a lot like when bands like Joy Division and Siouxsie and The Banshees used Nazi imagery for aesthetic shock value. I mean, who names a band "Sex Gang Children?" A band from Brixton, London, who want your attention and who really want to make you squirm, apparently. Weird that they never made it big. Thank you 1981.
Selebrities – "Temporary Touch"
THE MUSIC'S ALL GOT THE SAME FEEL
It's hard to listen to Selebrities' "Temporary Touch" and not find yourself transported to a Berlin music club in the early 80s. One of the top YouTube comments is from "Wake1986"—which I assume is referencing the quintessential goth/post-punk band The Wake—and it proclaims: "So good… revivval 80." New Wave-obsessed internet commentators don't lie! And Frankie Rose covering goth genre staple The Damned? Hallelujah, the second wave is here!
Minks – "Margot."
From Minks, to Blouse, to Black Marble, the New Wave, fuzzy goth-synth sound is so back. It's all part of a Darkwave revival, and whether it's electro-driven like Light Asylum or Cold Cave, or more punk-leaning like Holograms, Iceage, and Savages, it's all hella goth.
Tamaryn, Wax Idols Light Asylum, The xx. Iceage, Joy Division.
Siouxsie Sioux, Bauhaus. THEY'LL DON LEATHER AND LACE BUT STILL DRESS TOTALLY STRAIGHT-LACED
There are bands and musicians that are dressing in the typical "gothique" fashion like Savages' dark ensembles, The xx's leather and velvet get-ups, and Tamaryn's witchy vibes. Check out Shannon Funchess of Light Asylum's pentagram-y t-shirt and leather cap look. Very S&M witch. Honestly, I think 90% of today's indie singers want to be goth witches. If they're not already a witch, they'll try to become one. Did you see the video for Grimes' "Crystal Ball?" Could anything be more goth?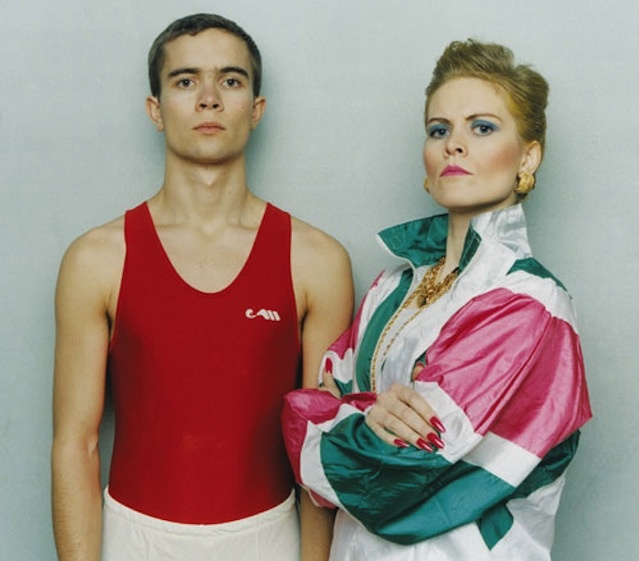 Grimes - "Crystal Ball."
There is something to be said for a slick uniform and dressing like you a) work in a preppy office, or b) look like you're vaguely part of some military regime. Some people say this is a post-punk look but, hey, Joy Division's lyrics don't lie and that stuff is daaaaark. It's goth, so deal with it. The Manchester band opted for clean, slick uniforms over flashy goth make-up and garb. A Certain Ratio would later try and copy this look, but they just weren't morose enough to carry it off. And check out Elias from Iceage wearing the preppiest polo shirt ever. See that's the thing with being a true goth: you could kind of wear anything and if you're cold, and a bit creepy, and existentially lonely enough, you'll make it work.
The Knife: instilling total terror, casually.
The Knife put out the scariest album of the year and they wear hot pink athletic gear in their promo pics. Just goes to show, you don't need the chains, crosses, and heavy eyeliner to let everybody know where you're at—although all this stuff does look really cool. It's what's inside that counts: darkness. Complete and total darkness.
Hazel recently listened to 'Antics' by Interpol and cried. She's on Twitter - @HazelCills.
Style Stage is an ongoing partnership between Noisey & Garnier Fructis celebrating music, hair, and style.