A maximum security unit of the Saskatchewan Penitentiary is pictured in Prince Albert, Sask., Jan.23, 2001. THE CANADIAN PRESS/Thomas Porter
As inmates began falling sick in one of Canada's most notorious prisons late last year, staff struggled amid a shortage of PPE, a lack of budget, and little in the way of support or direction from Correctional Service headquarters.
Even as Canada began to face the second wave of the pandemic, planeloads of inmates were sent across the country, picking-up and dropping-off staff and prisoners. When tests started coming back positive, corrections officers offered up the best plan they could muster: Plastic sheets draped around the prison. As inmates began hunger strikes to protest the conditions, even threatening a suicide pact, the prison gave them a $5 phone credit and pencil crayons.
The situation at the Saskatchewan Penitentiary, revealed through emails obtained via the Access to Information Act and provided to VICE World News, is a microcosm of what prisons across the country faced during the pandemic. Prisons were given little in the way of direction, support, or funding on how to beat back cases by federal authorities. They struggled with archaic infrastructure. They relied on solitary confinement cells and punishing lockdown orders to try and keep case counts low: And it didn't work.
At the end of November 2020, the penitentiary had not seen a single case of COVID-19. By Christmas Day, it had 125 active cases. By the time the outbreak subsided, in January, more than 250 inmates had fallen ill.
In total, more than one-in-three inmates at the Saskatchewan Penitentiary caught the virus.

As the outbreak intensified, the warden sent an email to staff underscoring the severity: "Our potential to overwhelm [provincial health] services is real, should we be unable to control and reduce our case numbers," he warned.
That same day, the provincial health authority called the prison asking, as one Correctional Service employee relayed, "if we have a contingency plan for medical care for the inmates as they are close to full capacity." The province wanted to know if the prison had a plan in place "in the event that they cannot accept our inmates."
Another employee replied: "I'm not sure what to tell this lady."
Conditions in the prison are bad at the best of times. The prison was the scene of a deadly riot in 2016, which left one inmate dead, largely spurred on by the declining quality of food in the cafeteria. The main part of the prison has been in operation for 110 years, and its residents are overwhelmingly Indigenous, roughly 70 percent.
The internal emails chronicle the hour-by-hour response of prison administration to the growing outbreak, from mid-December to December 25.
On December 16, just as case counts were exploding once more inside Canada's federal prisons, the Correctional Service decided to organize a cross-country inmate transfer, which included inmates from Quebec, Ontario, the Prairies, and British Columbia. Three days later, a manager sent out an email to staff, citing the "evolving situation" she told all staff involved with the transfer to "medically isolate immediately."
The emails report that a "number of staff have tested positive" at the Edmonton Institution for Women, and that "there may have been an opportunity for contact between some of those who transferred out and the now positive staff."
It took another day before the flight list went out to all the wardens so that they could "cross reference if your site was impacted by the need to self isolate as a result of potential transmission."
That flight has never been disclosed publicly before, and it's unclear what role that flight may have played in bringing the virus into previously-isolated prisons. 
Even some nine months into the pandemic, Correctional Service staff seemed unsure of self-quarantine requirements. While employees at the Saskatchewan Penitentiary worked to trace contacts of every person who tested positive, staff remained unsure of what protocols to follow.
"If [redacted] goes and gets a test does she still have to isolate as she has NO symptoms?" one manager wrote.
In an email to VICE World News, the Correctional Service of Canada said that four inmates who had been on that flight tested positive for COVID-19 upon arriving at their destination. "The epidemiological analysis at the time indicated that there was no transmission during the transfer. We suspect transmission occurred at the institution. All staff members associated with the flight tested negative."
The Correctional Service said that inter-regional transfers are continuing.
Whether or not the cases arrived through the prisoner transfer, inmates at the Penitentiary began showing symptoms days later.
Prison leadership initially planned to isolate all COVID-19 positive inmates in a dedicated wing of the prison, but those plans changed. "Now it sounds like they aim to keep them in general population and hang these poly curtains to keep the majority of the 'shared air' from mixing," one employee wrote. Hanging "highly flammable" plastic sheets, by duct tape in front of the cell doors, "sounds like a fire safety nightmare," they wrote.
But that was the plan. The metal bars of some cell doors were supposed to be covered over in plastic polyethylene sheets, duct taped on one side. For the dorm rooms, prison staff decided on "shower curtains to separate each cubicle."
A director of maintenance in Ottawa chimed in with a blunt assessment: "The proposed curtains are not allowed."
Saskatchewan Penitentiary Warden Shawn Bird chimed in, seemingly frustrated. "This was doomed from the start," he wrote. "As we have faced nothing but opposition on several fronts." He accepted the plan had to be abandoned, as "the crisis is now."
The penitentiary wasn't the only institution facing such a crisis. Stony Mountain Institution, in Manitoba, was facing an even worse outbreak: It would see 370 cases in a matter of weeks. Five other prisons in the Prairie region recorded about 70 cases between them in late 2020 and early 2021. Many of them struggled to deal with both the threat of the virus while managing the inmate populations, who were facing a mental health crisis after nearly a year of aggressive lock-ups.
The problems are also endemic in provincial jails: Nova Scotia prisons have made use of solitary confinement to isolate prisoners, and tensions seem high—the Halifax Examiner recently published footage of corrections officers humiliating a female inmate in medical distress. Prison staff in British Columbia have refused to work, contending it was unsafe, as outbreaks begam.
Global News has reported that efforts to depopulate jails through the pandemic have stalled in many provinces, and even reversed.
At the Saskatchewan Penitentiary, help arrived from the Correctional Service headquarters on December 23: Ottawa was providing the Prairie region with an extra $500,000 "to cover extra cleaning costs."
But the regional manager wrote that "unfortunately, I did not have sufficient funds to cover all expenditures thus far." They wrote that more funding could arrive in early January.
Despite the Correctional Service's repeated public assurances that everything was being adequately managed inside the prisons, the emails show the prison was struggling for resources and equipment.
The Correctional Service repeatedly insisted that enough personal protective equipment was sent to the institutions. In a response to a media request on December 19, an employee at Saskatchewan Penitentiary wrote that "we have more extensive PPE available, as needed."
Yet a day later, another employee reported: "We only have 1256 N-95 [masks] on site so depending on burn rate they would not last long." Those masks, which are considered more protective than simple medical masks, are not intended to be reused extensively. 
Saskatchewan Penitentiary has around 700 inmates, and hundreds more corrections officers and frontline support staff.
It seems those masks were being kept on reserve. On December 21, one employee wrote: "Just asking when and if N95 masks will be supplied to staff?"
The emails do show that many Correctional Service staff were seized with trying to both keep the virus out of their institution, while also trying to keep inmates occupied—from trying to secure DVDs to show during Christmas, to putting together care packages of Sudoku, pencil crayons, and cheese strings. Books weren't allowed, for fears they could carry the virus.
Inmates, like in many prisons across the country, were being kept in their cells for upwards of 23 hours a day. Prisoners complained to corrections officers that they had a hard time reaching their family members on the phone during their short time out of cell.
On December 20, one Correctional Service employee sent an email to their colleagues, passing on the concerns of one group of prisoners. "Inmates are getting tired and fed up from being locked up and not able to call their families." The inmate he spoke to said they were "trying to cope with their concerns peacefully at the moment but this can change if no one will listen to them."
Days later, the inmates went on a hunger strike—and rumours they had formed a suicide pact began to spread. "The main concern they have is getting out to talk to their families on the phone and getting out of their cells," another employee wrote.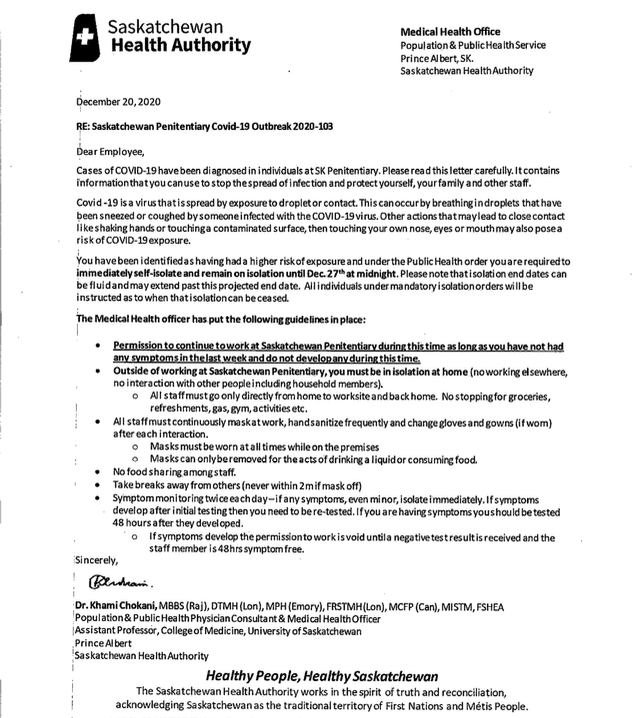 Around that time, a journalist (their name redacted in the released documents) emailed the Correctional Service to ask about the hunger strike. The Service wrote back: "CSC has not received any reports of a hunger strike underway at Saskatchewan Penitentiary." They acknowledged the hunger strike a day later.
Four days before Christmas, an email was sent between corrections officers: "[Redacted] indicated that he wanted to go to the 'suicide cell,'" they wrote. Inmates at risk of self-harm or suicide are supposed to be moved to observation cells, but the prison's observation cells, at that point, were being used to house inmates who were either presumed or confirmed to have COVID-19.
"Staff will continue to intervene throughout the afternoon and hopefully this will assist with him being able to manage in his own cell," one employee wrote. Hours later, a mental health worker emailed, writing that while things seemed to be under control, "should he continue to request an observation cell...I would be recommending he be moved to one."
The social worker continued: "I feel that this will not be the only time in the next few weeks where a (maximum security) offender will be requesting an observation cell/reporting current plan/intent to engage in self-injury/suicide."
In recent months, data has shown that the Correctional Service is breaking their own regulations, Canadian law, and an international convention against torture in their handling of inmates in "Structured Internvention Units" (SIUs)—cells that basically amount to conditions of solitary confinement. 
A senior manager alerted colleagues on December 18: "We have a few cases of inmates we must move out of SIUs. There are currently two on our radar, but one imminent, where CSC is in contempt of a legally binding decision by an [Independent External Decision Maker] to transfer out of the SIU." They wrote: "We have to move this guy out, we have no choice."
Four days later, an employee from another wing of the prison wrote that if the inmate "came here he would need to go into the SIU as there is no population for him." It's not clear from the emails what action was taken.
Those weeks were not easy for prison staff, either. Because of the climbing case counts, the Saskatchewan Health Authority issued an order requiring staff at the prison to essentially self-isolate when not at work.
The corrections officers' work was not entirely in vain. One staffer wrote, just as the outbreak was worsening in the medium-security wing of the prison, "at this stage, we understand the seriousness and inevitability of this virus infiltrating the [maximum security wing]."
While cases did spread, the outbreak was stopped before it spread widely—to date, only eight inmates in the maximum-security wing have tested positive.
As this crisis continued, prison staff wondered how to manage the media.At one point, a media relations officer from regional headquarters emailed the warden of Saskatchewan Penitentiary, on the possibility of issuing a news release "to dispel the misinformation that is currently circulating regarding the outbreak."  The idea was to "communicate the actions taken in terms of communication to inmates; wellness packages; access to mental health and spiritual resources; contract cleaners; access to PPE; cleaning supplies; time out of cells." 
It's unclear what misinformation, exactly, they were trying to dispel: Access to mental health supports were scant, if non-existant; access to PPE was running low; time outside their cells was rare; and inmates reported being in the dark.
The Correctional Service doesn't make finding this sort of information easy. While nearly every single government department accepts Access to Information requests online, the Service does not. It requires that requests be mailed to their headquarters, and that the requisite $5 fee be paid by cheque.
Follow Justin Ling on Twitter.