All last night I was holding out hope that it wasn't true. "There hasn't been a verifiable source," the skeptical journalist in me kept saying, as my writer friends filled social media with tributes, anecdotes, and passages from his novels, novellas, poetry, plays, reportage, and short stories.
But yes, it is true: Denis Johnson, the celebrated author of books like 1992's canonical Jesus' Son, 2007's National Book Award–winning Tree of Smoke, and the masterly 2012 novella Train Dreams, has died at the age of 67.
Denis Johnson probably saved my life more than once. I've read the stories in Jesus' Son—that poetic druggie Bible—more than any other book. Over the years, I even kept several copies on hand so that I could pass them along to uninitiated friends (and have been pleasantly surprised to discover that I'm only one of many writers to do so). There was a time when I wanted to write the Asian American version of this book—or at least write with the Asian American version of its voice. I wanted to come up with those abrupt, jaw-dropping lines that would scramble your brain and heart and soul, and then hurl it all back at you with astonishing ease, verve, and humor.
Over and over again, Johnson tossed off seemingly impossible metaphors and observations—and don't get me started on his searing, frequently WTF endings. Here are just a few from my embarrassingly over-underlined and notated copy of Jesus' Son:
"Under Midwestern clouds like great grey brains we left the superhighway with a drifting sensation and entered Kansas" ("Car Crash While Hitchhiking").
And: "Later in the afternoon, with sad resignation, the county fair bares its breasts" ("Emergency").
And: "It was unwholesome, and very erotic" ("Beverly Home").
And another, from his poetry collection The Throne of the Third Heaven of the Nations Millennium General Assembly: "The manager lady of this / apartment dwelling has a face / like a baseball with glasses."
For years, the opening to his classic story "Work" was my definition of passion, if not love altogether: "We made love in the bed, ate steaks at the restaurant, shot up in the john, puked, cried, accused one another, begged of one another, forgave, promised, and carried one another to heaven." I carried this idea with me everywhere (and was, deservedly, kind of miserable because of it); even its rollicking construction was the start of an aborted novel.
---
Watch: VICE Meets Norwegian literary sensation Karl Ove Knausgaard: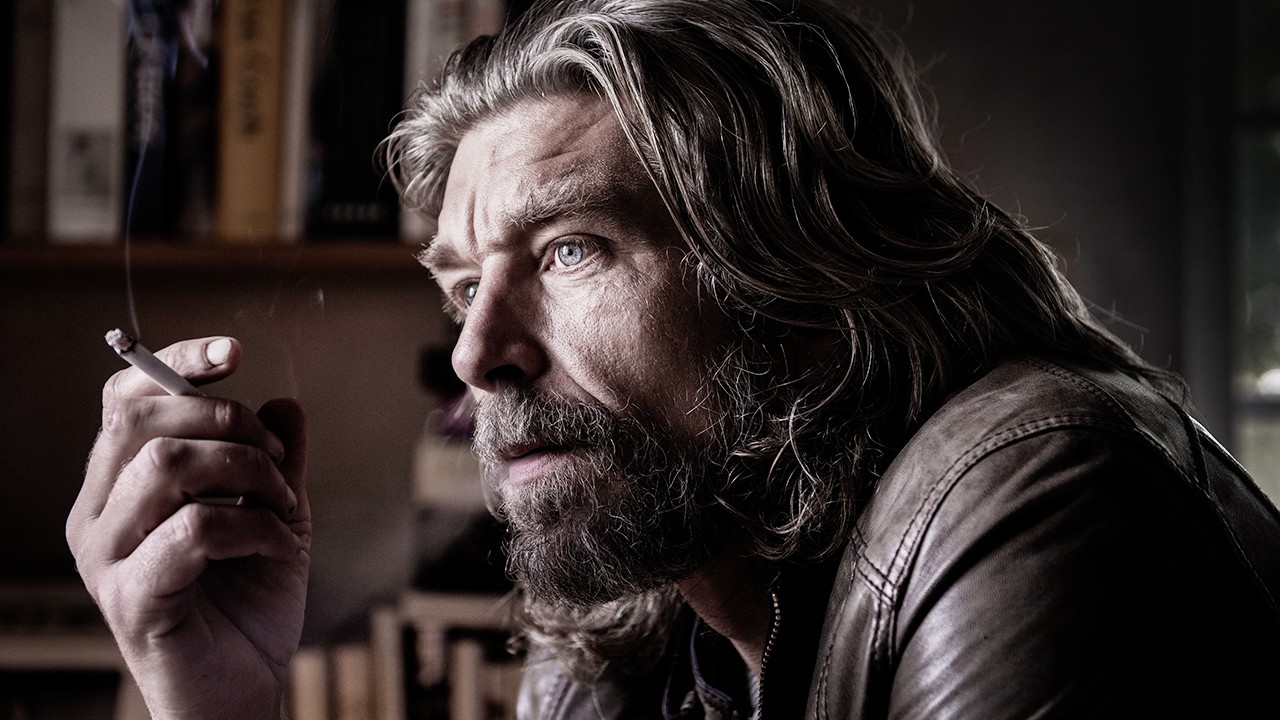 ---
Denis Johnson's work created a place for dazzling beauty of the rarest kind, but his words could be startlingly harsh, too. He often captured the ugliness of our world in which wars, monsters, and injustice are commonplace. I can't erase from my mind one of the most candid and shocking moments from Seek, his book of journalism and essays for the New Yorker and Esquire. In one episode, he writes of being a white American writer on assignment in dysfunctional, war-torn Liberia in 1992, the year of Jesus' Son's publication. Despite his folksy upbringing—"my parents raised me to love all the Earth's peoples"—he concedes that three days in the region had given him the impulse to scream a stream of N-words "until one of these young men emptied a clip into me." (He doesn't yell nor get shot to death, of course, but is instead a firsthand witness to the brutality of war and dictatorship.) It's an appalling thing to admit. But Johnson doesn't shy away from coming clean, giving words and shape to such hideousness because that's what he is there to do as a journalist and as a writer.
He also does this in Jesus' Son, too, when the narrator—Fuckhead as he's only known, or FH—punches his girlfriend in the gut and is later spying on a woman from outside her bathroom:
She towelled off quickly, briskly, never touching herself in any indulgent or particularly sensual way. But it was virginal and exciting, too. I had thoughts of breaking through the glass and raping her. But I would have been ashamed to have her see me. I thought I might be able to do something like that if I were wearing a mask.
Johnson's writing could contain such clear human awfulness and truth at the same time, and that's what made it so convincing and powerful. The scene that sums up Johnson, for me, is from his leadoff story to Jesus' Son, "Car Crash While Hitchhiking."
Having blithely wandered through the death and dismemberment of the car accident, Fuckhead finds himself at a hospital where the victims and victims' families are being brought in. But he's more worried about being hassled by a cop for a witness statement—he is on drugs, after all—or having to have an X-ray (he's no big fan of doctors, either).
FH overhears, on the cop's radio, that a man has died. He then describes the scene at the hospital:
Down the hall came the wife. She was glorious, burning. She didn't know yet that her husband was dead. That's what gave her such power over us. The doctor took her into a room with a desk at the end of the hall, and from under the closed door a slab of brilliance radiated as if, by some stupendous process, diamonds were being incinerated in there. What a pair of lungs! She shriek as I imagined an eagle would shriek. It felt wonderful to be alive to hear it! I've gone looking for that feeling everywhere.
Denis Johnson was both that astonishing sound and its devoted seeker in one, and all we had to do was go to our nearest bookshelf to find it—lucky us.
And yet, instead of stopping just there, or nearly there, Johnson has the audacity to jump ahead a couple years to deliver yet another unforgettable scene, in another hospital. We get FH's memory of detox and wigging out—hallucinations conveyed with poetic beauty and strangeness—followed by a veering turn, a spit in the face: "And you, you ridiculous people, you expect me to help you?"
It's a complete rejection of what stories are supposed to do, to give us some moment of insight or succor. And yet, the irony is, for so many readers and writers like myself, Denis Johnson really did help. And now he's gone.
Follow James Yeh on Twitter.