Photo via UN.
The UN's Sustainable Development Goals are 17 encompassing objectives meant to address the world's most pressing health, educational, social and economic issues by 2030. This month, the UN General Assembly, as well as many of the governing bodies behind the UN's SDGs, will be convening and we'll be breaking down a goal a day.
More than 700 million people still live in extreme poverty across the globe, and the U.N. has set the very ambitious goal of eradicating this number, and other mind-blowing poverty statistic, in-full by 2030. Poverty is more than just an economic issue, it's a founding motivator for political conflict, education inequality, discrimination, and a ton of major sociopolitical concerns. That's why the UN is fighting poverty on all fronts: land ownership, climate resilience, technological accessibility, and access to natural resources all make the list of sub topics needing extra attention in order to combat poverty in a meaninful way.
While almost 70 percent of extreme poverty exists in Southern Asia and sub-Saharan Africa alone, the economic, political, and environmental effects of poverty are felt around the globe, even in the wealthiest regions of the western world. The World Economic Forum has even gone so far as to credit global income inequality, especially between the U.S. and the rest of the world, as a major motivator for the Brexit vote, Trump's election, and other major western concerns. The WEF even labeled the topic as the number one underlying trend most likely to "determine the shape of the world in the next decade."
Plus, growing inequality hurts opportunities for global partnerships and social cohesion, and that's bad news both practically and philosophically.
Yep, we're looking at a big goal on a heavy issue. Luckily, a growing number of grassroots organizations and NGOs are working to fight poverty in new and creative ways, both at home, and across the globe.
Abroad
While it's important to keep a critical eye when considering Western non-profits working towards "development" in the developing world, a number of nonprofits are fighting global poverty with a focus on community and sustainability.
Landesa Rural Development Institute works with local organizations and governments to develop sustainable economic and social opportunity through documented land ownership.
Find out more about how to get involved.
At Home
The fight against poverty starts in your own community.
Check out Feed America's interactive search engine to find a food bank near you to support through donation or volunteer power, or explore the work of national organizations like Fight for 15, who are fighting for a livable minimum wage nationwide.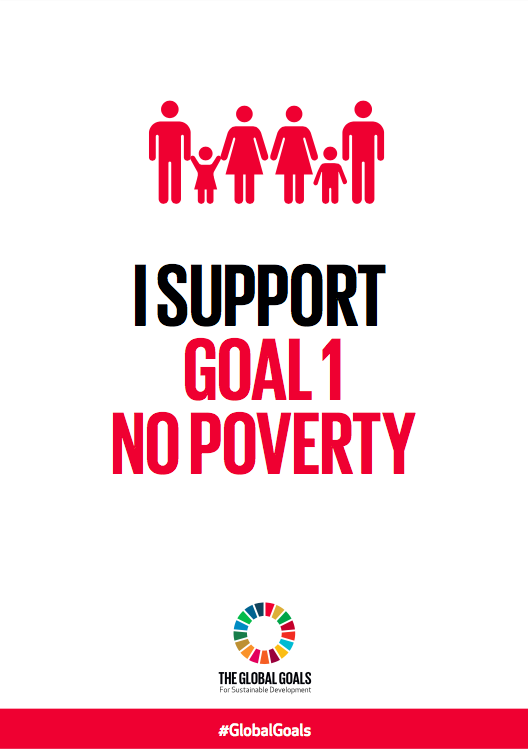 To learn more about the SDGs, head to the Goalkeepers site created by the Bill and Melinda Gates Foundation, which highlights an event in New York City on September 19 and 20 that convenes activists, world leaders, and the public to share their successes and challenges in advancing the SDG agenda. And September 25 is a global day of action on the SDGs -- find an event or opportunity near you.