Image via the author.
This is an opinion piece by Paola Ramos, the former Deputy National Director of Hispanic Press for Hillary for America.
What if the million-dollar solution to immigration reform was simply to open your eyes? Last Monday morning—with eyes half open and a sun that was rising over Mexico City—I rushed into my flight back to New York, eager to fall back asleep. As I approached my seat, strategically chosen by the window, I noticed the silhouette of an elderly man who had clearly claimed my territory as his. Five feet away from this said-being, my body's gut instinct was an irrational cringe and anger that yelled inside of me: how dare he sit in my window seat?
Yet, from up close—once my eyes were facing his— the reality of our situation begged for a different ending of the story: Jose was exactly where he belonged. Not in his assigned seat, but rather the one that had chosen him. It took opening my hazy eyes to quickly realize this.
Jose didn't choose to be separated from his kids for more than 20 years. As I learned throughout our conversation lost amid the Gulf of Mexico and blue skies, Jose's kids left Mexico as young children and never returned from the United States. In between code words and long glances, I suspected his son and daughter were in the country without papers—not willingly, but instead impelled by the prospects of a better life and shot at success. New York City became their new home—a home that gave them a grasp of independence and that also gave birth to Jose's grandchildren.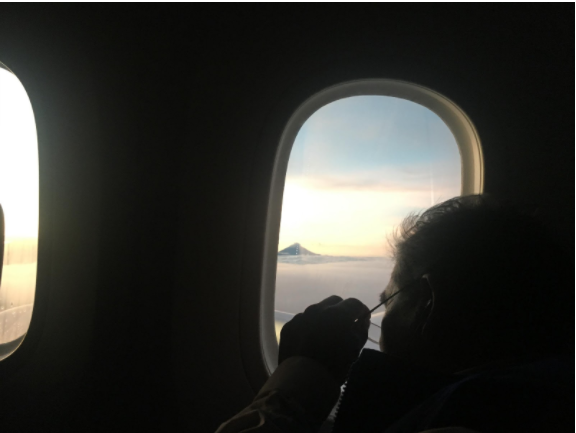 Thanks to Raices de Puebla—an organization that finances visas, passports and travel for a number of elderly Mexican residents that wish to reunite with their families—Jose was about to hug his kids again at the John F. Kennedy Airport. He told me this was a moment he had replayed in his mind for over two decades.
---
Check out more videos from VICE:
---
From my plane—40,000 feet above D.C's political chaos—I wished for a second that an anti-immigrant activist had taken my seat, next to Jose. If they had been there, they would have heard a father talk proudly about his children. They would have truly understood the challenges millions of Latin American families struggle with and perhaps comprehended the nuances behind that complex impulse that forces some to brave to the other side of the border. They would have looked into the eyes of a 70-something-year-old man, flying on a plane for the first time, recounting his long phone conversations with his familia americana.
Because with eyes wide open, I believed, it was inevitable for innate decency to illuminate the fact that Jose and his family were more than mere political talking points, and rather human beings that shared a place in the United States.
READ MORE: If You Disagree With Trump's Plan to End DACA Here's What You Can Do
The fight for a clean DREAM Act or Comprehensive Immigration Reform will evidently continue to be paved by heroic activism, courageous voices and tumultuous political dances. But at the end of the day, it's going to take fortuitous acts of basic humanity for some to genuinely recognize the value and belonging of our nation's immigrants. The same way this country chose to embrace marriage equality or stood up for women's rights—historic reluctance was suddenly overridden by an emotional response that saw us as equals. It's going to take that eye-to-eye conversation with Jose that instinctively lets your guard down.
As our plane approached New York City, Jose turned to me and said: " I've been waiting for this moment my entire life." His eyes were wide open. That's when I knew that his window seat did indeed belong to him, not me. And I bet you would've thought the same thing.
Now that the fate of DACA rests with Congress, call your federal delegation and share your opinion one way or the other (every American is represented by one member of Congress, two US Senators). Tweet @VICEImpact to let us know what you think about President Trump's decision to rescind the Obama-era DACA protections.