Image: Millenius/Shutterstock
Mahsa Alimardani is an internet researcher working with Article 19, and a PhD candidate at the Oxford Internet Institute.
While legal "pirating" exists in Iran, six administrators of the Iranian pirate movie site TinyMoviez have been arrested by Iranian authorities. This was a website the Iranian national broadcaster had used to download and nationally air movies in the past.
The exact date of the arrests are unknown, but Tehran's Prosecutor General announced the arrests on September 26, 2017. The website is still online, but users haven't been able to download content from it since September 19, 2017. Now TinyMoviez administrators are finding themselves on the wrong side of Iran's odd and often pirating friendly copyright laws.
Iran's copyright law is a quagmire when it comes to understanding what rights exists for creators of an original piece of work, and what rights exist for those wanting to re-distribute original works, such as movies. Meanwhile, Article 8 gives the government broad powers to reproduce work that is not its own:
Public libraries, documentation centers, scientific institutions and educational establishments, which are noncommercial, may reproduce protected works by a photographic or similar process, in the numbers necessary, for the purposes of their activities, according to a decree to be issued by the Board of Ministers.
This means that the government is exempt from Article 23, which criminalizes the theft of another's work.
Whosoever publishes, distributes or broadcasts the whole or part of another person's work which is protected by this law, in his own name or in the name of the author without permission, or in the name of a person he knows to be other than that of the author, shall be condemned to corrective imprisonment for a period of time not less than six months and not more than three years.
Iran's copyright law does not protect authors outside of Iran either. While Iran is a member of the World Intellectual Property Organisation (WIPO), a specialized United Nations agency tasked with promoting the protection of global intellectual property, it has never signed the WIPO copyright treaty, nor any other international copyright agreements that would make infringing copyrights of foreigners unlawful. In January 2016, Iranian viewers noted that the channel IRIB3, known for more youthful content from the government, was airing a TinyMoviez download of the 2013 Hong Kong film "Saving General Yang" with a clear watermark from the website.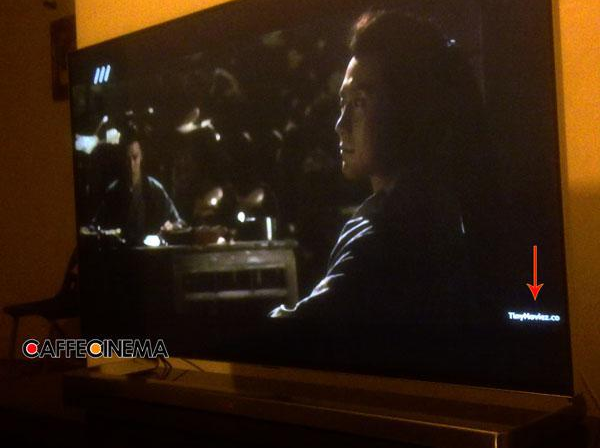 These Iranian pirating movie websites, such as TinyMoviez and Ganool (a website now taken offline), have long been censored at various times in Iran because of distributed content that contains nudity.
Digiato, a technology website in Iran has said the move has been political on behalf of the government, influenced by TinyMoviez's competitors, who could not keep up. TinyMovies has about 300 to 400 new subscribers a month, with a $10 USD monthly fee, offering pirated foreign films with Persian subtitles or voiceovers.
According to an anonymous film distributor in Tehran that spoke to Centre for Human Rights in Iran (CHRI), a New York based human rights NGO, "In July and August [2017], there was a meeting between a number of Iranian start-up companies and [current Telecommunications Minister Mohammad Javad Azari] Jahromi, who was asked by film and TV series distributors as well as video game developers to help shut down and monitor unlicensed rivals.The start-ups made the request because they could not compete with a site like TinyMovies…"
The minister, Jahromi, would later deny any involvement.
In October 2016, the state broadcaster made a formal complaint against Aparat, what many call "the Iranian YouTube," for distributing IRIB materials without the government site's permission. They have since built a relationship with Aparat, granting them permission to stream certain pirated content, even going as far as giving the sole distribution rights within Iran on foreign productions (without the involvement of the original producers of the content).
Like many a vague and illogical laws in Iran, arbitrary rulings and arrests such as the TinyMovies one are likely to ensue.
Get six of our favorite Motherboard stories every day by signing up for our newsletter.