One of Mette Brink Søberg's tasks at Noma is to prevent dishes from melting. In Sydney, she was in charge of ensuring that the lamington cake—which had frozen milk crumbs in place of the more-traditional coconut—went to the table at the proper consistency. In Mexico, she came up with an emergency solution when two interns decided to prepare their ingredients inside the walk-in freezer, thereby raising its temperature and threatening to turn the chocolate ice cream stuffed into roasted chiles into spicy brown pools (Her fix? She dipped the chiles in liquid nitrogen.)
Part of this resourcefulness stems from her restaurant's newfound predilection for cooking in hot places. But it's also a reflection of who Søberg is: Reticent and coolly level-headed, she's the person you want on your side when all hell breaks loose. Those qualities would explain why she was recently promoted to research and development (R&D) chef at Noma, where she is now part of the elite team that develops new dishes for what is perhaps the most influential restaurant in the world. It's always been a prestigious position; because many of Noma's recipes and techniques have a way of showing up on menus around the world, the reach of its R&D chefs far exceeds the walls of its dining room. But Søberg assumes the role at an especially critical moment in Noma's history, just as the restaurant, having closed its original site, is actively reinventing itself in a new location slated to open later this year.
That opening is at least six months away on the Saturday when we meet, but already there are signs of preparation. For one, every flat surface in the test kitchen is heaped with fuchsia-coloured petals, left to dry so the restaurant will have wild rose oil come winter. Søberg is busy with other preparations: Neatly packing Swedish cookbooks into Ziploc bags. "I'm a bit of a control freak," she says, smiling sheepishly. "The itinerary is highly detailed."
---
WATCH: The Art of Making Danish Hot Dogs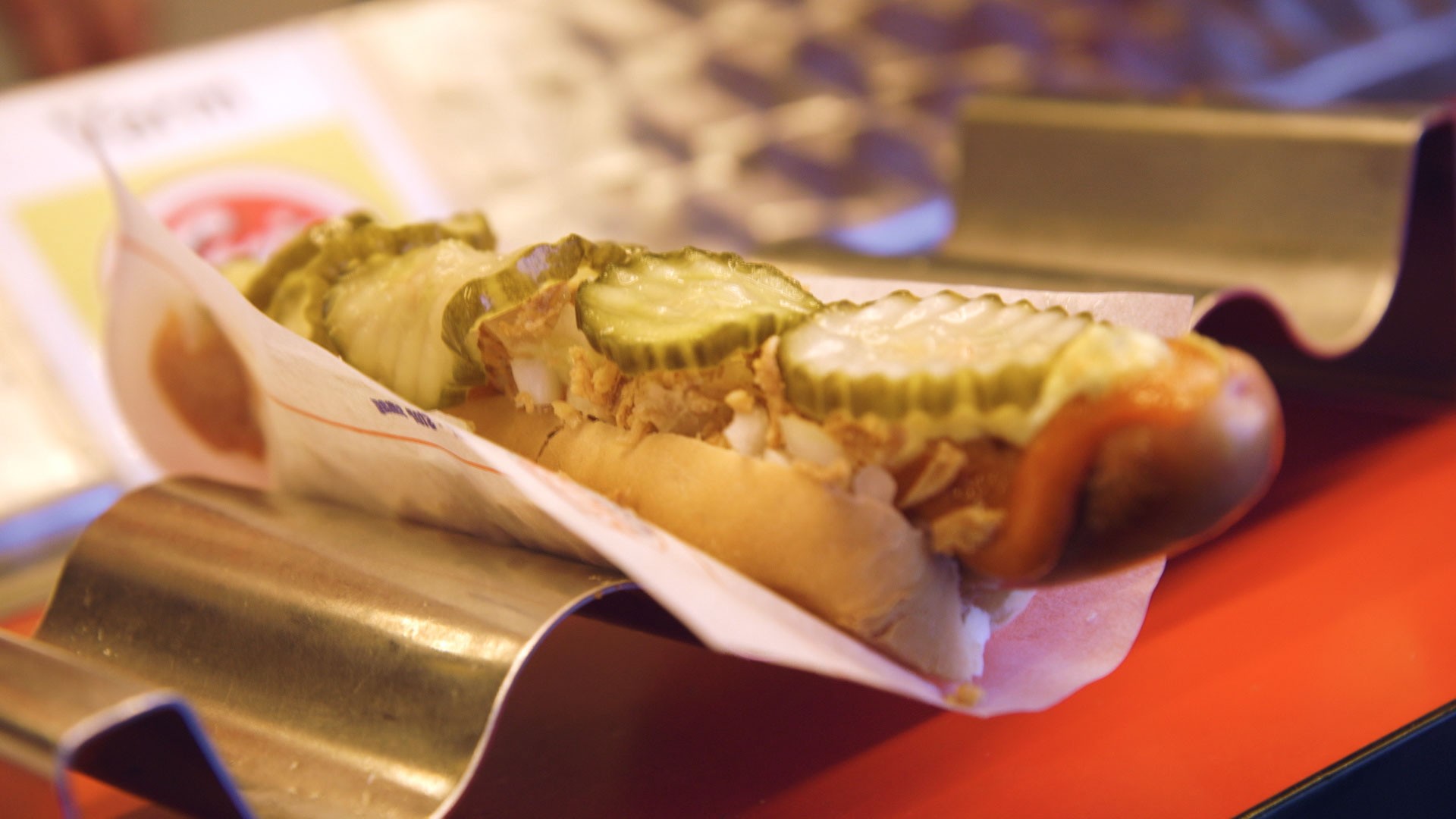 ---
The following day, Søberg and the rest of the senior team at Noma, including co-owner René Redzepi, will depart on the first of several research trips through the Nordic area. The task of finding the herders and cheesemakers and carvers and fishermen and hunters and weavers who will inspire the chefs falls to Søberg. And although the 27-year-old grew up in Copenhagen—she is only the second Danish R&D chef Noma has had—she hasn't travelled much in Scandinavia. But what she lacks in worldliness, she more than makes up for in hard work, determination and a kind of modesty unusual among chefs who have attained the level she has. "There are a lot of details to take care of, and we're trying to pack in a lot," she says. "But I'm a little nervous. What if we don't find anything new? René already knows everyone up there. I really want to find something that's going to excite him."
On the surface, Søberg is an unlikely candidate for her role: Soft-spoken and reserved, she still looks like the serious university student she was expected to become. But she also possesses a quiet willingness to challenge herself, which may be why, at the age of 18, and for reasons she still can't explain, she was compelled to try culinary school instead. She didn't love the coursework, but once she was in an actual kitchen—her first job was at Krogs, a classic Copenhagen fish restaurant—things changed. "Within a few weeks I knew this was my place," she says. "I loved the camaraderie and I loved the adrenaline of doing service. I just felt like I fit."
She got her first taste of creative cooking during a stint at Marque, an acclaimed restaurant in Sydney. Until then, her own ambitions had been modest—she liked to cook because she liked to make people happy and because she enjoyed the energy of the kitchen. But she's also, she says, the kind of person who "never says no to an opportunity." The head chef at Marque convinced her to apply to Noma—and put in a call to Redzepi on her behalf. A few months later, after she had successfully completed her internship there, she was given a permanent job as chef de partie.
The position came with a steady supply of fear. Fear, of course, of messing up in a kitchen known for perfection and overseen by a chef who is not unfamiliar with the challenges of anger management. "There's a crazy electric feeling in the kitchen when you can tell something's not right," she says. "And when René comes after you, it's super annoying, mostly because you feel like you just want to go fix it. But after, you know it's just going to be another one of those stories people tell."
There was also the fear of being good enough. Søberg felt that the first time she presented a dish at Saturday Night Projects, a Noma tradition that gives staffers the chance to show off their creative chops to their colleagues after the guests have left the restaurant. She prepared an apple and brussels sprout dessert, then held her breath while Redzepi and the others tasted it. "It was terrifying to speak in front of all those people," she recalls. "I was happy with what I had done but had no idea what everyone else would think of it." Redzepi spoke first: "Brussels sprouts in desserts? That's crazy." She held her breath, afraid of what was to come. But he meant crazy in the good sense. Everyone breathed.
"I can lose control, but it's very rare. As long as someone is trying their best, even if they mess up, I don't think there's any reason to go to that place in the middle of service."
Redzepi doesn't remember the details of that first dish, but he remembers the impression Søberg made. "She showed that she had a creative mind and a cleverness that is rare," he recalls. "She has a deep consideration for everything. It's not just, 'here's some food, why not put bacon on it.' She's really trying to get to the core of things."
Eager to learn in the kitchen, Søberg soon gained a reputation for diligence. Her calm temperament was more energized than oppressed by the pressures and adrenaline of the kitchen. "I can lose control," she says, "but it's very rare. As long as someone is trying their best, even if they mess up, I don't think there's any reason to go to that place in the middle of service."
Still, the fear came back a few months before the team left for their pop-up in Sydney in 2016. Redzepi had told her earlier that they wanted to advance her to the test kitchen. She didn't completely freak out, though, because she figured the promotion was a long time off. "I thought they meant years, so I was, like 'sure,'" she says. "I put it in the file in my brain for 'someday'." But a few months later she was told she'd be joining the R&D team on a trip to Australia. "It was scary. I didn't know if I could do it," she says. "I just had to keep telling myself that René knows what he's doing, and he wouldn't put me in that position if he didn't think I could do it."
By the time Noma began preparing for its Mexico pop-up a year later, Søberg was a confident member of the test kitchen. If, in Australia, she had been concerned primarily with not messing up, in Mexico she was able to relax into the inspiration she found.
A much-Instagrammed pumpkin dish was one of her successes. She went through dozens of versions that were rejected until, finally, she hit upon the idea of just grilling the pumpkin whole: the result was a velvety texture that made the squash fantastically delicious. "It was so frustrating while it was happening, but so satisfying in the end," she says. "In Mexico, I learned that I'm good at adapting."
Redzepi believes she will be one of the great ones to come through Noma. "Right now, she's still finding her voice," he says. "But come talk to me in two years. By then, I think she'll be not just one of the strongest personalities in the restaurant, but in the entire industry."
READ MORE: Climbing Cliffs and Picking Edibles with Noma Australia's Shirtless Forager
That's nice for Søberg to hear, but it doesn't exactly assuage her concerns, especially when it comes to her responsibilities with the relaunch of the restaurant. "I think it will be magical, but it's also super scary. My job, what René has riding on it, what the guests will think…" she trails off for a second, then jolts herself back to the present. "For now, I'm just going to focus on the trips."
A few days later, her initial concerns, at least, have been laid to rest. In Östersund in Sweden, the team had tried an ethereal waffle made with only flour, salt, and loads of cream that Søberg was eager to experiment with. And they spent one evening in an isolated patch of Swedish Lapland cooking reindeer over a fire with a Sami family. "We were seated around the fire inside the lavvu, and the mother would cook one part and then hand it to us to try—the smoked heart, the tongue, the blood."
It was only a day or two into a series of trips that would later take her diving in Norway, fishing in Greenland, foraging in Iceland and hunting for bird eggs in the Faroe Islands, but for the moment it was enough.
Søberg's fear that she wouldn't learn anything new from the experience receded. Once again, she got straight to the heart of the matter. Meltdown averted.