Images via Instagram/Russell Westbrook/Pau Gasol/Steven Adams
This column was supposed to be a fun and freewheelin' roundup of vacation photos lifted largely from the Instagram accounts of NBA players, a centralized database and leading source of who is having fun in the sun and who got a sunburn. Given the alarmingly eventful trend of the offseason thus far, it's clear that this column is more important now than ever before. It's a desperately needed chill counterbalance of cracking a cold one in a league gone superteam survival mode.
I've been a staunch defender of the supposed ruinous coming of the NBA superteam, but if the aggressive early trades and other news this offseason—David Griffin fired, Kawhi having or not having braids anymore, Phil Jackson hating Porzingis/Knicks fans—are a response from franchises feeling the ripple effects of these past Finals, consider me convinced. I can deal with superteams upending the very landscape of basketball as we knew it, but I won't abide by them ruining what's sacred: NBA summer vacation.
So, with the draft in our rear view mirror, let's get back to what's real, what's important, and what matters: tandem banana boat rides, the Gasol brothers swimming in the ocean in socks, and Matthew Dellavedova on a beach.
We start with the presumptive MVP.
A solitary, cinematic shot of Westbrook getting off a private plane, taking in something in the distance while someone else captures this photo. Where is he and what is he doing, the "It's a whynot? Lifestyle" caption gives us no clues.
But two hours later, we find an answer.
Mon dieu! Russell is in Paris. The caption #parisfashionweek helps (it's not), but the pièce de résistance came shortly after: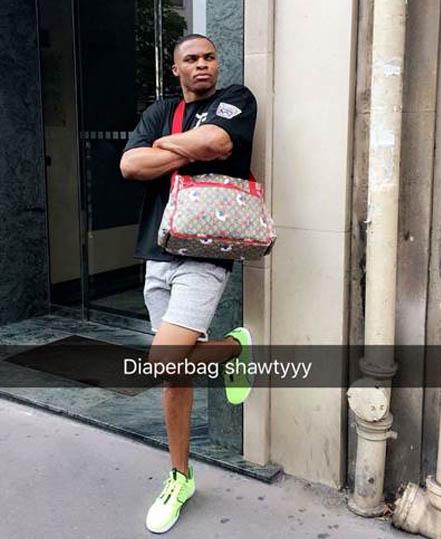 Gucci diaper bag on blast; wearing, you guessed it, cutoffs. We got a vacation, folks. Extremely interested in following this trip through to its conclusion, hoping against all hope we get a picture of the Brodie biking around with Daft Punk, a baguette tucked in the basket. Honestly, protect Russell Westbrook at all costs.
Rating: 3 Palme d'Ors, a half dozen macarons, 0 Jacobins, Westbrook thinks it's Fashion Week therefore it is. Perfect score.
Let's move onto DeAndre and son in front of a donut wall in the sun. As we can clearly see, his shorts are cutoffs—which we've already established is primo vacation attire—and I want to say his shirt is covered in paint. Super casual. I wish he was wearing his felt Coachella hat of Clippers postseason pressers fame but I'll take the ball cap. When the toughest choice of your summer so far is what donut you're going to help your child pull off a wall, you're doing good.
Rating: 4 ½ paint splatters on a perfectly good t-shirt out of 5
Full disclosure: I think we should have a special section for when the Gasol brothers wear tube socks on boats in the ocean. The infamous photo, taken during the 2013 offseason, is a prime example of how bad execution can mess up a perfectly fine vacation photo.
To be fair, it's Marc doing the crime—and, like, crunches, on the back of a boat—but what is in Pau's hand? A wet sock he's quickly removed from his own foot? It's also unfortunate where his shorts are sitting. That's certainly not the glistening butt crack I'd want to see if I wanted to see one.
But what's the eldest Gasol up to this offseason?
Pau is alone at the ballet in Barcelona, thoughtfully sitting off to the side and far away from the stage to not block anyone's view. My guess is he has socks on. Hermosa.
A glistening Pau takes a selfie in front of an ancient crypt in his hometown. We can't see his feet in this photo but please close your eyes for a second and tell me if you can't picture him wearing socks and sandals. I'll wait.
Rating: 3 soaking wet tube socks out of 5
"If Apple started in a garage… why not reinvent myself?" Huh. Well, unfortunately it's still very clear that the younger Gasol is terrible at vacations. The most fun thing in this picture of Marc's garage is a riding lawnmower. But his aspirations seem ambitious and at least we already know he's not going to freeze to death next winter.
Rating: 4 soaking wet tube socks out of 4 (this is a negative rating)
Young Trece is throwing a few casts in the Geist Reservoir outside Indianapolis. Would love to see if there are cutoffs involved and the style of sunglasses involved, but I like the solitary, sort of badly-cropped background and inability to see if the line is in the water or if he's just holding the rod above it. Did he catch anything? Is this symbolic of casting a wide net? Is he angling to leave Indiana? Big fish, small pond? Wow. Good luck, Pacers fans.
Rating: 1 freshly opened can of worms
Steven Adams climbed a pyramid barefoot. Of course he did.
Rating: 2 good mates out of 5
Oh, Patrick. For non-Torontonians I will break this down. 2Pats is sitting on a Co-op Cab, flanked by a Beck Taxi—2 local cab companies—staring wistfully off into the distance. His head is tilted at an angle that suggests to me that he's staring at the CN Tower and he's wearing a red (very CanCon) watch. Has there ever been a louder cry of Please re-sign me, than this?
Rating: 3 wracked sobs and one sniffle because I'm crying
Dwyane Wade, Carmelo Anthony, Jimmy Butler
Tenir le téléphone! Wouldn't you know it, Dwyane and Carmelo were peeping the scene on the Seine when they just happened to run into Jimmy Butler.
Unknown if these dudes plan on meeting up with the Brodie and executing an international Bateau Banane, but Jimmy is really channeling that vibe here, and nobody seems especially stressed about the current management meltdown in Madison Square Garden or Jimmy getting shipped off to the wilds of Minnesota. Please note Melo wears a timeless cutoff short, while Butler has opted to cut off his sleeves for a kind of cartoon fleece fray.
Rating: 3 potential buds for Bateau Banane out of 4, probably don't tell LeBron
You can follow Katie Heindl on Twitter @wtevs