Supplied
I heard the turbo from the blacked-out Subaru WRX before it pulled up at Blacktown station. Three burly boys in Nautica shirts, bright shoes, and razor sharp fades jumped out for a cigarette; they were members of Brothers 4 Life (B4L), the most violent street gang in recent Australian history.
To break the ice, I told them I appreciated how every fine detail of their car was painted black. "We call it murdered. When you murder a car it's a total black out…like death," replied Omar*, a 27-year-old gang member. We were headed to an Afghan restaurant in Blacktown to talk about what inspired them to join the B4L.
"You wanna' know about B4L yeah? It's disappeared here and Bankstown," explained Latif*, a 28-year old associate of the gang. "The new ones are reverts…they're all Abos, I heard."
This year B4L re-emerged in Illawarra. The gangs founder, Bassam Hamzy, revived B4L from his supermax cell in Goulburn prison and unleashed it in a war with the Finks Motorcycle Club. The rivalry came to an end last month, when key players in Illawarra's chapter of B4L were charged with transporting firearms, plotting shootings, and distributing drugs.
The gang's origins trace back to 2007, when authorities discovered notes in the jail cell of Hamzy. He'd already been marked as an "extreme high risk" prisoner. But the notes suggested something even more dangerous. They dictated the gang's credo: "Courage, honour, no mercy, mercy 4 da weak, family 4 life and BFL [brother for life]." Across the next decade B4L would be responsible for at least 16 shootings: a bitter war between two chapters over a territorial drug dispute, claiming the lives of multiple gang members while seriously injuring innocent women and children in the crossfire.
Incarcerated at the age of 18, Hamzy sharpened his ideology while serving a murder sentence at Goulburn SuperMax. When I mentioned his name, a silence fell across the car we were travelling in. Prison culture is not foreign to these guys, and with countless friends and family locked up in Lithgow and Goulburn, it looms large in their lives. Hamzy's reputation is mythic in prison: he has been responsible for orchestrating kidnappings while running drugs across the country, all from the strict confines of a SuperMax prison cell.
"We never met him," said Omar. "Put it this way, our elders are some of the scariest blokes in the country…so if they're taking orders from him, isn't that telling you something?"
Hamzy was the first organised crime figure to merge the ideologies of Islamic extremism with the codes of suburban gang life. B4L was intended to operate like a motorcycle gang entrenched in the Wahhabi interpretation of Sharia law. His rules for B4L are rooted in a skewed version of Wahhabi ideology that percolates within Goulburn's SuperMax prison. He exploits the language of scripture to reinforce the gang's Islamic roots; in prison-intercepted phone calls, Hamzy describes brotherhood as "Ikhwan" and troublemakers as "fitna." By injecting B4L's criminal endeavours with a religious purpose, members feel ideologically driven in their duty and violence.
In the early days of the gang, the original members of B4L were divided into a Lebanese-majority chapter in Bankstown and an Afghan-majority chapter in Blacktown. All were raised Muslim, and their crimes held loose religious justifications. But the newly founded Illawarra chapter is different. The gang is made up of Aboriginal and white men from commission housing estates, who had been recruited and converted to Islam in prison.
The young men with the murdered car were members of the former Blacktown chapter through their teens and had no prison yard experience. According to Omar, their gang was established by one of Hamzy's prison pals: an Afghan migrant and notorious murderer called "The Afghan", Farhad Qaumi. His directions from Hamzy were to "keep the Lebo [Bankstown] chapter in check." But in reality he was primarily concerned with conquering their chapter and claiming their turf.
The Bankstown chapter was more lucrative than Blacktown, and the Lebanese members often sported $80,000 Breitling watches and drove supercars. Rumours of murder plots began circulating between both sides as they struggled to dominate the Western Sydney drug market. The Blacktown chapter took the front foot and began their rampage on November 3rd, 2013, when they attacked Bankstown B4L gang member Michael Odisho outsider his mother's home, shooting him several times.
The next day, Blacktown members attacked the home of another Bankstown member, Masood Zakaria, and in the crossfire his 14-year-old sister was hit in the back with a shotgun. Her spine, lungs and chest were laced with shotgun pellets. She was lucky to survive the stray shot.
The NSW Police went into overdrive. The following day, Blacktown members opened fire into a parked car outside the Chokolatta cafe in Bankstown. The police responded by setting up Strike Force Roxana and Strike Force Sittella. Both units worked covertly and overtly, conducting audio surveillance while actively following members of both chapters in cars and helicopters.
Toward the end of 2013, the Middle Eastern Organised Crime (MEOC) were able to dismantle both chapters when enough evidence was gathered to charge the leaders and instigators of the brazen murders and shootings.
The boys said their friends and cousins were charged over a slew of murders and attempted murders during the brutal gang war. "They [Bankstown Chapter] were coming at us, so the boys just got at them first," explained Latif. "Apparently someone said something about 'Afghan dogs', calling us 'Afghan dogs'…so they got got." The B4L were formed under the guise of brotherhood, but instead of fighting together they waged war on each other.
"For [our chapter] it was finished when our boys got locked up," said Omar as he looked for music on his phone. "But it will never be finished as long as the boys in there need something done. They pull the strings, they have too much power." I asked him what he meant by power. "Masary (money)," replied Latif.
Outside the Afghan restaurant, Latif knelt down to help his younger brother tie the laces of his Nike TNs. They looked just like the boys from my neighbourhood in Dandenong, desperate for approval and direction. In B4L they got a distorted version of both. "We wanted to be like our older brothers; they had all the cars, Louis Vuitton and girls," said Latif. "And when we got into it, we realised it was a one-way ticket to hell."
The gang tried to bridge the gap between the Lebanese and Afghan chapters by encouraging their Islamic faith, the common denominator that binds migrant youth throughout the Western suburbs. But the only factor that fuelled both chapters was their slice of the drug trade. The strategy was more effective during the recent resurrection, when employed to attract marginalised indigenous youth in Illawarra.
The leader of the new Illawarra chapter, Damien Featherstone, first met Bassam Hamzy on the Goulburn SuperMax prison yard. The institution is reserved for convicted terrorists and inmates who are too difficult to manage in mainstream prisons. "They call it Super Mosque" said Latif with a self-assured smile, "because if you're not Muslim…good luck to ya!"
In prison, Hamzy met Featherstone and taught him about Islam, eventually offering him a place in B4L. Featherstone was a capable choice for Hamzy, partly because he was a recovering meth addict who was erratic, well-connected and extremely violent. But most importantly, he lacked a sense of purpose: something Hamzy could offer through his version of the Islamic faith.
It was a tactic Featherstone would absorb. "You got to remember to get the boys to Islam," he explained during a police intercepted prison call. "God is great, trust your brothers like you trust me."
From within prison, Featherstone recruited Andrew "Abdullah" Coe and Richard Dutton, among other associates in the greater Illawarra region. In NSW prisons, the presence of Muslims is well respected because of how the faith's emphasis on community and brotherhood serving as an internal support network for inmates. Featherstone's plan was to exploit that: he created a tight knit crew from a gang of loyal followers, all of whom were known in Wollongong courts and had witnessed the close bond of Muslim prisoners while incarcerated.
In May, one of the key figures of the Illawarra chapter, Andrew "Abdullah" Coe, was arrested for "conspiracy to discharge a firearm with intent to cause grievous bodily harm." Another member, Richard Dutton, was involved in stockpiling weapons before he surrendered to police after firing shots outside Lake Illawarra Police Station.
The gang cycled out from prison and back in to prison. I asked the boys from Blacktown why they were inspired to join a gang that so blatantly leads to a cycle of incarceration. "In our areas, if you want to be someone that gets respect…you need to earn it on the street. No one cares about you unless you have a name," replied Latif. "These blokes were the only ones giving us money and looking out for us." They told me they had lost friends to gang violence. "That's the price, everyone knows it can happen, but nothing comes easy."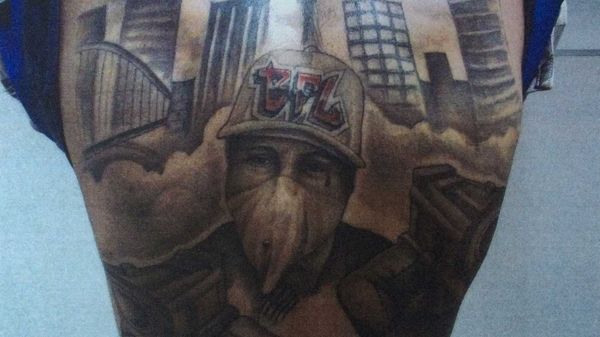 For the migrants in the Western suburbs, they were raised on the mythology of these men, chasing their wealth and status. The B4L members tattoos and logo celebrated gang culture with motifs of AK47s, Police crime scenes and MEOC branding, an identity that fit their social upbringing—a culture that glamourises gangsters, bikies and drug lords. The motives for the Illawarra chapter were not as commercially driven: these new members came from extremely violent backgrounds and had been abused or institutionalised from an early age. They were looking for family, one that Islam visibly offered in prison.
When Featherstone began directing this new generation of the gang on Hamzy's behalf, he ordered members to hide guns with relatives, track down ammunition but most importantly, participate in Friday prayers. The boys told me that it was a lack of faith that led to the impulsive murders that rocked their gang in 2013. Religion had taken the back seat with the original members of B4L, but for the new wave of indigenous gang members it took centre stage.
I asked the boys what they thought the difference was between them and the new chapter of the gang. "The [Illawarra] chapter are doing whatever they're told because they think it's our deen (faith), because they never had religion…they don't know their place," replied Omar as we made our way to the mosque for Maghrib prayers. "We always had religion, we joined to make a living, and I'm sure we're going to be judged for it, but where we come from [crime's] the only way."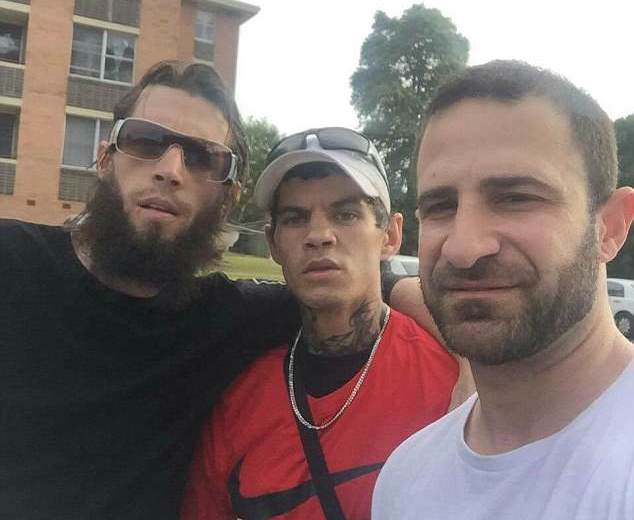 Omar's sentiment, that crime is the only way, is not an isolated thought on the margins of the Western suburbs, and it made me realise that their religion was nothing more than cultural baggage. They didn't fear God, like the prayers they murmured proclaimed. They didn't fear anything. Faith had become tradition.
I followed by asking Omar what the difference was between them and everyone else in society. "It's the way we dress, the way we look, the way we talk, the way we pray, where we went to school, where we live, what we listen to, what we eat," he explained to a nodding crowd. "They hate every little thing, they tell us it's all wrong or it's dumb or we don't get it. So we're forced to do our own thing and make our own way bro."
The Brothers 4 Life gang may be divided by areas and generations. But for all the members, operating outside of the law when you feel like an outsider in society is an old idea. In Australia, it's the never-ending reinforcement of otherness that ultimately merges Indigenous, Islamic and migrant sensitivities. Omar said, "It's what makes the cuffs feel like they're forever tightening."
For more, follow Mahmood on Twitter
This article originally appeared on VICE AU.