Photo by Aaron Doster-USA TODAY Sports
As we have already discussed on this venerable website, NHL free agency is bad. It's bad for everyone. The contracts are bad, either because of term or dollars and sometimes both. The players are sometimes bad. The teams are sometimes bad. There is a very good chance a transaction you heard about Saturday was some level of bad.
Usually, idiots like me sit back, look at the signings, assess them, offer analysis, winners and losers, that sort of thing. But the free-agent class and the teams desperate for help are so bad that there's no point in doing something of that nature. I'm not here to bog down your day with 800 words on a third-line center going to Nashville for a lot of years or money when we both know that contract is bad.
Instead, I have chosen to list all of the Saturday signings and classify them by sadness. They can be sad for the team or player. Maybe the fans. Or perhaps, it's just I who has been made sad by the transaction. Maybe the contract was so bad that I feel sad for the actual paper on which the terms of the deal are typed. That tree didn't die to become Dan Girardi's contract, damn it.
The only contracts included are UFAs that went to new teams with cap hits of at least $1 million because we don't have all day here.
---
---
So here we go. Sadness rankings. Happy Fourth of July, everyone!
YOU'RE GIVING ME A MILLION REASONS TO LET YOU GO (AND NOT BE SAD)
-Predators give Scott Hartnell one year and $1 million
-Blackhawks give Patrick Sharp one year and $1 million
-Kings give Michael Cammalleri one year and $1 million
-Maple Leafs give Dominic Moore one year and $1 million
Moore is a perfectly fine, fourth-line center that is old and will help Toronto in a lot of ways. When teams hand out contracts to fourth-line players, this is what the player and the contract should look like. There is nothing sad about that transaction.
Hartnell, Sharp, and Cammalleri make me sad because the warped market that is unrestricted free agency results in smart gambles like these coming in at only $1 million when it should cost a little bit more. It's possible all three players will score 20 goals but if they don't, $1 million is an acceptable bet on that outcome. Hartnell and Cammalleri took discounts to come back to old teams after buyouts, while Sharp is returning to the team with which he had the most success. They're basically Jerry O'Connell in Can't Hardly Wait talking about how things suck when you leave and to always wear flip flops in the shower.
These four signings are the ideal of free agency—inexpensive bargains that could pay off either in team success or a trade at the deadline for something of value. Maybe you can be sad about the fact that time slowly rips us to shreds before eventually leaving us cold and lifeless and these contracts represent one of the checkpoints on the way to the grave, but that's far too grim even for free agency.
YOUR GRANDPA IS SICK AND YOU'RE GOING ON ONE LAST VACATION WITH HIM BUT YOU'RE NOT THAT SAD BECAUSE HE HAD A GREAT LIFE
-Ducks give Ryan Miller two years and $4 million
-Lightning give Chris Kunitz one year and $2 million
It's a long trip and you're going to learn a lot from these guys, but you know this is it. Miller and Kunitz will regale their new teammates with stories about big playoff games the way grandpa will refer to your grandma as a "leggy dame" when he first met her at a speakeasy. You love them so you tolerate it, even if their advice about today's world includes "back in my day, no one cared about Corsi."
---
Watch more from VICE Sports on The Godfather of Team India Ball Hockey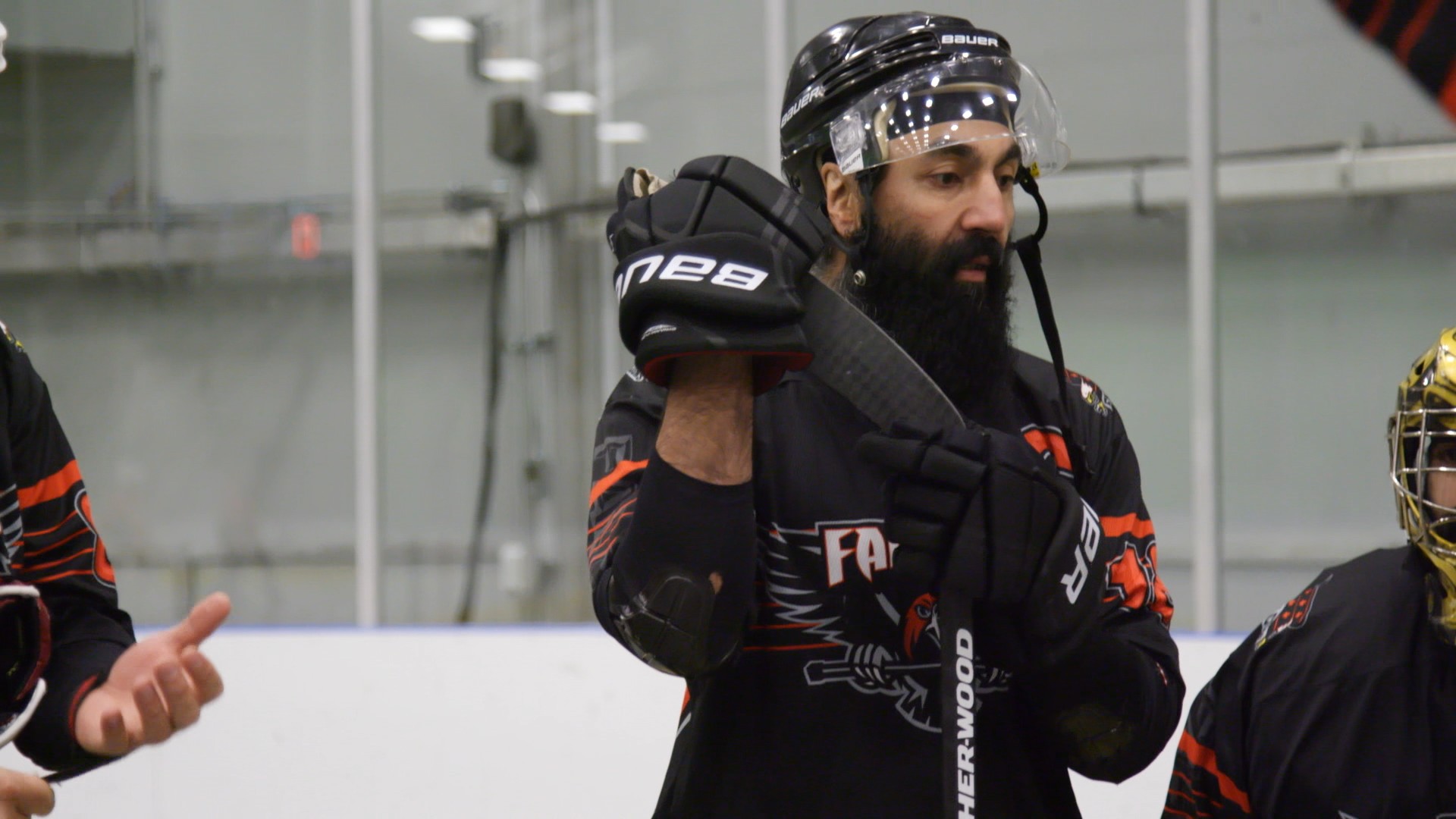 ---
YOU'RE SAD FOR NO ONE
-Hurricanes give Justin Williams two years and $9 million
-Flyers give Brian Elliott two years and $2.5 million
-Sabres give Benoit Pouliot one year and $1.15 million
Yeah, these are good. Williams will be 36 years old when the 2017-18 season begins and could hit the wall at any moment, but he's also returning home and the Hurricanes are now a playoff contender with this signing. It's maybe a little too much money but Williams getting it makes it not sad. This is the one signing that should not make you sad (unless Williams scores 8 goals next season).
With Elliott and Pouliot, they go to good situations on the cheap and will probably be either worth the money or outperform it.
YOU'RE SAD FOR THE PLAYER
-Red Wings give Trevor Daley three years and $9.5 million
-Avalanche give Jonathan Bernier one year and $2.75 million
-Canucks give Michael Del Zotto two years and $6 million
-Devils give Brian Boyle two years and $5.1 million
Daley has won back-to-back championships. Bernier got out of Toronto and bounced back with a .915 save percentage in 39 games with Anaheim. Del Zotto can skate and help a power play. Boyle is a bottom-six center that has proven for years he can help a team in a slew of ways, especially in the playoffs.
Their rewards? Four levels of purgatory.
Boyle got a lot of money for that role, otherwise these are pretty reasonable contracts for good players on bad, bad, awful, terrible, stinky teams.
YOU'RE SAD FOR THE TEAM
-Jets give Dmitry Kulikov three years and $13 million
-Canucks give Sam Gagner three years and $9.45 million
-Canucks give Anders Nilsson two years and $5 million
-Predators give Nick Bonino four years and $16.1 million
-Stars give Martin Hanzal three years and $14.25 million
-Rangers give Ondrej Pavelec one year and $1.3 million
It's just too much money or the player is bad (Pavelec) and you don't get why these deals had to be this way. Say you're the Rangers. You need a backup goaltender because you dealt Antti Raanta. You pay $1.3 million for one of the worst goaltenders of the past five years when Chad Johnson, a former Ranger, was there for $1.25 million? Did you not want to budge on the final $50,000 for Johnson? To go from Johnson to Cam Talbot to Raanta to Pavelec is rough, although goaltenders are magic and maybe he's good in his 20-ish starts next season.
With everyone else it's just too much money or at least a year too many. It may not seem like a lot of money or a lot of years compared to the ghosts of free agency past but it's fair to look at those contracts and think, "That's too much."
In the case of Bonino, the Predators will hate that contract in the very near future. It shouldn't be next year, with Nashville reloaded pretty well for getting back to the Stanley Cup Final, but this is an Andrew Shaw-type deal for a gritty depth player who is helpful but not $4 million per year helpful.
YOU'RE SAD BECAUSE YOU HAVE NO REAL OPINIONS ABOUT THESE DEALS THAT ARE AT LEAST $1 MILLION PER YEAR AND THAT'S THE BAR YOU SET
-Sabres give Chad Johnson one year and $1.25 million
-Stars give Tyler Pitlick three years and $3 million
-Wild give Kyle Quincey one year and $1.25 million
-Senators give Nate Thompson two years and $3.3 million
-Penguins give Matt Hunwick three years and $6.75 million
-Maple Leafs give Ron Hainsey two years and $6 million
All fine or whatever. Not making or breaking anything. Pitlick could walk up to me and punch me in the face tomorrow morning and I wouldn't know who he was. "Pitlick" sounds like a fetish porn. I'm happy everyone here is a millionaire now.
YOU'RE SAD BECAUSE YOU DON'T KNOW SHIT ABOUT THE KHL
-Panthers give Evgeny Dadonov three years and $12 million
He hasn't played in the NHL since the 2011-12 season. He was great in the KHL last season. If you think I'm going to pretend to understand how 66 points in 53 games in the KHL last season translates into the 2017-18 NHL season you don't know me and my willingness to admit when I don't know stuff.
YOU'RE SAD FOR THE FANS OF THE TEAMS
-Canadiens give Karl Alzner five years and $23 million
-Jets give Steve Mason two years and $8.2 million
These are just inexcusably bad contracts. Alzner has never had more than 21 points in a season and while you should never judge a defenseman solely on points, it's just too much money and too many years for a blueliner that isn't making or breaking your championship hopes. Perhaps it's not binary, but why not just give Andrei Markov two years and $12 million when the window is clearly now? Just because you have cap space doesn't mean you need to use it.
As for Mason, he can be a .925 goaltender for the next two years and it's insane to give up on Connor Hellebuyck after his first season as a starter (behind a bad team with a coach that should have been fired this offseason). The contract is a signal to fans that the Jets have no clue because even if Mason performs well behind a better defense (one that was banged up a lot last year), there's no reason to think Hellebuyck couldn't have done the same thing.
YOU'RE SAD FOR THE PLAYER (BECAUSE HE LEFT MILLIONS ON THE TABLE)
-Rangers give Kevin Shattenkirk four years and $26.6 million
We are on this planet for a finite amount of time and everyone knows the point of life is to make as much money as possible and have it loaded into your coffin to take with you to heaven. Shattenkirk was a Rangers fan as a kid so the chance to play for his boyhood team was too much to pass up, so he left years and millions on the table to come to New York.
You know what I loved as a boy? Romper Room. I would take a flamethrower to the set of that show for $80,000 and laugh the whole time while children and stagehands fled. You know why? Money is the point of life. And even if it's not, and you believe championships are the point, Henrik Lundqvist is 35 years old and the Rangers just traded their best center for a draft pick. Shattenkirk isn't leaving money on the table for a surefire championship shot; he's leaving money on the table because of the location where he was accidentally born 20 years ago. It's insane.
It's not as though the Rangers can't win a title next year because hockey is weird and they're decent enough, but ask Sidney Crosby if he ever feels sad that he couldn't play in Cole freaking Harbour. If you're a pro athlete, you need to extract every dollar you can from the game before you retire and live on that dough the final 40 years you're on the planet. Take discounts to win titles. That's it.
Good for the Rangers, though.
YOU'RE SAD TO HAVE LIVED LONG ENOUGH TO SEE SOMETHING THIS SAD
-Lightning give Dan Girardi two years and $6 million
I really thought his career was over after the Rangers bought him out. He has been some level of cooked since the 2014-15 season and should have been scratched the entire 2016-17 season if not for the Rangers having a genuinely hideous group of defensemen. Maybe— maybe—he gets a one-year show-me deal from a middling team that allows him to prove he can be a bottom-pairing defenseman.
Instead, one of the five teams with a legitimate chance at winning a Stanley Cup next season gave Girardi a contract that looks like a typo. A team built on a speed signed a defenseman that can't skate or move the puck. It's not as though Vegas threw money at him—one of the two teams in the East that can push the Penguins gave him two years.
There is an argument for signing Girardi that is also sad.
It's that Girardi played against tough competition with the Rangers and he's better-suited for bottom-pairing minutes. Sure, but Lightning GM Steve Yzerman said he could envision Girardi playing with Victor Hedman, aka tying a refrigerator to Hedman's back and saying, "Go play 30 minutes, buddy!" I'm sad for Hedman. But you can't hide a bad defenseman if you want to win a Cup.
Two things to that argument about easier matchups—one: even if the competition is softer, Girardi can't skate or move the puck. It doesn't matter if it's the first or third line when you can't get the puck out of your zone. Two: the Lightning can win the Cup, and to do so, you have to beat elite teams, and those teams have elite third lines that can create matchup problems.
When you're a very good team, Girardi has no effect over 82 games. The Lightning may go from a 106-point team to a 102-point team because of Girardi. Hell, the Rangers had 102 points last year with Girardi stomping around the ice. The regular season isn't the point when you're a Cup contender.
Ask the Sharks about having Brenden Dillon and Roman Polak skating in quicksand against Phil Kessel, Carl Hagelin, and Bonino two years ago. You can't hide Girardi in the third round of the playoffs, especially in road games. You think Mike Sullivan won't get Evgeni Malkin out there against Girardi on the regular if Tampa comes to Pittsburgh in the conference finals? This signing is nuts!
If you can win a Cup with the Penguins' defense last year, you can do anything (make that into a motivational poster). But this is easily the worst signing of Saturday.