Photo by Kevin Sousa-USA TODAY Sports
Rather than wins, losses, quality starts, ERA or WHIP, Blue Jays right-hander Aaron Sanchez's turbulent 2017 season has been defined by one cruel statistic: time spent on the disabled list.
In his third outing since returning from a long DL stint due to nagging blister issues, Sanchez left Wednesday's game against the Red Sox after allowing five runs over four innings because of a small blister on his right middle finger—the exact same spot where similar lacerations have been bubbling up all season. The 25-year-old has already been placed on the disabled list three times since mid April, and is listed as questionable for his next scheduled start after this most recent setback.
It all started on April 15, when Sanchez was placed on the 10-day DL after just his second start of the season, a 6-4 home loss to the Orioles. He returned to the mound just over two weeks later against the Rays, but was forced to leave after one inning and 13 pitches because of the same nagging blister problem. Sanchez was back on May 14, where he threw five impressive, injury-free innings against Seattle, and made a quality start just five days later against Baltimore, where his fastball touched 97 mph and his breaking stuff looked to be rounding back into nasty form.
That was apparently just a tease for Sanchez and the Blue Jays, though, as the 2016 All-Star was sidelined once again the very next day because of—you guessed it—blisters. Sanchez's third trip to the DL would be his longest of the season (so far), forcing him to miss over six weeks of game action until he returned for a start, albeit a very short one, against Houston on July 7.
---
WATCH: VICE Sports Explains Blisters in Baseball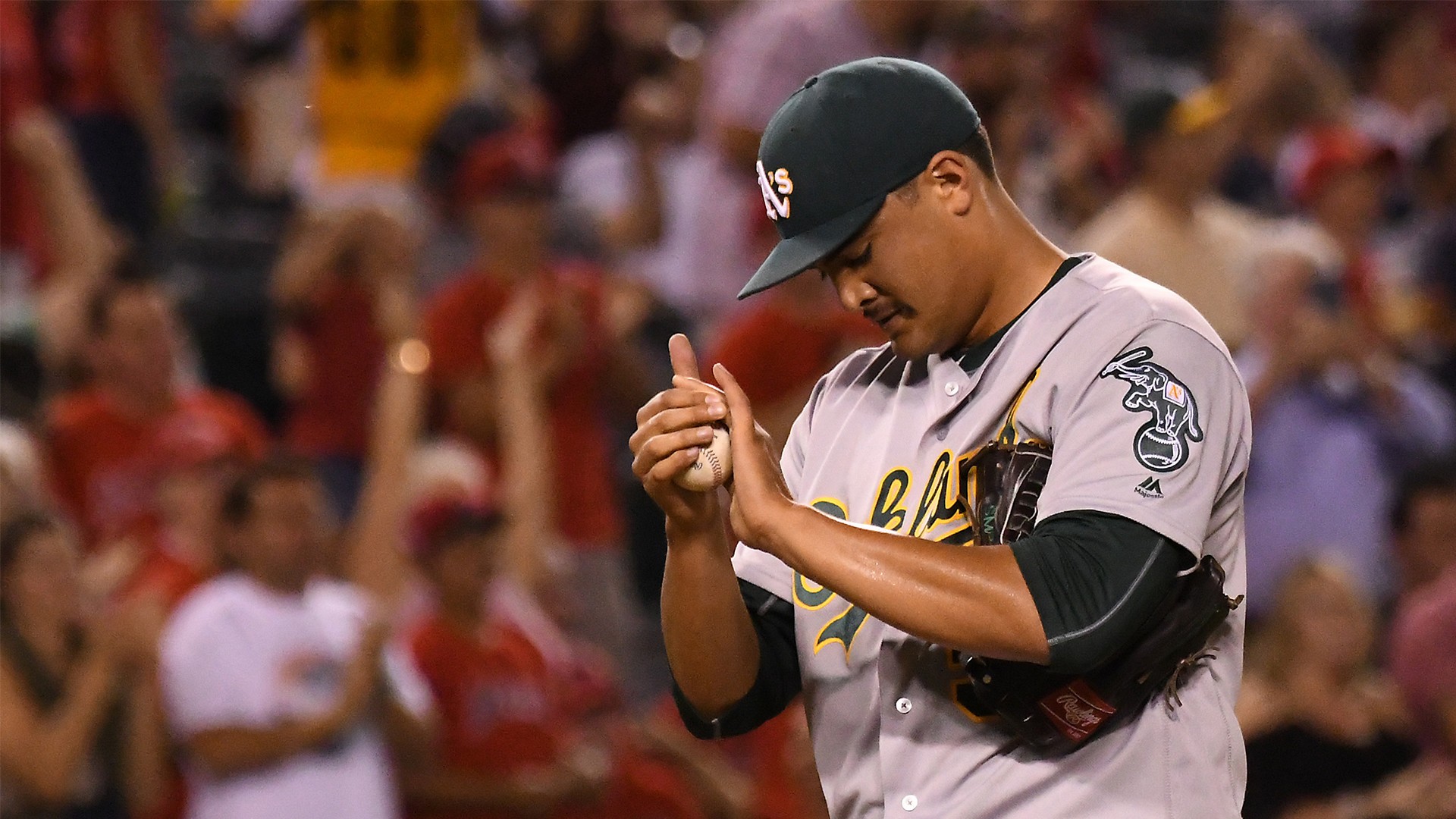 ---
All in all, Sanchez—who had a procedure in April to remove part of his finger nail to alleviate the blister issue—has made eight starts and thrown just 36 innings this season, boasting a 1-3 record, 4.25 ERA, 1.72 WHIP, and a whole bunch of time on the DL. Not quite the encore the Blue Jays were hoping to get out of last year's American League ERA leader, but blister injuries with pitchers are a wildly unpredictable beast, as several other big-name hurlers around the majors can attest.
The Blue Jays have been a disaster, sitting last in the East as the trade deadline approaches, with many players having down seasons, none more disappointing than Sanchez's, who entered 2017 looking like one of the best young arms in the game. It would of course not be shocking with the latest development to see him placed on the DL for the fourth time this season, a true bummer for the electric righty who broke out last year while dealing with constant chatter about being shutdown due to an innings limit. Those were much better times, it appears.
Though Sanchez has been hit particularly hard by blisters this season, he's certainly not the only one. Many around the league, including teammate Marcus Stroman, Boston's David Price, Mets ace Noah Syndergaard, the Dodgers' Rich Hill, and Giants righty Johnny Cueto, among others, have all dealt with blister issues, causing some to wonder if the increase in these types of injuries has any correlation with what many across the game feel are altered, or juiced, balls.
---
---
Whether or not the baseballs have been tampered with to increase hitting and power numbers is yet to be proven, but one thing is for sure—there's a whole bunch of big-time pitchers dealing with these small, tedious injuries, now more than ever.
Something is definitely different in 2017, it's just hard to put a finger on it.