Photo by the author.
Even before I could eat crawfish, I loved watching my dad and uncles haul in ten-pound bags of the clawed critters, live and squirming, for backyard boils at our houses in the Houston suburbs. Into the bubbling water they'd go, before being cooled off and folded into a chunky sauce of butter, garlic, and fresh orange wedges, till the entire block flooded with savory aromas and roaring, beer-fueled laughter. If you're Vietnamese and grew up in Texas or Louisiana, this early summer tradition probably sounds familiar.
Those memories are fond, and I'd come to find the crawfish delicious too, but I'd never have anticipated how illustrious our style of boiling would become, for both its brilliant form and its colorful significance to the South's cultural fabric. Last month, the James Beard Awards—those so-called "Oscars of the Food World"—recognized the dish's existence with a Best Chef semifinalist nod for Trong Nguyen of Houston Chinatown mainstay Crawfish & Noodles. This month, Vietnamese crawfish gets prime airtime in a dedicated Gulf Coast episode of celebrity chef David Chang's glossy, just-released Netflix series Ugly Delicious. And as I discovered on a recent trip to Saigon, nowadays you can even get a decent boil in Vietnam.
Growing up unaware of the complex racial dynamics at play in Houston, now considered the
most diverse place in America
, I never thought twice about how my parents and their friends loved the messy, hours-long tradition more commonly associated with Cajun cuisine. But perhaps it's also partly because the dish itself came about so spontaneously.
As the story goes
, some among the droves of Vietnamese refugees landing in the Gulf Coast—largely fishing communities resettled by the Indochinese Assistance and Refugee Assistance Act of 1975—found comfort in the steaming wonders of Louisiana's rudimentary "boiling points." These outdoor predecessors of proper crawfish joints, set in familiarly humid weather and hawking fresh seafood, were not unlike the
quán nhậu
, or outdoor beer-and-snack joints, of the home country.
"Viet people love noshing and in particular, hands-on eating experiences—in Vietnam, it's fun to spend hours at a seafood joint where you pick out the live seafood, then have it cooked the way you want it," says
Vietnamese food expert
and cookbook author
Andrea Nguyen
. "Here in the States where those kinds of open-air sidewalk experiences don't exist, you gather at people's homes for those kinds of food fests, called
nhậu
. Crawfish are perfect because the little mud bugs require a little work to eat, can be cooked with various kinds of seasonings, and you can organize awesome
nhậu
sessions. Being from a country with a very long coastline, Viet people know and prize fresh and saltwater seafood."
As economic opportunities dwindled in Louisiana, many, including Vietnamese immigrants, moved west to Houston in search of better luck. By the early 2000s, Vietnamese-owned crawfish joints began popping up all over Houston's Chinatown district, and through immigrant networks, spread to Los Angeles' Little Saigon. In both cities, the most popular spots—which, in typical Vietnamese fashion, quickly spawned imitators—frequently saw lines out the door. It was a bona fide craze.
But when exactly did Vietnamese-owned Cajun crawfish eateries become Vietnamese-Cajun crawfish eateries? Somewhere along the westward road from Louisiana to California, Vietnamese cooks began tinkering with the time-honored recipe: rather than simply boiling the crawfish in Cajun spices, they add a step of immediately cooling boiled crawfish and then tossing the mudbugs in a butter-based sauce that may also include garlic, onions, peppers, orange wedges, and lemongrass. The result is a succulent inside of crawfish meat and broth-like sauce amplified in flavor by the chunks of bright seasonings and mouth-searing spices encasing the shell. And that's not to mention the dipping sauce called muối tiêu chanh, which translates literally to salt, pepper, and lime.
Houston food writer Mai Pham explains that the style, though inspired by Louisiana, truly originated in Houston following Hurricane Katrina. "Vietnamese crawfish came about due to Houston's proximity to Louisiana and crawfish farms," says Pham. "But demand for the genre grew after Hurricane Katrina and the influx of Vietnamese. It was really in the mid-2000s after the hurricane that the Viet-Cajun movement really took off. What we know as 'Viet-Cajun' is therefore a genre that originated in Houston and spread from there."
Pham adds that most of the early Californian crawfish joints were opened by Vietnamese Houstonians looking to crack the Little Saigon market, and that even Louisiana's Vietnamese-Cajun crawfish joints reverse-migrated from Houston. In fact, those earlier Vietnamese-owned crawfish shops in New Orleans have stayed stubbornly true to the Cajun blueprint, while in Houston and Los Angeles, the de facto crawfish preparation is the Vietnamese one, a divergence discussed in the Gulf Coast episode of Ugly Delicious. Chang's take? Houston is the most interesting food city in America.
Today, Houston has opened its doors to more refugees than any other city in America—first-generation Southerners who will join other immigrants in shaping the future (and food) of their new home as those before them have. The success story of Vietnamese-Cajun crawfish certainly speaks to that future.
Regardless of where it started, the kind of thoughtful adaptation that spawned Vietnamese crawfish is a far cry from the opportunistic, often poorly-executed "Asian fusion" cuisine that we love to hate. It's part of a much longer history: Vietnamese cooks have over a thousand years of experience tweaking and adapting elements of subjugating cultures, specifically as a means of survival. After all, a millennium of Chinese subjugation transformed an unknown street dish and discarded meat scraps into Vietnam's national noodle soup, phở, and a few centuries of French colonization gave us bánh mì baguettes and cà phê sữa, or Vietnamese coffee.
Interestingly, it's a history that Vietnam's foodways share, in some regards, with those of the American South. How much of Southern cuisine is the food of slave cooks rejiggering ingredients and foodstuffs found at the plantations on which they toiled? Though often erased from the cheerful Colonel Sanders narratives of the South, it was largely the contributions of African-Americans that laid the groundwork for dishes we consider emblematic of Southern cooking, from fried chicken to collard greens. It's through food that we can understand, and must confront, these histories of negotiation between cultures of oppressors and the oppressed, of the powerful and the disenfranchised.
Today, Houston has opened its doors to more refugees than any other city in America—first-generation Southerners who will join other immigrants in shaping the future (and food) of their new home as those before them have. The success story of Vietnamese-Cajun crawfish certainly speaks to that future.
"Vietnamese-Cajun crawfish reflects the dynamism of newly-arrived Southerners—Vietnamese refugees and their progeny—who reinterpret the culture and the cuisine of the place they claim," says John T. Edge, director of the Southern Foodways Alliance. "It also speaks to this beautiful evolution of the South and makes the case that Southern food is not forever a bastion of tradition, but Southern food like the South and people that live in the South, is dynamic."
If the James Beard nomination is any indication, Vietnamese-Cajun crawfish has officially entered the mainstream, taking on a life of its own while still representing its roots. The once-exoticized immigrant food is today embraced as an American food—making it all the more exciting time to be eating it.
---
WATCH: Bong Appétit: Cannabis Condensed Milk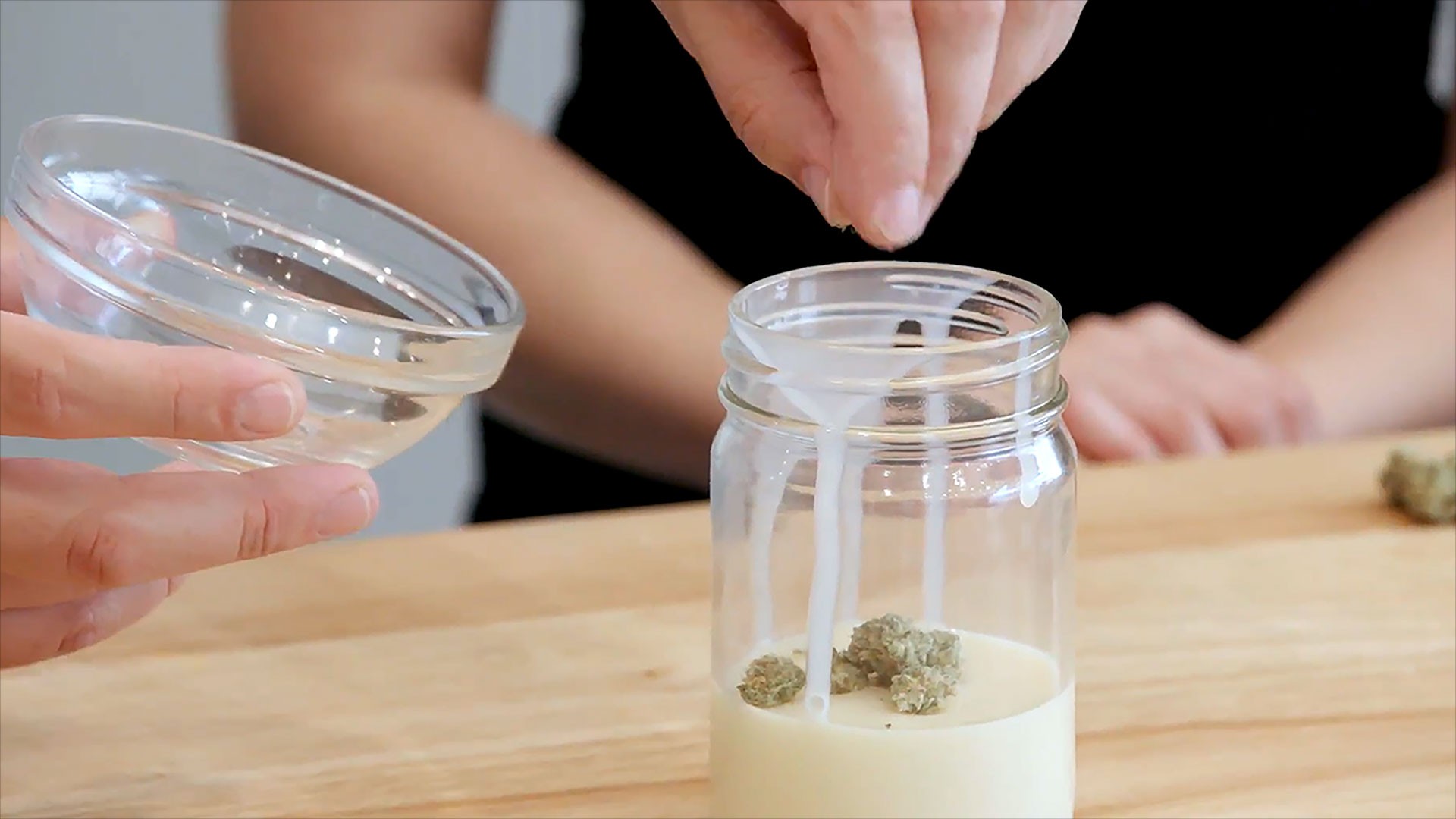 ---
At Trong Nguyen's Crawfish & Noodle, the mudbugs come cooked in fancy French butter and freshly-chopped garlic, while Cajun Kitchen offers a Thai basil version alongside the standards. And as Mai Pham points out, some of the best grub at these restaurants go beyond crawfish: Houston's LA Crawfish franchise throws crawfish right into the pho, while another local favorite, Wild Cajun, ups the ante with crawfish eggrolls and a super-traditional cua rang me, or tamarind crab.
Even white Houston chefs, like Chris Shepherd of Underbelly (soon to reopen as UB Preserv), are paying homage to Vietnamese-Cajun cuisine with fun-loving riffs like boil-inspired oysters and blue crabs. "One one of my favorite dishes at Crawfish & Noodle is turkey necks slow cooked with hot sauce, Worcestershire and fish sauce," says Shepherd. "I'm working on a turkey neck yakamein for UB Preserv, which will be our interpretation of classic New Orleans street food with Vietnamese flavors."
Some (I'm looking at you, New Orleans) may bemoan the takeoff, and spinoffs, of the crawfish craze, but is it not this same spirit of free-wheeling experimentation that birthed this dish to begin with? Customizability is a defining trait of Vietnamese cooking, and eating (hello, phở condiments) and crawfish is no different. Let's welcome the postmodern state of Vietnamese-Cajun crawfish.