In the 1970s, the streets of New York were crumbling under the weight of the systemic denial of basic government services under a policy of "benign neglect." As white flight took effect, landlords hired arsonists to torch their buildings, knowing they could collect more for insurance than from rent checks, while Nixon's White House criminalized and disrupted the city under the guise of the "War on Drugs." Then, when all hope seemed lost, President Ford dropped the death knell, refusing to bail the city out of financial crisis.
Yet within the waves of destruction, a new world began to take shape, one created by the youth who understood that necessity is the mother of invention. With nothing left to lose, they began to create grassroots cultures that would take the world by storm in the form of hip-hop, graffiti, punk, and No Wave. During the late 70s and early 80s, these scenes came together, mixing and remixing into original new forms, spawning a new breed of artist best exemplified by Jean-Michel Basquiat.
Although he died in 1987 at the age of 27, his legacy looms large, inspiring new generations who recognize that the issues he addressed 30 years ago—like police brutality, erasure of African-American history, and the commodification of art—remain unresolved. Driven by a desire to unearth the roots of Basquiat's creativity, filmmaker Sara Driver created the documentary BOOM FOR REAL: The Late Teenage Years of Jean-Michel Basquiat, which explores the artist's life and legacy through those who knew him best.
Driver also teamed up with culture critic Carlo McCormick and Mary-Ann Monforton, the associate publisher of BOMB magazine, to curate Zeitgeist: The Art Scene of Teenage Basquiat, a group art exhibition featuring Basquiat's friends and contemporaries, including Nan Goldin, Kenny Scharf, Al Diaz, and Lee Quiñones at Howl! Happening gallery in New York.
Driver spoke with VICE about Basquiat's New York, a playground for visionaries from all walks of life that continues to speak truth to power today.
VICE: Could you describe what life was like downtown in the late 70s?
Sara Driver: Many of us came to New York because of the Factory. Andy Warhol was involved in so many things: film, painting, and music—and the idea was that you could do anything. We were trying everything and we were willing to fail.
It was inexpensive to live in the city so you could have a job in a Xerox shop or sell postcards on the street. Also New York was very dangerous. When I was going to film school at New York University, I had to walk from Little Italy to the East Village. I had my hair cut an inch long and started walking like a boy so I could own my part of the street without being harassed. You were always aware of who was around you and as a result, you got gifts from the things that you observed. You'd see Ornette Coleman walking down the street beautifully dressed or William Burroughs in a three-piece suit and you knew he had a derringer in his belt and his cane was a sword.
---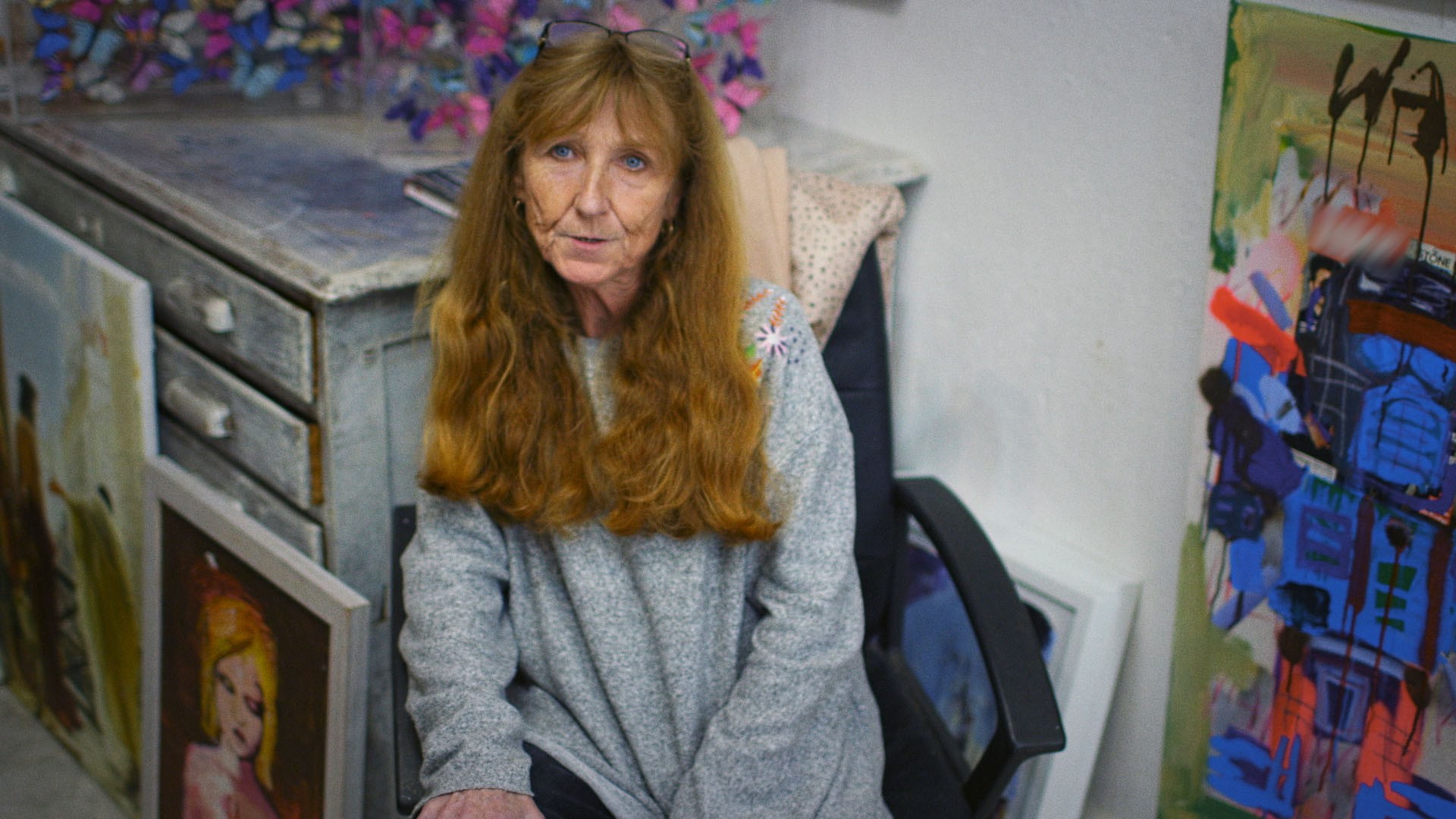 ---
How did the physical decay and financial dissolution of the city create new spaces for artists?
We had a drive to get our signals out one way or another. It wasn't about money. It was about communicating, doing our art, and being around other people. We could take over an abandoned space or go to a club for a dollar. All these different art forms were all interconnecting and we were all learning from one another. New York wasn't that heavily populated and there weren't that many people. It was natural that we would all mix.
It was not an organized community; it was organically forming and morphing with the downtown world meeting uptown. There was a lot of posters on the streets, announcing different events with incredible artwork. Everyone would run into each other at the same place, like Dave's Luncheonette on Canal Street and talk about what was happening the next night.
What was Basquiat like when he appeared on the scene?
Jean had an amazing sense of style at a very young age. I think Rene Ricard said it well when he called Jean the "Radiant Child." He was beautiful, charismatic, and had this very strong sense of being. He was a very advanced poet by the time he was 18. I remember seeing those SAMO© [tags] on the street that he did with Al Diaz. They were always one thought that you would consider and think about. Jean is one of those figures like J.G. Ballard or Burroughs: he is like a prophet. His paintings and commentary on things like police brutality are still so relevant today.
Could you speak about how this era helped reinvigorate the art world?
The art world, like the film world, gets very stuck in their way of being and who they should focus on. The Times Square Show got the ball rolling and the art world realized there were new voices, got excited, got behind them. Artists like Kenny Scharf, Keith Haring, and Jean sprang from that. Jean and many others brought in Neo-Expressionism and figurative work back into the art world. It was a breakthrough and a much-needed infusion after Minimalism.
What was the impact of drugs at that time?
Drugs were all around us and you witnessed it constantly. So many people fell victim to heroin because it was socially acceptable. No one judged anyone for doing it. I remember on Rivington Street, there was a spot where dealers were selling, with a line going around the block. The police, who were just as in it as anyone else, would announce the name of the labels selling that day on their bullhorn.
When you are a kid, any kind of drugs can be a fuel for the creative process, whether you are doing acid or smoking pot. I read a lot of science magazines and one was talking about how your frontal lobes are not fully developed until you are 27 or 28, so you are still into risk-taking until then. Jean was only 27 when he died. He was a kid but he had the weight of the world on him.
How did the idea for an exhibition come about?
So many people are curious where Jean came from and how he developed as an artist. We called the show Zeitgeist because it just happened as this weird moment in time. That's why I wanted to keep it from '78 to '81—all these young people descending onto this part of New York that was so forgotten and so dangerous.
Alexis Adler was one of the very few people who kept a body of [Basquiat's] work from that time, when he was very transient. I first saw it in January 2013, after she pulled it out of a bank vault when Hurricane Sandy had hit the Lower East Side and she was concerned about flooding. When I saw his drawings, his writings, his notebooks, the clothes that he had painted on, and these wonderful photos she had taken of him, I thought, this was such an insight into not only to him but the New York that nurtured him.
The film was made in the same spirit as we made films in the late 70s: I went out, bought a camera, and started shooting. I felt like a portal for all these wonderful artists who shared things with me for the film, let's also share their work in an exhibition. I went to Jane Friedman and Ted Riederer at Howl! Happening and they got on board right away. How often do you really see what nurtured an artist at the beginning of their process?
What do you see as parallels between the New York of Basquiat's youth and the city today?
Jean was such an advanced thinker. He's echoing things that were problems then and are still problems now. In '79 we had the Iran hostage crisis, the restart of the Cold War with Russia going into Afghanistan, and then we got the D-movie president, Ronald Reagan. We felt very isolated on the island of Manhattan, which no one in America wanted. One of my favorite graffiti pieces of the time was "USA OUT OF NYC." I feel the same way today.
There's a human need to be in a room with people and talk about ideas. I love when Lee Quiñones says at the end of the film, "And what can you do?" We are all possible. We all have a voice. Young people have to realize that the power is in your hands. We were the ones who stopped the Vietnam War: high school and college students. We have to empower youth to defy this system.
Sign up for our newsletter to get the best of VICE delivered to your inbox daily.
Follow Miss Rosen on Instagram.